SPOTLIGHTS
411 Fact or Fiction Movies/TV 09.06.13: Week 398
Posted by Ben Piper on 09.06.2013

Is Agents of S.H.I.E.L.D the most anticipated new fall show? Will Riddick be a return to form for the character? Is James Spader a good choice to play Ultron? 411's Steve Cook and Jason Chamberlain debate these topics and more!




I went and saw The World's End earlier this week before it left my local theater. I liked it quite a bit. Of The Cornetto trilogy I would rank it #2 behind Shaun Of The Dead, but that's just my personal preference. Check it out if you should get the chance.

This week in Fact or Fiction, we've got Steve Cook and Jason Chamberlain. Let's see what's on their minds…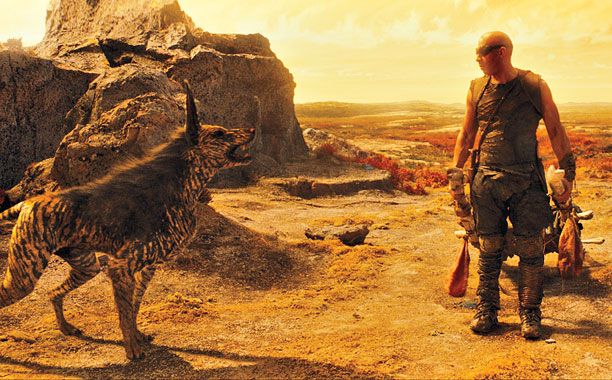 1. Riddick will be a fun, entertaining return to form for both the character and the franchise.

Steve Cook: Fiction. I hate to start out on this note, but I'm the guy that hasn't seen either of the previous Chronicles of Riddick movies and doesn't care to see them. I know there's people out there that think that Vin Diesel is the greatest actor ever and anything with him in it is must see, but that's not me. Critics seem to think it's more like the good first movie than the crappy second movie, so perhaps it will be a return to form. I'm just not sure what that form is.

Jason Chamberlain Fact. I'm not much different than Steve in that I'm not a big Riddick fan, though I have seen both movies, albeit just once each. It's been a loooong time since I saw Pitch Black, though I remember it being pretty cool. Sufficiently cool to entice me to see Chronicles in the theatre. I remember being underwhelmed/disappointed by that one.

The prevailing opinion (and one I share) seems to be that Pitch Black worked because it was a 'small' movie. A group of people trying to survive in a dangerous landscape with a murderer in their midst. Classic premise, with a sci-fi spin and it worked. But Vin obviously has bigger plans for the character and turned the sequel into an opus, though not a very memorable one. The new film seems to be a return to the feeling of the first one; a much smaller, more focused tale. The trailers look good and I think it'll be a fun time at the movies.

Score: 0 for 1

2. Ben-Hur should not be remade.

Steve Cook: Fiction. Is there any movie out there now that isn't a remake? I know that traditionalists get bent out of shape every time there's a remake, so I'ma drop some knowledge on you peeps. Ben-Hur came out in 1959 and is generally considered one of the greatest movies of all time. It won eleven Oscars and held that record until Titanic came out. Great movie. Charlton Heston before he went all gun-crazy. Movie traditionalists probably don't want to see it remade. But here's the thing…the 1959 movie was a remake of a 1925 silent film. We like to act like remakes are a crime against humanity that only started happening recently when Hollywood ran out of ideas, but they've been remaking movies since at least the 1950s! It's nothing new! Calm down and let these cats remake whatever they want. If they want to remake a movie that's already been remade once, let them do it! Hell, it's been over 50 years so it's probably due.

Jason Chamberlain Fact. In the words of the Great One, sweet cream on an ice cream sammich... No, Ben-Hur should not be remade. We've got to draw the line somewhere people. I know it's futile to fight against the remake machine. I've answered a similar question in the past in this column about remakes. Often I agree with Steve in that nothing is really sacred, and that even if you don't like or approve of the remake, nothing can take the original away from you. That's true. But can't we have a few 'off limits' properties? Can't we leave the classics alone? I don't want to see Casablanca starring Ryan Gosling. I don't want an 'exciting new take' on Citizen Kane. There are some movies that hit in a way that make them timeless. It's rare, but it happens, and those are the movies that should be left alone. But they won't be... Miley Cyrus in Gone With The Wind? Could happen!

Score: 0 for 2

3. Amy Adams is an excellent choice to play Janis Joplin in a planned biopic of the legendary rock singer.

Steve Cook: Fact. My response here has nothing to do with the subject matter, as the similarities between Janis Joplin & Amy Adams are not exactly obvious. Janis was a strung-out skinny girl that had one hell of a voice but little else to write home about. Amy is drop dead gorgeous. Can she sing? I dunno, on the surface it seems like a stranger fit than Ben Affleck as Batman. So why do I answer Fact? Cause it's freaking Amy Adams, that's why. She's an excellent choice for any role, even the role of a drug addict that died at the age of 27.

Jason Chamberlain Fact. Well, as an actor she certainly has the chops for the role. I don't see her as 'drop dead gorgeous' like Steve (cute, absolutely) but that's not relevant to the role cause nobody would call Janis Joplin a bombshell. My only thoughts here are that Adams is an actor that seems to have no troubles disappearing into a role and making it her own, so I'm sure she'll do a great job.

Score: 1 for 3



Switch!!!







4. Marvel's Agents Of S.H.I.E.L.D. is the new fall TV show you're most looking forward to.

Jason Chamberlain: Fact. I own a t-shirt that informs the world that Joss Whedon is my master (now). I have the complete series of Buffy and Angel on DVD and have watched both multiple times. Ditto Firefly and the fantastic movie Serenity. Dr. Horrible is one of the greatest things ever.

Dollhouse was also a show...

Does that answer your question?

I loved the Marvel movies before Joss came on board to steer The Avengers. I will not detail the geekgasm I had when I heard that news but suffice to say it was significant. The movie was amazing and ripped box office records to pieces. Now he and his trusty team are bringing the Marvel Universe to the small screen on a weekly basis. Am I pumped? Yeah, you could say that.

Steve Cook: Fact. Everybody knows that you're not allowed to write for 411mania.com or any other website unless you're a total Joss Whedon mark. We all bowed at his feet before he became Marvel's favorite director, and now that he's regularly producing content with awesome comic book characters it's tough not to get excited. I give The Crazy Ones a close second place because it has Robin Williams & Sarah Michelle Gellar and is produced by David E. Kelley.

Score: 2 for 4

5. While it was a case of fantasy casting for himself, (which shouldn't be taken seriously) Justin Timberlake playing The Riddler is just a bridge too far to overcome if it were made real.

Jason Chamberlain: Fiction. You know what, I can see it. I was one of the nerds that was outraged when there were rumours that the NSync guys were gonna cameo as Jedi Knights in Episode 2. But Justin has come a long way in my mind. First, the guy is a great entertainer. His stuff isn't really my cup of tea, but I recognize his status as one of the biggest names going and his passion for performing always comes through. Second, the dude can laugh at himself, which wins him respect from me. Dick In A Box, Mother Lover, and Golden Rule all terrifically send up boy band conventions and those syrupy love songs he used to excel at. And finally, he's been solid in the acting roles I've seen him in, and even spent years away from music to focus on acting, which shows his commitment to it. I can see him putting an interesting spin on The Riddler, with his (guessing here) flamboyant, cerebral take slotting in nicely between the dark, haunting Joker that Heath Ledger delivered and the duty bound/raging Zod Michael Shannon gifted us with this year. And JT would have an easier job as there isn't a definitive, classic portrayal of Riddler already out there (apologies to Jim Carrey).

Steve Cook: Fiction. I disagree with the very last part of Jason's statement above…Frank Gorshin's portrayal of the Riddler in the television series was classic! Anywho, I'm not somebody that gets all worked up about people playing roles. When Ben Affleck was announced as Batman last week I shrugged. Sometimes people don't sound right for a role on paper but it ends up working out really well. Weren't people complaining when Heath Ledger was announced as playing the Joker? Everything Timberlake touches turns to gold, whether it be music or movies, and I'd expect the same thing to happen here.

Score: 3 for 5

6. James Spader as the villainous Ultron in the Avengers sequel? Epic winning scenario.

Jason Chamberlain: Fact. Epic might be a little strong, but I'm on board. Not much has been revealed but I'm assuming Spader will inhabit Ultron in a voice capacity, and maybe motion capture as well (similar to Ruffalo's Hulk). Spader's a great actor but not a huge name with a huge price tag, which I'm sure is important considering the budget.

Steve Cook: Fact. James Spader & Joss Whedon involved in the same project is enough to ensure that the sequel will live up to the original. Spader's been great in pretty much everything he's ever been involved in, he even had some brilliant performances in The Office after it stopped being good. Alan Shore is one of my favorite television characters of all time. Spader's not the most physically imposing man of all time, but in the age of computers that doesn't matter so much & Ultron is more of a mastermind anyway. Anything Spader says sounds intelligent even if it's complete nonsense, so he should be great in the role & the movie will make billions & billions of dollars.

Final Score: 4 for 6

And there you have it. Steve and Jason agree more often than not. Thanks top them both for stopping by, and see you again next week!
-BP



TWITTER

http://www.twitter.com/411s_Ben_Piper
http://www.twitter.com/411mania
http://www.twitter.com/411wrestling
http://www.twitter.com/411moviestv
http://www.twitter.com/411music
http://www.twitter.com/411games
http://www.twitter.com/411mma





comments powered by