SPOTLIGHTS
Comics 411 09.11.13: Comic Book Couples Edition!
Posted by Steve Gustafson on 09.11.2013

Are Superman and Lois Lane the best comic book couple of all-time? Plus news and thoughts on new additions to the Marvel NOW! line, new creative teams for Batwoman, Supergirl, and Superboy, Fearless Defenders entering a new phase, a review for Forever Evil #1 and more!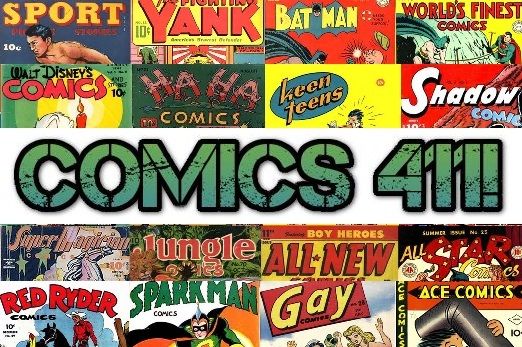 Welcome back to the Comics 411! My name is Steve Gustafson and this is a corner of 411mania reserved for those interested in talking comics! As always, I want to thank everyone who took a few minutes to read and comment last week. For some additional reading you can check out my interview with Playboy's Miss August, Val Keil! Then peep my interview with one of the coolest dudes in Hollywood Ari Gold! Want more? OK. Read my review for American Courtesans! Still not enough? Take your pick between my Comics 411 or my Big Screen Bulletin!


And away we go...

In a decision that backed up previous rulings by other courts around the country, a federal judge granted the Walt Disney Company's request for a dismissal of the multi-million dollar lawsuit that Stan Lee Media filed back in October claiming ownership of their former owner Stan Lee's characters co-created while working at Marvel. Announced Thursday, this dismissal with prejudice is the latest in a string of defeats for Stan Lee Media in their attempts to claim ownership of Lee's creations at the publisher, ranging from Spider-Man to the X-Men, Iron Man, the Hulk and various other characters.

In U.S. District Judge William J. Martinez' 11 page order, he agreed with Disney's assertion that Stan Lee Media had no legal ownership over their namesake and former owner's work for the publisher. Stan Lee Media's argument was that Lee had sold the ownership rights he had to the Marvel characters he created to Stan Lee Media in October 1998 in exchange for shares in the one-time publicly trade company. Just one month after that trade, Lee reached an agreement with Marvel declaring he had no claims of ownership on those characters, in effect making Lee's trade with Stan Lee Media non-existent.

Although it bears the name of Stan Lee, confusion has been rampant over the assumption that Lee is still a part of the company that holds his name. Stan Lee Media was founded back in 1998 by Lee and then-partner Peter F. Paul, but Lee left the company in 2000 when its original iteration closed its doors. Paul took control of the company with a new round of investors, and set about trying to enforce those murky rights Lee transferred to them in 1998, with the company suiing its co-founder and namesake Lee, as well as Marvel and the company's eventual owner, the Walt Disney Company on six different occasions in various courts in Colorado, California and Delaware. .

As part of the judge's decision here this week, Martinez dismissed the lawsuit "with prejudice," which bars Stan Lee Media from bringing any more actions on this same claim. "Taking its cue from the Southern District of New York and the Central District of California," the judges' order states, "this Court holds that Plaintiff is precluded from re-litigating the issue of its ownership of copyrights based on the 1998 Agreement, which issue was decided against it."

Anyone else find it weird they were going after Lee's characters and he's not even there anymore?


READER ROUNDTABLE

Last week I threw around some ideas for comic books that I wanted to see make their way to the TV screen. Some we've heard before and some I threw in just to see if anyone said anything. Here's the results:

Preacher 26.92%
Sandman 19.23%
Y: The Last Man 13.19%
100 Bullets 9.89%
Invincible 9.34%
The Boys 6.59%
Starman 6.59%
Dr. McNinja 3.3%
Ex Machina 2.75%
Ultra 2.2%

No big surprises. Preacher, Sandman, and Y: The Last Man have been rumored to be "in talks" for a while. If I had to pick just one, I'd go with 100 Bullets. A great series that could be a gripping show.

Feedback from you all was light last week but still insightful. Let's see what you had to say:

CMWolf: "Come on guys....we ALL know what TV series we REALLY want......THE WONDER TWINS!!!! >smirk<

Oh of course.....NO Gleep.....don't even BOTHER! =)"

CentralScrutinizer: "As far as comics that would make compelling TV shows, i would love to see an on-going series based on Fables."

X: "Fables would be cool, but I think it would strike some people as too familiar, after Grimm and any number of "faerie tales are real, just not what you think" movies that have come out of late. I went with Sandman because visually it is something that could be very cool, but it would need money behind it to make it worthwhile. Got to admit I didn't know as many of the comics this time around, but I could see Y: The Last Man and 100 Bullets would work. Starman would be awesome, and actually wouldn't be that hard to make, come to think of it. I think it would be hard to do Preacher as anything other than a animated series because you really need to keep some of the more controversial characters, but you would also need the money to make it.

I'd love to see Stormwatch: Post-Human Division. I know it might be too similar to Agents of SHIELD (ordinary humans tasked with keeping an eye on super powered criminals) but the characters are a lot more idiosyncratic. I know its hard to say that before we've even seen SHIELD, but we're comparing a lineup of - agent, pilot, black ops agent, hacker, agent / scientist, agent / scientist with cop, sharp shooter, ex-criminal engineer, seductress, former superhero, apprentice magician (with no actual magic powers), and scientist / monster. I think the diversity of the story makes the characters a lot more interesting."

BobbyYoungblood: "I would actuallly like to see a Thanos tv show. Use the story lines from the mini series, and then take oher stories from he past, you can put nearly any super hero in it as well from the Marvel universe! Also the fact that its following a villian could give a lot more to a story for a tv show in my opi wnion. Great column again this week!"


Thanks guys! Alright, this week we shift gears and look at...Comic Book Couples! Yes! While romance seems to be a "icky" word in the funny books, we all have our favorite couple. I tried to pick 10 of the bigger ones but I know I left a few out that I'm sure you'll remind me about down below. Who do you think is the best one? Were they involved in some favorite storylines? Do you feel a connection? Did I miss your pick? Let me know.


NEWS!

Marvel NOW! Last fall Marvel pumped up their comics line with a relaunch of many of its key titles under the banner of "Marvel NOW!", and as the one year anniversary approaches, the publisher has announced a second wave of launches dubbed "All-New Marvel NOW!" that will begin on December 24, 2013.

According to an interview with Marvel's Editor-In-Chief Axel Alonso by USA Today's Brian Truitt, this new initiative will be led off by the previously announced Inhuman series with Matt Fraction and Joe Madiurera as well as a previously unannounced series, All-New Invaders with two former DC creators – James Robinson and Steve Pugh. Rounding out this initial announcement is word that Jonathan Hickman's Avengers series will join this with a new arc beginning in December's Avengers #24.NOW that sees Captain America and Iron Man recruit an all-new team to face a rogue planet barreling towards Earth.

In All-New Invaders, Captain America will reenlist his World War II-era team in the modern day with the likes of the original Human Torch, Namor the Sub-Mariner, and Cap's one-time sidekick Bucky Barnes, now of course working under the name Winter Soldier. In this new adventure, they are reunited to face off against a threat from the Kree Empire who have uncovered a device capable of controlling "gods" says USA Today. "They answered America's call, went to war against the Nazi menace and fought side by side. These guys were brothers-in-arms," Robinson told them. "As they move into more modern dramas, that link is a link you just can't undo. That will hopefully be the visceral element of this books' identity that will set it apart from the Avengers and X-Men."

In addition, USA Today said that "All-New Marvel NOW!" will bring new focus to other characters – namely Black Widow and the Silver Surfer – though it's unclear whether that's hinting at new ongoing series for those characters or just feature arcs in existing books..





Batwoman! Dan DiDio announced over the weekend at Baltimore Comic-Con that Marc Andreyko will take over as writer of Batwoman starting with November's issue #25. Andreyko is known for his work with Manhunter - a Gotham City female hero with ties to the DEO. Batwoman, DC Comics told Newsarama that Andreyko's artist for at least Batwoman #25, is Jeremy Haun. Haun is also no stranger to Gotham, but recently took a year as an exclusive artist at Top Cow before returning to DC for a Villains Month one-shot and other work. He was originally solicited as one of two artists on Batwoman #25 alongside Trevor McCarthy.

The previous creative team of writers J.H. Williams III and Haden Blackman had intended to finish their story arc, through #26, when they announced they were quitting the book over what they said was consistent last-minute editorial interference with their stories. Instead, October's #24 will be their final issue. The current "no marriage" policy for heroes at DC Comics was one of the points of contention for the team. Andreyko and Haun's first story will tie-in to Batman: Zero Year, the new origin story for Batman currently running in that self-titled book. Batwoman has largely existed on the periphary of the Batman universe in the New 52, but seems like it will be more integrated with the new creative team.





Fearless Defenders! For eight months and as many issues, Cullen Bunn and Will Sliney have been cutting into a new era of the Marvel super team the Defenders in the pages of Fearless Defenders. This all-female fighting squad led by Valkyrie has been everywhere from Asgard to New York, but in this week's Fearless Defenders #9 they will have to contend with a new threat: current and former boyfriends.

This Wednesday, Valkyrie's Secret Avengers-era hookup Venom is stepping in – with some back-up like Dr. Strange, Iron Fist, Hercules and more – as an intervention to get these women to disband the team. And as you can expect, the Shield Maidens have something to say about that. Newsarama spoke with Bunn about this new development on this new era of the Defenders, as well as the recent induction of a Nextwave alum and a new member.

Bunn said, "The rollercoaster ride is just gearing up. The next few issues of the series will be a wild and strange ride. Each issue will be a stand alone story, but there will be a common thread that runs throughout as part of a longer tale. We'll see evil artifacts and alien invasions and sea monsters and cosmic beacons meant to call down creatures that are older than the stars. Amidst all this, though, we'll be learning more about Valkyrie and Annabelle... how their new situation will work... who is adjusting to the predicament... and who is not. I think it's interesting to see where Val takes issue with the body-sharing... and where Annabelle has problems. It seems that their issues arise in completely different situations. Once you roll their combined issues together, they become very dysfunctional!"

On who we can expect showing up in the book: "The League of Super Dude-bros! Issue 9 features (and I might miss someone) Venom, Dr. Strange, Iron Fist, Hercules, Werewolf by Night, Cannonball, and X-Man... all characters who are either in a relationship or have been in a relationship with members of the Defenders. When we first announced this line-up, a lot of people got bent out of shape, thinking we were adding these (gasp!) men to the team. That's not the case, of course, but they are a part of the lives of these women. In this case, they're brought together for a common goal--to convince Valkyries and the others to disband this current iteration of the Defenders."





Superman! Both of the young members of the Superman family get new creative teams this December after the conclusion of Super-crossover "Krypton Returns." Supergirl #26 starts a new arc by writer Tony Bedard and artists Yildiray Cinar and Ray McCarthy, featuring the new-look Lobo that debuted to considerable reaction from fans. DC says Supergirl has "a new mission and a clearer understanding of her place in the universe" when she returns to Earth after "Krypton Returns." They did not specify if Bedard is on as the ongoing writer, or just for an arc. He recently concluded a two-year run on Green Lantern: New Guardians.

Over in Superboy #26, Marv Wolfman and Andres Guinaldo will take over the series in the midst of the Teen Titans time-lost Forever Evil tie-in arc. Wolfman will have a co-writer for the first issue, Frank Hannah. The story includes "some startling revelations about his origins and his future" - of course readers know that this New 52 Superboy is actually the clone of the future son of Lois Lane and Clark Kent, so the future is certainly a revelatory place for him.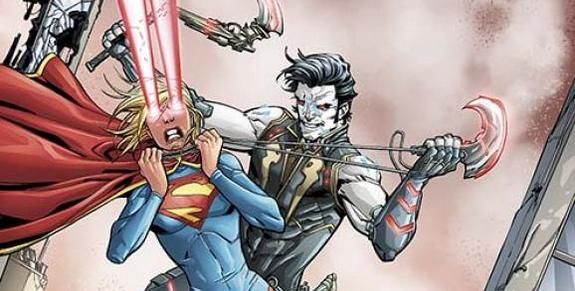 Small Press Expo!
As I gear up for the Small Press Expo this weekend I wanted to give a special spotlight to two books (and creators) that will be in attendance. First, is Cartozia Tales! It's an all-ages fantasy anthology, with a quirky indie sensibility and all the stories set in a shared world. A cool hook is that they have a core group of contributors working in every issue, but don't work on the same stories from issue to issue; at the beginning of work on a particular issue they get assigned at random to a different sector of the world map, then can either continue the story that's been told there, or explore another place in that part of the map. Not only that, they've had several big-name indie guest stars in each issue...and a slate of guests planned for the later issues, ranging from Luke Pearson, Jon Chad, Kelly Sue Deconnick, and Meredith Gran. Get more information over at cartozia.com. They also have a Kickstarter campaign going on here!

Next is Plastic Farm. Written and (mostly) drawn by Rafer Roberts, Plastic Farm follows the life of a man named Chester and his slow descent into complete insanity and chronicles how that madness reshapes the world around him. Chester has had a rough childhood, has a magic cowboy that rides a dinosaur living inside of his head, and is now, late in life, sitting in a nameless airport bar during a blizzard telling his life story to a group of people who really couldn't care less.

There will be three major arcs in Plastic Farm, two OGN interludes, a prologue and an epilogue. The first story arc PLASTIC FARM PART ONE: SOWING SEEDS ON FERTILE SOIL encompasses the first twelve issues, and introduces nearly every major character that will appear in this projected 50-60 issue series. PLASTIC FARM: FERTILIZER (an interlude in three aprils) was originally published in 2007 as an original graphic novel, and acts as a bridge between parts one and two. PLASTIC FARM PART TWO: SEASONS OF GROWTH IN THE FIELDS OF DESPAIR is the current story-arc and is anticipated to run to issue 45 or so. Print copies are currently available in mini-comic form from this website's store, and are forthcoming digitally from ComiXology. More information can be found at plasticfarm.com!







REVIEWS!

Do YOU want to be a reviewer for COMICS 411? Send me an email at stevethegoose@gmail.com to find out how! Take it away, RobF!

Forever Evil #1
By RobF

I love the Crime Syndicate. And the Reverse Flash. And Bizarro. In my opinion the doppelganger usually creates the best stories. So when I heard the CS where to be the catalyst of "Forever Evil" I was excited. Issue 1 starts strong and picks up steam. Can the Justice League be dead?

"This World Is Ours."

This is the statement uttered by Grid, the evil version of Cyborg who causes Lex Luthor's helicopter to crash. Lex was in the middle of blackmailing Thomas Kord of Kord Industries when suddenly all of Metropolis loses power and goes dark.

Next we see Nightwing at Arkham Asylum attempting to return Mr Zsasz but instead getting beaten down by Owlman and taken captive. Then Ultraman stormed into the Lexcorp building to grab his secret stash of Kryptonite (which makes him stronger).

The Rogues try to break The Trickster out of Iron Heights, only to be beaten to the punch by Quick and Atomica, who free everyone. Deathstorm (a new member of the CS) and Power Ring bust into Belle Reve and free Black Manta and the rest of Waller's Suicide Squad. The Crime Syndicate rounds up all the world's villains and has them meet in Happy Harbor, Rhode Island, where the Justice League's Watchtower has been destroyed and discarded. They repeat their declaration, claim they've killed the Justice League, and offer the bad guys a piece of the world they now control as long as they behave and fall in line.

Then the exclamation point: They unmask Nightwing revealing Richard Grayson. They then promise to hunt down everyone he cares about to murder them as an object lesson to any who would oppose them.

The heroes are gone or are being hunted. The villains get free reign. How long can it all last? Lex Luthor gives the orders, he doesn't take them. How long before they eventually have to rise up and take on the Crime Syndicate? How will the heroes react to being hunted by the CS? Or will there be some insane mix of heroes and villains banding together?

David Finch's artwork is top notch here. The massive four-page centerfold featuring the Crime Syndicate addressing the huge throng of villains, including everyone from Hugo Strange to Hector Hammond is a poster waiting to happen.

The 'all bets are off' feel is here in full force. "Forever Evil" has a lot of great things going for it; a strong concept, a compelling mystery, and a large pool of characters, any of which could become a breakout hit in the hands of a writer like Johns. There's electricity running through these pages that has been sorely lacking in much of DC's recent output.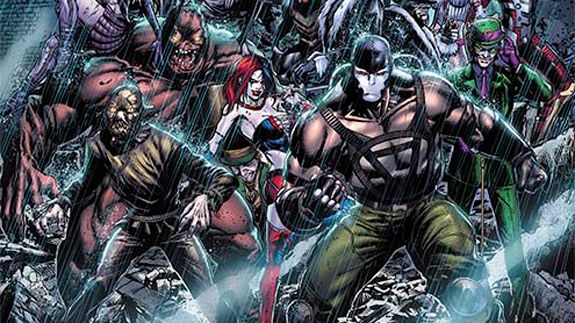 WEBCOMIC of the WEEK!

Do you have a web comic that you want me to push? Send it my way or mention it in the comments so I can take a look and share!

For some laughs, head to pandyland.net. Filled with off-the-wall scenarios and straight silly characters.





Before I say GOODBYE!
Follow me on Twitter for random bits, news RT's, and updates! Only at http://www.twitter.com/stevethegoose!

My Hollywood gossip (and anything else!) Hollywood 5 & 1!

Are you a fan of 411mania on Facebook? Keep up-to-date on news and contests!

Are you following 411mania on Twitter?
http://www.twitter.com/411mania
http://www.twitter.com/411wrestling
http://www.twitter.com/411moviestv
http://www.twitter.com/411music
http://www.twitter.com/411games
http://www.twitter.com/411mma

If you have some down time and are looking for a great place for great fun, check out Tiger Flash Games!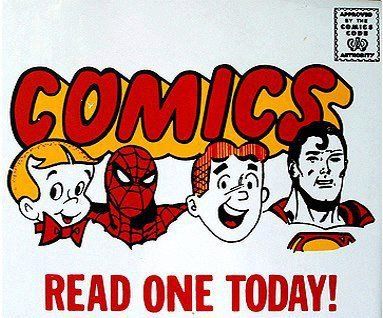 That's all the time I have. See you next week!


comments powered by