SPOTLIGHTS
A Bloody Good Time 09.12.13: The Top Ten Troma Team Releases
Posted by Joseph Lee on 09.12.2013

From The Toxic Avenger and Cannibal! The Musical to Tromeo & Juliet, Poultrygeist: Night of the Chicken Dead and more, 411's Joseph Lee counts down the top ten Troma Studios films!

































Opening Logo courtesy of Benjamin J. Colón (Soul Exodus)



Welcome to A Bloody Good Time.

Last week, not only did I start a two-part look at Troma (which continues now), but I asked you what should be our next Horror Knockout tournament. By a pretty wide margin, Horror heroes won out. I think by "heroes", I'm going to set the definition as "they have to survive a full movie". No heroic deaths are going to cut it. But there's still quite a bit of time before we get to that. Right now, we have Troma.

I went over the history of the company last week (and got retweeted by Lloyd Kaufman himself!) and this week I'm going to look at my picks for the top ten Troma films in their vast library of B-movies. Let's get right into it. Fun twist on this week, since Troma provides their movies for free on Youtube, I will try to link to the official video whenever I can. So you'll have no excuse!




#10: Beware! Children At Play (1989)

I'll be perfectly honest. I don't really like the film as a whole. I probably should have left it off of this list and normally would have, but I think the shocking ending sequence is enough to get it on here at #10. Before I get into that, let me just say that I find most of it incredibly dumb and boring, but then it leads to a tremendous climax that makes all of the build-up worth it. It starts as as typical "evil kids" movie and ends in a way that you would never expect anyone but Troma to do.

In films like Children of the Corn or The Good Son, even if kids die, it's bloodless or the camera cuts away so you can't see exactly what happens. Hollywood has a big problem with killing kids in movies. Not Beware! Children at Play. The finale of this movie sees the adults realizing they have no other recourse than to murder all of the evil children, so that's exactly what they do...for what feels like an eternity. It's just several children dying in bloody ways and it's a movie that could never be made in a mainstream film. For that amount of guts, it gets a spot on this list. You can find it here.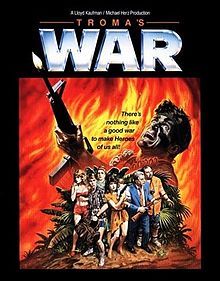 #9: Troma's War (1988)

This is Troma's anti-war film. Yes, Troma made a film that was against violence. Of course, in typical Troma fashion, their statement against the glorification of violence was itself a glorification of violence. As I mentioned last week, it was a commentary on Ronald Reagan's attempt to glamorize war. Not many Troma films attempt to make a statement of any time, so you have to give one credit when it does.

Does the film's attempt at a message make it any less entertaining? No. Not at all. It's still all of the gore you expect from this company, they just use it to make a point and that's what makes this one stand out. This wasn't even the company's first anti-war film, but it was still a pretty entertaining one. It is the prototypical Troma film, and I mean that in a good way.






#8: Poultrygeist: Night of the Chicken Dead (2006)

Just look at that title. It tells you everything you could ever want to know about this movie. It's a goofy zombie movie full of gore and chicken zombies. Chicken. Zombies. The film is one of Troma's most critically acclaimed movies, so obviously it should earn a spot here. If you can't enjoy a movie like this, then you're doing movies wrong. You just are. This is the very definition of schlock, but there is definitely a place for that if it's entertaining.

Poultrygeist is entertaining. Once you get past the initial silliness, it's one of the most entertaining low-budget zombie movies out there. It's gross, it's stupid, it's violent, but that's part of its charm. Really, the worst thing a Troma film can be is boring (sue me, but I felt this way about the Toxic Avenger sequels) and as long as you throw enough blood and dark humor in the movie, you won't have a boring release.




#7: Terror Firmer (1999)

Lloyd Kaufman directed this movie that pokes fun at making movies with several ultraviolent kills. Kaufman plays Larry Benjamin, a director trying to make a low-budget film in New York, but a serial killer is dispatching members of the crew. It ends as only a Troma film could and plays with nasty, tasteless deaths and lots of sex over the course of its run time.

This film is another fun one, as it not only makes fun of making a low-budget film, but shows Troma's sense of self-depreciating humor. They make fun of themselves a lot in this movie and reference other films in their library. You can't really make fun of a film company if they beat you to the punch, and Troma's always willing to do that. They know the types of movies they make, and they don't care because they have fans willing to watch them. Essentially, they're critic-proof.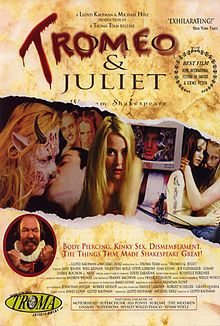 #6: Tromeo & Juliet (1996)

Troma takes on Shakespeare. No longer can you look at a Troma film and say, "well it ain't Shakespeare", because this time it is! The film is actually as faithful to the play as a Troma film will get, as it's still a love story. It just happens to be a love story with gore, sex (including girl on girl) and raunchy humor. And of course the movie ends with Juliet drinking a potion that turns her into a cow monster with a three foot penis because of course it does.

It's a more extreme and modern take on the story, and probably more entertaining than any adaptation of Romeo and Juliet ever made. Is that the intellectual thing to say? Probably not. Is it true? Absolutely. Who wants to watch the same story over and over again when you can see something like this? Obviously it's not trying to be a serious adaptation of the work and if you're mad at how it treats the play, then you really don't get what Troma was trying to do. Of course why would you watch a Troma film anyway? Feel free to watch it here.




#5: Combat Shock (1986)

This is a serious drama film that may be Troma's best work, from a quality standpoint. It is low-budget, sure, it it attempts to make a serious statement on soldiers coming back from Vietnam. The truth is, soldiers came back from that war messed up. It's still the war that almost everyone sees as unnecessary. Combat Shock attempted to portray that as a character piece, following on veteran as his life falls apart once he arrives from duty.

Not everything in Combat Shock works, but I think the intent and work put into the movie overshadow when a special effect fails or someone is not as good an actor as someone like Daniel Day-Lewis. (just off the top of my head). The movie is gritty and disturbing, especially when you consider how many Nam veterans had PTSD and how many 'Nam veterans didn't live happily ever after when they came back. It's not the best example of an anti-war movie, but it's still solid and deserves credit for what it gets right.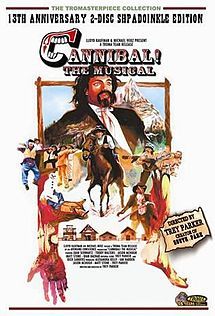 #4: Cannibal The Musical (1993)

From the devious minds of Matt Stone and Trey Parker comes Cannibal! The Musical a film that once again says exactly what it is in the title. It's a musical about cannibals. Specifically it's a musical about Alferd Packer, and his trip from Utah to Colorado that have five of his companions dead and eaten. It's only a loose telling of the story, as I doubt the traveling party stopped to sing showtunes. But I wasn't there, so many this is entirely historically accurate.

If you want to see the sense of humor prevalent in South Park make an earlier debut, this is the movie to watch. The film was mostly unknown until South Park got big, then Troma re-released it and it became a minor cult hit. In fact, some amateur productions of the film are still made as recently as 2012. It's the satire you come to expect from Troma and Stone, with cannibals and singing. It's not even the weirdest movie with their names on it!

You can watch it here.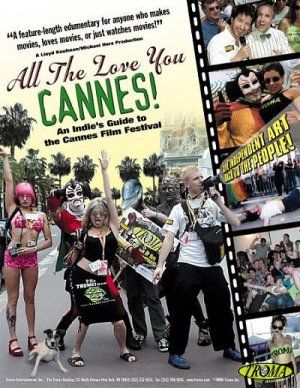 #3: All The Love You Cannes (2002)

This is a brutally honest documentary about how the Cannes Film Festival really works, from a small indie film company that was actually there. The truth is film festivals only really care about major studios and ignores studios like Troma. Sure, their movies aren't art, but they do put a lot of work into them and shouldn't be treated poorly by the rest of the film world. It's not just Troma either, as other independent filmmakers go ignored by the convention, as you'll see in the documentary. Troma goes there every year to disrupt things as best as they can.

It's a funny documentary that is as honest as this type of film is going to get. What do Troma have to gain by lying? Exactly, nothing. They're getting their story out there and entertaining their fans at the same time. I'd love to volunteer for one of these, go to Cannes and cause a little chaos. Sure, it may be a lot of hard work, but there's no way I wouldn't have a blast doing it.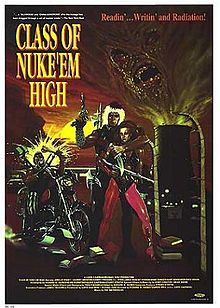 #2: Class of Nuke 'Em High (1986)

Class of Nuke 'Em High falls in line with most of the best Troma in that its ridiculous and fun. Think Troma's version of Mad Max inside a high school. It has a lot of goofy turns and nasty kills (of course) and is one of the funnier movies in the Troma library, in my opinion.

Tromaville High is located right next to a nuclear power plant that has a nasty habit of not letting them evacuate when there is obviously a radiation leak. This causes the honor society to turn into a group of Cretins, who take over the school. It also causes a lot of insane mutations and slimy worm pregnancies. Don't ask. Anyway, don't think too hard about this and you should enjoy yourself. If not, at least the music is catchy.

Check it out here.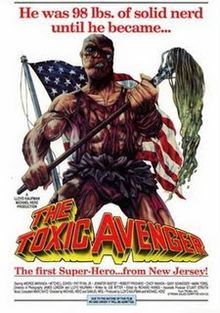 #1: The Toxic Avenger (1984)

Toxie has to be on here. He's the Troma mascot! More than that, I genuinely love this movie and it's far and away my favorite Troma film. I know it's the safe and easy pick, but it's also my pick. It's a hilarious superhero spoof that also creates a brand new kind of superhero all its own. A geek falls into some toxic waste and becomes a hideously deformed creature of superhuman size and strength. Naturally, he decides to clean up the town by killing all the bad guys within. He also talks like a lounge singer.

Toxie is angry, powerful and has a blind girlfriend. He takes on thugs and the corrupt mayor of Tromaville while winning public support. There is also the sliding dog (the dog was trained to slide for that very scene). In my opinion, this is the very best that Troma has to offer. You may disagree, but I have to go with what I love most, and that is Toxie.



Ending Notes:

That's it for me. Leave some comments here on or my Twitter. Next week, there's something strange in the neighborhood. Who you going to call? Ghostbusters!



Closing Logo courtesy of Kyle Morton (get your own custom artwork and commissions at his Etsy account)



A Bloody Good Time: The Store is now officially open! Like this design? You can now find it on most of my merchandise! Click here to find shirts, posters and more!

For those interested in more of my movie reviews, I've created a new blog! Check out the brand new Not-So-Bloody Good Time!

And of course, if you want to know if I've ever covered anything or want to read a past edition, there's the Bloody Good Time Archives! Yes, you can finally read every edition of ABGT going back to the beginning! Just ignore my early writing style...I was new.

See you next week!
comments powered by