SPOTLIGHTS
A Fool's Utopia 9.20.13: Universal Monsters on the Loose
Posted by Ron Martin on 09.20.2013

This week in one man's utopia we rank the six main Universal Monsters in the order of how frightening they would be if they were real. Also on the agenda, Halloween Jones Soda, The Big Bang Theory asks for more money and bloodsucking pens from the 80s.

As with most things having to do with this column these day, I was inspired by my podcast for this column. We're heading into a series that will include the four Wolfman movies from the Wolfman Legacy collection. I thought in honor of the upcoming Halloween season on top of the fact that I'm about to watch a bunch of movies that date before 1950, I'd rank the classic Universal monsters in order of the most dangerous if the monsters were real.

6. Frankenstein's Monster




I know Frankie is one of the heavy hitters. In fact, in some cases he's fighting Dracula for control of the entire group. In real life, however, let's be honest. He's as dangerous as a lone zombie. The Monster doesn't want to kill people, he just has to kill people that get in his way. He seems the easiest to avoid. Just don't piss Frankie off and maybe invite him to play some beer pong and all is well.

5. The Mummy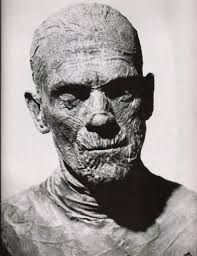 I like the Mummy. I really do. The idea of a dude who has been dead for thousands of years coming alive just long enough to turn your ass into grass – I can get into that. I think the Mummy looks creepy (at least the classic version, forget this CGI Brendan Fraser bullshit). However, when faced with a one-on-on with the King of the Wraps, I'm feeling pretty confident that I can survive. He's not exactly Speedy Gonzalez. I realized once he has me cornered, I'm probably a dead man. My strategy? Don't get cornered. I'm not exactly a speedster, but I'm pretty sure I can outrun a dude has been dead since the days of Jesus.

4. The Creature




I'm the first one to admit that if I'm in the water, the Creature is the second to last thing I want to run into. A pack of swarming piranhas is number one, in case you were wondering. There's no question about that. The Creature's downfall comes when you're not in the water. His powers are neutralized at that point. He's just another ugly dude hanging around a lake. He can be taken out with anything from a spear to a gun – maybe even salt. That's my theory, but it hasn't been tested just yet.

3. The Invisible Man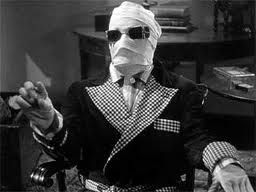 Yeah, I'm as surprised as you that the Invisible Man ending up so far up the list. That's just how the ball bounced. If you think about it, the Invisible Man has one hell of an advantage. He can screw you up in the water on the land or just keep moving your dinner plate every time you dip your fork to get some food on it. How frustrating would that be?! However, the Invisible Man's weakness if a pretty big one. A bunch of flour or ever a well places sticker sort of nullifies any advantage he had. Once you have him on the ground, it's no big.

2. The Wolfman




This was close – really, really close. I even texted my entire contact list to get their take on the situation. Like me, they were split down the middle. Both entities are virtually immortal. I was going to go the way of the Wolfman because of the ferocity of which he attacks (or I assume since these older movies don't really show any of that). Dracula can't duplicate that shit. The deciding factor between the two was the fact that the Wolfman needs the full moon to be a danger to society whereas Dracula can haunt your nightmares any time he wants.

1. Dracula




It's the side powers of Dracula that put him over the top. I'm not too keen on the fact that Dracula is all but useless during the day. However, it's presence that is Dracula's biggest weapon. When he gets those eyes on you, you're done. I like that. Plus he can turn into a bat. A Mfing bat!!! Dracula has a lot of downside (he can be killed by a lot more than the Wolfman can), but the upside is worth it. A werewolf I might be able to avoid. If Dracula wants your ass – you're pretty much done.





FIVE RANDOM THOUGHTS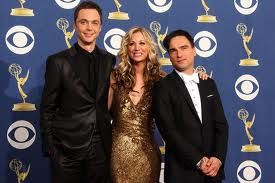 1. Some of the cast members of The Big Bang Theory are going to hold out for more money on their contracts? This is not surprising. Isn't this the right of every #1 sitcom of the last 25 years or so? Johnny Galecki, Jim Parsons and Kaley Cuoco are pulling in a cool $350k an episode and they'd like that bumped up to $500k. Most of what I've read on the situation wants to make me believe this might be a long, drawn out battle. It would be ridiculous of CBS if it were. This should be a no-brainer. CBS should be happy that they got the three at that price for as long as they did. This isn't a situation where the show can be re-cast or minor characters can be promoted (like Two and A Half Men). There just isn't a show without those three. Sheldon Cooper will go down as one of the greatest sitcom characters of all time, which is an accomplishment in this day and age of the one hour cop/forensic/medical drama. When Sheldon starts to push those buttons to the point of becoming borderline unlikable, viewers have the relationship of the other two to fall back on until the writers burst Sheldon's bubble (something they are good about doing at just the right time). This should be a fifteen minute meeting. If the actors on a mediocre sitcom like Friends can get a million an episode for six of them, certainly these three should be able to get half of that for half the actors.

2. I'm willing to admit when I'm wrong. A couple of weeks ago, I wrote a column about the three timers club: actors that have appeared in three successful sitcoms. I miswrote when I wrote that Betty White was close with two hit shows. As was pointed out to me in the comments section, Betty White was a regular on The Mary Tyler Moore. Ted McGinley, however, doesn't get sitcom credit for stuff like The Love Boat. However, you can add Soleil Moon Frye to the "it's possible" list because of her stints on Punky Brewster and the later years of Sabrina, The Teenage Witch.

3. SPORTS THOUGHTS:

a. Unlike my fellow Colts fans, I am firmly towing the line when it comes to this deal the team made to get Trent Richardson from Cleveland. It's not that I don't think he's worth a number one draft pick in the next draft. In fact, I think draft picks are insanely overrated. NFL teams covet them like they are rare gems, but the truth is roughly half of the high draft picks bust anyway, so I'd rather have a proven commodity than a draft pick any day of the week – especially one that is in the same draft class as Andrew Luck and has lots of productive years left.

My reservation doesn't come from the trade, it comes from not knowing just how good Richardson is. Ryan Grigson has a hard-on for him and Grigson has done a great job of recognizing talent, so I should give him the benefit of the doubt. I just remember too many times when Colts fans just assumed that their team was going to the Super Bowl and that unbridled optimism was met with playoff disappointment more often than not. I'm not the type that can do the optimism thing, but I do like a backfield of Ahmad Bradshaw and Trent Richardson this year followed by Richardson and Vick Ballard next year.

b. I've been playing fantasy football for over a decade now. There is something I will never understand. I never understand the thought process of roughly three quarters of the people I've played with when it comes to trades. They generally seem to fall into three categories.

i. The guy who just won't trade. I've played with several guys like this. The guys they drafted during the draft are their players for the year no matter how much they suck. They may drop a guy who goes on IR and pick up someone for a bye week, but that's it. I hate this because that means that every player on these teams are virtually dead to the rest of the league.

ii. The guy who won't trade unless it obviously favors his team. This is the guy who rejects your trade offer of a quality TE for his fourth running back. He hits you up with a counter offer of the same running back for the TE offered, your star WR and throw in your best backup RB as well. There aren't enough derogatory words in the English dictionary to properly explain my disdain of these people.


iii. The guy who always thinks you're trying to get one over on him. Most fantasy football players fall into this category. Every single trade is met with suspicion. If I offer up a decent TE for your fourth running back, it's probably just because I noticed that your TE sucked and I need some depth at running back. Instead most player feel like they have one over you because they have a player you want. Sorry dude, I'll just deal with someone else and you can stay happy with Vernon Davis as your shitty TE. What's it like to be winless and at the bottom of the league, again?


4. The man is back. After a few years off the radio and a couple stranded (kind of) in the Philipines, Art Bell started his newest radio program this week. If you don't know who Art Bell is, check out his wikipedia page. The man has led three or four lives in one lifetime. He is part of the radio broadcasting Hall of Fame and started the worldwide phenomenon, Coast to Coast AM back in the early 90s. Coast to Coast AM is a late night talk show discussing things that were taboo back in the early 90s but are popular now such as conspiracy theories, ghosts, demons, cryptozoology, the paranormal, UFOs and the like. For anyone who works third shift, it's a Godsend. The show has millions of listeners worldwide. Bell retired from full time hosting and handing the show over to George Noory roughly ten years ago. Now Bell is back with Art Bell's Dark Matters, in part because he feels Coast to Coast has gotten too soft.

Smarter than the average bear, Bell knows better than to try to take on the juggernaut he created head on. He, instead, opted for an earlier timeslot to act as a lead-in to Coast to Coast. If you have Sirius Satellite radio, check the show out. Otherwise, you can download from the website.

5. HALLOWEEN THOUGHTS:

a. I don't know when it happened, but sometime within the last 5-6 years, Target become the go to place for department store Halloween items. I try to hit it up most September and October weekends. My local Target is a little behind on getting their full Halloween on, but I did discover something that made me very, very happy. After a hiatus of what seems like 134 years, Jones Soda has brought back their limited edition Halloween sodas. I'll let Matt from Dinosaur Dracula explain.





I have yet to purchase these. I've had the Caramel Apple and Candy Corn flavors before and wasn't too impressed with either. It's not that they didn't taste like what they claimed to taste like, it's that I didn't much care for those two flavors in liquid form. I am looking forward to the Red Licorice. I hate that in order to get the entire collection, I have to buy a four pack of each flavor. Why not a mixed up set with all four flavors?! Honestly, if I owned Jones Soda, I would do the same thing, but I don't – so damn!

b. M&Ms just stopped trying. There's something about little pieces of candy dressed up on bags mixed with different hues of the hard chocolate shell that usually draws me to the various "holiday" M&Ms. The bags put out this year? Just repeats of the same bags from last year. I don't know why this bothers me, but it does. The one good thing is that I don't have to be tempted to buy a bag.


USELESS TRIVIA AND SHAMELESS PLUGGING

LAST WEEK'S USELESS TRIVIA

What was the first mascot?

ANSWER: Mr. Met. At least that's what I could come up with!

THIS WEEK'S USELESS TRIVIA

What Universal Monster had the most official Universal movies?

THIS WEEK'S SHAMELESS PLUGGING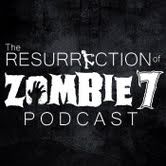 We're trucking along the Slumber Party Massacre franchise. We've been to slumber parties, we've been to sorority houses – are you ready for hot lingerie-clad women with guns running from a killer in a skyscraper? This week's episode of The Resurrection of Zombie 7 podcast is on the Jim Wynorski movie Hard to Die, which is impossibly worse than the preceding film in the series. There are a lot of tits in it, however. Wynorski does like his titties. Come and see continuity holes bigger than the one Miley Cyrus is sporting; not only Forest Ackerman in a cameo, but the man himself – Mr. Jim Wynorski plays a very face punchable character. There is only one thing standing in the way of this movie getting the worst rating I've ever given a movie – that thing is a man named Orville. Check out the podcast and find out why!


THIS WEEK IN RETRO



I was reminded of something this week that I had completely forgotten ever existed. I don't even remember what stoked the memory, but I was instantly taken back to stare at my own Bloodsucker Pen. It was a fateful Christmas morning that I got my bloodsucker pen. It was the purple one from the commercial above. I can't remember if it was in my stocking or actually under the tree, but that's semantics, isn't it?

Looking back on it now, I don't understand why this didn't rule my room of toys back then or become a priceless memory from the 80s for so many. They were really cool. Yeah, they were a little awkward to handle with giant plastic creatures on the end of each pen. The ink wasn't real strong either, but that wasn't the point.

They worked just like in the commercial. When writing, it looked as if you were writing death contracts with red blood pouring from the creature on the end of the pen's nose. When the red blood ink emptied, the best way for you to "refill" the pen/body of a flying demon from Hell was to put the point of the pen against your skin where the ink would magically refill with your blood. Rinse, repeat and creep out anyone who watches. Damn, I want one of these now.


23 Years Ago Today


September 20, 1990

#1 Single



"Release Me" by Wilson Phillips



#1 Album





Please Hammer, Don't Hurt Em by MC Hammer



#1 Movie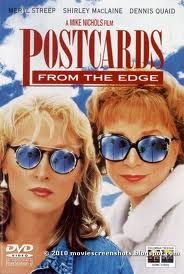 Postcards from the Edge


I must leave you now.




comments powered by