SPOTLIGHTS
A Bloody Good Time 09.26.13: Horror Hero Knockout Tournament - Round 1, Part 1
Posted by Joseph Lee on 09.26.2013

Shaun of the Dead's titular character battles John in They Live, Van Helsing takes on Jack Crow from John Carpenter's Vampires and more as 411's Joseph Lee kicks off the 2nd annual Horror Knockout tournament!

































Opening Logo courtesy of Benjamin J. Colón (Soul Exodus)



Welcome to A Bloody Good Time.

Our second annual Horror Knockout Tournament is here, this time pitting the greatest heroes in horror history against each other to see who the best is. If you were here for the Horror Villain tournament, you saw that Freddy Krueger won the finals, beating Jason Voorhees in a rematch by only five votes.

For this tournament I not only removed characters that you rightfully pointed out went against my own rules, but I tried to add as many of your requests as possible. I ranked them in terms of importance and my own preference and then seeded them accordingly.

Rules:

This is a 32-character tournament with horror heroes, only. To qualify they had to survive an entire film and actually take a proactive stance against the forces of evil, as opposed to just surviving. For example (and as you pointed out to me because I wasn't thinking), Damien Karras is very heroic...but he doesn't survive The Exorcist. Heroic sacrifice doesn't cut it here. We want the baddest and the strongest.

You can choose who wins here completely. Outside of the ranking, my opinion means nothing. You can vote however you want, for whatever reasons you want. If you are one of those that just wants to vote for who you think would win a fight, do that. If you want to vote based on your favorite, do that. As long as you pick one over the other, it doesn't really matter your reason. It's completely up to you.

This isn't really a rule, but I would assume that with all good guys (or mostly good guys) in this tournament, these wouldn't be fights to the death. What possible reason would give Ash or Ripley the motivation needed to kill each other? That's just my take on it, and I'll be doing "strategy" write-ups accordingly.

Here's your bracket:





Let's get going with Round 1, Part 1: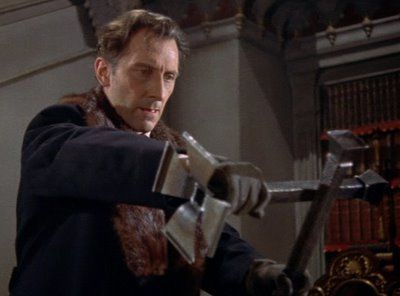 Van Helsing (#1 Seed)

First Appearance: Dracula (1931)
Number of Appearances: Over thirty at least. He's public domain, just like Dracula.
Quote: "There is evil in the world. There are dark, awful things. Occasionally, we get a glimpse of them. But there are dark corners; horrors almost impossible to imagine... even in our worst nightmares."

VS




Jack Crow (#32)

First Appearance: John Carpenter's Vampires (1998)
Number of Appearances One.
Quote: "Well first of all, they're not romatic. Its not like they're a bunch of fuckin' fags hoppin' around in rented formal wear and seducing everybody in sight with cheesy Euro-trash accents, all right?"

Jack Crow may hunt vampires, and that's cute, but Van Helsing wrote the book on how to hunt and kill vampires. Dracula is the greatest vampire there is, and Van Helsing is possibly the greatest vampire hunter. But Crow is a more modern vampire hunter and has built himself an effective team to get the job done fast. He knows what he's doing and has more of an attitude than someone like Van Helsing would want to put up with.

If these two fought, it'd probably be over who in fact gets to kill a particular vampire. Maybe Dracula himself. Crow doesn't like the way Van Helsing does it and Van Helsing thinks Crow talks too much. It's like Lethal Weapon with vampires (note to self: begin work on screenplay). They both have similar strategies when it comes to the enemy, but how would they approach each other? Although Crow is more likely to fight other people to get what he wants, Van Helsing has tangled with Dracula on several occasions and won.

Who wins the first fight? Does Van Helsing prove to be the superior vampire hunter? Or is Jack Crow destined to pull off the biggest upset ever?







Charlie Brewster & Peter Vincent (#16)

First Appearance: Fright Night (1985)
Number of Appearances: Four, including the upcoming sequel to the remake.
Quote: "That's just a character I played in a movie! Peter Vincent's not even my real name!"

VS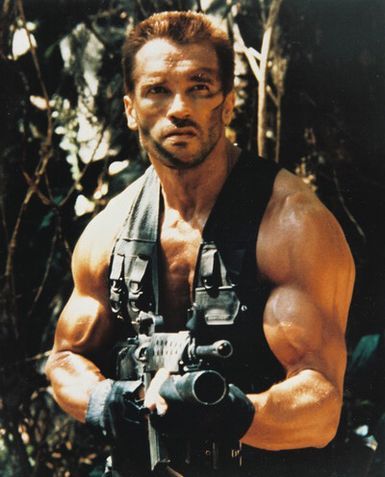 Major Alan "Dutch" Schaefer (#17)

First Appearance: Predator (1987)
Number of Appearances One.
Quote: "If it bleeds, we can kill it."

I couldn't decide between Charlie and Peter Vincent because they go so well together, so they're in it together in this tournament. They're going to need all the help they can get, because they're up against Arnold Schwarzenegger. All three have faced extraordinary odds. Brewster and Vincent have teamed up to take on vampires and other kinds of monsters while Dutch battled an alien from outer space that was created solely for hunting. They all managed to survive, even if the odds were against them.

However, Dutch would appear to have the advantage, even if this fight is two on one. He's a soldier, and much more equipped for fighting than the other two. Before he tackles the Predator, he can be seen taking out other soldiers like it's nothing. But they can't teach guts, and that's something Charlie and Peter have in spades. Working together, they may be able to find a way to incapacitate Dutch just long enough to advance to the next round.

Will Dutch make his opponents bleed? Or does Peter Vincent have enough faith for his team to succeed?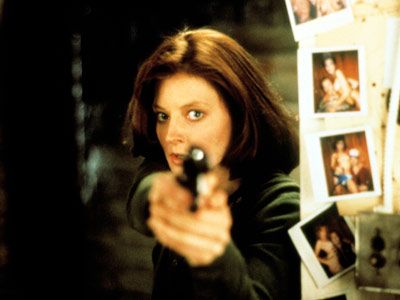 Clarice Starling (#8)

First Appearance: The Silence of the Lambs (1991)
Number of Appearances: Two.
Quote: "This is from the Guinness Book of World Records, congratulating me on being the female FBI Agent who has shot and killed the most people. "

VS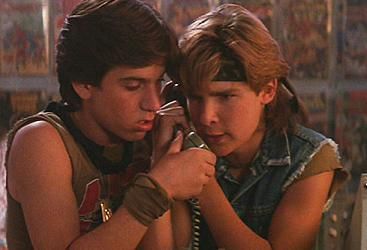 Edgar and Alan Frog (#25)

First Appearance: The Lost Boys (1987)
Number of Appearances Three
Quote: "Listen, just so you know, if you try to stop us, or vamp out in any way, I'll stake you without even thinking twice about it!"

This tournament features a lot of vampire hunters as it turns out. Edgar and Alan Frog started out as kids but eventually grew into the role, with Alan unfortunately becoming half-vampire in one of the crappy sequels no one likes to talk about. Clarice, meanwhile, has went mind-to-mind against Hannibal Lecter on two separate occasions and even took down Buffalo Bill when Bill had every advantage against her. However, neither Hannibal nor Bill are undead monsters.

While the Frog brothers know how to take down the undead, Clarice is still a trained FBI agent. Even with the odds against her she's going to know how to take down two guys as she the proper training to do it. If she can take down a serial killer while blind, she certainly can hold her own here. However, the brother Frog are not to be taken lightly as they didn't get through three movies by being weaklings. While Clarice has her training, it should be pointed out again that it's two plus one, and the Frogs are used to dealing with much stronger foes.

So can Clarice outwit another opponent? Or can this set of vampire hunters move on to another round?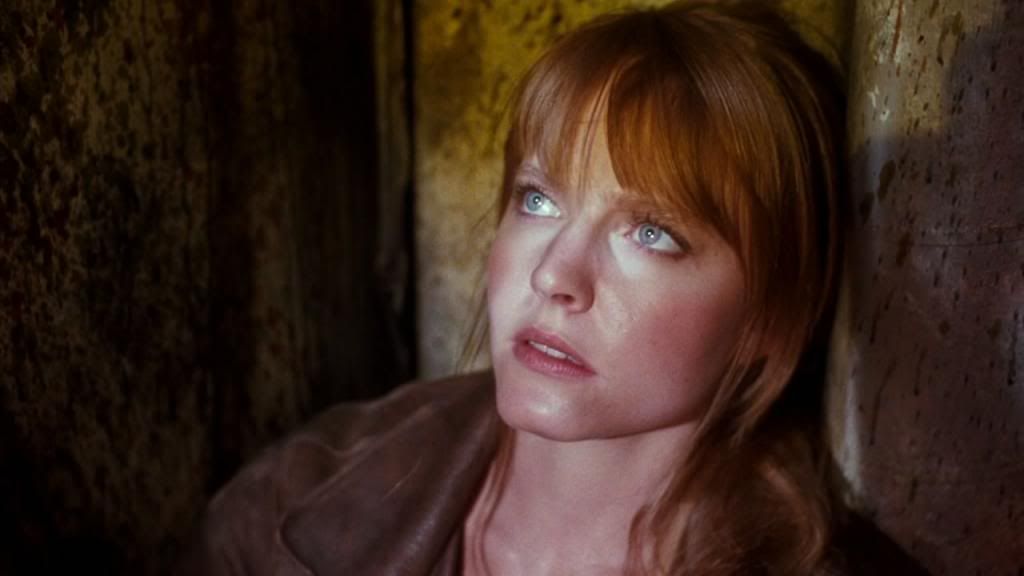 Alice Johnson (#9)

First Appearance: A Nightmare on Elm Street 4: The Dream Master (1988)
Number of Appearances: Two.
Quote: "You don't get it. He's not a nightstalker, and it'll take a lot more than bench presses to defeat him."

VS




Andy Barclay (#24)

First Appearance: Child's Play (1988)
Number of Appearances Three
Quote: "This IS the end, friend!"

Alice Johnson is the Dream Master and managed to fight off and defeat Freddy Krueger (the winner of our last tournament) twice in a row. Everyone knows and remembers Nancy, but Nancy actually died at the end of Nightmare 3. Kristen died at the beginning of Part 4. Alice won twice and as far as we know, got out of Springwood, never having to deal with the dream demon ever again.

However, Andy's a survivor too. He's fought Chucky three times and he's killed Chucky three times. You wouldn't think a kid would be able to fight evil off that many times (he's grown in in the third film) and live, but Andy did it. Somehow the kid survives and proves that good really can win over evil. I can't see any reason why these two would ever want to fight, but here they are matched up in the first round. Alice can hold her own in dreams, and probably has some of that skill in the real world too. Andy, depending on his age, certainly knows how to fend for himself and could play on Alice's emotions if he really wanted to sneak by her.

Is this the end for Alice? Or will she show Andy why she's the Dream Master?







Dr. Samuel Loomis (#4)

First Appearance: Halloween (1978)
Number of Appearances: Seven.
Quote: "I met him, fifteen years ago; I was told there was nothing left; no reason, no conscience, no understanding; and even the most rudimentary sense of life or death, of good or evil, right or wrong. I met this six-year-old child, with this blank, pale, emotionless face, and the blackest eyes... the devil's eyes. I spent eight years trying to reach him, and then another seven trying to keep him locked up because I realized that what was living behind that boy's eyes was purely and simply... evil."

VS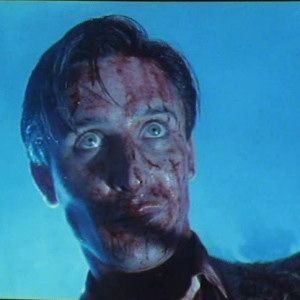 Lionel Cosgrove (#29)

First Appearance: Braindead (1992)
Number of Appearances One.
Quote: "Party's over."

Dr. Loomis, much like Dr. Van Helsing with Dracula, will be forever tied to the embodiment of pure evil that is Michael Myers. He's managed to survive and even fight off The Shape in a total of seven movies. Sure, two of those were remakes and sure, technically he was supposed to die in Halloween 2, but he didn't. He's shot Michael several times, fought him even though he was severely outmatched and even blew himself up trying to stop him. Dr. Loomis wants nothing more than a world where Michael Myers is dead, and has been known to act a little crazy to get his way.

Lionel, meanwhile, just wants to have a relationship with his girlfriend Paquita and get out of the thumb of his mother. He can't help it that zombies start popping up and at first he just wants to hide them from the rest of the world. But when the undead get out of control, Lionel grows a pair and wipes out the lot of them in one of the biggest and bloodiest battles in horror history. A horde of zombies is almost equal to one Michael Myers, so I think our combatants are pretty evenly matched.

Is the party over for Dr. Loomis? Or can the good Doctor go on to fight pure evil another day?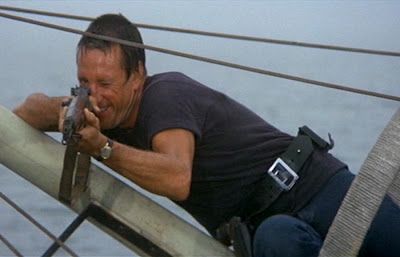 Police Chief Martin Brody (#13)

First Appearance: Jaws (1975)
Number of Appearances: Two.
Quote: "Smile you son of a BITCH."

VS




Reggie (#20)

First Appearance: Phantasm (1979)
Number of Appearances Four
Quote: "Okay. I see it, I see it all now. What we gotta do is we gotta snag that tall dude and stomp the shit out of him, and we'll find out what the hell is going on up there. Yeah! We lay that sucker out flat and drive a stake right through his Goddamn heart!"

One has fought giant sharks twice and lived both times. The other has fought The Tall Man four times and his endless supply of midget undead slaves and killer balls, along with zombies. As far as variety and danger ofopponents, Reggie probably has the edge here. Giant sharks are one thing, but at least when Brody killed the shark it stayed dead. I'm not sure it's possible to ever truly kill the Tall Man.

Like many fights in this tournament, these two really have no reason to fight. In fact, they'd probably get along really well. They're both blue-collar types who work hard and are pulled into extraordinary circumstances they by all rights shouldn't have survived. Reggie somehow managed to survive four movies, going from ice cream vendor to shotgun toting badass. Brody has managed to kill two giant sharks, and there's not many who could survive a fight with one, much less kill it.

Has Reggie finally met his match, or is Brody going to need a bigger boat?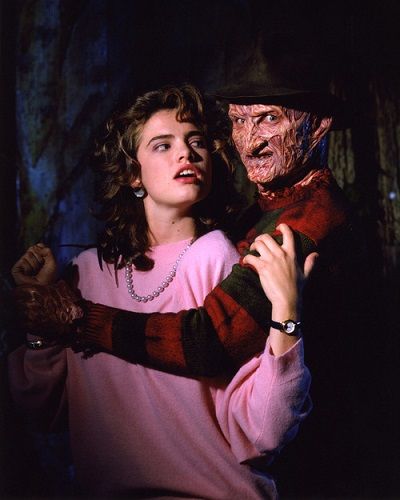 Nancy Thompson (#5)

First Appearance: A Nightmare on Elm Street (1984)
Number of Appearances: Two.
Quote: "Whatever you do don't fall asleep."

VS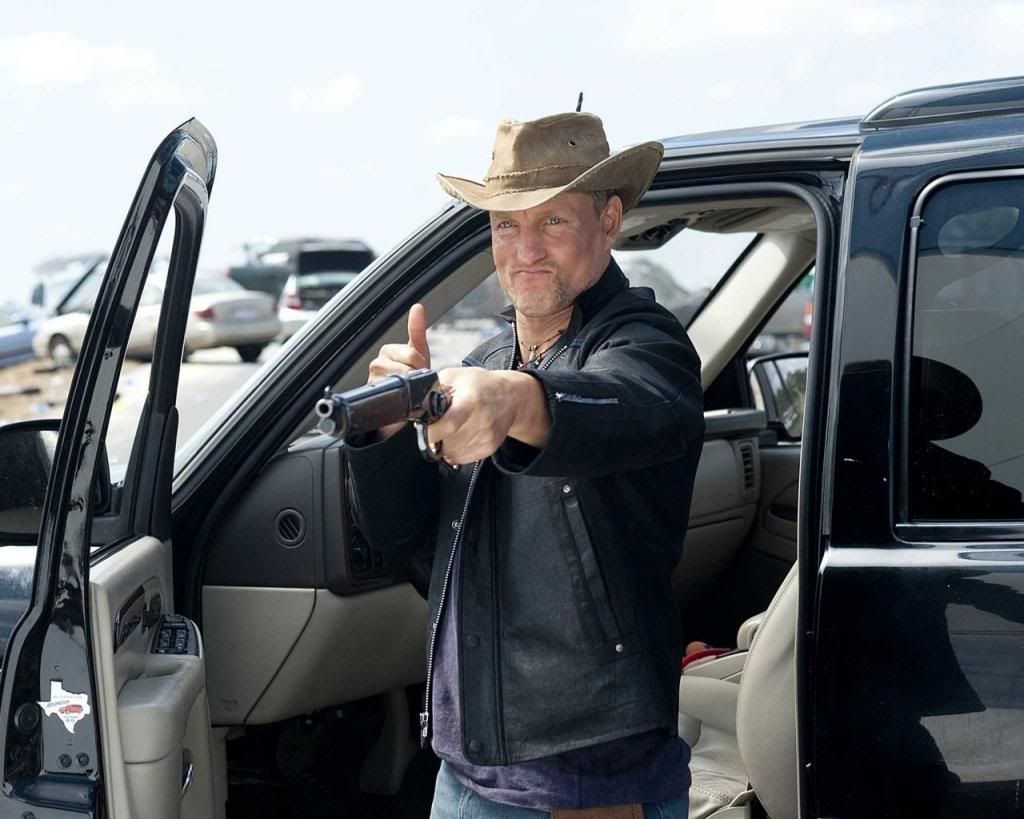 Tallahassee (#28)

First Appearance: Zombieland (2009)
Number of Appearances Technically two, if you count the stupid Amazon pilot.
Quote: "Here's the deal: I'm not easy to get along with, and I'm sensing you're a bit of a bitch."

There's a lot of zombie killers in this tournament. Nancy is also a repeat in that she's another person to defeat Freddy Krueger. She may not have beat him as many times as Alice did, but she did manage to do so. You'll note I included that Nancy herself only appears two times in the Nightmare series. Before I get any complaints, that statement is accurate. Heather Langenkamp the actress is the star of New Nightmare, and they changed the character's last name for the remake. Plus, Rooney Mara's performance was so terrible who would want to associate it with such a strong character?

So Nancy has managed to not only survive Freddy, but she put a severe beating on him by setting various traps and setting him on fire. So in spite of the fact she's just a teenager, she can still hold her own and even does well for herself the next time she fights Freddy. He has to trick her just to get the advantage. Meanwhile, Tallahassee has been fighting zombies for a long time so he too can handle himself. He's done his job for a long time and has stayed alive a lot longer than the rest of the people in his world. This will be a tough fight for both, as they each have their own strengths and weaknesses.

Will Tallahassee move on to eat more Twinkies? Or can Nancy put her survivalist tactics to good use?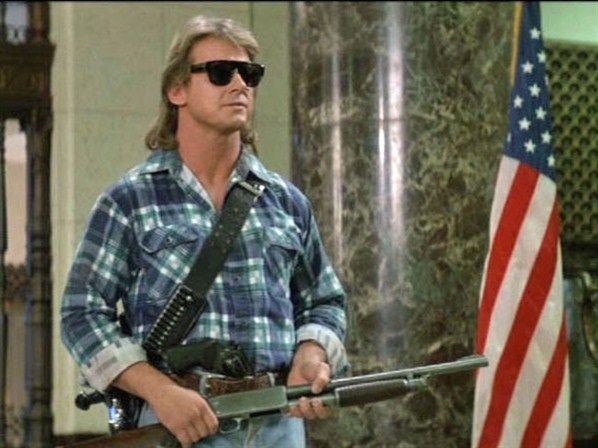 John Nada (#12)

First Appearance: They Live (1988)
Number of Appearances: One.
Quote: "I have come here to chew bubblegum and kick ass... and I'm all out of bubblegum."

VS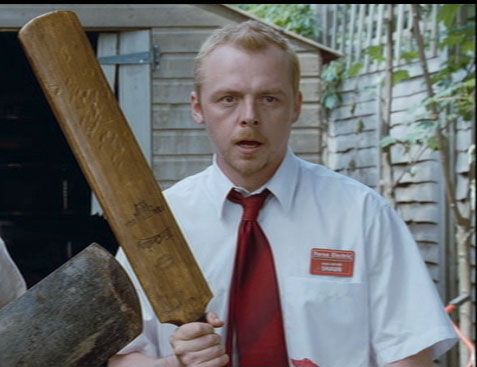 Shaun of the Dead (#21)

First Appearance: Shaun of the Dead (2004)
Number of Appearances One.
Quote: "Look, I don't care what the telly says, all right? We *have* to get out of here. If we don't they'll tear us to pieces, and that is really going to exacerbate things for all of us."

One fought off an alien invasion, one survived the zombie apocalypse. It just depends on which one you think would win in a fight. As John Nada has proven, he can hold his own against humans just as well as aliens. He'll also get into fist fights over really stupid stuff (like forcing someone to put on glasses) so he will probably have no problems taking on Shaun. It's Shaun that will need motivation, but when in times of peril he generally tries to stand up for himself, so I think a fist fight will definitely break out between these two.

In any other circumstance, they may actually be friends. They're both about in the same place in life and it takes extreme danger for them to stand up and become a hero. I think Nada is a bit more coordinated and has more attitude than Shaun, but if Shaun can survive a horde of zombies then maybe he can sneak past Nada too.

Can Shaun exacerbate things for Nada? Or is it not his year?




Ending Notes:

That's it for me. Leave some comments here on or my Twitter. Next week, the tournament continues with part two of the first round! Get your votes in!



Closing Logo courtesy of Kyle Morton (get your own custom artwork and commissions at his Etsy account)



A Bloody Good Time: The Store is now officially open! Like this design? You can now find it on most of my merchandise! Click here to find shirts, posters and more!

For those interested in more of my movie reviews, I've created a new blog! Check out the brand new Not-So-Bloody Good Time!

And of course, if you want to know if I've ever covered anything or want to read a past edition, there's the Bloody Good Time Archives! Yes, you can finally read every edition of ABGT going back to the beginning! Just ignore my early writing style...I was new.

See you next week!
comments powered by