SPOTLIGHTS
411 Fact or Fiction Movies/TV 10.11.13: Week 403
Posted by Ben Piper on 10.11.2013

Do we want a standalone Loki movie? Will Captain Phillips be an Oscar front-runner? Will Machete Kills be as fun as the original? 411's Will Helm and T.J. Hawke debate these topics and more!




Last week's super-sized Breaking Bad themed Fact or Fiction proved to be a huge hit. I'm glad that everyone liked it, and had a good time. This week, however, we're back to our regular scheduled (and sized) format, so please cut us some slack. Here to help us out are Will Helm and T.J. Hawke…




1. Captain Phillips will be a major Oscar contender.

TJ Hawke: Fact. I went back and forth on this one for a while for some reason. In the end, I decided to go with the safe option of assuming a movie starring Tom Hanks directed by Paul Greengrass will be well received on all fronts. I predict Hanks will get a Best Actor nod and the film will be nominated for Best Picture.

Will Helm: Fact. Other than the upcoming American Hustle, I can't think of many early Oscar contenders out there. Even though I have little to no interest in seeing Captain Phillips -- repeated viewings of the television commercial had that effect -- it does contain many of the prerequisites that make a true Oscar contender. First, and possibly foremost, Tom Hanks stars as the titular Captain Phillips; the esteemed Mr. Hanks is generally a hallmark of an Oscar contender. In addition, Captain Phillips is based on a true story. While never a guarantee of Oscar contention, the "true story" does carry weight with Oscar voters; after all, the reigning Best Picture is based on a true story. Finally, Captain Phillips seems to have a plot that is all about Oscar contention: piracy, a war of wills, military stuff, etc. To be honest, I wouldn't be surprised to find out that Captain Phillips's first name is actually Oscar.

Score: 1 for 1


2. You'd be greatly interested in a standalone Loki movie starring Tom Hiddleston.

TJ Hawke: Fiction. While I'm sure it would be possible that Marvel could create an interesting Loki film, it does not seem very likely based on what they've done with Loki so far. The Loki character in Thor clearly had a very interesting and complex story that could serve as the backbone for a main protagonist in a film. However, that Loki was quite lame and not all that fun. The Loki in The Avengers was a ton of fun, but I do not suspect that him playing a two-dimensional bad guy (yes, that's pretty much what he was in that movie) will work as the main character of a film. So, what would a Loki movie even look like? Probably a combination of the two in order to make him remotely sympathetic, while still being enjoyable to watch. While that idea has potential, it's not something I'm greatly interested in.

Will Helm: Fiction. Among comic-book movie characters, Loki is one of the best, by far. Ruthless, cool, calculating, but yet understandable, Loki stole the show in both Thor and Marvel's The Avengers -- by the way, how terrible is it that the studio had to add the "Marvel's" bit to the title there because of that awful Ralph Fiennes-Uma Thurman flick? -- and seems to be an integral part of the next installment in the mythology of Thor. Without a doubt, a good portion of Loki's popularity stems from Tom Hiddleston's amazing portrayal, as he imbues Loki with a masterful combination of subtlety and humor, elevating to Shakespearean histrionics when the situation calls for it. That being said, I don't think that the character of Loki -- nor Tom Hiddleston's performance -- is strong enough to carry a film centered on Loki alone. Few, if any, of Loki's tales are enough to anchor a film, so a Loki film would likely fall short of content. Of course, if the film were a "documentary" about how Tom Hiddleston seems to actually think he's Loki . . . that I would watch.

Score: 2 for 2

3. The world does not need another NCIS spinoff.

TJ Hawke: Fact. The world definitely doesn't "need" another NCIS show, but honestly, cop/lawyer/medical procedurals are all pretty much the same thing to me (in that they all share a basic structure, and I'm not going to watch any of them). Thus, I cannot summon much righteous anger at the temerity of CBS using an incredibly successfully brand to launch what will likely be a financially successful show that will lead to stead work for a lot of people in front of and behind the camera.

Does the world need another NCIS spinoff? No. However, it's not like CBS would be using this television space to launch a forward-thinking drama that doesn't rely on network procedural structures and tropes. So, who cares? (Not me, duh.)

Will Helm: Fiction. The world needs as many NCIS spinoffs as possible. This is just how I feel. I've barely watched any of the Law & Order variations, and I can't say I've ever seen a CSI, but I've watched a few NCIS episodes throughout the years and I must say that I'm honestly surprised that, unlike those two aforementioned franchises, there haven't been more NCIS spinoffs. To my estimation, unlike Law & Order and CSI, NCIS does one thing that is wiser than the other two: it breaks up the procedural action with a healthy dose of comedy, and that is important. NCIS has a fair share of quirky characters who are charismatic and entertaining, unlike a lot of the melodramatic lantern-jawed investigators on its competitors. Television needs more of that, so, therefore, television needs more NCIS.

Score: 2 for 3



Switch!!!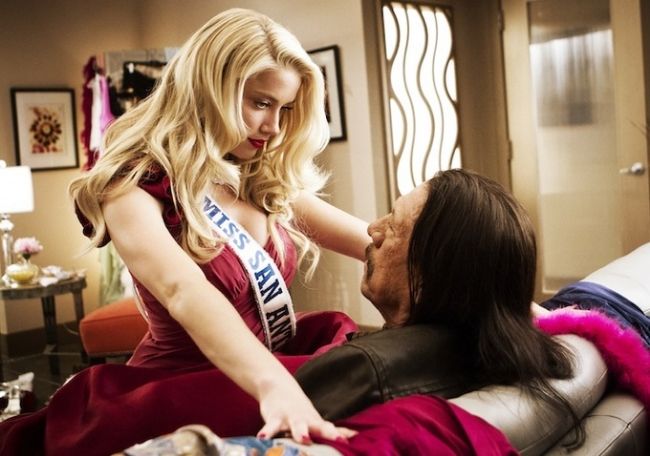 4. Machete Kills will lack the sense of fun that made the original such a B-Movie guilty pleasure.

Will Helm: Fiction. To be honest, it's hard to believe that an entire movie franchise has been spawned from a fake movie trailer, but do you, Machete? Anyway, the first installment of this franchise was a crazy B-movie romp carried ably on the back of legendary badass Danny Trejo. While not well made by any stretch of the imagination, Machete achieved what it had set out to do: entertain. To that end, I do believe that Machete Kills will pick up where the last film left off and then some, because now Machete is a somewhat established franchise. The stakes are higher, the action is wilder, and -- indicatively -- Charlie Sheen is Carlos Estevez. That last bit, I believe, is demonstrative of what will make Machete Kills a worthy successor to the previous movie: wackiness. While the only true shock casting of the first film was Lindsay Lohan, this installment will up the ante and, undoubtedly, feature more and more wacky antics from unexpected celebrities -- Sofia Vergara being a notable example from trailers and commercials -- and this will give Machete Kills the fun that its heritage requires.

TJ Hawke: Fiction. I actually never saw the first Machete, but I can't imagine the sequel will "lack the sense of fun" that the original had. Will it be as creatively or as financially successful as the first film? Possibly not, but the trailers for this film clearly establish that the sequel is looking to be more fun than the original. On an unrelated note, Robert Rodriguez has had a very strange career. I wouldn't call it disappointing by any stretch of the imagination, but I can't say that his choices consistently appeal to me.

Score: 3 for 4

5. A TV prequel show that follows the exploits of a young James Gordon working the streets of Gotham in the pre-Batman days is a fantastic idea.

Will Helm: Fact. As we now have Agents of S.H.I.E.L.D., will this be Jim Gordon, G.C.P.D.? Seriously, though, with Arkham Origins on the horizon, a Jim Gordon prequel series would be an excellent idea, as long as the writing is solid. If -- and that's a big "if" -- the writing is good, a show like this can delve deeply into the Gotham City that existed before the Bat. While seasoned Bat-Heads surely know the mythology, the overall audience could very well be captivated by this new view of Gotham City, especially through the eyes of a well-known and, thanks to Bob Hastings and Gary Oldman, well-respected character. This could very well be an excellent addition to the DC television universe -- which, with Smallville and Arrow already in existence -- is already pretty good.


TJ Hawke: Fact. Obviously, this could turn into a disaster, but on the surface this is incredibly exciting. The Batman universe is very rich, and this could be a fantastic way to explore it on a smaller scale. I've hopelessly wished for more small-scale Batman movies that exist in the main DC universe but don't feel the need to tell an apocalyptic story that modern blockbusters apparently demand. The idea of a Jim Gordon prequel series could be an excellent way to accomplish that creative need of mine (and all art should be designed to my tastes, right???!?!?!?). Granted, I would prefer that this show exist on AMC, FX, or HBO, but even an episodic version of this story (as the show will most likely be) has a good chance of being entertaining.

Score: 4 for 5

6. You agree with Esquire Magazine that Scarlett Johannson is the sexiest woman alive.

Will Helm: Fact. *Looks around for girlfriend.* *OK . . . she's not there.* *Whew* Remember when Maxim screwed the pooch a few months back and named Miley Cyrus as their sexiest woman or whatever? That was hilarious. Luckily, Esquire was wise enough to avoid putting the title on a freaky, tongue-wagging twerk machine and, instead, selected a woman who is equally as talented as she is gorgeous: Scarlett Johannson. Though I'm sure that there are a few who may disagree, ScarJo is one of the few actresses out there to have a handle on her sensual, sexual image, while still being a strong persona and not letting her "sexy" image hold her back. She has acting chops, geek cred, and a great resume . . . and she's only 28, which boggles my mind. So, even though she may be very easy on the eyes, Scarlett Johannson embodies sexy because she is that every quality through and through in all senses.

TJ Hawke: Fiction. I give Will credit for trying to actually discuss this in a non-creepy way. However, I really do not care about this question at all, and I'm disappointed that it's being included if I'm going to be perfectly honest. I don't judge the people that participate in discussions like these, but it's not something I'm going to be a part of. Everyone has the right to spend their time in whatever way makes them happy (as long as they are not harming anyone), and I choose not to be a part of a discussion like this. (And I wrote fiction, because my girlfriend is the sexiest woman in the only world I care about.)

Final Score: 4 for 6

And that's that. Will and T.J. agree more often than not. Thanks to them both fore playing, and see you all again next week!
-BP



TWITTER

http://www.twitter.com/411s_Ben_Piper
http://www.twitter.com/411mania
http://www.twitter.com/411wrestling
http://www.twitter.com/411moviestv
http://www.twitter.com/411music
http://www.twitter.com/411games
http://www.twitter.com/411mma
comments powered by