411 Fact or Fiction Movies/TV 10.18.13: Week 404
Posted by Ben Piper on 10.18.2013

Should Harrison Ford return to play Indiana Jones? Are people interested in another X-Files Movie? Will Carrie be a suitable remake? 411's Wyatt Beougher and John Dotson debate this and more in the latest Fact or Fiction!




Hello, and welcome back once again to Fact or Fiction. This week we've got the 3 R's John Dotson as he faces longtime 411 contributor and new Agents of SHIELD recapper, Wyatt Beougher. Why waste any more time? Let's get to it.




1. Carrie will be a very good remake.

John Dotson: Fiction. It's hard to say but at the moment, I'm going to lean towards the side of "fiction." It has a stellar cast for sure, with Chloe Moretz in the main role of Carrie and Julianne Moore as the mother. Part of me feels this isn't going to deliver though, and I'm only judging this from the promotions. Back when the original hit, Sissy Spacek automatically had that creepy layer embedded in her performance. When I view the trailers, Moretz appears to lack the eeriness needed to capitalize on Carrie. As I said though, this is just judging based off the footage alone. I did do some research though, and noticed it has a great director in Kimberly Pierce, who also directed Boys Don't Cry. It may not live up to the original, but it could possibly end up as a fun Halloween flick. We seem to be lacking horror movies this Season anyway.

Wyatt Beougher: Fiction Not unlike John, I'm intrigued by the cast, and while I believe it will certainly be a solid remake with the potential to be very good, I'm just not sure if it'll actually live up to its full potential. And while I believe that Chloe Moretz is talented enough to make the role work, as John alluded to, it's hard to see her as a social outcast. If she and director Pierce can bring the weird, outcast vibe to life, the movie should exceed my modest expectations, and if the word "very" were removed from the statement, I would've gone "Fact". As it is, though, I think it'll be solid, if unspectacular.

Score: 1 for 1

2. You'd be interested in Harrison Ford returning to play Indiana Jones one last time.

John Dotson: Fiction. Years ago, I'd say yes, but after many years of digesting The Kingdom of the Crystal Skull, I have to say no. Harrison Ford served his time as Doctor Jones, and I just want this franchise to fade away before anyone else has a chance to damage it. Yes, I realize Disney owns the property now, but Disney also owned the Lone Ranger. The first three films are solid pieces of work and let's leave it at that. As far as the last movie, well, I'm willing to pretend like the film never happened if you are. Oh, and a message to Disney: If you do end up making Indy 5, no more Aliens or Shia Labeouf! Okay? Thank you kindly!

Wyatt Beougher: Fiction This is only tangentially because of Harrison Ford (in that I don't want to see his legacy as Indy further sullied) and has everything to do with a complete and total lack of trust in George Lucas, who is potentially the most creatively bankrupt person working in Hollywood today. In my estimation, he's even worse than the guys who made Transmorphers, because at least it seems like they have a passion for what they are doing, while Lucas is content to churn out drivel from Skywalker Ranch and collect a fat paycheck as a result. When I read that Ford was thinking about coming back in a role more akin to Sean Connery's in Indiana Jones and the Last Crusade, I was on board, but then I read that Lucas' attempts at developing a fifth Indy movie were stalled while he determined the film's MacGuffin and I lost all interest. If he's struggling to figure out something for Indy to pursue (which should be the foundation that the entire plot of the movie is really built around), I have absolutely no faith whatsoever that he can build a compelling film around Ford. So no, this is a definite fiction. Ford, and the character of Indiana Jones, deserve better.

Score: 2 for 2

3. Michael Bay directing a horror movie is a bad idea.

John Dotson: Fiction. I'm going to get so much hell for this, but I'm willing to take the heat. I'm all for this idea simply because of what Bay accomplished with Pain & Gain. Unlike the major critics out there, I actually loved Pain & Gain. With that movie, we actually saw another side of Michael Bay we barely ever get a chance to witness. It's major proof that the guy has some buried potential waiting to be tapped into. Plus, if it means we don't get any more Transformers movies, then why not? I have no idea what a Michael Bay horror movie would even look like, and my curiosity says let's see what the guy can handle. Then again, it's not always a good to be curious with Michael Bay. As long as he stays away from remakes I'll stand by statement.

Wyatt Beougher Fact Horror is probably my favorite genre, and over since the turn of the century, some of the better horror movies have been lower budget affairs that weren't churned out by big Hollywood studios (Splinter, [Rec], and especially Let the Right One In, I'm looking at you) and featured directors with a love for the genre. Michael Bay loves explosions, vapid female leads, and huge, panoramic shots (and, some would say, raping the childhoods of 20- and 30-somethings everywhere), so I fail to see how he's even remotely a good fit for the genre. If Bay somehow manages to direct the best horror movie of the next few years, I'll be the first to admit that I was wrong, but I'd prefer if he didn't get to play in that particular sandbox at all.

Score: 2 for 3



Switch!!!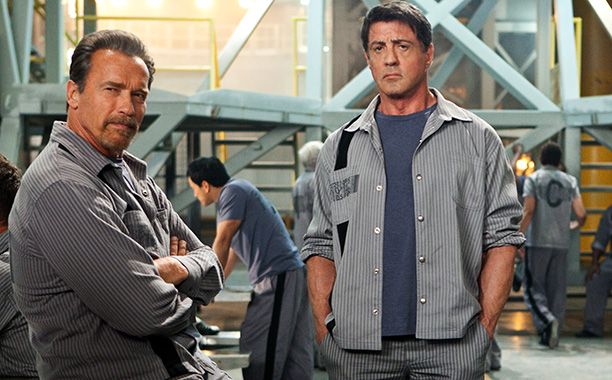 4. The combined star power of Sylvester Stallone & Arnold Schwarzenegger is not enough to make you buy a ticket to Escape Plan.

Wyatt Beougher: Fact I liked it better the first time, when it had Randy Couture, Jet Li, Dolph Lundgren, and Terry Crews in it and it was called The Expendables. That movie, and its sequel, were clearly intended to be so over-the-top that it was hard not to enjoy them. Escape Plan appears to be taking itself too seriously for my liking, so I have very little desire to see it. I'm sure I'll catch it (or at least some portion of it) when it's on HBO next year and I'm channel surfing, but I have no intentions of actively seeking it out. Bring on The Expendables 3, please.

John Dotson: Fiction I agree mostly with Wyatt, however. I'm a sucker for Stallone and Schwarzenegger. Yes, The Expendables has already treaded some of the goofy interactions between these guys, but now it's just the two of them alone. This is the kind of movie I can take my father to see and just have a nostalgic good time as these two action legends place foot-to-ass. I'm also an optimist when it comes to seeing movies though, and will see pretty much anything outside of Twilight and Katherine Heigl movies. Do I think it's going to make huge money this weekend? Probably not. Would I pay to see Escape Plan? Damn straight!
Score: 2 for 4

5. You'd be down for a third X-Files movie.

Wyatt Beougher: Fiction At the risk of alienating the readers, the X-Files stopped being a "must-see" property for me around the time the show ended its initial run. I watched the first movie, losing interest about halfway through, and I haven't looked back since. For the people who still dig the X-Files, I'm not going to begrudge you that, and, for your sake, I hope that the movie gets made, but I won't be watching it.

John Dotson: Fiction I'm in full agreement with everything Wyatt just mentioned. X-Files had a great run in the '90's and resurrecting another movie now just seems pointless. It's kind of similar to the He-Man reboot. Was the toy/cartoon popular back in the day? Without a doubt. That said, most of those kids who loved He-Man are thirty-somethings with children, day jobs, and a government shutdown to deal with. X-Files had its time and we should be extremely grateful for that. Let's not push Fox to make this happen and end up with another mediocre outing like X-Files: I Want to Believe. We have plenty of old episodes that we can revisit if we need another bite of the property.
Score: 3 for 5

6. The Fifth Estate will be a compelling and thought-provoking recounting of the WikiLeaks scandal.

Wyatt Beougher: Fiction From everything I've read, the critical reception to the film has been positive towards its acting, but largely negative in regards to the direction and storyline that it follows. I could be wrong, but that, to me, doesn't scream "compelling and thought-provoking". Director Bill Condon has done good work in the past, so it's certainly possible, but when the film is receiving unflattering comparisons to The Social Network, I'm not sure there's much hope. (And that's not a knock on The Social Network, by any means, as it was a film that I enjoyed tremendously, but one is about the development of a social networking site and the other is about revealing potentially world-changing secrets, so you'd think the latter would be receiving favorable comparisons if it were really that good, right?) I will say that Julian Assange calling the film "an attack" is probably the one review, more than any other, that gives me hope, because that probably means that The Fifth Estate gives depth and weight to the story, rather than just portraying Assange like the martyr he believes himself to be. So maybe I'm cynical, but I still have to go "Fiction" on this one.

John Dotson: Fiction Looks like I'm "Fiction' down the board this week. I'll be honest and say I know very little about the film, besides that it stars Benedict Cumberbatch, and involves the WikiLeaks scandal. The research I did find was the same as Wyatt's though. Outside of critical praise for Cumberbatch's performance, it seems The Fifth Estate suffers from wanting to say too much, instead of trying to leave an emotional impact on the audience. I'll be watching just to see how Cumberbatch handles the role despite lukewarm responses from the media. It's a shame if it really does disappoint, because there was so much potential inside the true story to create a riveting film.

Final Score: 4 for 6

Wyatt and John agree more often than not. Thanks to them both for stopping by, and see you all again next week...
-BP



TWITTER

http://www.twitter.com/411s_Ben_Piper
http://www.twitter.com/411mania
http://www.twitter.com/411wrestling
http://www.twitter.com/411moviestv
http://www.twitter.com/411music
http://www.twitter.com/411games
http://www.twitter.com/411mma




comments powered by