SPOTLIGHTS
A Fool's Utopia 10.19.13: A Community Halloween
Posted by Ron Martin on 10.19.2013

This week in one man's utopia, we take a look at Community's Halloween episodes and why they should be included amongst TV's best. We also talk about my stay in Salem, Peyton coming back to Indy, American Horror Story and Jesse Ventura's new book.

A text message from a friend brought up this topic, so if you hate it, blame him – not me.

This friend has been watching just Halloween episodes of sitcoms and wanted my take on some sitcoms that did Halloween episodes right. My first instinct (as I'm sure yours is as well) was Home Improvement and Roseanne. After a few minutes, I was able to come up with several others, but it wasn't for another twenty minutes or so that I thought of Community. Community does all holiday episodes up right and it's time it was recognized as such. Whether it's Halloween, Christmas, Thanksgiving, Valentine's Day or even a Halloween/Valentine's Day hybrid episode, Community doesn't shrink away from contractual holiday episodes. They go all out. Compare that to another NBC program, The Office, which started out with a bang on Halloween episodes before banishing Halloween to the prologue of the episode.

In four seasons of Community, we've gotten four Halloween episodes (even when the show is not airing during the Halloween season). Halloween episodes of community are not only creative and funny, but they manage to keep current storylines going or create new ones. The very first Halloween episode concentrated on Annie's Halloween party, included Jeff being too cool for Halloween unless it came to wooing a statistics professor and Pierce going crazy and embedding himself in the middle of a furniture fort.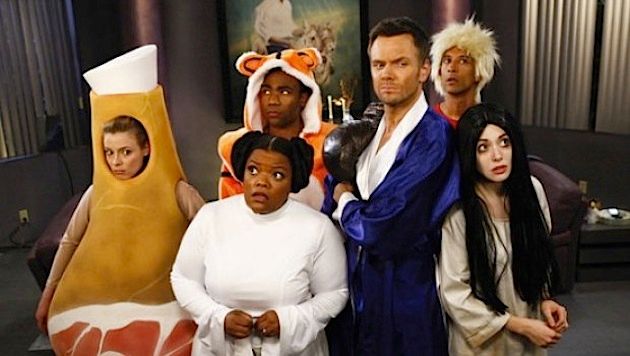 Things were just heating up as the second Halloween episode is one of the best episodes in the entire series. The Dean feeds his school expired and tainted military meat which causes a zombie outbreak. In a way only Community can succeed in, each of our characters and tertiary characters are turned into zombies. It would be very easy for Community to play this as a one off Halloween episode and never mention it again. I don't think their audience would bemoan them that. Many other sitcoms have taken this tactic to holiday episodes. Community not only refused to do that, but made the episode a key point in the storyline that fueled the rest of the season – whether or not Chang was the father of Shirley's baby.

While I was initially disappointed with the Third Season episode of Britta giving everyone psychology tests, then having them tell horror stories in order to figure out which one was crazy (SPOILER ALERT: They all were except Abed), it has grown on me. Even a bad Community Halloween episode is better than the average show's Halloween episode.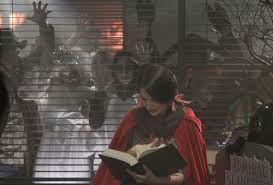 The fourth season brought us to Pierce's haunted mansion where Pierce has locked himself in his Panic Room while the others try to decipher why his house is haunted. Like everything in Community, there's a reason and it all fits together with ongoing storylines.

All in all, it's time to step up and rank Community right up there with the Roseannes and Home Improvements of the world when it comes to Halloween episodes. Even those two shows tapered off in quality near the end of their runs. Though it remains to be seen, I doubt that we'll get that same tapering from Community. It not only delivers Halloween goodness but thrives on these special shows more than any other show currently on television. Perhaps more than any show, ever.





FIVE RANDOM THOUGHTS



1. SALEM THOUGHTS:

a. Yes, once again, I have graced the town of Salem, MA with my presence for a bit during their month long Haunted Happenings Halloween Festival. One thing I have noticed over the years of coming here – the first year I came here (2001), there were maybe five tours. Now there are approximately 5,678,302 tour, give or take about five.

b. I can always tell what's coming to the Midwest fashion wise within the next six months by looking at the people walking around the city. The majority of people are either Salem residents or from a nearby east coast town. While fashion may move quickly for those on the right coast, it takes awhile to drizzle into fly over country. From what I can tell, looking at this year's crop – torn jeans are making a comeback. This makes me very happy.

c. Salem is missing an all horror all the time shop. Most of the shops have some kind of horror related section, but no shop (if you don't count the horror movie wax museum as a shop) is over devoted to it. Possible business idea…hmmmm....

d. I always enjoy the street performers in Salem. This year, the regular Frankenstein, living statue and scary clown playing the saxaphone has been joined by Chewbacca, Marilyn Monroe, Nosferatu and a dude who is basically screaming as he plays the guitar.


2. For the record, since I'm on my last bit of columns, I can tell you that I'm "that guy." I'm the guy who listens to alternative news because he doesn't trust what mainstream media is feeding him. I don't believe in Bigfoot, but I'd like to search for him. I think it's ridiculous to think that there are millions of planets out there and not one has life on it. I believe in the powers of meditation, massage therapy, aromatherapy and things most people dismiss. I'm not a hardcore conspiracy theorist, but I'm open-minded about a lot these things.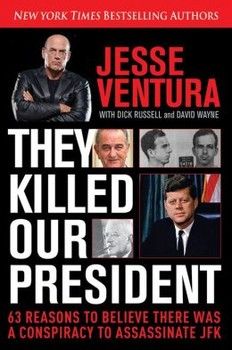 That's why I can recommend Jesse Ventura's new book They Killed Our President: 63 Reasons to Believe There was a Conspiracy to Assassinate President John Kennedy. If you've never read anything on the topic before, this is a good place to start as most of the "reasons" are written for the average person to understand. With the 50th anniversary of the assassination coming up, now is a good time to learn the facts about the issue. I don't see how anyone who has actually researched the assassination can come up with any other explanation than conspiracy, but I'm always willing to listen.

3. SPORTS THOUGHTS:

a. I had a bad feeling about that Colts Monday Night game against the Chargers. It had the feel of a trap game, stuck between a big win against Seattle and an upcoming battle with Peyton Manning – and it was. They needed that one. They really did.

b. As for Peyton, I expect nothing less than a loud standing ovation for him at The Drum this Sunday. My only regret is that I won't be able to watch it. My dumbass is driving 10-12 hours that day and guess who forgot to set their DVR? Seriously, there are as many Manning Denver Broncos jerseys running around Indiana as there are Colts Luck jerseys. They'll root for the Colts, but they'll give Manning the respect he deserves.

c. For the record, I believe everyone is misconstruing the tweets of the owner of the Colts, Jim Irsay. When the Colts traded for Trent Richardson, he said they were trying to get away from the gunslinger quarterback team. They learned with Manning that defense and running wins more championships. He's been saying it for awhile. It has nothing to do with Manning, just the makeup of a team that is built to win in the playoffs.

d. Should I be worried that the fantasy football league that I am doing best in is the one where I let the computer draft my team?




4. I finally caught my first ever episode of American Horror Story. It's not that I didn't want to watch it, it's that I don't get to watch a lot of TV sometimes, so AHS never became a priority. I loved the first episode of Season Three. I'm a big fan of Kathy Bates – not so much of Emma Roberts. I love the inclusion of both Marie Levaua and Madame Delphine LaLaurie. I have some reservations going forward. It looks like we're getting zombies and I am very much zombied out. We'll see how it plays out. Can I say that I love "human voodoo doll" as a power of one of the girls, however?

5. HALLOWEEN THOUGHTS:

a. I suppose it was too good to be true. I was lauding the stores for slowly introducing their Halloween merchandise. Little did I know, it was because they weren't going to introduce as much merchandise and was going to fill the aisles with Christmas. I know I've said this in the past, but I just don't understand the willingness of retail stores to get rid of their second biggest retail holiday to make way for their first biggest retail holiday. Why not get the most out of each? It seems ridiculous.

b. Halloween Wars is kicking into high gear. The teams have upped the stakes as most of their candy/cake/pumpkin creations are life size. I loved the team's reaction of straight fear to Tony Todd last week. I can't wait to see how they react to Derek Mears, who is even bigger!





USELESS TRIVIA AND SHAMELESS PLUGGING


LAST WEEK'S USELESS TRIVIA


What was Indiana Jones name in the original script?


ANSWER: Indiana Smith. Big ups to BEN PIPER for having the right answer once again!


THIS WEEK'S USELESS TRIVIA

This week, something a little different. I took this picture in a window in Salem. How many of these characters can you name based on these old school Halloween masks?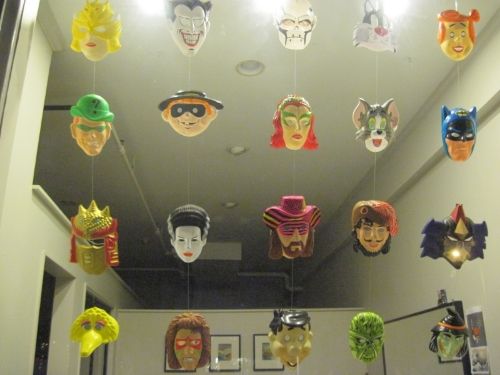 THIS WEEK'S SHAMELESS PLUGGING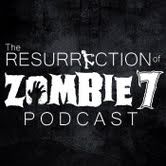 After covering the Universal Classic, The Wolf Man, the podcast is moving onto 1943's Frankenstein meets Wolf Man. I promise not so much discussion of werewolf penis is this one. Well, we haven't actually recorded it as of this writing so I guess I can't really promise it, but with a different co-host who shies away from anything sexual, I can be about 90% sure. Check out the website, follow us on Twitter, subscribe on iTunes. Tell your friends, your family, friends of the family and your dog. Do it!


THIS WEEK IN RETRO



It should be known that Indianapolis has one of, if not the best Children's Museum in the world. I'm actually not overstating that. Though I haven't been there in years (at least not the actual museum part), when I was a young lad, I would frequent the place to see full dinosaur skeletons, mummies and mostly to roll down the ramps they had in place of stairs.

Come October, however, it was an entirely different situation. Walking into my classroom on October 1 provided me with a flyer for Dial-A-Witch. I've spoken of dialing a witch before. I've spoken of the line constantly being busy and me pushing redial after redial after redial until I was finally able to break through at 1 AM to hear a lady tell me the hours of the Children's Museum haunted house in a witch voice. Until I was nine or ten, the Children's Museum Haunted House was my yearly Halloween ritual.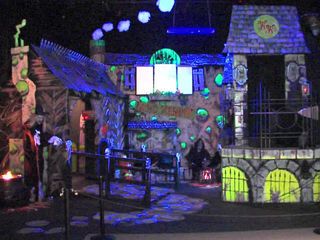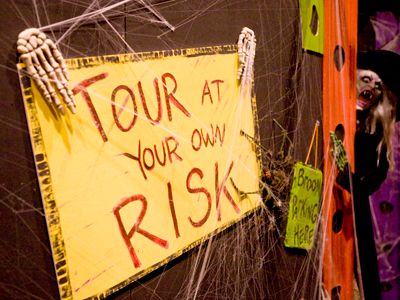 Having hindsight and having taken a trip through the haunted a house a few years ago with my niece and nephew, I am pretty sure these things weren't scary at all. From a kid's standpoint, I was both exhilarated and terrified of the haunted house each year. The house ran on a theme every year, but the only one I can ever remember was Indiana sports – and the only room I remember from that one was a demon in a Colts outfit thrashing around a locker room. This is when I discovered using humor made things less scary. I believe I told scary Colts demon to when a game and he won't be so pissed – or the eight year old equivalent of that.

Once you got through the haunted house (which as a kid seemed like it went on for hours), you were let out into a Halloween store because the Children's Museum ain't stupid. As a child, I sported many spider rings, skull pins and cheap plastic masks purchased in such a store. As a bonus for making it through (there were chicken doors), kids got a Halloween trick-or-treat bag with candy in it. Some bang for your buck, so to speak. Not that I would ever have used that bag on Halloween night (pillowcases were the only bags big enough to carry the haul I planned on every year), but it was nice to have a bag with Halloween art. By the time we got home from the museum, it was just the bag because I would have eaten all the candy. That, I remember vividly.



23 Years Ago Today


October 19, 1990

#1 Single



"Praying for Time" by George Michaels



#1 Album





Please Hammer, Don't Hurt Em by MC Hammer



#1 Movie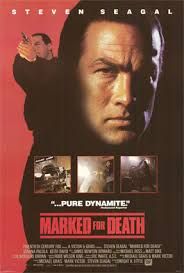 Marked for Death


I must leave you now.




comments powered by