SPOTLIGHTS
A Bloody Good Time 10.24.13: Horror Hero Knockout Tournament - Semifinals
Posted by Joseph Lee on 10.24.2013

Ash from The Evil Dead takes on Riply from Aliens and They Live's John Nada battles Predator's Dutch as 411's Joseph Lee presents the Horror Hero Knockout Tournament semifinals!

































Opening Logo courtesy of Benjamin J. Colón (Soul Exodus)



Welcome to A Bloody Good Time.

The semifinals are here after a surprisingly blowout quarterfinals. You guys knew who you wanted to get here and you didn't waste any time. So why waste time with an intro, let's get right to it!

Rules:

This is a 32-character tournament with horror heroes, only. To qualify they had to survive an entire film and actually take a proactive stance against the forces of evil, as opposed to just surviving. For example (and as you pointed out to me because I wasn't thinking), Damien Karras is very heroic...but he doesn't survive The Exorcist. Heroic sacrifice doesn't cut it here. We want the baddest and the strongest.

You can choose who wins here completely. Outside of the ranking, my opinion means nothing. You can vote however you want, for whatever reasons you want. If you are one of those that just wants to vote for who you think would win a fight, do that. If you want to vote based on your favorite, do that. As long as you pick one over the other, it doesn't really matter your reason. It's completely up to you.

This isn't really a rule, but I would assume that with all good guys (or mostly good guys) in this tournament, these wouldn't be fights to the death. What possible reason would give Ash or Ripley the motivation needed to kill each other? That's just my take on it, and I'll be doing "strategy" write-ups accordingly.

Here's your bracket:




The semifinals begin NOW.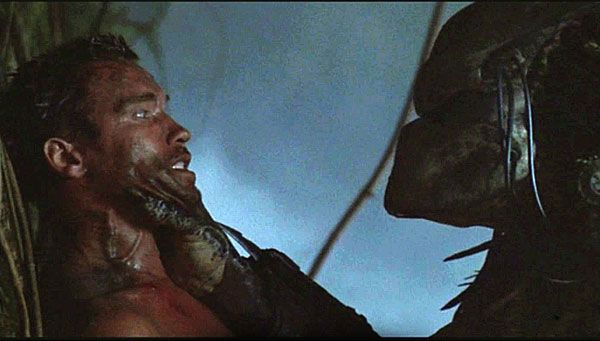 Major Alan "Dutch" Schaefer (#17 seed)

Defeated: Charlie Brewster & Peter Vincent (334-46), Van Helsing (256-126), Clarice Starling (209-66)

Strengths: Dutch has lots of military experience. He is the leader of a private military team that the US military and CIA hired in order to clean up a mess in Central America. Of that entire team, he's one of two to survive. He's good with camouflage, guns, knives and hand-to-hand combat. He's also good at thinking on his feet. He's a specialist in guerrilla engagements. If he loses his weapons, he'll make his own with whatever's handy.

Weaknesses: Well, there is the "no kill" rule in this tournament, but that's not much of a weakness. He took a beating from the Predator that he barely walked away from, even with all of his skills. He tends to rely on cheesy one-liners in his fights.

Film Franchise: As I mentioned before, Dutch didn't move on to any other Predator films, although he was mentioned often in the tie-in media and was intended to be in Predator 2. However, Arnold Schwarzenegger defined Dutch as the hero of the Predator franchise, which admittedly isn't as hard when your competition is Danny Glover and Adrien Brody. I like both guys but...it's Arnold.

Popularity: Again, Dutch is the main hero of the Predator series. He's probably the only character people remember besides the monster itself. The fact that there have been four movies after his time has come and gone and he's still as popular as he is proves that. With Arnold revisiting his former franchises like Conan and Twins, I think it's only a matter of time before we get an older and wiser Dutch battling the Predators one last time in a new movie.

This week, as I did last year, I'm posting fan tributes. This one for Dutch shows his body count, courtesy of TheTrueTank249.



VS




John Nada (#12)

Defeated: Shaun (234-113), Tallahassee (218-160), Dr. Sam Loomis (174-96)

Strengths: He's very heroic, possibly more so than Dutch. Dutch was merely a mercenary thrown into a hazardous situation. Nada was an everyman who discovered something sinister was going on and immediately tried to put a stop to it. He seems to be handy with firearms himself as he demonstrates from the first moment he realizes there are aliens among us.

Weaknesses: He's a drifter so his background is unknown. He could have skills, as his handling of guns suggests, but we're going to assume he doesn't. He's just a guy with no special training or expertise. He also has that same weaknesses for cheesy one-liners (although I think his are better). He can be tricked by a beautiful woman and turned on later in the movie.

Film Franchise: There was no franchise. They Live was one and done. However, it remains a very popular and influential sci-fi/horror/action movie to this day, and recently received an excellent DVD/Blu-ray release from the great folks at Scream Factory. Not bad for a movie that's twenty-five years old and never spawned any sequels or video games of any kind. Even 976-Evil got a sequel! Ghoulies got a sequel! COME ON, HOLLYWOOD.

Popularity: No one really talks about Keith David in regards to They Live unless they're referring to his epic fight with Nada. As I said, for the fact that only one movie exists with this character, he remains very popular and his lines are still quoted. The fact that it's like, the only movie Roddy Piper's in that's any good also helps.

This tribute to the movie They Live comes from Chubzdoomer.



Strategy: Neither man will be winded after their surprisingly easy fights in the quarterfinals. When it came down to fighting, Dutch took care of Clarice and Nada managed to get past Dr. Loomis in something of an upset. It was because I used the photo of the Malcolm McDowell version, wasn't it?

In terms of fighting expertise, you have to believe that Dutch has the advantage. He's got the military background, he's adept at weapons and he's taken out a very nasty monster to claim his spot as a horror hero. If Nada wants to win, he'll have to rely on the tactics he used in They Live, which also had the odds against him. Nada may want to reduce the battle to a fist fight, because he stands a better chance than in a firefight.

Only one of these movie badasses can go on to the finals. Who do you have? Does Dutch continue his dominant run or does Nada surprise us yet again?



surveys & polls







Ash Williams (#2)

Defeated: Jack Brooks (460-16), Peter Washington (347-29), Laurie Strode (222-60)

Strengths: Ash has a chainsaw for a hand (or a mechanical hand, depending on which Ash this is). He's become pretty skilled with a shotgun over the years. He's surprisingly very good with the ladies and has classic movie star good looks. He can take a lot of abuse. He has the sheer willpower to fight off possession and will cut off his own body parts if it means he stops the process.

Weaknesses: Let's face it folks, Ash isn't very bright. He's a braggart, he has a dumb jock mentality and he really doesn't do well in fights. Sure, he can do well, but it's usually after he takes a beating and thinks of a way to get out of it. He get by a lot of his Deadite fights through luck. He also doesn't listen to others and has a short temper. It's why we love him, but it's also a huge weakness that can be exploited.

Film Franchise: In a rare switch, there would be no Evil Dead franchise without Ash. He became the star of the series and is now synonymous with the Necronomicon and Deadites. The film series is now at four, and Bruce Campbell himself has confirmed an Army of Darkness 2 on the way. I have my doubts it actually happens, but if Sam Raimi is seriously working on it (and Bruce doesn't seem like he'd lie about it...he denied it last year at a con I went to), then Ash may end up coming back after all.

Popularity: Ash has his own action figure. He has his own video games. He stars in a regular comic book where he's fought Freddy, Jason, Herbert West and Marvel Superheroes turned zombies. Ash is a pretty big deal and it doesn't hurt that he's played by Bruce Campbell, legitimate cool guy. It says a lot about his popularity that so many of his fans still want to see him play Ash in 2013, when he's in his mid-fifties. Sure, he could make it work, but fans of most other franchises want their hero to stay retired (see Jones, Indiana).

This tribute to everyone's favorite Deadite-slayer comes from Psycho1386.



VS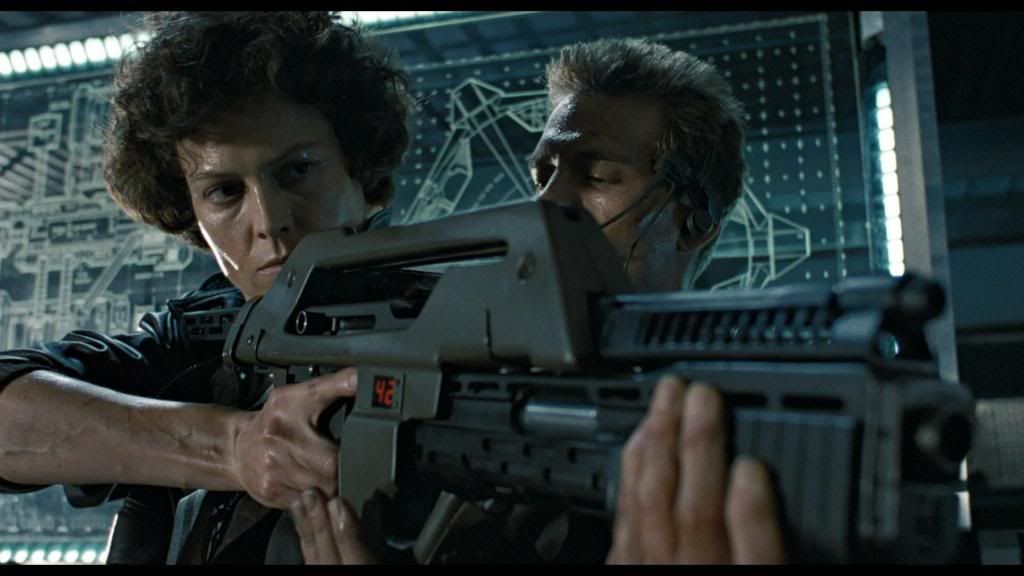 Ellen Ripley (#3)

Defeated: Charie McFadden (294-18), Blade (211-196), The Toxic Avenger (221-60)

Strengths: She's good at adapting. Even without very many fighting skills at the start of her run, she quickly learned on the job and eventually became very skilled at taking out several xenomorphs. She's also independent, which means she doesn't really need (but will take if she has to) help from others. She's skilled with guns, power loaders, computers and apparently basketball. She's very intelligent, which helps her get out of dangerous situations. She is willing to fight for what she cares about, and she will sacrifice herself if necessary to stop the evil forces.

Weaknesses: She's willing to sacrifice herself. That's something Ash isn't ready to do, so he has that advantage over her. She has died in her franchise, but came back later. Her caring for others tends to leave her feeling emotional, which could be a strength or a weakness, depending on how it's used. So far it hasn't been used against her.

Film Franchise: Like Ash, Ripley is one of the big stars of her franchises. The xenomorphs eventually moved on without her, but she did stick around for four more movies before Sigourney Weaver had enough. She's an incredibly popular character and some fans still would like her to come back in some form should the aliens get their own movies again. There's still the often-talked about Alien 5 set on their home world.

Popularity: She's the last woman standing in this tournament, lasting longer than other final girls like Nancy Thompson and Laurie Strode. She's more than just a survivor, she's a fighter. This makes her something of an empowering figure for female horror fans. I like her just because she's an awesome character. She's three-dimensional and more than just a slew of one-liners. She's also very likable, which she can do without said one-liners. This could be why she stuck around for so long.

This tribute to Ripley comes from Annie A.



Strategy: Ripley took out the last remaining super-powered hero in this tournament when she easily got past The Toxic Avenger. Ash, meanwhile, helped clear away fellow survivor Laurie Strode with ease. This will definitely be the toughest fight of Ash's entire run, and the one he could actually lose. Ripley had a tough fight with Blade, but she still beat him, which says a lot about her abilities against those stronger than her.

Ash is not stronger than her. He has that metal hand/chainsaw and he's possibly more resilient, but they are about equal in strength. Ash's ability to charm women probably won't help him here either, as Ripley isn't going to stand for that. She'll just mock him and keep fighting. Ash is going to have to drop the jokes and get serious in order to advance to the finals, as Ripley doesn't play around. Also, he'd better hope she doesn't have that pesky power loader, because his chainsaw hand won't do much good when he's easily snatched away from him.

This is the bout that many thought should be the finals, one round early! Who wins this epic confrontation? Who do you like more? Ash or Ripley?



survey software




Ending Notes:

That's it for me. Leave some comments here on or my Twitter. Next week: The finals! There are only four possible fights, and you decide which one it is!



Closing Logo courtesy of Kyle Morton (get your own custom artwork and commissions at his Etsy account)



A Bloody Good Time: The Store is now officially open! Like this design? You can now find it on most of my merchandise! Click here to find shirts, posters and more!

For those interested in more of my movie reviews, I've created a new blog! Check out the brand new Not-So-Bloody Good Time!

And of course, if you want to know if I've ever covered anything or want to read a past edition, there's the Bloody Good Time Archives! Yes, you can finally read every edition of ABGT going back to the beginning! Just ignore my early writing style...I was new.

See you next week!
comments powered by