SPOTLIGHTS
411 Fact or Fiction Movies TV 10.25.13: Week 405
Posted by Ben Piper on 10.25.2013

Are people interested in a sequel to Beetlejuice? Would anyone tune in to Darth Vader centered TV specials? Is Jamie Foxx a good choice to play Martin Luther King? 411's Adam Hill and Nolan Woodford debate this and more in the latest Fact or Fiction!




I don't know about any of you, but the new Captain America trailer is pretty freakin' awesome if you ask me. Color me officially stoked. Bring that goodness on…

It's time for us to do the weekly Fact or Fiction thing once again. Here to help us out with it are Adam Hill and Nolan Woodford. Why waste more time and get right at it.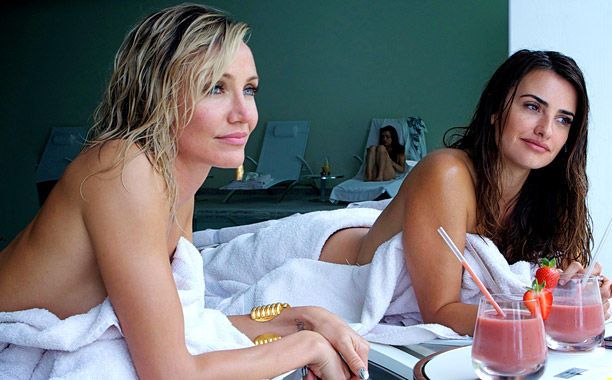 1. The impressive cast and pedigree behind The Counselor will make it a very effective crime thriller.

Nolan Woodford: Fact. Considering my favorite motion picture of all time is based off a Cormack McCarthy book and has Javier Bardem, I'm definitely looking forward to this one. Will it be as good as No Country For Old Men. Not likely. Will it be a better Halloween week release than another Paranormal Activity sequel? That one might be a safe bet.

Adam Hill: Fact. Looking at the team involved in this, you'd have to say it looks to be a nailed on critical darling and high quality picture almost like a hybrid 'No Country For Old American Gangsters' kind of film. Of course, we've all seen enough disappointing movies in our respective times to know that having the right ingredients doesn't automatically mean the finished meal will have been cooked properly, but I'm confident we'll get a good feed out of this one. There are reasons for caution mind you; this is the first time McCarthy has written directly for the screen since 1976 (The Gardener's Son which aired as part of the Visions TV series on PBS) and while No Country For Old Men was fantastic, it was adapted by the Cohens, not McCarthy. Similarly, for all his undoubted genius, Ridley Scott can blow very hot and cold with his movies so it's not exactly a lock that this will be one of the great ones. That said, the cast is undeniably fantastic. Fassbender and Bardem hardly ever put a foot wrong and Diaz, Cruz and Pitt have all become extremely reliable and entertaining character actors in recent years. For all my caveats around McCarthy and Scott, they are capable of amazing things and The Counselor should be one more on that list.

Score: 1 for 1

2. Jamie Foxx is a good choice to play Martin Luther King Jr. in a planned biopic of the iconic civil rights leader.

Nolan Woodford: Fact. Motherf**ker Jones is one hell of an actor, as he showcased with his Oscar-winning performance in Ray. It's hard to see him become Ray Charles like he did and not trust him to do the same with a role like this.

Adam Hill: Fact. As Nolan so eloquently stated, Jamie Foxx has proved himself to be a damn fine actor when on his game and in Ray he showed he can handle historical figures with respect and conviction. Mind you, without wishing to sound disrespectful to Foxx, who else is there that could have done the job? Denzel immediately comes to mind but he has already played Malcolm X and he or Oliver Stone may have chosen against him playing Martin Luther King Jr. as well (supposition I know). Speaking of Malcolm X, Mario Van Peebles was entirely passable as him in Ali, but he's hardly a leading man in a big feature film kind of actor (he's listed below Carl Weathers on a list of prominent black actors for crying out loud, sorry Mario). Will Smith did a great job as the legendary pugilist in the same film and could have been a possible candidate, but he appears to be more focused on making dodgy sequels at the moment. Eddie Murphy proved he can handle roles that don't require fat suits and fart-jokes in Dreamgirls but there's something about casting Norbit as Martin Luther King Jr. that doesn't quite feel right. So who does that leave with enough profile that a studio would put them in such an important and high profile role? Samuel L Jackson, Morgan Freeman and Forrest Whitaker perhaps? Personally, I would have liked to see Djimon Hounsou or Chiwetel Ejiofor (accents allowing) in the role, but I have no doubt Jamie Foxx will do a great job.


Score: 2 for 2

3. You'd tune in to Star Wars TV specials focused on Darth Vader.

Nolan Woodford: Fiction. I've never felt the need to visit anything beyond the original Star Wars trilogy, especially as bad as the prequel trilogy was. Seeing Darth Vader as a little boy and then as a horrible actor (What ever happened to Hayden Christiansen, anyway?) was too much as it is, so I'll pass on this.

Adam Hill: Fact. Whilst I'm not a Star Wars apologist, I am fanboy enough to have ventured a little beyond the movies, original and prequel (which, The Phantom Menace aside, weren't really as bad as everyone's overreaction suggested at the time) and into the expanded universe. In it I have found a rich source of good quality storytelling that has remained true to the spirit of the original and, in the case of The Clone Wars, also kept it kid friendly without pissing off adult viewers. I grew up with Star Wars, I had the toys, bedspread, lunch box etc growing up and read some of the new novels, played new games (that were canon) as an adult and now (occasionally) watch the shows. I am cautiously excited at the prospect of a sequel trilogy; even if I am disappointed they missed the boat on properly doing the Grand Admiral Thrawn story, and I am looking forward to seeing what more they can do with Vader. Besides, it can't be as bad as the Star Wars Holiday Special, right?

Score: 2 for 3



Switch!!!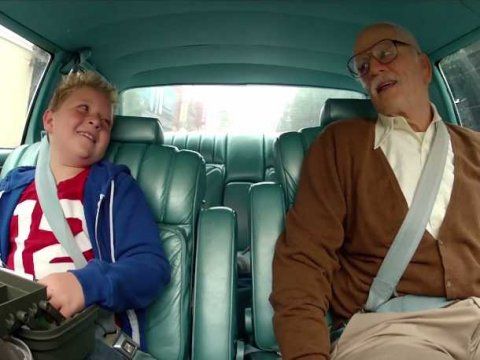 4. Bad Grandpa will be horribly unfunny.

Adam Hill: Fiction. Ok, here's the thing, bear with me please. I am not really a fan of Jackass or shock comedy where a guy ruins a wedding or funeral (as shown in the trailer) and real people react. Films like Borat worked not because of the real-life reactions, but because of the solidity and believability of the character, and the fact that the film was more satire than slapstick. With Bad Grandpa we appear to have a poorly conceived idea, a ham-fisted portrayal of an old man character that (again, from the trailer) appears to be an antidote to laughter rather than cause of it. So why have I said 'fiction'? Because of Jackson Nicoll as the Grandkid. Don't get me wrong, I think the film will be largely unfunny and that Knoxville as the titular Grandpa will most likely drain your life-force as you watch the film, like some hideous prosthetic wearing, catheter toting Incubus (but without the sex). But I'm ashamed to admit, I laughed like a drain when watching Nicoll in the beauty pageant scene. I'm not proud of it but for that reason alone, I cannot agree that it will be 'horribly' unfunny.

Nolan Woodford: Fiction. The movie is getting some decent reviews and even the subpar Jackass 3D was funny enough to warrant 90 minutes in the theater. I may be a few years older now, but the original Jackass movie and Borat are two of the only movie-going experiences that I recall crying in because I was laughing so hard. I'm not expecting to shed any tears for Bad Grandpa, but it will probably offer more laughs than a fair number of comedies that have been released this year.

Score: 3 for 4

5. 25 years after the original, Tim Burton returning to direct Michael Keaton in Beetlejuice 2 is a great idea.

Adam Hill: Fact. I'm really torn on this one as I did thoroughly enjoy the original film, but where would the story (as it is to be a direct sequel set 25+ years later) go? It didn't exactly leave itself open. Mind you, Beetlejuice did spark a run of about half a dozen really good flicks in a row from Burton, ended by the crushingly disappointing Planet Of The Apes (which is doubly awful for introducing the concept of 're-imagining' classics to filmmakers and producers). But, and I'm sure I'm not alone in thinking this; Burton hasn't exactly been on much of a role since. Charlie and the Chocolate Factory, Sweeny Todd and Alice In Wonderland were all decent enough, but they did feel to be a bit focused on style over substance and the films suffered as a result. Is it ironic that Burton should be considering a Beetlejuice sequel with his directorial star on the wane while the actual Betelgeuse star the original film was named after lurches ever closer to supernova and death? Possibly, though probably not. Regardless, I would watch a sequel with Burton directing and Keaton reprising his role and, if the alchemy is strong enough to work a second time, no doubt would be thoroughly entertained.

Nolan Woodford: Fiction. More and more and more sequels. Much like the Farrelly Brothers with Dumb and Dumber To, the ability of the man/men behind the camera might not be what it once was. Tim Burton has made a fair amount of mediocre films in the last decade especially, but he has made a few great ones too. Beetlejuice 2 isn't a guarantee to not be great, but I'm not chomping at the bit to see a 62-year-old Michael Keaton back in the pinstripe suit.

Score: 3 for 5

6. Universal creating a shared cinematic universe based on its roster of classic monsters is a fantastic proposition.

Adam Hill: Fact. The key thing here for me is that it is a proposition and therefore the possibilities right now are (almost) endless. At this stage we have no real idea about what this could look like and how it might work, all we have to go on is Roberto Orci's almost throwaway statement that "[t]here's an interesting thing that could happen at Universal where they have this amazing library of their old monsters and these kinds of heroes, and the idea of trying to create a universe". He then went on to talk about making new Van Helsing and The Mummy movies, so what could the monster-verse look like? We know they want to update everything and make it 'true' to the classic films, but does that mean we just get remakes of things like Frankenstein Meets the Wolf Man or are we talking full on Monster-Squad? There is a school of thought that perhaps they should concentrate on making the individual monster movies first and getting them right before they worry too much about entwining the different worlds within the universe, but where's the fun in that? As long as Hugh Jackman isn't in any of them, they'll be fine.

Nolan Woodford: Fact. Sure, why not? If Hollywood is content on not having any more original thoughts, maybe we can get some original concepts out of things that have already happened. Look at the massive success of The Avengers. Of course, a monster movie franchise such as that wouldn't have the same type of success, but it could be extremely successful. As a sucker for the classic old black-and-white horror films, this could be a great idea if handled correctly. Or, like Adam mentioned, we could just get another Van Helsing or The Mummy sequel.

Final Score: 4 for 6

And there you have it. Adam and Nolan agree more often than not. Thanks to them both for stopping by, and see you all again next week.
-BP



TWITTER

http://www.twitter.com/411s_Ben_Piper
http://www.twitter.com/411mania
http://www.twitter.com/411wrestling
http://www.twitter.com/411moviestv
http://www.twitter.com/411music
http://www.twitter.com/411games
http://www.twitter.com/411mma




comments powered by