SPOTLIGHTS
Comics 411 10.30.13: Scariest Comic Book Edition!
Posted by Steve Gustafson on 10.30.2013

Is Arkham Asylum the scariest comic book of all time? Plus news and thoughts on Brad Meltzer discussing Batman's origins, a new Ghost Rider coming to the Marvel universe, Marvel possibly letting a major spoiler slip, a review for Justice League #24 and more!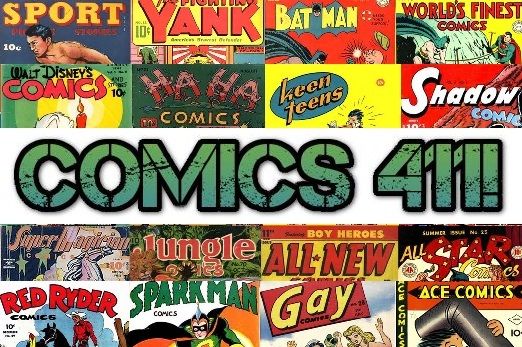 Welcome back to the Comics 411! My name is Steve Gustafson and this is a corner of 411mania reserved for those interested in talking comics! As always, I want to thank everyone who took a few minutes to read and comment last week. For some additional reading you can check out my interview with Playboy's Miss August, Val Keil! Then peep my interview with one of the coolest dudes in Hollywood Ari Gold! Want more? OK. Read my review for American Courtesans! Still not enough? Take your pick between my Comics 411 or my Big Screen Bulletin!


And away we go...

Here is the first trailer for X-Men: Days of Future Past. The film opens on May 23rd, 2014 and stars Hugh Jackman, Ian McKellen, Patrick Stewart, James McAvoy, Jennifer Lawrence, Michael Fassbender, Nicholas Hoult, Anna Paquin, Ellen Page, Shawn Ashmore, Peter Dinklage, Omar Sy, Halle Berry, Daniel Cudmore, Fan Bingbing, Boo Boo Stewart, Adan Canto, Evan Peters, Josh Helman, Lucas Till…Sheesh. You get the picture.







READER ROUNDTABLE

Last week, just in time for Halloween, we had a spirited debate about WHO WAS THE SCARIEST COMIC BOOK CHARACTER? I listed some, missed some, and you let me know about. Here are the results:

Joker (DC Comics) 49.57%
Mephisto (Marvel Comics) 10.98%
The Governor (Image Comics) 9.61%
Saint of Killers (DC Comics) 7.89%
Violator (Image Comics) 4.97%
Vermin (Marvel Comics) 2.74%
Tales from the Crypt Zombie (E.C. Comics) 2.74%
Swamp Thing (DC Comics) 2.74%
Morbius, the Living Vampire (Marvel Comics) 2.23%
Man-Thing (Marvel Comics) 2.23%
Werewolf by Night (Marvel Comics) 1.54%
Man-Bat (DC Comics) 1.2%
The Zombie (Marvel Comics) 0.86%
Bernie Wrightson's Frankenstein (IDW Publishing) 0.34%
Sadu-Hem (Dark Horse Comics) 0.34%


I have to admit that Joker winning was a little surprise but it makes sense. He's had so many well crafted stories that have truly terrified people, of course he'd be the top pick! But Mephisto at #2 is a little unexpected as well. As usual, it was your comments that provided the real chills!

Jeremy Thomas: "The Corinthian from Sandman. That guy gave me nightmares."

Not Da Mountie: (In reply to Jeremy Thomas) "Came to mind as soon as I saw the title of the article. He is my #1, with #2 being Ultron. A practically unstoppable AI that decides to exterminate all humans. Straight out of a sci-fi horror story."

JT: "Venom & Carnage would be on my list. Those two really scared me growing up."

CyberVenom: "Scariest characters is a nice and new topic! Great choices! Here's my top 10 in no order:
10. Hulk. Rampaging rage beast!
9. Ghost Rider. Flaming Death Skull
8. Doomsday. The guy has bones protruding from his skin. And its normal.
7. Joker. The evil dressed in the facade of fun.
6. Batman. Super powered beings are afraid of him!
5. Punisher. Guns. Guns. More guns.
4. Carnage. Madness unleashed.
3. Scarecrow. He can make you believe your fears won't go away
2. Ozymandias. I did it 35 minutes ago.
1. Nemesis. Essentially evil Batman"

D2Kvirus" "Saint of Killers - he was the Grim Reaper and The Terminator rolled into one, and his backstory made him that much more terrifying."

Nicholas Rehfeldt: "Joker, hands down. just think of it in the real world. The guy is basically a terrorist. No one is safe with the guy on the loose. Every boston marathon like bomber, every Mass Killing shooter with an AR15 is essentially the Joker without the gimmicks. And I don't know about the rest of you but those real world realities scare the crap out of me."

YoTheReal: "No Scarecrow? Shame, I would vote for him."

KipSmithers: "A real-life Grundy would freak people out."

Solomon Grundy : "Me Solomon Grundy scarier than all."

lorddarias : "Rorschach and/or The Comedian..."

tedthefed : "Mojo. No one else comes close. Dude is terrifying."

ArchieLeach : "The Spectre, especially those stories in the 60s and 70s, also whomever revamped the Chameleon as basically a serial killer made him pretty scary."

redhotrash : "Before it got all preachy, I'd say most of Spawn's rogue gallery were pretty creepy. The worst of which was also the least powerful: Billy Kincaid. The dude drove a icecream truck and lured very small children to their doom. He preyed on the most innocent type of people and could easily be a real person. Going with something more mainstream, I always found Marvel's The Brood to be pretty creepy. Not a original concept at all, but they did it pretty well back in the day."

Craig L: "Dr Doom
Ultron
The Govenor
The Joker
Carnage"

Dougie2876: "No Darkseid or Thanos? Are you simple?" Steve here. This actually made me laugh.

FR3: "The Mad Hatter. His fixation on little girls should be scary to anyone."

Patrick Sharkey "Would have voted for Carnage , maybe even Venom , However since they are not options i voted for The Joker. Crazy scary is the worst kind of scary!"

BobbyYounblood : "My Top 5 Scaries is in no order
Thanos- any giant purple guy comes from space to take over, I'm freaked
Dr Doom- just look at his face...or mask
Ghost Rider- sure he's a hero, but any flaming skull riding down my road will make me lock my door
Sinestro- he has the never breaking serious face, thats scary
Martian Manhunter- hes green, and can whipe out your memory and read all your thoughts. Like Ghost Rider he's a hero but still scary as hell."


Bravo! Great stuff from the gallery! For a printed medium, comics do a great job at tickling our scary bones. We're going to keep on the theme of Scary this week and turn our attention to the Scariest Comic Books Ever! I'll admit that I'm not a HUGE horror/scary book fan so I had some help putting the list together. I've read a few of these and can say they belong on the list. I know you'll fill in any I missed!


NEWS!

Brad Speaks! Brad Meltzer's a busy guy. The best-selling novelist does his book thing but is also known for his stories about DC superheroes. January will also see the release of a special Detective Comics issue from DC that celebrates the 75th anniversary of the caped crusader. First released in 1939, Detective Comics #27 introduced a vigilante called the "Bat-Man" for the first time. But because DC started renumbering its comics in 2011, there will be another Detective Comics #27 in January — just in time for the 75th anniversary of the hero's historic introduction. The new Detective Comics #27, which will be a whopping 96 pages, will be a celebration of Batman, with a collection of stories by Scott Snyder, Paul Dini, John Layman, Gregg Hurwitz, and Meltzer. In a story drawn by superstar artist Bryan Hitch, Meltzer will retell the story of the original Detective Comics #27. Here are some of his thoughts on the story:

On comic book fans and conspiracy theories: "You know where I heard about Hitler's Spear of Destiny? It was when I read Justice Society comics when I was little. So I've really been raised on them from this same spot. I still remember that picture in that little DC digest of Adolf Hitler grabbing a spear and yelling in German and screaming his little mustache off. And you know, I love that we get to prove that the Spear of Destiny from that Justice Society story wasn't just a myth. The great part of the story is that — a lot of people don't realize that it wasn't just me that that story inspired; the Spear of Destiny and the chase for it is where the writer got the plot for Raiders of the Lost Ark. And that, to me, is real magic power. But I don't know if we're necessarily more susceptible to conspiracy theories. In fact, if you want to know the number one indicator that you'll believe a conspiracy theory, it's whether you believe another conspiracy theory. So if you'll believe one, you'll believe the other. I do think we're more accustomed to some of the more outlandish theories. I think when it comes to UFOs, or when it comes to the Spear of Destiny, I think we have a background that other people don't have, as comic readers. Our brain doesn't explode as quickly as I think other people might when they don't read about aliens on a regular basis. But I think at the end of the day, whether it's comics or whether it's non-fiction, I think what we as readers really want is a good story. And to me, especially in non-fiction, a truestory.

On the Detective Comics story: "I don't really want to reveal anything about the actual story. But I just love that I get to celebrate the 75th anniversary and we get to play around in that universe, and with that history of Batman, in a true, historical context. And the fact that I get to do it with Bryan Hitch is, to me — I mean, I get to write about JFK and Batman and Abraham Lincoln and Amelia Earhart, all within the same month of each other (or actually, within weeks of each other, since that's when our new children's books launch), I just feel that it proves what I've always believed. This is our American mythology. I know Abraham Lincoln may be real and Bruce Wayne is not, but they both stand for different parts of the American psyche, and they are vital to the American psyche. When Dan [DiDio] approached me and said, listen, we're celebrating the 75th anniversary of Batman, would you be interested in taking a shot at that history, looking at it from that very first issue and that very first appearance, how could I possibly say no?





Marvel Spoiler! UH OH! Did Marvel Comics just spoil their own surprise they were reserving for the pages of Mighty Avengers? Looks like it. In the first issue of the new Avengers spin-off series, a mysterious character stood in the shadows, speaking to Monica Rambeau. He put on a cheap color-changed Spider-Man costume, and jumped in, without revealing his identity.

Until now. The character may have been revealed , not in published pages, but by way of a script given away to aspiring artists for a portfolio review at the Mexican comic convention Festo Comic Con in November. Earlier this month Festo Comic Con published the script to Mighty Avengers #1 written by Al Ewing. They were apparently given the script by Marvel in order for aspiring artists to draw comic book pages based on it to use as portfolio samples for a review session with Marvel Senior Vice President of Creative & Creator Development C.B. Cebulski, who is scheduled to appear at this convention. By all appearances, the script seems to be the real deal. It bears a Marvel copyright, is listed as a late revision, and is being presented in conjunction with an official Marvel appearance.

Ewing and artist Greg Land unveiled 'Spider Hero', whose identity was specifically obscured as to build up interest to his identity but the script published by Festo Comic Con includes notes from Ewing to Land that reveals Spider Hero is in fact, SPOILER Blade. Here is the pertinent text, taken from a scene between Monica Rambeau and Spider Hero – aka Blade:

"There's a silhouette in the doorway, leaning out -- BLADE'S. The reason I want to do it this way is so as not to let the readers know who this is until further down the line. So we hide Blade's identity this way, and tell it in Monica's reaction -- he's someone she knows or has heard of, and she's a little surprised to see him here, but she knows what it means if he shows up: vampires. Blade explains that he needs her help."

Later on in the script, Ewing once again re-affirms Spider Hero's identity as Blade:

"Enter Blade, in the SPIDER HERO suit. This is basically a spandex, old-style spider-man costume, in a hideous combination of neon pink and neon green with SPIDER HERO written across the chest in place of the spider logo. It's incredibly cheap looking. He's going to be wearing this at least until issue #4, when probably he'll change into the Ronin outfit."

Thoughts?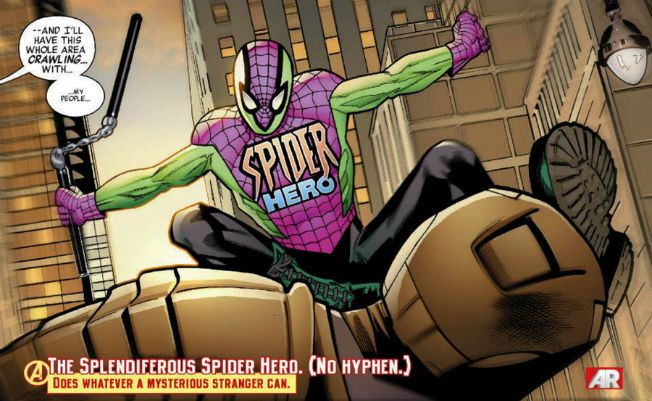 Ghost Rider! Writer Felipe Smith and artist Tradd Moore are on the road for Marvel's Ghost Rider beginning this March in All-New Ghost Rider. Announced at the 2013 New York Comic Con, All-New Ghost Rider promises a new face behind the flaming skull: Robbie Reyes, a teenage gearhead with a predilection for hot rods, muscle cars and street racing. The creators state they're not looking to replace Danny Ketch or Johnny Blaze, but instead add a new face to the Spirit of Vengeance's lineage.

Newsarama spoke Smith and Moore and here are some highlights:

On what they have planned for All-New Ghost Rider: Smith: "Drag racing, pyrotechnics, gang warfare, Satan worshipping, drug peddling, military mercenaries and brotherly camaraderie are all key elements of this Ghost Rider story."

Moore: "Thanks! Visually, I'm planning for this to be the fastest, most frenetic take on the character that I can possibly muster. I want the action scenes to give people whiplash. [Laughs] Races and chases are notoriously difficult to pull off in comic books, so I'd love for this one to stand out as one that gets things right. I'm excited for the challenge!"

On the new Spirit of Vengeance, Robbie Reyes: Smith: "Robbie is a quiet 18-year-old East Angelino with a harsh inner city upbringing, a passion for electronic music, and a serious infatuation with absolutely anything powered by an engine. His vehicle of choice is the automobile, which most evidently sets him apart from other Ghost Riders. He's particularly fond of muscle cars. Younger than his predecessors, Robbie is not as experienced in life, but his distrust for most people, serious contempt for his violent surroundings and eagerness to escape his current living conditions make him the perfect host for a Spirit of Vengeance."

Moore: "Ghost Rider is such a striking visual, and, to me, that's always been his (or her, in a recent case) primary appeal. How can you not be struck by that classic flaming skull? What we're doing to set this Ghost Rider apart is introducing a brand new character that we hope readers will really care about and love to follow. I'm confident that we're doing this with our new Ghost Rider, Robbie Reyes. We want readers to be invested in Robbie's life even when he's not sporting a flaming head and exacting vengeance upon bad dudes. He's not here to emulate or replace good ol' Johnny Blaze or Danny Ketch; he's here to be his own character with his own life, hardships, and merits. I can't wait to introduce everyone to Robbie! Also, all that said, when he does go out to exact vengeance (which will be swift an often), I can assure you that it will be blistering."

On Ghost Rider's rogue's gallery: Smith: "Ghost Rider will be going up against drug dealers, ex-military mercenaries, inner city gangs, drag racers whose illicit activities go beyond unsanctioned street racing and even adversaries whose existence he himself cannot explain, but the biggest threat he'll be facing is Mr. Hyde."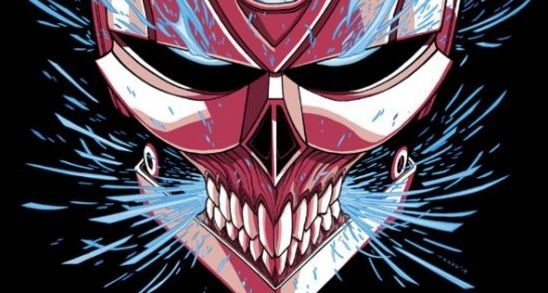 Scooby! Over the past decade, only one celebrated children's writer has delivered dozens of stories for DC Comics starring Scooby-Doo and Batman. So when the publisher decided to pair the characters as a new dynamic duo in a monthly series, it didn't take long for the publisher to agree. Fisch, former Vice President for Program Research at Sesame Workshop and the President and Founder of MediaKidz Research & Consulting, told CBR News he loves the way in which Scooby-Doo stories are spooky enough to get hearts racing but not so scary it turns children off from reading or watching him on TV. And when you combine the inherent mystery that comes along with Mystery Inc. and drop the world's greatest detective into the mix, that's when you get "Scooby-Doo Team-Up."

Fisch told CBR that the series has grown from a one-shot featuring Scooby-Doo and Batman, to a six-issue miniseries, to an ongoing series, which will include other superheroes and villains from the DC Universe, as well as some characters from beyond the DCU. Fisch kept possible guests close to his chest but did tease the return of the Mystery Analysts of Gotham City, a group of wannabe detectives who met regularly to discuss unsolved capers. First appearing in "Batman" #164 in 1964, the group included Batman, a laboratory sleuth named Prof. Ralph Vern, crime reporter Art Saddows, crime novelist Kaye Daye and Police Commissioner Gordon. Check out some highlights:

On his introduction to Scooby Doo: "I was a kid when "Scooby-Doo, Where Are You!" premiered -- but, considering how many Scooby-Doo comics I've written over the years, the ironic thing is that I could never watch it at the time. Back in those prehistoric days before the internet and home video, Scooby-Doo was only on TV on Saturday mornings, and as a Sabbath observer, I couldn't watch TV on Saturdays. So, even though the ads left me incredibly curious about the series, I could only experience it kind of second-hand through comics, Viewmaster slides and things like that. It wasn't until a few years later that "Scooby-Doo" hit syndication and started to air at other times during the week, at which point I finally got to see the real thing for myself."

On the thrill and mystery of early episodes: "Scooby-Doo hits that perfect balance of being spooky enough to catch kids' interest without being so scary that it freaks them out and scares them away. That's not always an easy line to walk, but somehow, Scooby has managed it for 40 years. Pretty impressive... Back in the 1970s, when Scooby and Batman first teamed up on TV in "The New Scooby-Doo Movies," the Joker and Penguin were handled very differently than in the comics. I'm treating Man-Bat and the Scarecrow a little more traditionally than that, but of course, I'm keeping everything kid-friendly at the same time. Basically, the two of them are more "monstrous" than "scary," per se. All of the stories in this series will have plenty of adventure, and plenty of laughs, too. Anyone who's read my previous kid comics, like "The All-New Batman: The Brave and the Bold," probably already realizes that I write these comics on a couple of levels. There is lots for kids to enjoy, but I usually work in assorted in-jokes for older, longtime fans, too. Whether you're an old Batman fan or Scooby fan or both, you'll find stuff that, hopefully, will give you a chuckle or two."



REVIEWS!

Do YOU want to be a reviewer for COMICS 411? Send me an email at stevethegoose@gmail.com to find out how! Take it away, RobF and Iron Bong!

Justice League #24

By RobF


I call this issue "Everything you wanted to know about Ultraman but were afraid to ask". This first issue of Forever Evil tie-in operates on two fronts. It fleshes out the origin of Ultraman in New 52 continuity, and it spotlights Black Adam as he begins his resistance against the Crime Syndicate. Both make for an enjoyable reading experience.

All of the familiar Superman elements are here - the destruction of Krypton, the debut of Ma and Pa Kent, etc. but all twisted and inverted to suit the evil nature of this universe. The abusive Jor-el, the drug addicted Kents: These scenes go a long way toward illuminating who Ultraman is and why power and control are so important to him.

Elsewhere, Geoff Johns is able to push the ongoing Forever Evil threads forward a bit more, hinting at the tension among the Crime Syndicate, the identity of their mysterious prisoner, and the threat that drove them away from Earth-3.

Ivan Reis artwork remains top notch and a highlight in the FE series. The art is superb from page to page, not to mention the beautifully rendered splash pages. Reis' pencils and Joe Prada, Oclair Albert, and Eber Ferreria's inks all really shine in this Forever Evil crossover.

JL 24 is a wonderful compliment to the main series. Johns and Co. has provided some depth to Ultraman and at the same time furthers the arc's plot. If you've been digging Forever Evil and want a solid tie-in, this is one of them.


WEBCOMIC of the WEEK!

Do you have a web comic that you want me to push? Send it my way or mention it in the comments so I can take a look and share!

A SPECIAL HALLOWEEN webcomic! Scroll down slowly and keep the sound on as you read this Korean comic based on an urban legend. A young girl is walking home alone one night when she spots a woman limping ahead of her, and gets a horrifying lesson in why you shouldn't talk to dead strangers.

Don't say I didn't warn you.

Head over to Bongcheon-Dong Ghost by HORANG!





Before I say GOODBYE!
Follow me on Twitter for random bits, news RT's, and updates! Only at http://www.twitter.com/stevethegoose!

My Hollywood gossip (and anything else!) Hollywood 5 & 1!

Are you a fan of 411mania on Facebook? Keep up-to-date on news and contests!

Are you following 411mania on Twitter?
http://www.twitter.com/411mania
http://www.twitter.com/411wrestling
http://www.twitter.com/411moviestv
http://www.twitter.com/411music
http://www.twitter.com/411games
http://www.twitter.com/411mma

If you have some down time and are looking for a great place for great fun, check out Tiger Flash Games!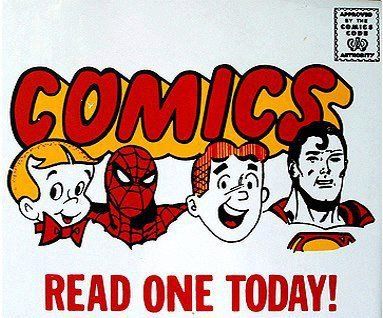 That's all the time I have. See you next week!
comments powered by