SPOTLIGHTS
A Bloody Good Time 10.31.13: Horror Hero Knockout Tournament - The Finals
Posted by Joseph Lee on 10.31.2013

Ash Williams from The Evil Dead battles Dutch from Predator as 411's Joseph Lee presents the finals of the Horror Hero Knockout Tournament!

































Opening Logo courtesy of Benjamin J. Colón (Soul Exodus)



Welcome to A Bloody Good Time.

Happy Halloween! I think this is the first Halloween that A Bloody Good Time has fallen on since I started writing it in 2007. Wow, I've been writing this since 2007. Just between you and me, I've still got a year's worth of topics ready to go, so I'm not slowing down yet.

But enough about me. We've got an epic fight here on All Hallow's Eve, because the Horror Hero Knockout finals are here!

Rules:

This is a 32-character tournament with horror heroes, only. To qualify they had to survive an entire film and actually take a proactive stance against the forces of evil, as opposed to just surviving. For example (and as you pointed out to me because I wasn't thinking), Damien Karras is very heroic...but he doesn't survive The Exorcist. Heroic sacrifice doesn't cut it here. We want the baddest and the strongest.

You can choose who wins here completely. Outside of the ranking, my opinion means nothing. You can vote however you want, for whatever reasons you want. If you are one of those that just wants to vote for who you think would win a fight, do that. If you want to vote based on your favorite, do that. As long as you pick one over the other, it doesn't really matter your reason. It's completely up to you.

This isn't really a rule, but I would assume that with all good guys (or mostly good guys) in this tournament, these wouldn't be fights to the death. What possible reason would give Ash or Ripley the motivation needed to kill each other? That's just my take on it, and I'll be doing "strategy" write-ups accordingly.

Here's your bracket:




Dutch and Nada had a very manly fight that ended with Dutch managing to get the hard-fought win. Meanwhile, the fight between Ash and Ripley wasn't as close (which would have made for a disappointing final), but she still put up a decent fight before Ash moved on to the finals. Now we have Ash vs Dutch. Arnold Schwarzenegger vs Bruce Campbell. The Chin vs The Governator. As I did last year, I'm throwing strategy out the window. I'm just going to name my favorite moments from each character and you can choose who wins!

By the way, I also have a surprise for you after you've voted.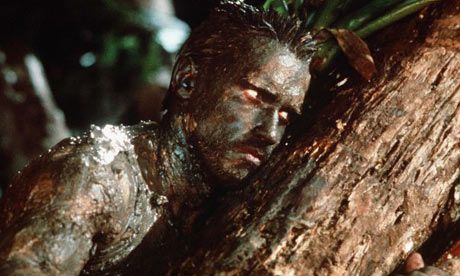 Major Alan "Dutch" Schaefer (#17 seed)

Defeated: Charlie Brewster & Peter Vincent (334-46), Van Helsing (256-126), Clarice Starling (209-66), John Nada (152-114)

It's going to be hard to pick out five Dutch moments since they're only in one movie. At least, it would be, if Arnold Schwarzenegger didn't kick all kinds of ass in that particular movie.

#5: The Most Epic Handshake Ever

Early in the movie, Dutch is called for a mission to go into a Central American jungle to save a presidential cabinet minister abducted by guerrillas (or so they think). He runs into his old friend George Dillon, played by Carl "Apollo Creed" Weathers and seems happy to see him. This results in yes, the most epic handshake ever recorded in film (nay, the world). It just screams 80s but it's the manliest way Arnold can show affection. He's too macho to hug the guy. They just have to have an incredibly intense handshake instead.

Of course, the mission was actually a ruse and Dillon turned out to be a jerk that gets them all hunted by a Predator, but that doesn't take away from the handshake.



#4: "If it bleeds, we can kill it."

Halfway through the Predator's hunt of Dutch's team of commandos, they eventually wound the creature. That's when Dutch makes an obvious observation that somehow fits the movie. It makes sense that if a creature bleeds, you can probably kill it. However, up until this point they had no idea what they were up against and may have been thinking the Predator was invincible. Dutch sets the stage for the rest of the film as it's a battle of soldiers vs alien, with only one winner.

#3: "You're one ugly motherf**ker."

This one happens just before Dutch's final battle with the monstrosity. Throughout the entire film we've never really seen all of the Predator. It first only showed up with its cloaking device, then it was spotted wearing a mask. When it's time to have a throw-down with Dutch, the Predator decides that all bets are off. It removes its protective mask and infared as a show of respect to a worthy opponent. Dutch, of course, doesn't have much respect available and proceeds to (rightfully) tell it how ugly it is.

The Predator is one of the ugliest monsters in history, so the man's got a point. But he probably should have picked a better moment to reveal the truth.



#2: "Knock knock".

The first time we see Dutch and his team in action is when they go on their mission. They proceed to destroy the camp and take out all of the guerrillas. It sounds so tame when you type it out, but the firefight is actually quite awesome with Arnold getting several one-liners. He also pins a man to the wall with a machete and tells him to "stick around". You've got to love it. This is one of the movies that made Arnold such a great action star, certainly better than guys like Segal or Van Damme (although Stallone is my favorite).

It's not even a close fight between Dutch's team and the rebels, either. It shows you just how skilled all of these guys are, which makes it even more impressive when the Predator takes most of them out with little effort.

#1: The final battle

Of course immediately after Dutch's epic insult of the Predator's good looks, the final battle begins. It's about as glorious as a man vs alien battle can get without the use of a power loader. Dutch tries some hand-to-hand combat that goes nowhere. The Predator smacks him around and definitely has the strength advantage. With all else failing him, Dutch attempts to outwit the Predator by luring it into a trap. It appears to not work at first, as even to the Predator it seems very obvious. But that is the genius of the trap. It was supposed to appear obvious. Arnold finally wins the fight by dropping a huge log on the monster's head.

Then of course, the Predator, a sore loser, decides it's going to blow itself up and Dutch too if he can't get away in time (he does).



And now, Dutch's opponent...




Ash Williams (#2)

Defeated: Jack Brooks (460-16), Peter Washington (347-29), Laurie Strode (222-60), Ellen Ripley (176-93)

#5: "Hail to the King, baby." from Army of Darkness

You know, I've heard that Sam Raimi prefers the ending to Army of Darkness where Ash sleeps too long and wakes up in a post-apocalyptic wasteland. I think it'd make sense considering the trilogy has been all about how much abuse one character can take (and it mirrors the end of Evil Dead 2), but you can't deny the sheer amount of awesome that comes from watching Ash in S-Mart gunning down a Deadite.

The scene starts with Ash explaining his story to anyone who will listen. No one believes him, and he laments the fact that he didn't say every single syllable right (and he could have been king) when he went back to his own time. That's the clue to the fact that Deadites are still around and they'll spring up at any moment. It's okay though, because Ash is going to ask her to leave the store. He guns down the creature, grabs a lady and we get one last iconic line to close out the movie.

#4: A farewell to arms from Evil Dead 2

As I mentioned, the Evil Dead series is an experiment to see how much punishment Sam Raimi could not only throw on Ash, but Bruce Campbell. Luckily, Bruce didn't have to do what Ash ends up doing in order to rid himself of his possessed hand. The hand's been mocking him and laughing at him. He finally manages to stop it from killing him and does the only thing he can...he cuts it off. The whole time he's asking it, "who's laughing now"?

The best part about the entire thing is that after he's done, he places a series of obstacles over his possessed hand with the final one being a book. Not just any book. A Farewell to Arms. Well played, Raimi.

This all came after he fought his own hand in one of the most hilarious slapstick scenes committed to film, by the way.



#3: Good, bad.... from Army of Darkness

Some time during Ash's quest to get the Necronomicon, he's attacked by a horde of miniature Ash's, who force him to eat one of them so it can become Evil Ash. You know, when you type it out like that it just sounds weird. Ash finally manages to break free of his evil side, which begins mocking him about how he's good and its bad. Ash doesn't much care for morality.

Okay, this one is about a line more than an actual moment, but it's a great line. Good, bad...he's the guy with the gun.

#2: Ash goes crazy in Evil Dead 2

You may notice a lack of moments from the first Evil Dead. I love that film, but Ash wasn't really Ash until the sequel. The moment he becomes Ash is probably when he loses his mind a bit while alone in the cabin after cutting his girlfriend into pieces. Various objects in the room become possessed (or he's so nuts he's hallucinating...I think a case can be made either way). Ash, too out of it to care, just starts laughing along with them. This is the bridging scene between the remake of The Evil Dead and Evil Dead 2, and it's a great one.

I think my favorite part of the entire bit is when Ash sees a lamp moving up and down. His response is to start moving up and down with it. He doesn't just use his head, he uses his entire body. It's really silly and really funny.

#1: "This is my BOOMSTICK." from Army of Darkness

There really is no other moment you can pick when talking about this character. His iconic speech from Army of Darkness is classic and defines the character within about two minutes. How can you not love a speech that begins, "Alright you primitive screwheads..."? There's nothing I can say to validate how great this is, you just have to watch it.



Made up your minds? Who do you have winning our finals? Are we about to hail to the king? Or is Dutch going to end a dominant run with a huge upset?



online surveys



All right, that's your finals! Next year I'll come up with a new tournament and we'll once again get nerdy about our horror films. Tune in next week when...wait, what's this?

A new challenger has entered the fight!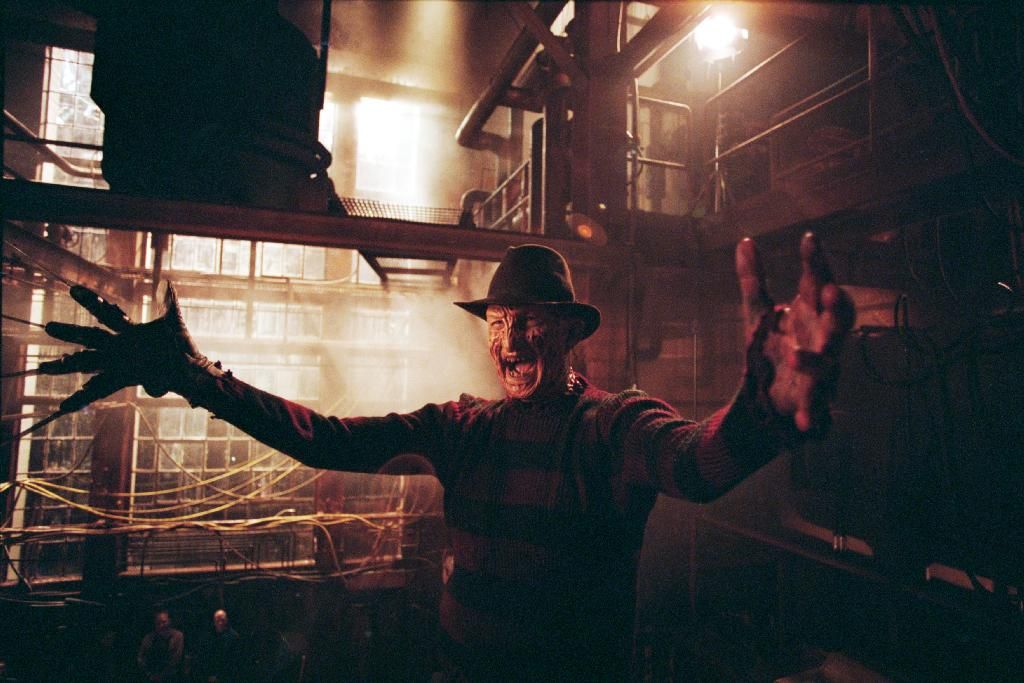 Freddy Krueger (Winner of Last Year's Tournament)

Defeated: Victor Crowley (459-21), The Shark (402-98), Xenomorph (379-270), Godzilla (371-280), Jason Voorhees (338-333)

A true hero can overcome the odds, and there are no odds greater than the ultimate monster of last year's tournament! Whoever you voted for has come a long way and defeated countless other good guys, but he's never faced a threat to his life. Freddy Krueger is here to defend his title!

So here's the drill. Whoever you voted for as the winner of this thing, just imagine them in the fight. It's either Dutch vs Freddy or Ash vs Freddy. Either way, select "Hero" if you want good to triumph over evil. Select Freddy if you want him to retain his title!



surveys



Ending Notes:

That's it for me. Leave some comments here on or my Twitter. Next week, we're back to our regularly scheduled programming. I'm going to slip into TV for a bit and reveal my favorite horror-themed episodes of non-horror TV shows!



Closing Logo courtesy of Kyle Morton (get your own custom artwork and commissions at his Etsy account)



A Bloody Good Time: The Store is now officially open! Like this design? You can now find it on most of my merchandise! Click here to find shirts, posters and more!

For those interested in more of my movie reviews, I've created a new blog! Check out the brand new Not-So-Bloody Good Time!

And of course, if you want to know if I've ever covered anything or want to read a past edition, there's the Bloody Good Time Archives! Yes, you can finally read every edition of ABGT going back to the beginning! Just ignore my early writing style...I was new.

See you next week!
comments powered by