SPOTLIGHTS
411 Fact or Fiction Movies/TV 11.01.13: Week 406
Posted by Ben Piper on 11.01.2013

Is Paul Rudd a poor choice to play Ant-Man? Do we want to see a Friday the 13th prequel series? Will Ender's Game underperform at the box office? 411's Joseph Lee and Josh Syvertsen debate these topics and more!




I hope that everyone had a happy and safe Halloween, if you celebrate such things. Me, I was stuck at home handing out candy to all the little ghouls, witches, and comic book characters roaming my neighborhood. Seems to me like every year fewer and fewer kids are out partaking of the annual ritual. Ah, well. More candy for me I suppose.

This week finds us with old-school 411 contributor Joseph Lee tangling with the new Walking Dead recap guy Josh Syvertsen. Let's see how this one shakes out…




1. Despite a cast top loaded with past Oscar winners, Last Vegas will not be very good.

Joseph Lee: Fact. It looks like The Hangover with old people. Michael Douglas is Bradley Cooper, Robert De Niro is Ed Helms, Morgan Freeman is Zach Galifianakis and Kevin Kline is that other guy that shows up briefly but really isn't important. Worse than that, it looks like a Hangover sequel in that it doesn't appear to be funny at all. Oh man, Morgan Freeman is DANCING because he drank red bull! Look, the old guys are sleeping on a rotating bed! Isn't that just hilarious? No. No it isn't.

Josh Syvertsen: Fact. A sexagenarian Vegas romp written by the same guy who wrote Bolt and the guy who directed both National Treasure films? Not exactly a genre bending, edgy pedigree. The four leads should be able to milk even the worst material for some value. But the trailer of the film has "cliched," "warmed over" and "tepid" written all over it. Mildly amusing? Perhaps. Good. No.

Score: 1 for 1

2. It's too soon for a TV reboot of Charmed.

Joseph Lee: Fact. I've never seen a single episode of Charmed, but I'd say if the show ended in 2006 then it's probably too early to reboot it. The cast of the original series is probably still okay with doing more episodes, just do a continuation. Fans would probably be more receptive to that than creating a brand new version of a show that hasn't even been off the air for a decade.

Josh Syvertsen: Fiction. There was much vacillation on the fact/fiction here. >Charmed was always the "other" genre show on the WB after Buffy The problem with the idea isn't the reboot itself. Certainly shows like Hawaii 5-0 have proven you can reboot something and make it pretty good. The issue is mainly with the timeline. Charmed has only been off the air for seven years. But I don't think that's really a big deal. If the stories are good enough and the lead actresses are good enough then folks will forget about the original in good time. The continuation idea of Josephs is actually a good "Whovian" way to make everything a little more palatable to the old viewers, but that being said, if you produce a quality show, it will survive on its own.

Score: 1 for 2

3. Paul Rudd would be a poor choice to play Ant-Man.

Joseph Lee: Fiction. As I mentioned when the rumors started, I'm all for Paul Rudd as Ant-Man. Paul Rudd can be serious if he needs to, and Rudd as a superhero, directed by Edgar Wright is something that would probably be a lot of fun. Not every superhero needs to be a super-serious actor. I think Rudd would work the same way Downey did. Sure, we all love him as Iron Man now, but the reaction he got when he was cast was very mixed. I think Rudd can pull it off, and I'd rather see them take a chance than go with the safe choice of Joseph Gordon-Levitt.

Josh Syvertsen: Fact. I love Paul Rudd. I love when Paul Rudd shows up for his ten or twelve scenes during a film, drops some snarky lines and walks off. I think he just works best that way. Paul Rudd being "the guy" in a film sends chills down my spine. I hated >This is 40 and maybe it's my overwhelming disdain for this film that's left that impression in my mind. Rudd paired with a strong second can work - see Role Models and I Love You, Man. But as the main star, carrying a 2 hour film? I'll pass. Give me Simon Pegg instead.

Score: 1 for 3



Switch!!!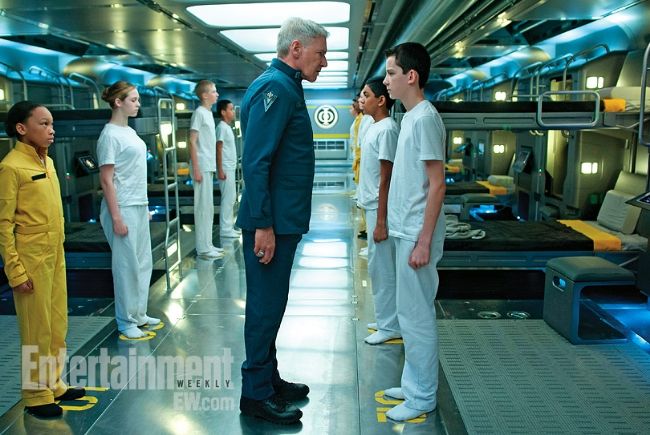 4. Ender's Game will underperform at the box office.

Josh Syvertsen: Fact. There was a time about a decade ago when turning high concept sci-fi/fantasy novels into films was a new, exciting event. Every studio was looking for the next Lord Of The Rings. Unfortunately, the "event" part of those film releases is gone. You can look back to films like The Golden Compass, straight through this year's Percy Jackson film for attempts at studios trying to recapture that lightning in a bottle. None have been able to do it. I've read and enjoyed Orson Scott Cards series. I'm certainly not a "fan boy" and my reaction to the films release is "meh." I'd imagine that's how most folks feel.

Joseph Lee: Fact. I honestly can't think of anyone that is excited for Ender's Game. All of my friends, as well as myself, saw the trailers and let out a collective "meh". It doesn't look bad, I guess, but it just seems kind of bland. The plot isn't really defined well in the trailer and it sort of relies on the fact that people have read the book. I don't think the Orson Scott Card controversy will come back to haunt this movie, I just think the fact it looks like yet another mediocre sci-fi film (like Oblivion or After Earth or the Total Recall remake) in a time when there haven't really been too many good ones.

Score: 2 for 4

5. You'd tune in to a Friday The 13th prequel TV series.

Josh Syvertsen: Fact. I hate to admit it because it will probably be terrible but being wholly obsessed with consuming anything Friday related I would tune in to watch a new Friday the 13th television series. I know they've done it before with rather poor results. Mainly because it was a Friday the 13th television show without Jason Voorhees. Sean Cunningham has already stated that the new show if it does happen, wouldn't feature Jason carving up folks on a weekly basis, which is disappointing, just not enough for me not to at least check it out.

Joseph Lee: Fiction. I'm not convinced a prequel series would be terrible (although if it's anything like Bates Motel then it probably will be) but does anyone really care about the life of Pamela Voorhees? She doesn't start killing anyone until Friday the 13th and before that she just did thinks like campaigning and arson. Will the series show her living with mongoloid Jason? Is there an actor willing to commit to that for an entire season? Or are we going to retcon the fact that Jason is deformed? It just doesn't sound like anything that would make for compelling television. I don't want a Friday the 13th series to show Jason killing random people every week, that would get boring (kind of like how The Walking Dead would get boring if it was nothing but zombie killing). But there has to be a better idea to bring him to TV than this. You know what character could benefit from a prequel series? Freddy Krueger. But I doubt any studio has the balls to make a series about a child killer.

Score: 2 for 5

6. Melissa McCarthy and Jason Statham teaming up for a spy comedy is a tremendous idea.

Josh Syvertsen: Fact. Why the hell not? McCarthy is funny. I can see her schtick starting to get old. The Heat was certainly funny enough though for me to give her next film another look. Statham playing against type is something that we've seen in bits and pieces before but never in a straight on "buddy cop" sort of way. Not the way it would be with McCarthy anyway. So yeah count me in.

Joseph Lee: Fiction: The key word there is tremendous. I'm all for seeing Jason Statham try his hand at more comedy (especially since I love Crank), but I'm not sure about this. I have nothing against McCarthy or even director Paul Feig. I just don't know if this is a combination that can work. The last spy comedy was This is War, and we all know how that turned out.

Final Score: 2 for 6

Joseph and Josh don't find much common ground this time. Thanks to them both for stopping by, and see you all again next week!
-BP



TWITTER

http://www.twitter.com/411s_Ben_Piper
http://www.twitter.com/411mania
http://www.twitter.com/411wrestling
http://www.twitter.com/411moviestv
http://www.twitter.com/411music
http://www.twitter.com/411games
http://www.twitter.com/411mma




comments powered by