SPOTLIGHTS
Movies/TV's 3R's 11.05.13: X-Men, Trick 'r Treat 2, Star Wars VII, John Belushi, More
Posted by John Dotson on 11.05.2013

From the X-Men: Days of Future Past trailer, a sequel to Trick 'r Treat to issues with scheduling Star Wars VII and more, 411's John Dotson breaks down the Right, wRong, and Ridiculous from the week in Movies/TV!

Welcome to Week 224 of The 3 R's for the Movie/TV world.

Make sure to click the Facebook "Like", Tweet button, and Google +1 links over there to the right of the article! Support 411mania, your home for the best in pop culture entertainment news.





Without any further ado, here is...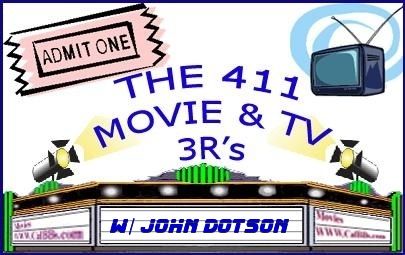 Trick 'r Treat 2 is a Go!! Woohoo! : From EW. Last week, this story broke after I submitted the column and I was so pissed. A few years back, screenwriter Michael Dougherty made his directorial debut with a horror anthology film called Trick 'r Treat. In the film, Dougherty incorporated a series of intertwined stories that connected to make one epic horror flick. Despite having positive buzz and great reviews coming out of test screenings the film was sidelined, followed by pushing it straight to DVD. Anyone will tell you, having it shoved to home video was a grave injustice to the film's quality. Cabin in the Woods nearly suffered the same fate due to MGM's bankruptcy.

In a shocking turn of events, a sequel is coming! Announced recently at a fan screening for the flick, Doughtery stunned the audience by announcing a Trick 'r Treat 2 with a logo which I have attached below!




So much awesome!

That's not it though. Dougherty reveals in a new interview with EW some of the ideas and back stories going into the next sequel. Here is the quote:


"It's funny because when I first dreamt up the idea of making the first film, I thought, "How neat would it be if we made them a series?" I'm a firm believer that October should be filled with Halloween movies, or horror movies. That's something I remember from childhood. Horror movies and Halloween, they go hand-in-hand. And so the idea was, "Well we could probably do a Trick 'r Treat movie every year or every other year, and that it would sort of just be a new batch of stories and characters. And the common link between all of them would be Sam." Initially that was the plan, and then things changed as the first film had a very delayed, strange journey. I put those dreams on hold for a little while, so it feels good to go back to that initial plan. … I think it'd be great to make it a trilogy, at least. So fingers crossed. For me, I think every film should explore a different aspect of Halloween. I felt like the first film was the very traditional, suburban Halloween that we all have some memory of. But as I've grown up over the years, I've lived everywhere from Columbus, Ohio to New York to L.A., and I find that the holiday is very different depending on where you live. Or even time periods. I don't see why we should be limited to just present day stories. Halloween is an amazing holiday because it evolves depending on where you live and the time period."


He adds that the horror anthology structure will remain and also to expect more monsters in the next film that didn't make the roster the first time out.


"I think we'll shake it up a little bit. There are different archetypes I'd like to explore, different types of monsters. We covered werewolves, vampires, and zombies, but there's a whole slew of different creatures out there that we haven't tackled, and I think Sam would probably be pretty good buddies with. So I think it's time to let them have their time in the sun."


If you haven't seen the first film, I highly recommend you check it out. It's a bag of Halloween awesomeness that has a little something for everyone. I'm not sure if it is still on Netflix streaming, but if so, if you're looking for a Halloween movie, this is one of the best out there.

Trick 'r Treat 2 currently is awaiting a release date! Check out the trailer for the original below!




Terrifyingly awesome trailer for Open Grave: A few years back, Gonzalo López-Gallego directed a mediocre found footage film titled Apollo 18. That film suffered horribly for reasons I won't dive into here. Whether it was a studio dilemma or production issues, the film just did not deliver on its clever concept. That said, Gonzalo López-Gallego is back with a new film and I'm ready to give this guy a second chance, and you will too.

His new film Open Grave stars Sharlto Copley from District 9, and showcases footage that raises more questions than answers. What exactly is happening in the advertisement is anyone's guess. Why is the guy stuck in barbed wire? Is Sharlto Copley a villain or victim? Why is there so many dead bodies?

Here is the Open Grave trailer below!



One of the things I discussed with fellow 411 writer, Shawn S. Lealos, is the fact this film has risen from out of nowhere. We all knew Copley was involved with the Oldboy remake, and the sci-fi vehicle Elysium. However, Copley seems to be taking on more acting roles than we seem privy to, which is fine by me. I absolutely love this guy and as long as he keeps choosing his roles wisely, I'll keep watching.




Hans Zimmer has a supergroup to help him compose The Amazing Spider-Man 2: Depending on how much you cared, The Amazing Spider-Man actually had a stellar composer from James Horner, who also did the music for Titanic. What I find funny is the guy who composed one of the most signature themes in romance blockbuster history failed to find a decent theme for the James Garfield take on Spider-Man. Not to say the guy didn't try, he just didn't connect a decent theme. So, when the world needs a powerful superhero sound, who does the world call?… Hans "f%#king" Zimmer!

Sony and company announced this week that the new film would use Zimmer's spidey senses to bring the sequel to life. Color me excited. Not only is he working alone, but he has brought on board a super league of extraordinary gentlemen to make the new rendition unique. Here is the musical Sinister Five for the new film: There is Hans Zimmer, Pharrell Williams, Johnny Marr (The Smiths), Michael Einzinger (Incubus), and Dave Stewart (Eurythmics)… Holy Sh*t!

Honestly this is the coolest thing I've heard since Daft Punk was hired for Tron: Legacy. So far, everything with the new sequel seems to be shaping out better than the last one. I guess look at this way, even if the film disappoints– which it probably won't– at least we got a kick ass soundtrack out of it.



Tom Hardy and Takeshi Miike equals HOLY SH#T!: From Variety. Never has so few details been revealed been revealed about a story but says way too much on the potential. Takashi Miike is a director whose archive includes numerous stellar films such as Audition, 13 Assassins, Ichi the Killer and more. Tom Hardy is an actor whose credits include Bronson, Inception, The Dark Knight Rises, and Warrior. Combine the two and you have a movie that could rise above the rest.

Worldview Entertainment has come aboard to finance The Outsider, which Miike will direct early next year. As Variety explains, Tom Hardy will play a "former G.I. in post-WWII Japan who joins a Yakuza crime family." Andrew Baldwin wrote the script which will be his first major release in the U.S. Baldwin is also working on the remake of Logan's Run for Warner Brothers.

I actually dig the idea of Tom Hardy being a crazed war veteran who turns Yakuza, and Takeshi is the perfect fit for making such a dark vision become fully realized. I really hope this turns out well because I've been craving some insane Tom Hardy lately. It's been too long since The Dark Knight Rises.

What do you think? Will Takeshi Miike and Tom Hardy be a perfect pairing?



Kick ass trailer for Days of Future Past:

I won't say much on this trailer because I'm sure you've all heard enough this week already. I will say besides the cheating use of epic scores from John Murphy and Hans Zimmer, the film looks incredibly promising. I have my fingers crossed that Singer's return will deliver on the epic nature this footage offers. Check out the footage below if you've been living under a rock!




Ridley Scott confirms he is still being vague about all things Prometheus 2 : We've been hearing the buzz for a while now that a Prometheus sequel was coming. Why? My best guess is either Ridley Scott hates us all, or simply for the fact he wants to fix the gaping plot holes he left in the original. Either way, Prometeus 2 will happen and hell is coming with it.

The report dropped this week with two different quotes from two different sites. One from Scott saying, "Prometheus 2 is written," and the other explaining, "Prometheus' is being written right now. Number two." So what does this all mean? Is it or is it not happening? The updates on this sequel/prequel/spin-off is about as vague as the first film itself. Dammit Ridley! Stop raising questions and give us some answers! How does this tie into Alien? Why is the black goo all purpose? Why did the space jockey attack the humans? Who is Tyler Durden? Why is the rum gone?! What does the fox say?! Just give us something!!

If he does end up making Prometheus 2-- which I hope he doesn't--, I hope it finally clears up the mess these guys made with the first film. What do you think? Do you want another sequel to Prometheus?






Star Wars VII gets no flexibility for creativity: From THR. So, here is the thing. I want to believe in Star Wars VII. I really, really do! However, the more I hear about it, the more it scares me as the doomsday clock approaches. That clock deadline has officially been set by Disney for 2015... No matter what! Why you ask? Well, because Disney paid $4 billion dollars for the rights, and they have stocks to consider, as well as shareholders.

According to the report by THR, screenwriter Michael Arndt left the project but even though Abrams and Lawrence Kasdan need more time, Disney CEO Robert Iger isn't budging on the 2015 release date. The best guess from numerous sites is because the House of Mouse has many spin-offs ready to roll as soon as the first film moves into theaters. If the domino falls then the rest follow suit, which means Disney is using a "time is money" philosophy.

Problem with this perspective is that type of thinking is going to destroy the next saga before they can even think spin-off. Marvel Phase 1 worked because Iron Man was a phenomenal movie. If they rushed it out and gave a shitty half assed first entry, then no one would care what's coming next. Same principal could potentially destroy WB/DC as well. WB is so worried about rushing out a Justice League film that it could end up biting them in the ass.

All I'm trying to say Disney, is take your damn time! If it means a better movie, we can wait. Don't screw up another trilogy because of greed. Okay, thanks!




.
The Simpson says goodbye to Mrs. Krabappel : It's amazing how much just a single voice can have an impact on your life. For many years, Marcia Wallace terrorized Bart Simpson on the show as the voice of Edna Krabappel. She was the teacher who was most likely responsible for all those words Bart is writing at the beginning of each episode. Sadly, Marcia Wallace passed away this week at the graceful age of 70. Truly sad to hear.

Following the event, the network did a rerun of one of the classic episodes for Mrs. Krabappel titled "The Ned-liest Catch", where she falls in love with Ned Flanders. Thrown into the episode was a small last minute tribute showing a heartbroken Bart writing a message for Mrs. Krabappel on the chalkboard.

RIP Marcia Wallace, and thanks for giving us a great iconic character for many years!




Marily Manson cameos on Eastbound and Down: As heartbreaking it is to say, Eastbound and Down is nearing close to the final episode of the Kenny Powers saga. It's a sad time for this writer when Breaking Bad and Eastbound and Down conclude on the same year. Well, with all the great stars that have made appearances on the show, last night had one of the biggest cameos, and barely anyone noticed.

A super geeky roller-blading Marilyn Manson appeared on the program without make-up. Funny thing is, his appearance was so vastly different that not even I noticed it was him until I read it on the news today. Knowing this is Manson only makes the scene way funnier than it was before.

To check out the crazy Manson cameo, hit the video below! Is it just me, or does Marilyn Manson look like Nick Swardson without make-up? Is it just me?

.
Ridiculous casting: Emile Hirsch to play John Belushi: You thought Ben Affleck's casting as Batman was strange? Well, guess again! Emile Hirsch has just signed to play old school Saturday Night Live funny man John Belushi. The film is being scripted by Steve Conrad who previously worked on The Pursuit of Happyness and this year's The Secret Life of Walter Mitty.

As strange as this casting is, Hirsch is a damn near perfect select for tackling the character. He has a strong solid grasp of how to handle comedies with films such as The Girl Next Door, as well as drama with Into The Wild. My question is, will he actually put on the necessary weight to fit the role. Either way, I'm pretty excited to see what Hirsch has planned for his portrayal of John Belushi.

Belushi died in 1982 at the young age of 33 after overdosing on a cocktail of speed and heroin, otherwise known as a speedball. He is one of the original members of SNL and a legend of his time. The best part about this news is his close friend and creative partner Dan Ackroyd will executive produce the film. Only fitting for a Blues Brother to help bring the comedic legend John Belushi to the big screen.

What do you think? Is Emile Hirsch the right actor for the role?



Ellen dresses up as Nicki Minaj for Halloween: I'll be honest, I'm not a huge fan of Ellen Degeneres as a comedian. Don't get me wrong, she's funny sometimes, but so is David Spade, and I don't think I can last through anything he does outside of Joe Dirt and Chris Farley movies. That said, Ellen got me this week. I don't use the term "LOL" much, but I'll admit, I LOL'ed a lot seeing this ridiculous Nicki Minaj costume. Best part about it, she managed to pull everything off without the Julianne Hough blackface which caused all sorts of controversy last week.

The costume was in reference to the appearance Minaj made on Ellen's show without a bra/shirt, and with very little to cover the upstairs "goodies." Ellen conjured the exact same outfit and added a little junk in the trunk to show off some "Superbass." Even Minaj gave her approval on Twitter saying, " I didn't know Ellen could get any sexier. 👀@theellenshow." The result is crazy and can only be seen to believe! Behold... Ellen Minaj!





Watch this ridiculous trailer for Call of Duty directed by James Mangold: Seems like the marketing for Call of Duty is just batshit crazy this year. Not only is Eminem dropping mad lyrical flow for the new game, but even James Mangold- who directed The Wolverine-- directed a promotion for the popular gaming series. To be fair though, this is pretty much what we have come to expect by now. The last entry also had a promotion with a ton of cameos and was directed by Lock, Stock, and Two Smoking Barrells helmer Guy Ritchie. This of course has less cameos, but features a destroyed Las Vegas with gun fire and mayhem action playing out with the sounds of Frank Sinatra. Not to mention a sweet "unrealistic" gun battle in the mix of space that makes me want to go watch Gravity again.

Of course, it wouldn't be a Call of Duty commercial without at least one cameo. Well, Megan Foxx is just the right amount of sexy to cap off any good commercial, right? Check it out below and prepare for war on an "Epic Night Out" in Vegas!


comments powered by