SPOTLIGHTS
Movies/TV's 3R's 11.19.13: Daredevil, Andy Kaufman Lives, 50 Shades of Grey, Christian Bale, More
Posted by John Dotson on 11.19.2013

From the Daredevil series getting a screenwriter to Christian Bale giving Ben Affleck advice on Batman and more, 411's John Dotson breaks down the Right, wRong and Ridiculous from the week in Movies/TV!

Welcome to Week 225 of The 3 R's for the Movie/TV world.

Make sure to click the Facebook "Like", Tweet button, and Google +1 links over there to the right of the article! Support 411mania, your home for the best in pop culture entertainment news.





Without any further ado, here is...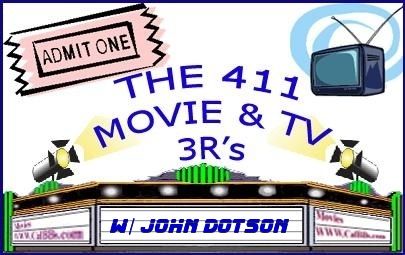 Christian Bale offers some hilariously awesome advice for Batfleck: I'm sure just like me, most of you were waiting for Christian Bale to offer his thoughts about Ben Affleck taking over Batman. Let me just say… Bale does not disappoint at all. The interview is brief, but is definitely worth hearing out.

In the video, Bale discusses the fact he hopes Affleck is a solid takeover for the next incarnation of the superhero. He even says his experience with acting and directing should favor him well once he puts on the cape. However, the best moment comes when the interviewer asked if Affleck had reached out to Bale for advice about handling the role, which Bale humorously mentions a conversation about trying to "take a piss in the costume." He explains that his one piece of advice to Ben was to figure out the best way to execute the task without the humiliation of asking for help. Wise words indeed!


There is also a great intro talking about the heartwarming day for "Batkid," which is undeniably awesome. Seriously, San Francisco is now my new favorite city after pulling off such a fantastic event for one child. As Bale says, it proves the symbol of the character is bigger than any one person. Long live Batman!



.
Andy Kaufman lives!!!!:

From TMZ. Wow guys! So many years after Andy Kaufman's passing, and the dude is still showing people everywhere the proper way to troll society. This might be the best news since ever. As you may or may not be aware by now, over the weekend, a strange young girl appeared at the Andy Kaufman Awards claiming the famous comedian was in-fact still alive, and that she was his daughter. This caused mass insanity through the interwebs on whether or not this was legit or hoax. Of course, when it comes to the legacy of Andy Kaufman, only God will know the truth. I, personally like to think Kaufman is off somewhere secluded drinking the finest liquor with 2pac, but that's just me.

Anyway, here is the video that sparked all the insanity.




Soon after, reports started sparking that it was all a hoax and that she was a 24 year old actress by the name of Alexandra Tatarsky. Even Kaufman's girlfriend spoke up saying she witnessed the death of the comedian with her own two eyes.

But here is where shit just gets increasingly awesome! The actress is sticking to her story! Check it out!

Is she clearly full of shit? Most likely. You have to admit though, this is the most entertaining news story in years. It's pure Kaufman madness, and I hope it goes on forever! If Kaufman is actually alive, I just hope he sees the craziness he's stirring up, and how most of us are smiling about it.

.
Watch this spicy trailer for Cuban Fury starring Nick Frost: I debated on whether I should stick this on Right or Ridiculous, but just watching Nick Frost try to salsa is too comically Right to be claimed as the latter. The idea sounds like something straight out of a Chris Farley SNL sketch. In Cuban Fury Nick Frost of the Cornetto Trilogy plays an office underdog who has a mad crush on his boss Rashida Jones. Which honestly, who can blame him, right? Only thing is, he has a rival who is also after her. So, Frost decides to make an impression on her by changing his boring habits and take up salsa dancing.

What I love about this project is the fact Cuban Fury is the first major lead role for Nick Frost outside of movies with Simon Pegg. Both guys are incredibly talented, and if Pegg can get more projects, then so can Frost. I'm hoping this can show this guy is able to carry his own comedy. But will there be a Simon Pegg cameo perhaps?

Check out the trailer for Cuban Fever below!


.
Cabin in the Woods director Drew Goddard scripting Daredevil for Netflix: From The Wrap. Well, if you didn't think Joss Whedon was still influencing the future of Marvel, the latest development should convince you otherwise. Long time Whedon collaborator and writer Drew Goddard has officially came aboard to pen the first season of Daredevil for Marvel's Netflix show.
For those who are unfamiliar, Goddard wrote for past Whedon properties such as Buffy and Angel, as well as co-wrote The Cabin in the Woods with the Avengers director himself. One can easily picture Whedon in the Marvel board room throwing this guy's name in the hat just from past experience. Very fitting if you ask me.
As other sites have mentioned, this is none too surprising considering Goddard himself has expressed interest on joining the Marvel universe in past interviews.

What Marvel character would I not love to get on? That's an easier question to answer. I would love any of it and I love Marvel, Joss and what they're doing. It's all about finding the right fit. Directing…in order to do your job right, you have to find ways to make it personal, and if we can find the right fit, then I would love to do it.


Also, in this interview from a year ago, Goddard explains how Daredevil impacted his childhood.


You're talking to a guy who had quotes from Daredevil painted on his wall while growing up. Even when I was 18, I still had the blood red door with the, 'I have shown him that a man without hope is a man without fear.' That was what I loved and so it's the sort of thing that if we can find the right project, I would love to do it.


Given Goddard's experience with Whedon and other television projects such as Alias, I think this a perfect creative addition to Marvel, especially in regards to Daredevil. I haven't been a huge fan of Agents of SHIELD thus far. That said, I'm extremely curious to see how the Netflix lineup shapes out.
First promo images of the new Twilight film… Whoops, I mean 50 Shades of Grey: From EW. In a world where people demand quality movies, lives a producer at Universal who thought this was a good idea. Okay, to be fair, it is a good idea simply on a business standpoint. The novels are popular as hell, and women drool over the extreme sexual subject matter like Justin Bieber at the Red Light District. That said, I can see exactly why Charlie Hunnam left the project. I mean honestly, judging solely based off these photos alone, I have trouble picturing how Hunnam would mesh well here. This may not be Twilight, but these images scream Edward and Bella like crazy.Here is the first promo photos of 50 Shades of Grey:





The images come from Entertainment Weekly which includes interviews from the film's two main leads. Here is an excerpt from the actor who replaced Charlie Hunnam, which is Jamie Dornan:


"I'm a fairly worldly guy. I grew up in a very liberal place. I'm not saying we had a playroom, but I'm not shocked by [the sex in the book]. It's essential to tell the story. I can't believe films that don't invoke the sexual side of it. So it works for me."


Translation: "I'm extremely excited to be starring in this porno."

Fun fact about 5O Shades: Traces of herpes was found on a copy of the novel. That's right 411! 50 Shades of Grey can possibly give you herpes.
.
Barbara Walters angers audience during screening of Catching Fire: From Gawker. You ever go to a movie and have that one loud obnoxious asshole almost ruin the experience with his loud commentary, and lack of respect for other viewers. What if you turned around, and this asshole was Barbara Walters? That's exactly what audiences experienced recently at an early screening of Catching Fire. According to reports, the 84 year old reporter was heard yelling questions to her four assistants, mainly because she was confused about certain plot points in the sequel.


"Every time someone came onscreen, she'd say out loud, 'Who's that?' Then an assistant would fill her in," says our source. "She even asked, 'Is that Jennifer Lawrence?,' which is weird considering she was probably watching the movie in preparation for an interview."


As the site indicates, she also described as acting with a sense of entitlement, and even had to have an assistant answer which character was Jennifer Lawrence.


"She couldn't understand any of the plot twists and would ask 'What's going on?' every five seconds. It was crazy. Even when characters reappeared on screen after having shown up 20 minutes earlier, she'd be like, 'Who's that?'"


Look I'm not trying to be harsh on the 84 year old journalist, but if you're too inconsiderate to let others follow a film in a theater, then you need to bugger off. I don't care how famous you are. When the theater goes dark… Shut it! Ask about plot point after the film. Also, to all the people bringing their infants in a theater… Stop that shit!
Okay… Movie Theater rant over.
.
It's a Wonderful Life getting a sequel proves this is not a wonderful life: From Variety. I'm throwing this one in at the last minute, because it was just reported moments ago. No, you're not dreaming…. Hollywood is actually trying to make a sequel to It's a Wonderful Life. Why? Because remaking Mr. Deeds Goes To Town with Adam Sandler just wasn't enough.

The story comes from Variety, who says, "It's a Wonderful Life: The Rest of the Story, is being financed by Allen J. Schwalb of Star Partners who will also produce along with Bob Farnsworth of Hummingbird." They also say the film is targeted for a Holiday 2015 release date, which places it against Star Wars VII and Mission Impossible 5.

This just in!… Citizen Kane receiving a 3D re-release, The Godfather gets a makeover by Tyler Perry, and Psycho gets a reimagining by M.Night Shaymalan! Stop touching the classics! Just because you CAN make a continuation of a classic film, does not mean you SHOULD. What do you 411 readers think? Is a sequel to It's a Wonderful Life a good idea?


.

Who knows the lyrics to "African Child?":





From TMZ. Here is one of the interesting moments in Hollywood where life almost imitates art.

In , Russell Brand played a rock star named Elvis Snow, who made a song titled "African Child," which destroyed his career. Jonah Hill plays the intern ordered to get the fallen rock star to the Greek Theatre in one piece. In the movie, Brand explains to Jonah that one critic said "African Child" was the worst thing to happen to Africa since Apartheid. It's one of the funniest aspects of the film and entirely believable with modern day music artist and their behavior.

Well, in a ridiculous turn of events, South Africa has banned Russell Brand from entering the country. Why Do they think Russell Brand actually made a song called "African Child" or does South Africa simply want to keep the country Brand free? Actually, it was neither, but in fact an error in Brand's paperwork before boarding. Not as entertaining as the film, but a humorous parallel to say the least.


.
Check out thisMan of Steel Honest Trailer:

As much as I enjoyed Man of Steel, I'm quite aware of its flaws and still appreciate the movie despite them. That said, Snyder and Goyer definitely made some creative decisions that make it easy to poke fun at the property, and Screen Junkies perfectly demonstrates this with hilarious fashion. It's not as harsh as some Honest Trailers, but I think even the strongest defender of Man of Steel will find this amusing. I'm sure most of you have seen it by now, but just in case, here is the video.

Highlights include product placement, death by dubstep, Robin Hood dads, Matrix babies, Avatar birds and Superman pooping.

"Is it a bird, is it a plane, It's coming right for us!… Everybody run!"



.
Watch this Alternate Ending for Breaking Bad: This year saw the end of one of the most fantastic shows to hit television. All the theories of how the Walter White saga might end were finally put to rest, but seemed mostly satisfied by the fanbase. However, most of you might have got lucky to see the footage that leaked over the weekend showing an alternate finale of Breaking Bad. If you haven't, prepare to be shocked and amazed! I'm not even sure why they chose to skip taking it this direction. It's so clever and unconventional. There's so much depth and texture to this version it's almost frustrating. I literally stayed up half the night wondering what might have been. Check out the mind-blowing conclusion to Breaking Bad that almost was! If you don't like it well… "Life is unfair."


.
comments powered by