SPOTLIGHTS
Comics 411 12.04.13: Worst Avenger Edition!
Posted by Steve Gustafson on 12.04.2013

Who is the worst Avenger of all time? Plus news and thoughts on the future of Wolverine & the X-Men, a look at DC's Outsiders War, what's next for Avengers Arena, a review of Infinity #6 and more!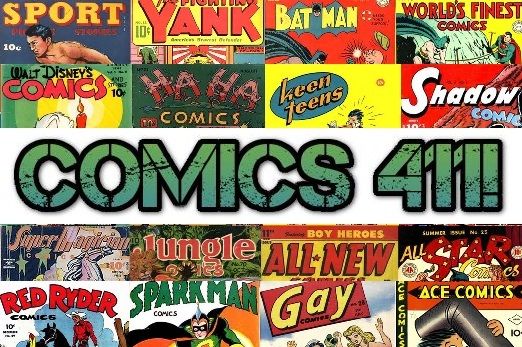 Welcome back to the Comics 411! My name is Steve Gustafson and this is a corner of 411mania reserved for those interested in talking comics! As always, I want to thank everyone who took a few minutes to read and comment last week.


And away we go...

A pretty cool story about a Wisconsin collector who sold off her rare comics including first issues of The Avengers and The Incredible Hulk.







READER ROUNDTABLE

Last week we had a light topic of Best Comic Book Based Movie. I listed some of the more obvious ones and here is how it came down:

BATMAN DARK KNIGHT (2008) 39.31%
MARVEL's THE AVENGERS (2012) 36.53%
SUPERMAN: THE MOVIE (1978) 4.58%
THE CROW (1994) 3.89%
BATMAN (1989) 3.75%
SPIDER-MAN 2 (2004) 3.19%
THE ROCKETEER (1991) 3%
IRON MAN (2008) 2.92%
X2: X-MEN UNITED (2003) 1.81%
A HISTORY OF VIOLENCE (2005) 0.69%
BLADE (1998) 0.56%

Looks like it was a tight battle between Batman and the Avengers! Batman pulled out the victory but I wouldn't be surprised if I did the vote again and the results flipped in the future. Speaking for me, Batman: Dark Knight seems to age a little better than The Avengers. The big surprise was The Crow pulling in a decent amount of love, beating some pretty big movies. Also, it did my heart proud that The Rocketeer is fondly remembered. Here's what you all said:

NMMan: ""The Rocketeer" is a criminally-underrated example of period filmmaking, in addition to being a stellar comic book movie. Solid story, great performances all around, what more can you ask for? That's one that been in need of a special edition release for years."

Sherlock Joe: "I know most won't agree but Avengers seems great on first viewing because it succeeds at putting all these heros into 1 movie and is the first to do so, but on repeated viewings it is too long and nothing more than waiting for a few epic fan service moments (like all the Hulk scenes and a couple brush-ups between heroes) but for the duration preceeding those epic moments and as a movie overall it was fairly average.
Its not a knock against the people who like straight up comicbooky/popcorn fare movies but so many are being produced nowadays they feel interchangeable and even the old ones that you use to like on repeated viewing start to lose their luster. Dark Knight, The Crow, Kick Ass, Blade and Scott Pilgrim were the only comicbook movies that felt truly unique to me with the Dark Knight transcending all. -Also this is random but I would love if the Fantastic 4 reboot cast: Benedict Cumberbatch - Reed Richards, Kerry Washington - Sue Storm, Michael B Jordan - Human Torch and Hank (Breaking Bad) - the Thing :)"

gooched: "The Dark Knight...EASILY. There is no legit competition. While other films are talked about mainly as comic book films and great homages to work that has already been done, the Dark Knight is like the graphic novel form a la Alan Moore's Watchmen and From Hell, or Miller's Dark Knight Returns or Loeb's Long Halloween. It transcends genre and brings something new to the 75 year old franchise. Even if it's things you don't particularly like people always reference a "nolanesque" look to anything that remotely resembles anything from his trilogy in the comics or cartoons. Tim burton also did the same thing, but his films weren't nearly as good...and the dark knight (2008) captures that perfectly. I mean you look at Nolan talking about the film, and he goes on about Fritz Lang's M, Michael Mann's Heat and Thief, A Clockwork Orange and Francis Bacon's work among the various inspirations among the film. It's a film made not by a comic book geek slathering fanservice and wink at the audience geek references, but a god's honest fan of cinema, pretentious as it may sound, that's what cinema has always needed."

Go2Sleep: "My list:
1) The Crow
2) Sin City
3) The Avengers
4) Iron Man
5) Spider-Man 2
6) The Dark Knight
7) Batman Begins
8) The Dark Knight Rises
9) X-Men: First Class
10) Kick-Ass
HMs: X-Men, X2, Spider-Man, Watchmen, V for Vendetta, and Men in Black"

Some Guy: "Best movie of the bunch is Dark Knight, but the best comic book movie is Avengers. However, Winter Soldier may challenge both of those."

KipSmithers: "I'd put Road to Perdition on before History of Violence."

CyberVenom: "Not a bad choice of list nominees! Here's my top 10, in no order:
10. The Crow. Still my favorite movie ever!
9. The Dark Knight. Great flick! Should have been called Joker: the Movie.
8. Spider-Man 2.1. It was an updated version that added a few scenes, extended the train fight, and changed some of the scenes with different takes.
7. Superman 2. KNEEL BEFORE ZOD!
6. X2. Everything that was great about the first one, but bluer!
5. Avengers. Everyone fit their roles nicely.
4. Iron Man. Downey, Jr. nailed it.
3. The Incredibles. To me, Pixar's finest. Where's the sequel?!?
2. Hellboy 2. I'm not even a fan of the character and I liked it!
1. The Wolverine. It felt like a Wolverine movie without falling into a rehash."

James: "Kick-Ass
Superman: The Movie
Superman 2
Batman (89)
Spider-Man 2
Dark Knight
The Crow
Batman (ADAM WEST!)
The Avengers
Spider-Man"

Captain Obvious: "Iron Man over The Avengers since without the succss of that single film there is no need to make Wheedon's amazeballs flick."

Smash Adams: "No love 4 Superman 2 huh? Dark Knight wuz great thanks to the joker but Bale ruined Batman for me."

Joe: "1. TDK trilogy
2. Spider-man 2
3. Batman
4. V for Vendetta
5. Superman 1 & 2
6. MOS
7. X-men 2
8. The Crow
9. Blade
10. Spider-man
11. Batman Returns
12. The Wolverine
13. The Amazing Spider-man
14. X-Men
15. Sin City
16. Blade 2
17. 300
18. Watchmen
19. Ironman
20. The Rocketeer
21. Captain America
22. X-Men First Class
23. Thor TDW
24. Kick Ass
25. The Incredible Hulk
26. Ironman 3
27. The Avengers
28. Road to Perdition
29. Thor
30. Iroman 2
31. Blade 3
Those are all the comic movies I love and like in order as it stands today, not including animated features which have often been better than live action. Any others I didn't like or haven't seen."

Patrick Sharkey: "My favorite movie that stemmed from a comic was the 2012 movie Dredd, LOVE(!) that film. From the ones on your poll however, The Dark Knight is my favorite, With Avengers Assemble being a close second."


What's cool to me is 10 years ago, a Best Of... list would be slim pickings. As we get more and more offerings, we'll be able to debate over a more wide range of movies. Good times to be a fan! I was over at Newsarama and they had a cool list of The 10 WORST AVENGERS of All Time. I had my own input on the list and, overall, I agreed with their list. I will say that Stingray has tons of potential! I think I have a discarded pitch I sent Marvel years back. Along with their rejection letter. Anyways, I thought it would be fun to vote on who is the ABSOLUTE worst. I took their Top 10 and present it to you! Also, Rage was awesome when he was on the New Warriors and The Sentry COULD have been a really awesome character.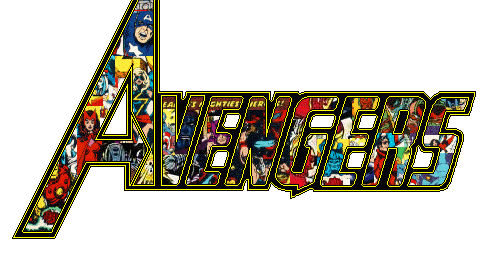 NEWS!

Wolverine! On Monday Marvel released a one-word teaser images hyping something of the "FUTURE" from Jason Latour and Mahmud Asrar. What does it mean? As revealed in an interview at IGN.com, Marvel is relaunching the popular Wolverine & The X-Men series in March with a new creative team of writer Latour and artist Asrar. The current volume of the series, helmed by writer Jason Aaron, will conclude with issue #42 in February. According to the interview, Latour & Asrar's run on the series will act as "summer semester" for the faculty and students after the first regular "school year" during Aaron's first volume.

"As we've seen this first year or so of the Jean Grey School has been a hard road," Latour tells IGN. "As a result we'll begin with a lot of the teachers and students sitting on the edge of their seats just waiting for the bell to ring. For a break, for a reprieve. Some of them even want to quit. With summer in session many of them have. Those that are left are the ones who basically have no where to go."

According to Latour, the new Wolverine & The X-Men series will focus on three students – Quentin Quire, Evan Sabahnur and Idie Okonkwo. "These kids are Logan's legacy, but as we've seen up to this point he didn't have such a great track record with that stuff even when he was at his best," explains Latour. "In them we could be witnessing the growth of the next great team of X-Men, or the creation of the biggest threats the Marvel U will ever see. Everything we're planning, the adventures, the threats, will reflect that journey."

Given the fact that summer break for school's is all-too short, IGN asked Latour if this meant he would only be on the book for a limited time before the next school year begins. While Latour wouldn't clarify the length of his tenure on the book, he stated he has "lots of idea for the future" and hopes to continue on the book indefinitely.

In the announcement last month that Paul Cornell's Wolverine series will be relaunching in 2014 and will show Wolverine pulling back from his various commitments in the Marvel U, the question of his role going forward at the Jean Grey School is high of concern for the faculty, staff and most importantly the readers. Latour explains that the school is "built on the back of" Wolverine, but things have changed

"But now Logan is mortal and for the first time he's being forced to take stock of what he's built," the writer explains. "He's realizing that what he saw as a school could, in the wrong hands, become a factory for the next Cyclops or Dark Phoenix or Apocalypse or Weapon X. That though people like Storm are ready and willing to take the mantle, he's not sure that he wants to subject them to the price of that duty."

With the headmaster position in flux, the school is also dealing with the recent departure of many of its teachers in the wake of X-Men: Battle of the Atom, leading Wolverine to recruit an unlikely new teacher in the form of Fantomex.

"Well with the mass exodus of teachers Fantomex is, maybe somewhat surprisingly, Logan's first choice to step into an open position," Latour reveals. "One of Logan's greatest fears is leaving his school in the hands of men like Cyclops. Fantomex is a man who sees the world in grey, who understands what it means to be raised a weapon. As violent has he's been, he's shown again and again that he does know its cost."

Asrar says that he'll be keeping the "basic visual design" of the ensemble cast, but there will be "slight variations" do their combat gear. Asrar does reveal that there will be new characters – both students and villains – appearing in the series that he is currently designing.

When asked specifically about threats the school would face in the be new Wolverine & The X-Men series, Latour hints at the appearance of "a villain who has a connection to the Phoenix Force." Along with several new villains as Asrar mentioned before.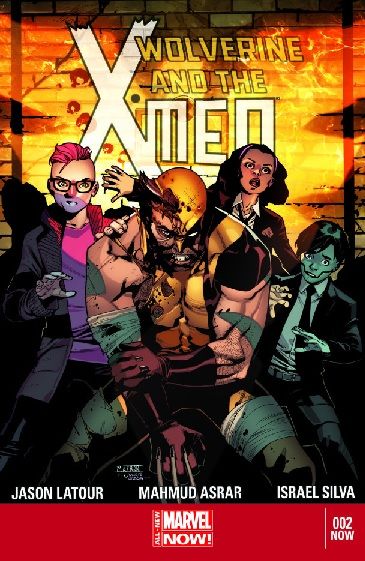 Outsider War! Here's a quick look at The Outsiders War. Oliver Queen finally knows the location of the Outsiders' base, but first he must return to the place where Green Arrow was born: The Island! Secrets are revealed, new villains introduced, and a mind-blowing final page kicks off this new storyline with a bang!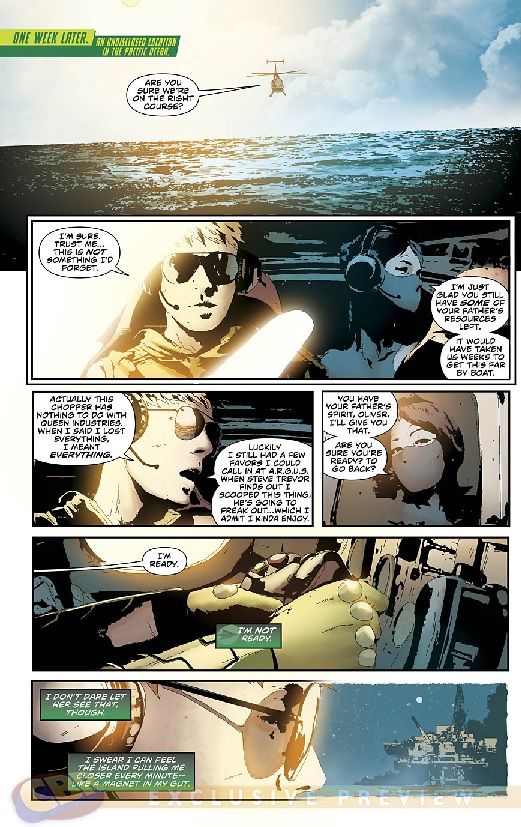 Avengers Arena! Ever since the bloody beginnings of Avengers Arena in December 2012, the big question was: Who would be left standing? Last week Marvel released the finale of the series,Avengers Arena #18, and there's a lot to be discussed.

For those unfamiliar or simply a couple issues behind,Avengers Arena followed 16 teenage and young adult heroes from Marvel's ranks as they were kidnapped and forced to fight amongst themselves on a secret island for their survival all the while lorded over by the villain Arcade. Series writer Dennis Hopeless took to the ground running, crafting a homage that bucked expectations and turned a number of reluctant readers into ardent fans. After the events of the previous Avengers Arena #17, only ten of the teen heroes have survived, but they find themselves fighting more amongst themselves than their captor who teleported away.

Newsarama spoke with Hopeless and the series' primary artist Kev Walker about the events of this week's finale. Here are the highlights:

On writing the final issue and if plans for the ending changed over the course of writing the book: Hopeless: "The ending was pretty similar to what we conceived early on. The final Death Locket scene played out exactly how I explained it to my wife over pancakes last winter. And I always knew we'd end on a big Hazmat moment. Arcade's fate was a little more up in the air throughout. Elements of that final scene were in my early outlines but the specific beats really came together when we started discussing plans for Avengers Undercover. The last two pages of Avengers Arena lead directly into Avengers Undercover. You'll see what I mean in March."

On Darkhawk/Chris Powell in the series: Hopeless: "The thing about Chris Powell is that he never belonged in Murder World. That was the point. Arcade made a mistake and put a grown man into a children's game. Chris as Darkhawk was powerful enough to end this game day one. But he's also an adult super hero. He was never going to break. There's a reason we pulled him off the table so early. Chris sort of played the role of heroic police officer who dies in act one, leaving the other characters to deal with his gun."

On being asked if there's one dead hero you could bring back and tell more stories with, who would it be: Walker: "Actually the first two deaths, Mettle and Red Raven. I understood why it had to be someone important who died first, because the characters needed to know Arcade meant business as much as the reader did, otherwise it would have just been his usual bull. Arcade had a reputation for being a lousy villain who never actually succeeded in anything. In order to be taken seriously he had to do something really dramatic and although killing one of the new characters would have affected the kids, it wouldn't have shocked the readers. I just wish I'd had more of a chance to draw him, do something with him first. When I was asked to do Avengers Arena it was still at the planning stage and was being called an Avengers Academy book, it was Mettle I was looking forward to drawing. But alas, he is no more. Though no one ever really dies in comics, so you never know. As for Red Raven, I was just pleased with the character design and would have done a lot more with her, but again, her death, though apparently pointless, served to demonstrate that there were limitations to the environment they were in. The kids couldn't just run (or fly) away. They had to stand and fight. I think it was only really a seen as a pointless death because she's the only character that no one ever really got to know. She did exist outside Avengers Arena but not in any great detail and not in recent memory."

Hopeless: "I'd write stories about any of these characters, dead or alive. My one big regret is not getting a chance to do more with Red Raven before she died. I had a lot of interesting ideas for her and simply didn't have room in the first arc plot. But yeah, if Marvel offered me a Mettle and Juston miniseries set before Avengers Arena, I'd jump at the chance."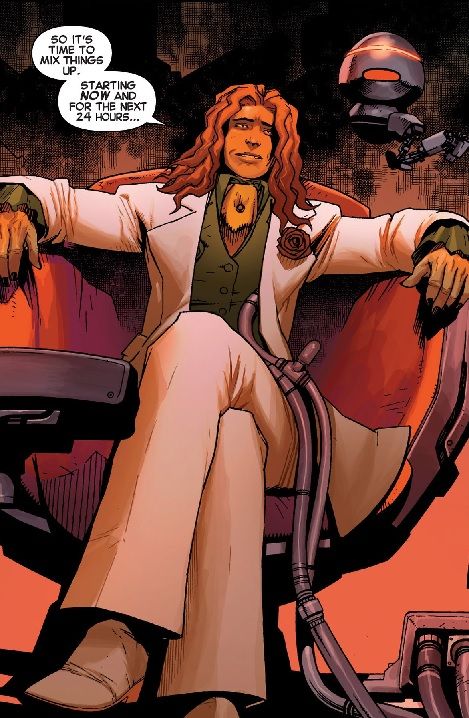 Yo Joe! I'm a huge fan of Larry Hama. I got to interview him a few years ago and he's just as cool as you'd expect. Here's an interview he did with Newsarama about G.I. Joe, the series he put on the map. In March, Hama's series will celebrate its 200th issue and he speaks about the current events of the series and his plans for the big 200. The highlights:

On what keeps him writing G.I. Joe: "The main reason is that somebody or the other keeps asking me to do it. I actually do make it up as I go along, but since I based most of the characters on people I know, it's not that hard to fall back into it. Robert Frost was wrong, you can go home again, and I've done it."

On the G.I. Joe: A Real American Hero series at IDW, which carries on the run he started with the Marvel series, going back to the fictional South American country of Sierra Gordo: "Everything about Sierra Gordo is made up or retconned as I go along. There's an international airport in the capital city of Rio Lindo, and two or three small military airfields. A bunch of scattered and abandoned Terror Dromes. There are mountains in the central highlands, and a big river. The countryside is agricultural with slash-and-burn farming, and intensive deforestation. Mining is on the decline. There is a huge underclass, but there is still enough of a middle class to keep things running. Suburbs are encroaching into the jungle. There are now luxury malls in Rio Lindo, good cell coverage from the city center out to the airport and decent highways."

A look at his notes for issue #195: "Here's my notes from #195 where it all started:

RAH#195 notes: Version 6.5 July 9, 2013 Larry Hama

TEAMS

ALPHA TEAM: (in C-130)Roadblock, Rock & Roll, Zap, Gung-Ho, Torpedo, Lady Jaye, Flint, Dial-Tone, Shockwave, Mutt & Junkyard. Duke is mission commander, and Wild Bill and Payload are pilot and co-pilot. Shipwreck is crewchief.

BRAVO TEAM: (in Tomahawk) Leatherneck, Beach-Head, Lowlight, Downtown, Bazooka and Life-Line. Lift Ticket and Slip-Stream will man the cockpit. Stalker is crew chief and team commander.

PIT COMMAND CENTER will be manned by Lt. Falcon, Psych-Out, Mainframe and CHUCKLES (Chuckles will join the mess hall team in #195)

AIR SUPPORT is the Skystriker in the Tiger RAT , the Mud-Fighter with dogfight driving and the Stealth Fighter piloted by Ghost Rider (he who cannot be named)

OLD G.I. Joe team members: Clutch, Alpine, Cross Country, Spirit, Lightfoot, Charbroil, Hit and Run, Wildcard (MEAN DOG driver,) and Ace

In the BAR in Rio Lindo: Haydn Strawhacker (CIA,) Fitz (NA Banana,) Cheng (All China Herbal,) Osenko (Trans-Ural Petroleum, and Dinah Lum newscaster

TERROR DROME: Rebels/bats, Ernesto (reb leader,) Julio (reb enforcer) Grunt (Robt. W. Graves,) Pres. Sofia Velez, Amb. Huntley Pierce-Bryson, Lnc Cpl Cooper USMC.

THREADS:

GRUNT in Terror Drome

Alpha Team assaulting through jungle.

Bravo Team standing by in support.

Pit Command center supporting.

Air Support.

Jinx and Pale Peony.

Cobra Commander and Dr. Mindbender.

Underused G.I. Joe team members in mess hall."

On the milestone 200th issue of G.I. Joe: A Real American Hero: "Some big wrap up to the arc. I have no idea what it's going to be. I have a vague notion of what direction everything is going in, but it's like wrangling cats. All the characters have minds of their own and keep wandering off and doing unexpected things. Keeps me on my feet. I've pretty much never known what's on the last page of the story until I get to it. When I was doing G.I. Joe #21, "Silent Interlude," I got to a page where Snake-Eyes and Storm Shadow are fighting and both of them get their sleeves ripped, and I had the idea to give them both the same tattoo. I had no idea what the tattoo meant, or the back story that went along with it. I had to make that up in G.I. Joe #26."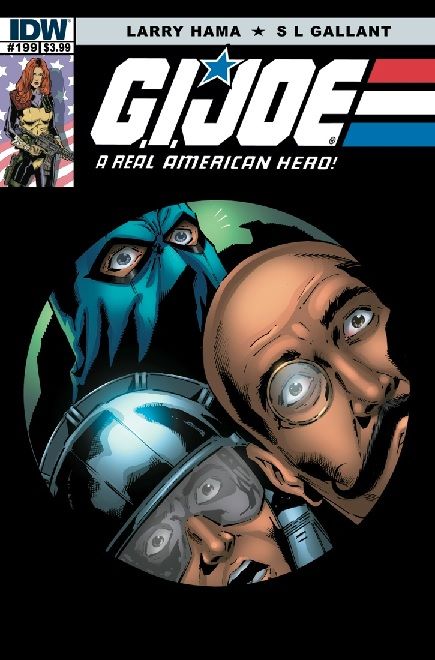 REVIEWS!

Do YOU want to be a reviewer for COMICS 411? Send me an email at stevethegoose@gmail.com to find out how! Take it away, RobF and Iron Bong!


Infinity #6

By RobF

The end is here! Infinity #6 has been released. Can the Avengers save the Earth? Will Thanos murder his son? Jonathan Hickman and Co. attempt to tie up all loose ends of this universe-shattering tome.

While the series on a whole delivered some amazing moments (Thor splattering a builder with his hammer, or Black Bolt's magnificent "NO!" when Thanos asked for his surrender), one thing that is for sure is that the finale makes it more clear than ever that Infinity is just a stopping point along the road to even bigger things. I'm sure I'm not the only one suffering from what I am calling "series weariness" (just when you think it's over the next the next major story arc begins with multiple crossovers). What I wouldn't give for a Masters of Evil attack right now.

Hickman never marginalizes the scope of the battle in this comic. While the universe has been saved from the throngs of invaders led by the Builders, Earth is still under siege from Thanos and his followers. Captain America leads the Avengers into one more battle while the Illuminati (Iron Man, Namor, Beast, Stephen Strange and Black Panther) deal with Thanos' general, Supergiant, in the Necropolis beneath Wakanda. While the big guns get dynamic moments in the sun several of the smaller characters are sparsely mentioned or ignored completely. Hyperion, Black Bolt, Maximus and the underrated Lockjaw are the exceptions.

The artwork supplied by Jim Cheung and Dustin Weaver is a winner. While Cheung's pages carry a little more weight, probably owing to the scenes he's given, there's a nice continuity between the pair. One thing Infinity has had going for it is the weight of its artistic team, with Jim Cheung doing much of the heavy lifting, and this final issue is no exception.

In the end Infinity was a good series and a strong lead-in to Inhumanity. Check out New Avengers 12 for an epilogue to this adventure.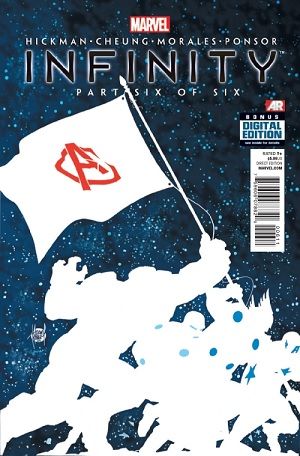 Wolverine and The X-Men Annual #1

By Iron Bong

In case you haven't noticed, this week is loaded with awesome comics. It seems Marvel, Image and DC went all out just for the beginning of the holiday season and I couldn't be happier. However, the big surprise of this week came from a title I wasn't anticipating or even knew it was being published. Wolverine and the X-Men Annual #1 is such a fun comic book in every way that I just felt compelled to review it.

This issue focuses on Kid Gladiator, a former student of the Jean Grey Institute of Higher Learning, now studying in The Imperial Guard Training school in his native Shi'ar. What follows is a look of how human beings are perceived by more technologically advanced Shi'ar. Humans are presented as barbaric and under developed, all the while contrasting against the Shi'ar school itself. It's a cool effect and one that proves to be very entertaining.

This comic is surprisingly heartwarming as Kid Gladiator comes to grips with the fact he misses Earth and the school, even though he had aspired to be a gladiator his whole life. Still, if there is one highlight in this whole issue is how Earth is ultimately presented as the place where creativity, difference of opinion and unique individuals are welcome. Kid Gladiator is drawn to this, oh and punching, lots of punching.

Jason Aaron is to be commended for writing such greatly paced script. This comic flies by in a good way. It's almost hard to keep up, especially with the great art by Nick Bradshaw and Co. I found myself staring at many panels and finding little details that might otherwise be overlooked. Great stuff all around.

Even though this is advertised as an Infinity tie-in, the link to the event itself is minimal at best. It only serves as a plot device for Kid Gladiator. The end of the issue was great and I'm truly happy Kid Gladiator is back in the mix, even if this comic series is coming to an end by next year.

Wolverine and The X-Men has grown to be a guilty pleasure of mine. I have read it from the beginning and longtime readers will truly appreciate this story and will remember why this is such a great title to begin with. In a week filled with great comics, this one might fall through the cracks. Make sure to not miss out and give this title a read.

Grade: A-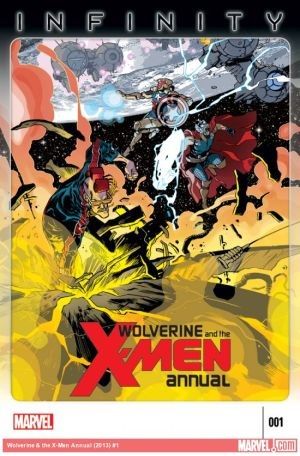 WEBCOMIC of the WEEK!

Do you have a web comic that you want me to push? Send it my way or mention it in the comments so I can take a look and share!

From the writer of The Chronicle, Max Landis brings us a look at Mickey Mouse and his friends as they get older and come to terms with being middle-aged. A must read for Disney and comics fans. What do you all think? Head over to sassquach.com!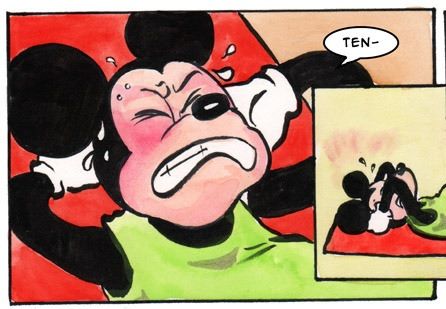 Before I say GOODBYE!
Follow me on Twitter for random bits, news RT's, and updates! Only at http://www.twitter.com/stevethegoose!

My Hollywood gossip (and anything else!) Hollywood 5 & 1!

Are you a fan of 411mania on Facebook? Keep up-to-date on news and contests!

Are you following 411mania on Twitter?
http://www.twitter.com/411mania
http://www.twitter.com/411wrestling
http://www.twitter.com/411moviestv
http://www.twitter.com/411music
http://www.twitter.com/411games
http://www.twitter.com/411mma

If you have some down time and are looking for a great place for great fun, check out Tiger Flash Games!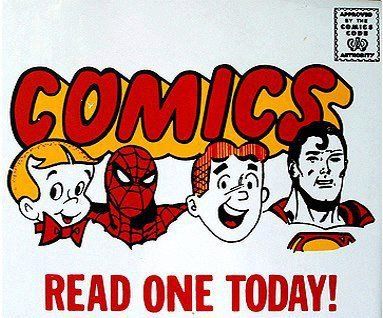 That's all the time I have. See you next week!
comments powered by