SPOTLIGHTS
Comics 411 12.18.13: Biggest Jerk in Comics Edition!
Posted by Steve Gustafson on 12.18.2013

Is Wolverine the biggest jerk in comic book history? Plus news and thoughts on Kevin Maguire joining Guardians of the Galaxy, Harley Quinn getting her own series, the Sandman movie, a review of Justice League #25 and more!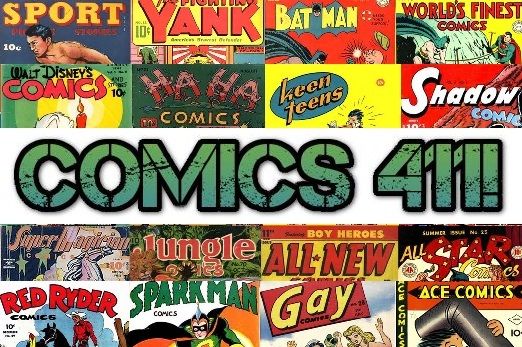 Welcome back to the Comics 411! My name is Steve Gustafson and this is a corner of 411mania reserved for those interested in talking comics! As always, I want to thank everyone who took a few minutes to read and comment last week.

I took part in Fact or Fiction this week and interviewed Playboy's Miss November, Gemma Lee Farrell!


And away we go...

The rumored Sandman movie is underway. News broke that Joseph Gordon-Levitt is set to produce and tweeted his involvement. The little #prelude hashtag indicates this would adapt "Preludes and Nocturnes" the first Sandman volume, a rather straightforward tale of Morpheus battling an evil modern occultist.

(Co-plotted the Batman series and Man of Steel has been working on a Sandman treatment for a while. Creator Neil Gaiman has also written a script, although where that fits in with the many stops and starts for this beloved story is anyone's guess. Early rumors say the current deal will see Gordon-Levitt producing, and most probably starring and directing. Gaiman has yet to comment, but he did retweet JGL's tweets, so that constitutes some form of approval in the social media world.

What do you think? I wish this was a TV series, as I cringe to think what kind of shortcuts they will have to make to fit a Sandman story into a 2 hour movie.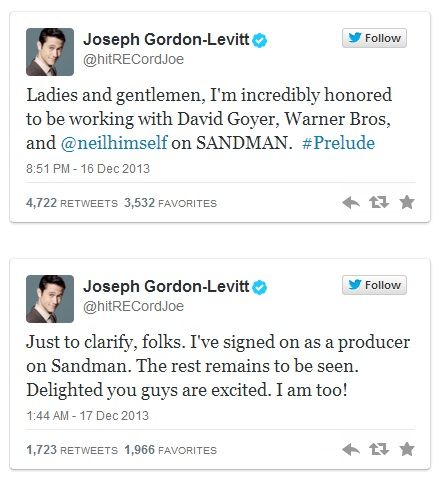 READER ROUNDTABLE

Who is the Greatest Marvel Supervillain?. That's the question I posed last week. I presented the choices and you voted. These are the results:

Magneto 34.25%
Dr. Doom 20.7%
Apocalypse 17.05%
Thanos 14.46%
Loki 3.96%
Green Goblin 3.35%
Ultron 1.98%
Red Skull 1.83%
Kingpin 1.52%
Dr. Octopus 1%

Another week where I'm a little surprised that Magneto took this one. Dr. Doom made a surge at the end but couldn't overcome the brotherhood of Magneto fans. Another guy I thought would have a stronger showing was Loki. I assumed his movie popularity would transfer over but it was not to be. Here's what you all said:

redhotrash: "Dr. Doom, there is a reason hes one of the most respected characters in comics. People give Batman all this credit for hanging with the big guns despite not having powers, but he started rich. Doom started as a gypsy orphan who worked for EVERYTHING. Got himself a scholarship and went all the way to the top. Now hes the smartest dude on Marvel earth (suck it, Reed), has built the best armor (dream on Stark) and in his spare time has become the 2nd best magician (er, as you were, Strange). There is no one he hasn't challenged and taken to the limit. From Beyonder to Silver Surfer. Not to mention hes good friends with several heroes (he left the Cabal because he wouldn't turn on Namor). Also Darth Vader's look is based on him. All in all, vote Doom!"

Acolyte : "Magneto is no villain, you oppressive throps!"

Gator: "Hard not to vote for Magneto, I think. He's got the right amount of pathos to make you sympathetic to him, just before he rips the metal from someone's bones. Some of the best villains are the ones you can still make arguments for being justified. Magneto does some pretty evil stuff, but his reasoning for his schemes are nearly always entirely understandable, damn near defensible, if not for the atrocious means. He's so justified in his motivations, he can flirt the line between villain and hero (anti-hero) without anyone really batting an eye. When you add in his longevity, the amount of plots he's been crucial to, and the numerous cataclysmic events he is at the center of, I think you have to give best villain to Magneto."

Kyatollah: "I know it's a longshot before I say anything, but hell with it. My vote goes to Green Goblin, or more specifically, Norman Osborn. Norman is special because his evil isn't rooted in what he represents, like Red Skull, the fact that he could be a hero but his ideologies are too harsh, like Magneto and Doom. His greatest power is that he can manipulate on par with Loki, and he's completely unrepentant in it. He is evil and insane, and he keeps finding ways to make people want to trust him. He's the snake you want someone to nurse back to health, not to hope he won't bite, but to see what the buildup is to the moment he does. His host of transgressions aside, no matter the arena, he finds power, takes it, and kills whoever he thinks he has to in order to keep it. "Crazy, not stupid" never fit anyone more. More than anyone else on that list, he makes you forget about his mental state or the semi-heroic things he's done in the past, and he makes you not only hate him, but ache to see him get his.

Oh, and he is the ONLY reason Dark Reign came close to working."

Al_Lobama : ""What about me?! What about Stilt Man?!!""

TheR : "I think Magneto's popularity overshadows what this poll asks so I will consider either Dr.Doom or Red Skull maybe even KingPin. These three are personifications of our fears/hate of present day life. Im not sure I would consider Apocalypse or Thanos "villians" in the classic sense since these two are basically at a god level, you can throw in Loki here as well. "GTS" labeled Galactus as a "force of nature" and I think these three guys here are above being just called "villains" but they sure are bad as hell. It doesnt even seem far fetched to imagine these three guys getting Satan himself in a conversation on how to destroy life as we know it."

K. Bett : "I've never cared much for Doom because the fantastic four have always bored me to sleep."

AO : "Thanos wiped out the entire universe and sat in a dark abyss with nothing left to do. To me he is the greatest villain. I would go with Doom or Magneto second, Doom because he always seems to be in the center of a major story arch.Magneto because he is freaking awesome."

Cabbage : "To quote Magneto, "Dr Doom is the BOSS!""

Dougie2876 : "If Doom doesn't win this, you're all idiots."

APrince66 : "Was a toss up between Mags and Doom, but Mags is so much better. He just makes more sense"

CyberVenom : Love this discussion! Here's my 2 cents, in no order:

10. Venom. My obligated symbiote connection for the list!
9. Dr. Doom.
8. Mephisto
7. Apocalypse
6. Magneto
5. Graviton
4. Baron Zemo
3. Loki
2. Red Skull
1. Thanos

Patrick Sharkey : "Apocalypse , Carnage , Doom , Juggernaut , Venom and Magneto are my favorites . (And yes , in that order)"


Thank you to everyone who commented! From the serious to the silly, I appreciate it! It's the holiday season and we see plenty of examples of good will and Christmas cheer all around! We also see a few Scrooges. Yes, even on the comic book page. While we love our heroes, we have to admit that they have their flaws and some can be downright rude. I thought it would be fun to vote on who out there is the BIGGEST JERK IN COMICS! Vote and comment below. If I missed anyone, let me know!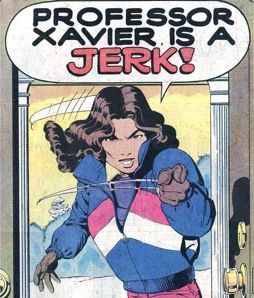 NEWS!

Guardians! Marvel's Guardians of the Galaxy are getting a new recruit: Kevin Maguire. After a very public announcement that he'd been removed from DC's Justice League 3000, Maguire was flooded with offers for other projects. According to Maguire, it was an open-door offer by Marvel Senior Editor Stephen Wacker for virtually his pick of any book, and he chose Guardians of the Galaxy. Guardians of the Galaxy #10 sees Maguire teaming with Brian Michael Bendis to document another team-up – Angela and Gamora – to, as Marvel puts it, "go hunting." Maguire's work on this issue was so well-received by the publisher that he's already been announced as doing Guardians of the Galaxy Annual #1 early next year, with the possibility of more Marvel work afterwards. Newsarama spoke with Maguire and here are some highlights:

On his thoughts of the Guardians of the Galaxy as a team and a title: "Thanks. Well, it's a fast paced cosmic adventure with a quirky cast of characters and that's exactly the kind of book I've been looking to do. Steve Wacker offered me a fill-in issue of most of the books he does and, for me, it was a no brainer. Had to be Guardians of the Galaxy."

On working with Brian Michael Bendis: "Like all the best professionals, he gives the artist exactly what he needs. Not just the nuts and bolts of a scene but the context as well, what the action means to the character. I'm looking forward to doing more work with him."

On the DC Justice League 3000 situation: "Well, it's humiliating to be fired from a book, but it's a unique brand of humiliation for me to be fired from a Keith Giffen/ J.M. DeMatteis Justice League book. Before it even came out! It's like organizing a Three Stooges reunion, then firing Curly. It was a weird and perplexing time. But, the truth is, I'm kind of numb to it at this point. It is what it is. Projects come and go. I'm extremely happy where I landed. I'm in no position to whine or complain."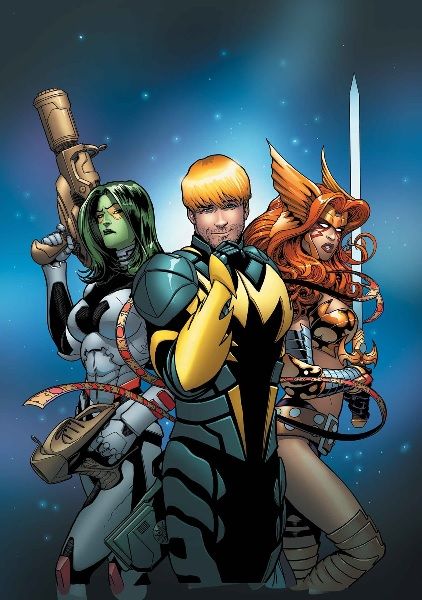 Harley! After last month's #0 issue,Harley Quinn's ongoing series officially starts this week! Here's the write up:

HARLEY QUINN #1
Written by AMANDA CONNER and JIMMY PALMIOTTI
Art by CHAD HARDIN
Cover by AMANDA CONNER
1:25 Variant cover by ADAM HUGHES
On sale DECEMBER 18 • 32 pg, FC, $2.99 US • RATED T
Harley is set to begin her new life, but she needs a job first! Enter the Coney Island Roller Derby! It's game time as Harley sets out to destroy her competition—literally!





Starlight! Twentieth Century Fox is reportedly in negotiations to develop Mark Millar's Starlight as a feature. Millar serves as the studio's consultant on their Marvel feature film properties; the X-Men and Fantastic Four and where his Secret Service is also in development to be directed by Matthew Vaughn and to star Colin Firth.

Simon Kinberg will write the script and produce the adaptation, according to The Hollywood Reporter. Kinberg has or will have his hand as writer and/or producer of X-Men: First Class, next year's Days of Future Past, and 2016's X-Men: Apocalypse (as well as overseeing the expansion of Fox's X-verse) along with Fox's Fantastic Four reboot, co-writing/producing Star Wars: Episodes VIII and IX, solo writing a Star Wars spin-off solo film, and serving as one of three EPs on the animated series Star Wars: Rebels.

Millar has described Starlight "Flash Gordon-meets-The Dark Knight, centering on a space hero who saved the universe 35 years ago but came back to Earth, where no one believed his fantastic stories. He settled down, got married, had kids and got old. And then that old, sparky Buster Crabbe-era rocket-ship comes back and needs him for one last adventure. It's Buzz Lightyear meets Unforgiven."





Shia LaBeouf! Shia LaBeouf posted his new short film HowardCantour.com online on Monday, having first debuted the work at the May 2012 Cannes Film Festival. The piece stars Jim Gaffigan as an online film critic named Howard Cantour. If parts of it sounded familiar, don't worry. It's almost a direct adaptation of Justin M. Damiano, a 2007 comic written and drawn by artist Daniel Clowes.

Nowhere in the promotion for or credits of the film does LaBeouf mention the Clowes comic; Eric Reynolds, longtime editor of Clowes' comics and associate publisher at Fantagraphics, called the film "shameless theft!"

"The first I ever heard of the film was this morning when someone sent me a link. I've never spoken to or met Mr. LaBeouf," Clowes told BuzzFeed. "I've never even seen one of his films that I can recall — and I was shocked, to say the least, when I saw that he took the script and even many of the visuals from a very personal story I did six or seven years ago and passed it off as his own work. I actually can't imagine what was going through his mind."

LaBeouf, a known Clowes fan, has given interviews in which he described developing the script for the film organically. "I know something about the gulf between critical acclaim and blockbuster business. I have been crushed by critics (especially during my Transformers run), and in trying to come to terms with my feelings about critics, I needed to understand them," LaBeouf told the website Short of the Week. "As I tried to empathize with the sort of man who might earn a living taking potshots at me and the people I've worked with, a small script developed."

This is obviously a blatant ripoff and it's astounding Shia thought no one would notice. He did go on Twitter to say, "In my excitement and naiveté as an amateur filmmaker, I got lost in the creative process and neglected to follow proper accreditation," tweeted LaBeouf.

But his tweeted apology? THAT WAS RIPPED OFF TOO! From Yahoo Answers, when answering the question "Why did Picasso say "good artists copy but great artists steal" four years ago, user Lili wrote:

"Merely copying isn't particularly creative work, though it's useful as training and practice. Being inspired by someone else's idea to produce something new and different IS creative work, and it may even revolutionalize the "stolen" concept."

It will be a few days before all this sorts itself out.


REVIEWS!

Do YOU want to be a reviewer for COMICS 411? Send me an email at stevethegoose@gmail.com to find out how! Take it away, RobF!

Justice League #25

By RobF

JL 25, a Forever Evil tie-in, attempts to provide some background to the enigma known as Thomas Wayne aka. Owlman. We find him attempting to sway Nightwing to team with him to stop the Crime Syndicate. Forgive me if I seem a bit skeptical.

This issue is peculiar for a few reasons: First, the JL doesn't appear in this issue at all. They have become virtually invisible in their own book. Second, Nightwing is a prominent character in this book and yet he is not a member of said team. This doesn't take away from the compelling origin of Owlman and how he is a twisted version of our Batman. This Owlman is less about evil than he is about control and order.

He tries to persuade Nightwing to join forces with him in double crossing his teammates, but another member overhears their discussion and seems to have plans themselves. This is sure to lead to a major confrontation between Ultraman (who had an outstanding origin issue himself) and Owlman. There's also some enjoyable material that centers on the mob trying to appease the Crime Syndicate. Much like in The Dark Knight, there's a sense of ordinary criminals struggling to stay afloat in a world where superhuman psychopaths are muscling everyone else out.

The artwork by Doug Mahnke is solid. The visuals are strong and the interesting framing choices highlight the similarities and differences between Owlman and Batman. Well done.

Forever Evil has been a strong series, perhaps the best this year. You can point to issues like this as proof. It would be nice to see an update on the Justice League but I can't complain if it produces stories like this one.





Chew #38

By Iron Bong

The only bad thing about Chew is that it takes too damn long to ship. Seriously, the waiting is excruciating but honestly, who can complain? Time and time again Chew proves to be one of the best, if not the best, comic book series today.

Chew #38, written by John Layman and art by Rob Guillory, continues the current arc (Family Recipes) and while it does little to move the actual plot forward, it does a great job highlighting the several conflicts going on in the story. Chew started out as a relatively lighthearted quirky series about a guy with bizarre food powers and it has grown into so much more.

After the death of Toni Chu's sister, Antonelle, Toni is desperately trying to find a way to save her. Meanwhile, his former partner and fellow Cibopath (a Cibopath can take a bite from anything and get a psychic sensation of what has happened to that object) Mason Savoy is stuck in an FDA jail where he has a plan to finally find out the truth about the chicken pandemic. There is this overall feeling that everything has been carefully planned by Layman way in advance and we are just coming along for the ride. It is master story telling and this team deserves all the praise in the world. It really is a great series.

The thing I love the most about Chew, and something that is present here in this issue is how it has a way to be comedic one second and extremely dark and depressing the next. One of my favorite aspects in the series has been Toni's relationship with his daughter Olive. The way Toni's relationship with his first wife (and Olive's mother) has been slowly uncovered is nothing but heartbreaking and it makes us feel for Toni. He has this deep darkness and depression and it's easy to feel empathy since he has been developed so well throughout the series.

On the flip side, two panels in particular had me laughing out loud which features the prison breakout. A prisoner is seen fleeing from a sewage pipe. It's just one little detail that is easy to miss the first time and it adds so much to the overall tone of the stories. That's what Chew is all about. There are little details scattered everywhere that add up to be a very special and unique and creative product.

Chew is one of the most original comics being published today and it is well worth the read. Very rarely does Layman falter when it comes to this story and this comic doesn't disappoint. The only negative is I wish the story moved forward a little faster. But make no mistake about it though, this is a fun ride well worth of your investment.

Grade: A-


WEBCOMIC of the WEEK!

Do you have a web comic that you want me to push? Send it my way or mention it in the comments so I can take a look and share!

Twokinds. For those looking for their Fantasy Manga fix. From the mind of Tom Fischbach: "After losing his memory to a mysterious battle, Trace Legacy, a former leader for an organization of mages called the Templar, finds himself in the company of Flora, a girl of strange, tiger-like qualities. As Trace gradually begins to re-learn what he once knew, he soon discovers that Flora belongs to a race of people who are enemies of his kind. As friendship confects with racial differences, Trace and Flora find themselves in a situation more critical than either of them can imagine.

Head over to twokinds.keenspot.com!





Before I say GOODBYE!
Follow me on Twitter for random bits, news RT's, and updates! Only at http://www.twitter.com/stevethegoose!

My Hollywood gossip (and anything else!) Hollywood 5 & 1!

Are you a fan of 411mania on Facebook? Keep up-to-date on news and contests!

Are you following 411mania on Twitter?
http://www.twitter.com/411mania
http://www.twitter.com/411wrestling
http://www.twitter.com/411moviestv
http://www.twitter.com/411music
http://www.twitter.com/411games
http://www.twitter.com/411mma

If you have some down time and are looking for a great place for great fun, check out Tiger Flash Games!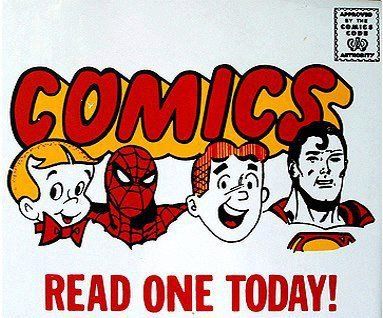 That's all the time I have. See you next week!
comments powered by