SPOTLIGHTS
Ask 411 Movies for 12.23.13: Go Easy on That Damn Pepsi, Fuller
Posted by Chad Webb on 12.23.2013

Why hasn't MTV brought Beavis and Butthead back for a second season? Where has Keanu Reeves been since the Matrix films? What are some of the best TV shows not on DVD? All that and more this week in Ask 411 Movies!







































An "Ask 411 Movies" column would be nothing without questions, so please toss them my way. Why should you ask me instead of using Google? Well, perhaps I'll tell you something you can't find there, or maybe you just like my conversation and soothing words. You can post any questions or thoughts below in the comments section, email me at cthomaswebb@gmail.com, or send me a tweet using the links below:













---




What I Watched This Week



As Christmas gets closer, my schedule gets busier. I am nearing the end of Hell on Wheels season 3, which has been on my DVR for many moons now. Next up is Copper season 2. I did see The Hobbit: The Desolation of Smaug, which was very good. I also saw Getaway on DVD, which was hilariously terrible. Most recently, I caught American Hustle on the big screen, which was terrific. I had hoped to apply my Top Movie Trailers of 2013 list in this column, but it turned out harder than I thought. Look for that before New Year's Eve.

If want to know more about my movie tastes, check out my page on Letterboxd by clicking right here. Also, make sure to look at all the great articles and writers at 411, particularly in the Movie-zone because that's where I predominantly am, but all of the zones.


Deaths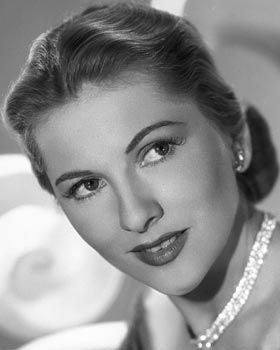 Joan Fontaine passed away on December 15th of this month due to natural causes. She was 96 years old. Her career spanned 5 decades and ranged from radio to the stage and included television and of course film. Fontaine was a British-American actress who was nominated for three Academy Awards and won one. She received nods for Alfred Hitchcock's Rebecca in 1940 and The Constant Nymph in 1943. She won in 1941 for her role in Hitchcock's Suspicion. Her elder sister was Olivia De Havilland, making them the only set of siblings to win lead Oscars. She was also in The Women, Jane Eyre, and Beyond a Reasonable Doubt. She had two children.



The Questions





Q:

Merry Christmas to you and your family Chad.

Matthew McConaughey seems to have resurrected his career as a serious actor after attempts at mainstream blockbuster summer movies like Sahara and Failure to Launch. I am looking forward to True Detective on HBO which seems to be another effort of his. Do you think Bradley Cooper has now followed this route set by McConaughey?

How do you see Keanu Reeves' new direction working out? I notice since the Matrix movies he has really gone under the radar except for the continual Bill & Ted 3 rumors.

What happened to the second season of Beavis and Butthead? MTV had it and then I read Comedy Central took ownership but it has never materialized.
--Paul



A:



1) McConaughey first became known for his role in Dazed & Confused, though he debuted on an episode of Unsolved Mysteries. It's one of those pieces of trivia I love to point out. The first phase of his career saw him trying his hand in a variety of genres: the slasher Texas Chainsaw Massacre: The Next Generation (1994), the legal thriller A Time to Kill (1996), Steven Spielberg's historical drama Amistad (1997), the science fiction drama Contact (1997), the comedy EDtv (1999) and the war film U-571 (2000).



It was in the 2000's that McConaughey became the poster boy for romantic comedies such as The Wedding Planner and How to Lose a Guy in 10 Days. For whatever reason, once he dove into this sub-genre, he stayed there for a lengthy stretch. What made it frustrating is that McConaughey had showed his talent previously, yet at this point in time he was wasting it on mainstream garbage. Thankfully he has moved away from that stuff and is concentrating on dramas that accentuate his skill. Nothing wrong with doing a relaxing, fun, light flick, but these were horrid. I am looking forward to True Detective also, by the way.



It's hard to compare McConaughey's career to Bradley Cooper's because the trajectories are different. Cooper started out doing a lot of television, and once he shifted away from that he was contributing to some good flicks every now and then, albeit in small roles initially. Of course it was The Hangover that propelled him to stardom. Cooper, like McConaughey, has always had talent, but it's not always easy to discern. For every solid film Cooper hands in, he does 3 or 4 bad ones. McConaughey works in streaks. His career reads as three stages for now: good stuff, bad stuff, and now good stuff again. I see Cooper continuing in bursts of 1 or 2 positives and the 3 or 4 negatives. With American Hustle, he should be landing more offers from better filmmakers. But to answer your questions directly, I don't see Cooper enjoying a career resurrection like McConaughey because he doesn't need it. He stays enough in the loop of critically acclaimed parts that he won't get pigeonholed in a poorly received genre like romantic comedies. Actually, I would have pegged Paul Walker to follow in McConaughey's path as he got older, but that sadly will not happen now.



2) I'm not sure what you mean by "new direction," but let's take a look. Keanu Reeves has regularly accepted roles in under the radar projects. If you peruse his resume on IMDB, you'll see what I'm talking about. I'll be honest, I've never been a big fan of Keanu. I'll praise him for being able to move in and out of various genres easily, but to me he is generally a dull actor to watch and I often feel like his parts could be performed better by others. The Matrix and I suppose Bill & Ted are exceptions to that. He has done movies I like: The Matrix, Point Break, Speed, Thumbsucker, A Scanner Darkly, and Street Kings.



As for what he's doing now, he has been working a lot behind the scenes, such as a Producer on the documentary Side By Side and his directorial debut Man of Tai Chi, which he began in 2008. He also wrote a book called Ode to Happiness. He seems to be focusing on other projects, less so on movies, but he is still slated to appear in a couple on the horizon. I heard a third Bill & Ted is on the way. Whether it be his own script choices, or the fact that the films he appears in don't often rake in loads of cash, he has chosen quite a few titles that don't get a lot of attention. You could call them "under the radar" or B-movies I guess. That being said, you will see him in 47 Ronin soon, which looks terrible if you ask me, but who knows? I have yet to see Man of Tai Chi so I can't comment on how he fares as a director. I will check it out soon.



3) The first revival of Beavis & Butthead started out swimmingly. The premiere was declared a ratings hit with 3.3 million viewers. Due to a challenging time slot, that number eventually decreased to 900,000 by the end of the season. From April 24, 2012 to May 1, 2013, the show remained on the bubble for renewal. No official decision had been made. According to Mike Judge, MTV's modern demographic are females 12–14 years old, and the network is looking for other networks to ship the show to. No other news to report on that front.





Q:

Hello again Chad, Piggybacking on the available DVD question, what are some of the most anticipated TV shows that are not available yet, usually for copyright reasons (such as Batman, WKRP, etc.)? Are there any shows that you think will never be released?
--Stromi



A:



Most of the anticipated shows that fans were petitioning for have been released in some form. In addition, on-demand sites like Warner Archive, Universal & TCM's Vault Collection, etc. do offer a variety of shows. Night Court is one example. But there are so many shows out there that have never seen the light of day and likely never will because they cost money to make and if the studio/network feels the demand is not there, they won't bother. And when you factor in Netflix Watch Instant, the fact that certain people buy DVD and some buy Blu-Ray makes it even more complicated cost-wise. The only thing you can do is petition, and I recommend TV Shows on DVD.

WKRP in Cincinnati is an American situation comedy television series that features the misadventures of the staff of a struggling fictional radio station in Cincinnati, Ohio. The show was created by Hugh Wilson and was based upon his experiences working in advertising sales at Top 40 radio station WQXI (AM) in Atlanta.



Batman is a 1960s American live action television series, based on the DC comic book character of the same name. It stars Adam West as Batman and Burt Ward as Robin — two crime-fighting heroes who defend Gotham City. It aired on the American Broadcasting Company (ABC) network for three seasons from January 12, 1966 to March 14, 1968. The show was aired twice weekly for its first two seasons, resulting in the production of a total of 120 episodes.



As you said, two of the big ones are Batman: The Series and WKRP in Cincinnati. The sad truth about the latter is that the first season was released on DVD. It evidently did not sell well and because of that, no new volumes were announced. The reason it didn't sell, apart from people perhaps not knowing it was available, is that all the music from artists like Jimi Hendrix, The Who and so on was cut out due to copyrights and replaced with generic crap. The comedy is still there, but the alterations do indeed change the atmosphere. I actually reviewed the first season on DVD. Check that out by clicking here. Both are available via bootleg if you go to movie conventions. As for Batman, I can only point you toward Wikipedia for more information on why you will likely never see it on DVD. The situation is long and complex to say the least. Click here. On a side note, The Wonder Years is available on Netflix Watch Instant, but not DVD. Portions of the soundtrack and music have been kept, but not all.

But there are some shows that were popular that I think should be on DVD. Granted, I haven't watched all of these, but these are some of the recurring titles I found on other lists. The first one is my own.

*Perfect Strangers is an American sitcom that ran for eight seasons from March 25, 1986, to August 6, 1993, on the ABC television network. Created by Dale McRaven, the series chronicles the rocky coexistence of midwestern American Larry Appleton (Mark Linn-Baker) and his distant cousin from eastern Mediterranean Europe, Balki Bartokomous (Bronson Pinchot). A DVD release featuring season 1 & 2 was put out by Warner, but since then, no remaining seasons have been released. This is due not from poor sales, but song copyrights. It is noted that the series sometimes featured popular songs within certain episodes, though the versions by the artists who originally performed them were usually not used, instead they were commonly sung acapella by Mark Linn-Baker and/or Bronson Pinchot's characters whenever the script called for Balki and/or Larry to sing within the episode.



*Kung Fu: The Legend Continues is a spin-off of the 1972–1975 television series Kung Fu. David Carradine and Chris Potter starred as a father and son trained in kung fu - Carradine playing a Shaolin monk, Potter a police detective. This series aired in syndication for four seasons, from January 27, 1993 to January 1, 1997, and was broadcast in over 70 countries. Filming took place in Toronto, Ontario, Canada. Reruns of the show have been aired on TNT. You can find the original series on DVD, but not this one.



*Freddy's Nightmares is an American horror anthology series, which aired in syndication from October 1988 until March 1990. A spin-off from the Nightmare on Elm Street series, each story was introduced by Freddy Krueger (played, as in the movies, by Robert Englund). This format is essentially the same as that employed by Alfred Hitchcock Presents, Tales from the Crypt, or The Twilight Zone. The pilot episode was directed by Tobe Hooper, and begins with Freddy Krueger's acquittal of the child-murdering charges due to his officer's lack of reviewing the Miranda warning at the time of Freddy's arrest. A mob of parents eventually corners Freddy in a power plant (his workplace), leading to him being torched by the police officer, dying and gaining his familiar visage.



*Your Show of Shows was a live 90-minute variety show that was broadcast weekly in the United States on NBC, from February 25, 1950, until June 5, 1954, featuring Sid Caesar and Imogene Coca. Other featured performers were Carl Reiner, Howard Morris, Bill Hayes, Judy Johnson, The Hamilton Trio and the soprano Marguerite Piazza. José Ferrer made several guest appearances on the series. The series was telecast from the now-demolished International Theatre (also known as the Park Theatre) at 5 Columbus Circle and the Century Theater in New York. During 2002, Your Show of Shows was ranked #30 on TV Guide's 50 Greatest TV Shows of All Time.



*Muppet Babies is an American animated television series that aired from September 15, 1984 to November 2, 1991 on CBS. The show portrays childhood versions of the Muppets living together in a large nursery in the care of a human woman called Nanny (the whereabouts of their parents are never addressed). Nanny appears in almost every episode, but her face is never shown, only the babies' view of her pink skirt and purple sweater as well as her distinctive green and white striped socks. The idea of presenting the Muppets as children first appeared in a dream sequence in The Muppets Take Manhattan, released two months before Muppet Babies debuted, in which Miss Piggy imagined what it would be like if she and Kermit the Frog had grown up together.



*Step by Step is an American television sitcom that starred Patrick Duffy and Suzanne Somers as two single parents (each with three children), who spontaneously get married after meeting one another during a vacation, resulting in them becoming the heads of a large blended family. The series aired for seven seasons, originally running on ABC as part of their TGIF lineup on Friday nights from September 20, 1991 to August 15, 1997, and was canceled by the network after six seasons, reportedly due to declining ratings. The series was picked up on CBS and aired on that network from September 19, 1997 to June 26, 1998 for its seventh and final season.



*There's also the remaining season of Baywatch that hasn't been released on region 1. There was also a series starring James Earl Jones called Gabriel's Fire that I'd love to see on DVD. If we were talking about pro wrestling, I'd love to see WWE release the "Legends of Wrestling" roundtables in some form. This list could go on and on to be truthful. Your best bet in watching a favorite show if petitioning fails is to search for it on YouTube. If you were interested in my former column, which highlighted rare and out-of-print titles on DVD, click here.



My Top 10 Pet peeves of 2013 article is out! Read it by clicking here.






Merry Christmas to all the Ask 411 Movies readers, commenters, and those who keep asking questions!





--Thanks to Misty for my banner.

"The plural of Chad is Chad?"
--From the movie Recount

comments powered by