SPOTLIGHTS
Comics 411 12.25.13: Mary Jane Watson vs. Lois Lane Edition!
Posted by Steve Gustafson on 12.25.2013

Who wins when Mary Jane Watson goes up against Lois Lane? A look at a new villain for Iron Man! What's in store for The Flash? The Avengers recover from Infinity! Review for Uncanny Avengers #15 and more!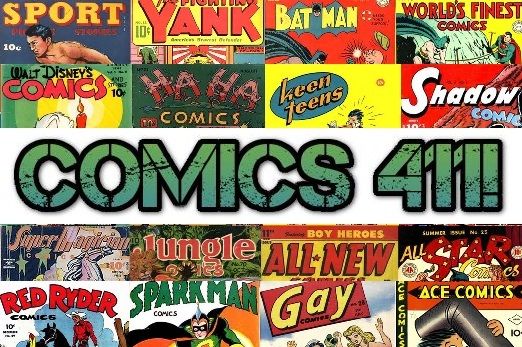 Welcome back to the Comics 411! My name is Steve Gustafson and this is a corner of 411mania reserved for those interested in talking comics! As always, I want to thank everyone who took a few minutes to read and comment last week. Check out my interview with Playboy's Miss November, Gemma Lee Farrell!

Because of the holiday, we're keeping things light in these parts. Don't worry. Next week we'll tackle the heavier subjects from our favorite pastime.


And away we go...

Here's a Batman cartoon from 1968. Tis' the season!







READER ROUNDTABLE

Who is the Biggest Jerk in Comics?. That's the question I posed last week. I presented the choices and you voted. These are the results:

Namor 12.4%
Batman 11.27%
Guy Gardner 11.11%
Cyclops 9.5%
Lex Luthor 8.7%
Wolverine 8.37%
Henry Pym 6.6%
Superior Spider-Man 5.48%
Iron Man 4.83%
Jason Todd 4.83%
Reed Richards 4.83%
Superman 3.86%
Professor X 3.22%
Quicksilver 2.58%
Damien Wayne 2.42%

A very balanced voting. While Namor doesn't have the huge mainstream buzz as some of the others, seems everyone knows the guy is a jerk! I'm surprised Professor X only got 3.22% of the voting. To me, he always struck me as super arrogant in use of his powers. Here's what you had to say:

Armyghy: "No Punisher? Guy is a straight up asshole to everyone. That's why I love his books so much."

CyberVenom: "Love this topic!! Here we go, in no order:
1. Bruce Wayne. He just pushes everyone aside for his goal.
2. Quicksilver
3. Cyclops
4. Namor
5. Hank Pym
6. Clint Barton
7. Wildcat
8. Emma Frost
9. Kid Omega
10. Johnny Storm

gooched: "Batman, specifically Frank Miller's Batman. I know a lot of people like the gruff assholish version of Batman, but I've always refered to Grant Morrisson as to how Batman in his prime/later should act aka the optimal man, not just in physicallity but emotionality as well. He's perfect, well balanced and completely altruistic. While he still has that darkness inside of him, he has found a way to be in complete peace with himself. I mean this is the guy who has enough discipline to reboot his whole freaking mind if he ever got brainwashed, the guy who can stay in a cave without food or water for weeks...I'm sure he can find a way to accept his childhood trauma by 40.

So yeah...Frank Miller's twisted version of Batman, someone lost in grief and anger.

Mike R: "Booster Gold, anyone? Wolverine, from the list given."

El Atomico: "The biggest jerk in comics is the rich kid who buys all the comics and puts them in plastic without even reading them and looks at it like it's the stock-market, with no appreciation for the art of the story!"

lorddarias: "Not sure if the list was supposed to be all men as a female list may be forthcoming but if it's not I'd throw in Emma Frost and Magik on the jerks list...For men I voted for Reed Richards. I just figured with the Ultimate and Marvel Zombie versions included with the regular version he's head and shoulders above everyone else..."

redhotrash: "Great choices, both in the poll and in the comments. Reed certainly falls high on the list, but I feel like all of the Fantastic 4 are jerks aside from The Thing. Cyclops AND Jean Grey always struck as being uppity a-holes, like that really annoying jock/plastic couple you would have seen back in highschool. Surprised no one is calling out Black Panther though. The dude has the cure for cancer but won't release it out of Wakanda."

%_* "I'm surprised Norman Osbourne/ Green Goblin didn't do better on last week's poll. To me he's by and far the best villain in comic history. He's a mix between Lex Luthor and the joker and probably the closest thing to an evil batman. The perfect foil for Spider man.

Someone who takes Spidermans credo of "With Great Power comes great responsibility" to its extreme. A man obsessed with being a man focussing exclusively on his work burrying his emotions. And when he dons a mask finally his repressed resentments now has an outlet, now has a face. He serves as a warning to Peter to what would happen if he let his life be swallowed by his responsibilities.

He has probably the most extreme relationship with his hero. Has any villain ever caused their hero more pain then the Goblin. Kills gf.check. Messes up heroes best friend. check. Creates a clone gets hero to think he's the clone and when the clone builds a strong relationship with Peter kills clone. check. Cripples heroes other friend. Check. The gf he killed well before then he absconded with and impregnated. Check. Biggest Jerk in comics I Nominate Norm. And that's just their rivalry.

Let's not forget the twisted I know you're my son's best friend but I never liked him I want you to be my son shtick.In itself it's messed up but throw in Peters quest for a father figure and how Norm would be a great mentor. Well, if he was sane.

And what about the stories. The original who is the green goblin arc.The night Gwen Stacy died. Kinda almost salvaging the clone saga. Dark reign. Kinda deserves more then 3% dosent it? Maybe?"

StrykersWeaponX: "Batman. I love him, but the dude is a dick."

PeowPeow: "That damned Quicksilver... Even when he's doing something reasonably noble he's an a$$hole about it"

Mikey D: "Namor was perpetually dickish."

Comic Book Jerk: "No John Constantine, no Booster Gold, what about Cain from Sandman"

Wasta: "Let's not forget that Cyclops was married with a kid and as soon as Jean came back he abandoned her, forsaking the promise to her to live a calm life. I don't care if she was a clone or what - Scott didn't know what she was yet and he left his family."

Shads: "What a change a few movies and years make. Wasn't long ago that Stark not only would have been on this list but he would have ran away with the award. Lex is of course evil and while a jerk about it I feel jerk is a soft term and should be reserved for folk that are supposedly decent but too insufferable to deal with. Not counting his current run as I don't know much about him I vote Jason Todd who was such a jerk that people spent two dollars just for a chance to kill him off."

AJP: "I voted Cyclops. To me, him leaving his wife after discovering Jean was still alive was the dick move of the century."

Junk: "Reed. He's the constant absent father/husband/friend working on such a big scale that his family/friends suffer for it. He gets constant praise as a hero, but man.. he down talks to everyone, more so than Stark and doesn't have anywhere near the responsibilities that Stark has (running a company, funding the Avengers.) He just sits there, fiddling with his machines, while the world passes him by, until there's a threat big enough to warrant him getting out of his chair. Though, this has gotten a bit better over the recent years.. he's still a pretty big dick, though. No wonder Sue runs off to Namor every few weeks."

RipStamps: "I'm not sure why but Warren Worthington III always came off as a real jerk to me lol."

Nick Maro: "Biggest dick: Shia LaBeouf for ripping off Dan Clowes and giving a non-apology that was plagiarized."

KipSmithers: "Red Skull is a big meanie!"

Geoff: "Maybe its the fact that I'm just reading Civil War now that I'm just reading Civil War now that I voted for Iron Man. Sure - Cyclops seems to have dialed his asshole level up a notch lately, but backing the registration act and not batting an eyelid when it meant going to war with one of his oldest friends, or even using Spiderman as his pawn in the game. Walking out of Black Panther's wedding because Cap was there - not just a jerk but a whiny little brat as well."

CMWolf: "Honestly Im surprised that Deadpool wasn't on that list. As funny and loveable as he is, lets be honest...Wade is a HUGE jerk. Now, I LITERALLY just finished reading Harley Quinn #1 and its a DAMN solid start for our heroine. No spoilers for anyone that hasn't been to the store yet but I think everyone will be satisfied."

Aaron Scott Jockers: "Booster Gold, Deadpool, J Jonah Jameson, Punisher, Nick Fury, Flash Thompson, Loki, Dr. Manhattan, and really any damsel in distress from Aunt May to Lois Lane to MJ who keeps almost killing her hero. It gets old, ladies."

G-Walla: "I went with Hank Pym because he's literally a GIANT jerk."


Nicely said everyone! Since the vast majority of you will be spending this day with friends and family, I didn't want to launch a major debate. I wanted to put the focus on the spirit of the season. To help others. Like our superheroes come to the rescue of the damsel in distress. And two of the most well known are Mary Jane Watson and Lois Lane. Which one plays the role better? Spider-Man's eternal love or Superman's rock?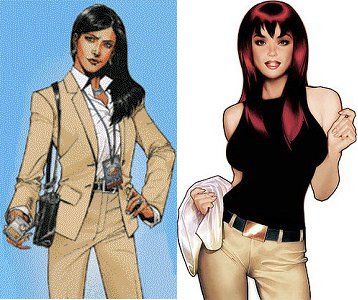 NEWS...ALL PREVIEW EDITION!

IRON MAN! Marvel told Newsarama Iron Man #20.INH begins the origin of a "big new Iron Man villain," but if that's a new Mandarin (as referenced in the original solicitation copy below) they would not say.

Check out an exclusive first look at the January, 2014 issue.

IRON MAN #20.INH
KIERON GILLEN (W) • JOE BENNET (A)
Cover by PAUL RIVOCHE
INHUMANITY TIE-IN! – IRON METROPOLITAN PART THREE!
• Who will be the next MANDARIN?!
• Will an INHUMAN threaten Tony's plan to build the city of tomorrow?
• More mysteries of the rings revealed!!!





The Flash! What does a guy who runs really fast do at 10 thousand feet? Check out this preview of next week's The Flash #26.

THE FLASH #26
Written by CHRISTOS N. GAGE
Art by NEIL GOOGE
Cover by BRETT BOOTH and NORM RAPMUND
1:25 B&W Variant cover by BRETT BOOTH and NORM RAPMUND
On sale DECEMBER 31 • 32 pg, FC, $2.99 US • RATED T
In this special standalone story, The Flash loses someone important to him. To catch the villain responsible, The Flash must figure out how to use his powers in the one place where they do him little good: the sky!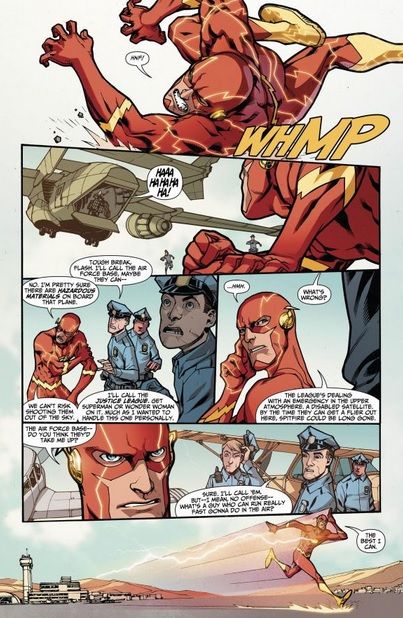 Avengers! Past Meets Present – Your First Look at AVENGERS #25! They have come from a different place and time – and today, Marvel is pleased to present your first look at AVENGERS #25, from blockbuster creators Jonathan Hickman and Salvador Larroca. United against threats no single super hero could withstand – the Avengers have faced dangers unlike any other. But what happens when the danger is themselves? From the splintered fringes of time comes….the Avengers?! And the heroes of the past must face the horrors their present has wrought.

"After wrapping up INFINITY, Jonathan and I were pretty tired. Too tired to come up with anything new," says Executive Editor Tom Brevoort. "That whole All-New X-Men thing with the X-Men from the past has been working out pretty well for Brian Bendis, so we thought we'd jump on the bandwagon. Hence, the All-New Avengers! Sounds like the sort of thing that we'd do, doesn't it?"

Past and present collide this January in AVENGERS #25. But when the dust settles, will there be a present worth fighting for? Not everyone makes it out alive!

AVENGERS #25 (NOV130579)
Written by JONATHAN HICKMAN
Art by SALVADOR LARROCA
Cover by MIKE DEODATO
Variant Cover by DUSTIN WEAVER
FOC 12/23/13, ON-SALE 1/22/14





Superman! Here's a look at a preview featuring the Man of Steel, on sale on December 31, 2013 - Superman Unchained #5 and Superman #26.

SUPERMAN #26
Written by SCOTT LOBDELL
Art by KENNETH ROCAFORT
Cover by KEN LASHLEY
1:25 B&W Variant cover by KEN LASHLEY
On sale DECEMBER 31 • 32 pg, FC, $2.99 US • RATED T
In the aftermath of "Krypton Returns," a distraught Man of Steel returns to find that the Parasite is back—and he is very hungry. First on the menu: Lois Lane!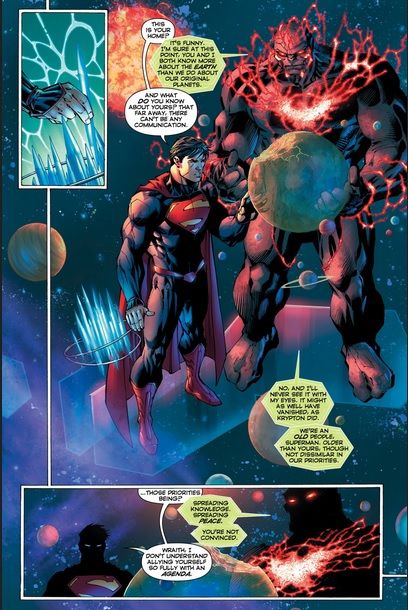 REVIEWS!

Do YOU want to be a reviewer for COMICS 411? Send me an email at stevethegoose@gmail.com to find out how! Take it away, RobF!

Uncanny Avengers #15

By RobF

Wow. Just when you thought you could catch your breath from last issue #15 of the Uncanny Avengers comes in and delivers the second punch. 3 Avengers are dead and the Apocalypse Twins seem to have the upper hand. What can the UA do to stop them?

The story begins with the fallout of Wanda's spell. Mutants all over are being drawn to the Ark. Then the Wasp, with the help of Thor, defeats the revitalized Sentry in a lengthy battle. But the big revelation comes from the Watcher. He reveals that when the twins used Thor's axe to slay a Celestial it summoned Exitar the Executioner, a Celestial with a grudge. It was all part of the Twins evil plan to destroy the Earth and all life on it.

The last several issues writer Rick Remender puts together one of his strongest issues so far by bringing a great sense of urgency. For me this is the stuff that Infinity was lacking. However I get the funny feeling that all of this death and destruction will be undone in the next issue (I say with disappointment).

Artist Steve McNiven captures all the scope and spectacle you could hope for. The conflict gets even bigger this month, and McNiven is just the type of artist to render these new developments. Nice work as usual.

Uncanny Avengers has been moving at a break-neck pace, so it's bound to slow down. But Remender and Co have managed to blow Infinity out of the water in just a few issues and have made UA a must read.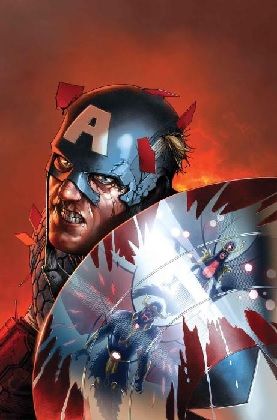 Before I say GOODBYE!
Follow me on Twitter for random bits, news RT's, and updates! Only at http://www.twitter.com/stevethegoose!

My Hollywood gossip (and anything else!) Hollywood 5 & 1!

Are you a fan of 411mania on Facebook? Keep up-to-date on news and contests!

Are you following 411mania on Twitter?
http://www.twitter.com/411mania
http://www.twitter.com/411wrestling
http://www.twitter.com/411moviestv
http://www.twitter.com/411music
http://www.twitter.com/411games
http://www.twitter.com/411mma

If you have some down time and are looking for a great place for great fun, check out Tiger Flash Games!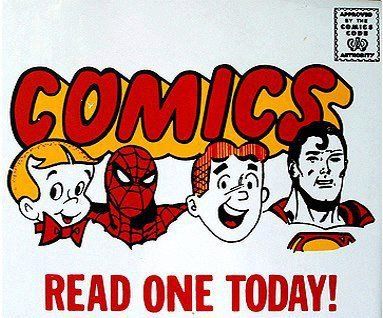 That's all the time I have. See you next week!
comments powered by