SPOTLIGHTS
The Hollywood 5 & 1 12.28.13: Ronda Rousey Vs Miesha Tate
Posted by Steve Gustafson on 12.28.2013

Ronda Rousey takes on Miesha Tate in Vs, the first real look at Captain America's new uniform, Lynda Carter gives her views on Gal Gadot being cast as Wonder Woman, Amy Markham is your "& 1" Model of the Week and more!





































A WORD FROM STEVE...
Welcome back! How was your week? We're back for another week of hot women, the biggest Hollywood news, and some celebrity gossip! For some additional reading you can check out my Comics 411 and vote on Marvel's Greatest Villain. Or you can check out my Big Screen Bulletin for more movie related news and thoughts! Last week I interviewed Playboy's Miss November, Gemma Lee Farrell!


Who's greeting us this week? None other than Mindy Robinson! Here's Mindy posting another pic of her impressive cleavage on Instagram: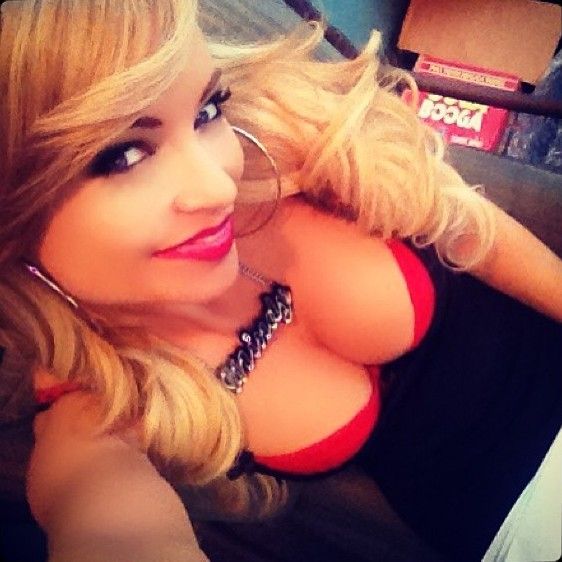 Last week Irina Shayk and Adriana Lima went at it. The results:

Irina Shayk 52.86%
Adriana Lima 47.14%

Another close one! Irina takes it by a hair over Adriana! This week we hop into the MMA world and pair up Ronda Rousey against Miesha Tate. Not only will they meet here in VS, these two ladies will meet in the Octagon Saturday night. While it should be a pretty quick fight, I want the vote here to focus on their hotness skills. Who wins?



Ronda Rousey VS Miesha Tate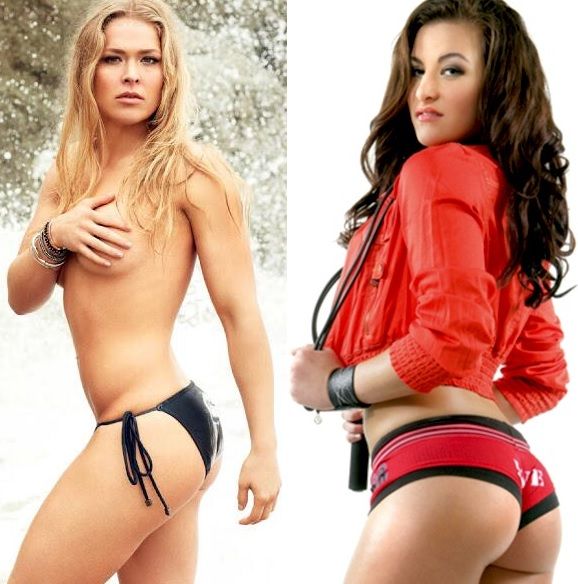 VOTE!




PIC OF THE WEEK!
Here's Carla Howe in a sexy Christmas pics posted to her Instagram: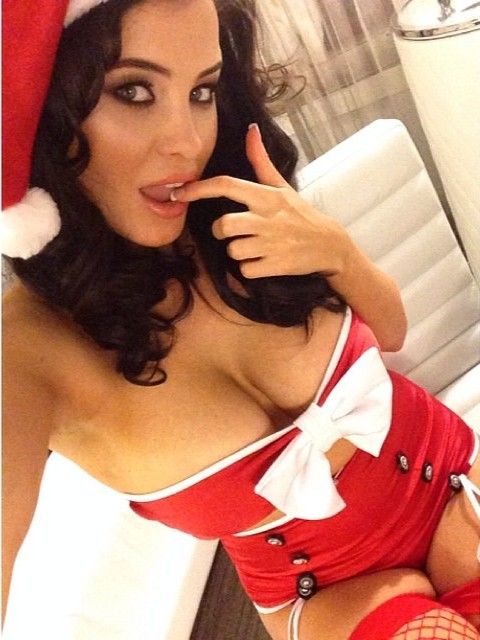 WHAT THE HELL?
Radar Online reports that Brad Pitt is set to make a cameo in 22 Jump Street, which will see the actor make fun of himself. He will play himself working as a university librarian. The film stars Jonah Hill and Channing Tatum.

Hill talked him into doing the cameo. The sequel has Jenko (Tatum) and Schmidt (Hill) working undercover on a college campus. To blend in, Jenko joins the football team and Schmidt becomes part of the art clique. They find Pitt on campus, playing himself as a low-paid librarian. He then does some bad acting which is noticed by the two cops.

A source said: "The scene is very funny and the guys had a great time doing it. Brad was a great sport and the producers were thrilled that he took part." The movie was filmed on the campus of Tulane University in New Orleans. Pitt spent his recent time relaxing with his family in Australia after shooting Fury in the UK.

22 Jump Street was directed by Phil Lord and Chris Miller. It also stars Ice Cube and Amber Stevens. It will be released on June 13, 2014. It is a sequel to the spin-off of the original 80s TV series that starred Johnny Depp. That film made over $200 million worldwide in 2012.






TWITTER-A-GO-GO!
Make sure you're following all the comings and goings around 411mania on Twitter! Follow me for some witty tweets from time-to-time as well. Dana White, Jesse Jane, and Larry Csonka follow me. What are you waiting for?



http://www.twitter.com/stevethegoose
http://www.twitter.com/411mania
http://www.twitter.com/411wrestling
http://www.twitter.com/411moviestv
http://www.twitter.com/411music
http://www.twitter.com/411games
http://www.twitter.com/411mma









Captain America!
Chris Evans as Captain America is on the cover of the February edition of Empire magazine, to promote Captain America: The Winter Soldier. The limited edition collector's version also features The Winter Soldier (Sebastian Stan) and Black Widow (Scarlett Johansson). The film will be released on April 4. It also stars Samuel L. Jackson, Robert Redford, Anthony Mackie, Cobie Smulders, Frank Grillo, Georges St-Pierre, Hayley Atwell, Toby Jones, Emily VanCamp and Maximiliano Hernandez.

Here's a synopsis: Captain America: The Winter Soldier will pick-up where Marvel's The Avengers left off, as Steve Rogers struggles to embrace his role in the modern world and teams up with Natasha Romanoff, aka Black Widow, to battle a powerful yet shadowy enemy in present-day Washington, D.C.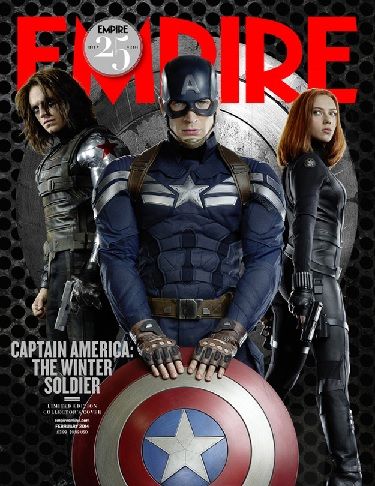 Is this on your MUST SEE list?




Wonder Woman!
Lynda Carter, best known for her TV portrayal of Wonder Woman in the 1970s TV show, recently spoke with Metro about Gal Gadot being cast in the role for Batman vs. Superman. Check out the highlights:

On Wonder Woman's appeal: "There's an identification factor. She's not your average superhero. It's not so much about her super powers as it is about her ethic. I always thought of her as a figure who stands for what's right. We all know what's wrong with the world today, so maybe we need her right now."

On if it will be strange seeing someone else play her: "I don't think so. It was a long time ago. I care more about the character continuing than holding on to my piece of it. I hope she has fun with it."

On Wonder Woman being in Batman vs. Superman: "And maybe that's better. She won't have to carry the whole film. It takes the pressure off. I wish her well. I'm just glad she's going to be out there again. Maybe she'll get her own show again."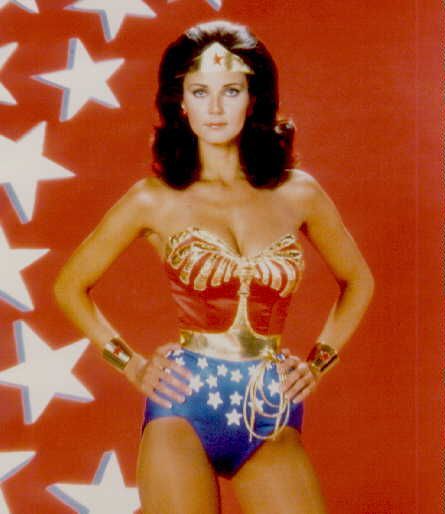 She'll always be Wonder Woman to me!




Croft!
A new 20-minute Tomb Raider fan film has been released called Croft, based on the Square Enix and Crystal Dynamics property. It was directed by Trevor Addie and written by Addie and Irma Leong. In the short, "a woman will risk everything to save a young girl held hostage in the mountains by a group of mercenaries."

It stars Cassandra Ebner, Liam Carter, Devyn Dalton, Nickolas Baric, Shaw Madson and Brad Friesen.





Interested in more Tomb Raider?




Oh, Joan!
It seems that Fashion Police co-host Joan Rivers is still holding a grudge against Jennifer Lawrence, telling the New York Post, "My New Year's resolution is [ensuring] Jennifer Lawrence grows up and realizes how lucky she is and calms down."

Rivers is still touchy over Lawrence's comments back in November that shows like Fashion Police tell young people to judge others based on "all the wrong values and that it's OK to point at people and call them ugly or fat."

Rivers initially responded to her comments via Twitter, writing that the actress was "arrogant and a hypocrite -- apparently Lawrence loved Rivers' show when they were complimenting her during award season but began railing against it when she had a movie to promote."

Lawrence didn't respond to Rivers' tweets directly, but she did go on to tell Barbara Walters that she believes it should be "illegal to call somebody fat on TV." The American Hustle star has been candid about her refusal to lose weight for roles, her distaste for dieting, and willingness to admit when she's been photoshopped -- yet Rivers seems to think her campaign is nothing but an act.

"I love that she's telling everyone how wrong it is to worry about retouching and body image, and meanwhile, she has been touched up more than a choir boy at the Vatican," Rivers told the Post. "Look at her posters. She doesn't have a nose, she has two holes. She just has to learn, don't talk if you're doing it."




Thoughts on Joan?




What's the VIDEO BUZZ?
Paramount Pictures has released the first clip for the upcoming spin-off to the Paranormal Activity franchise, Paranormal Activity: The Marked Ones. You can check out the clip in the player below.

The film is due out in theaters on January 3.

What do you think?






Welcome back to the & 1 Model of the Week! It's pretty obvious what this is. A couple pictures of a sexy gal for you to look at before clicking to the next article. This week our & 1 Model is ...Amy Markham!!



Ladies and Gentlemen, I present...Amy Markham!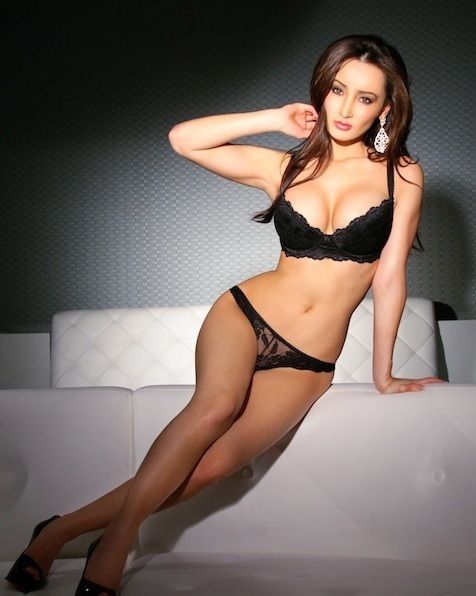 Before I say GOODBYE!
I also do a personal blog where I write about random stuff. The latest? RIGHT HERE ! I started a suicide prevention resource site. Give it a look and share! www.youcanendure.com . If you or someone you know is feeling isolated, don't hesitate to call the National Suicide Prevention Hotline 1-800-273-8255. Finally, if you have some down time and are looking for a great place for great fun, check out Tiger Flash Games!


All pictures courtesy of Maxim Magazine, Complex, Huffington Post, V Magazine, People, FHM, Details magazine, www.cnn.com, and www.imdb.com.
comments powered by