SPOTLIGHTS
Ask 411 Movies for 12.30.13: A New Year's State of Mind
Posted by Chad Webb on 12.30.2013

What are some good New Year's Eve movies? Was Anchorman 2: The Legend Continues a good sequel? What are the Top 10 Movie Trailers of 2013? All that and more in this week's Ask 411 Movies!







































An "Ask 411 Movies" column would be nothing without questions, so please toss them my way. Why should you ask me instead of using Google? Well, perhaps I'll tell you something you can't find there, or maybe you just like my conversation and soothing words. You can post any questions or thoughts below in the comments section, email me at cthomaswebb@gmail.com, or send me a tweet using the links below:













---
What I Watched This Week
AMERICAN HUSTLE


David O. Russell is a capable filmmaker. He knows how to craft a entertaining piece of work and American Hustle definitely qualifies. What I get hung up on though is that it feels like Russell is adding to the game when he could be reinventing or redefining it. With his last few offerings, it has become increasingly evident that Russell wants that Best Director statue badly. That being said, American Hustle is excellent; a slickly assembled crime drama that will keep you riveted from start to finish.

Is American Hustle one of the best movies of the year? Probably. It certainly is a lot of fun. This is a 70's con-game infused with a dream-like atmosphere and steeped in nostalgia. The zany hair-styles, the costumes, the grainy picture, the sets and all the facets in between showcase a throwback state of mind. Everything pretty much clicks. If I had to pinpoint a flaw, albeit a minor one, it would be that the first act could use some tightening. Had this been just a smidgen tauter in terms of editing, I would rate it basically perfect.

American Hustle is a blast, but it's also extremely Oscar baity. All the performances, though superb, fit the showy mold Academy members love. Russell knows this. Christian Bale is always a pleasure to watch. His finessing of his hair at the beginning is one of my favorite scenes. Amy Adams, Jennifer Lawrence, Jeremy Renner, Bradley Cooper...they're all wonderful. I'd argue that Lawrence was handed the most ostentatious role, but they all fall into that category on some level. In the supporting cast you'll also notice Harrow himself, Jack Huston, Alessandro Nivola, Michael Pena, Louis C.K., Shea Whigham, and more.

The music drives the film, very nearly dominates it ala Watchmen. You'll want to look up the soundtrack listing afterwards, I promise. Duke Ellington's "Jeep Blues" is the main theme, allowing all critics to use the adjective "jazzy" in describing the film. Montages galore appear here and they're fantastic, if a tad excessive.

Although at times it seems as if Russell's foray into these genres carry a "been there, done that" aura, he does possess the crucial quality of energy in his approach. Goodfellas and The Sting are obvious influences, yet even though Russell goes to the same well as his predecessors, it does not sacrifice the integrity of the picture. American Hustle is David O. Russell's best film to date. Lately he has pumped out watchable stories for the masses, but this one has style AND substance, depth and decadence. The characters are all fleshed out beautifully, the relationships outlined intelligently, and the emotions expressed believably. This is an exuberant, snappy, compelling smorgasbord that will leave you happy you spent a night at the movie theater.

Final Rating = 9.0/10.0

NEBRASKA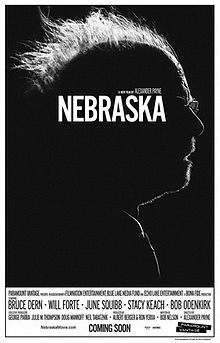 It took me awhile to track down a theater that was showing Alexander Payne's newest effort, but I'm glad I finally did. In my mind this is one of the best films of the year. It is funny, poignant, sweet, and thoroughly engaging.

The acting is uniformly brilliant. Bruce Dern embraces what could easily be a career-defining role as Woody Grant. This is a fully encompassing performance as Dern fleshes out the expressions, mannerisms, and overall attitude of this man with subtlety and precision. He is a joy to watch, but then so is Will Forte. Here again we have a mostly comedic actor nailing a part that is serious and straightforward. I was extremely impressed with Forte's range. I hope he continues to choose projects with a dramatic edge. Nebraska has plenty of humor, but Forte and Bob Odenkirk, the two cast members known for comedy, aren't the ones responsible for the funny moments. That would be Dern and the spectacular June Squibb, who is sure to have you rolling on the floor. Squibb has a series of priceless one-liners, but what makes her turn Oscar-worthy is a brief, tender moment near the end. You'll also notice Buzz from Home Alone and the great Stacy Keach in good supporting parts.

Now, Nebraska has garnered mainly positive reviews, but there is a small faction of critics who are labeling this as "hicksploitation" or that it simply incorporates stereotypes of these folk. I whole-heartedly disagree with this absurd notion. First of all, Payne grew up in and still has family who reside in Nebraska, so forgive me if I have a hard time believing he'd want to portray these people in a cliché, mean-spirited fashion. Anyone who thinks this is "hicksploitation" is a) not from this region of the country and b) has not traveled beyond the bubble of their own home. This is how so many of these people act and behave. Deal with it. Every actor is organic and genuine. As for the stereotype argument, to me it's silly and false. I suppose no director can film people the way they really are because someone will whine that "it has been done before." If it feels authentic and sincere, it doesn't matter how common the depiction is. Nebraska is authentic and sincere with deep characterization. As a matter of fact, I concur with Christy Lemire of RogerEbert.com who stated that "It often feels as though Payne is trying to strip away the cliché that the region is populated exclusively by hardworking, decent hearted types" because these folks are flawed like we all are.

This is a low-key movie, but not as slow as it is made out to be. The beauty of several of Payne's movies is a great deal happens when it comes off like nothing is going on. What I love about Nebraska is that nothing feels artificial or hackneyed even though the plot is not exactly revolutionary. This is about Mid-America, the Heartland, an area of the US many of us are not familiar with, or have preconceived opinions about. Payne and screenwriter Bob Nelson integrate oodles of amusing nuggets of truth. It's also about the relationship between a father and son and how they both grow from this trip. This is the first time Payne has made a movie he did not also pen the script for, and the first since Citizen Ruth that is original, not adapted. Yet somehow Nelson, a writer with a fairly short resume for being born in 1956, captures all of Payne's trademark themes and his skill at blending charm and humor with a sense of longing and melancholy.

Nebraska is such fantastic motion picture. Payne's Sideways has become one of my favorite films of all-time, and because of that, the director has a fan in me for life. That's not to say I'm blindly devoted, but he is in top-form with Nebraska, a project with a modest budget in which he uses digital cameras and anamorphic lenses for the first time. As added trivia, I also read that that it was post-converted to black-and-white from color. The cinematography from Phedon Papamichael is marvelous and the music from Mark Orton is suitably solid. This is a profound, hilarious, and highly engrossing slice of Americana that resonated with me. It's not condescending or ordinary, it is fresh, multi-layered, and incredibly satisfying. At this point it is ready to fade out of theaters, but see it if you can and if not, wait for DVD.

Final Rating = 10.0/10.0

ANCHORMAN 2: THE LEGEND CONTINUES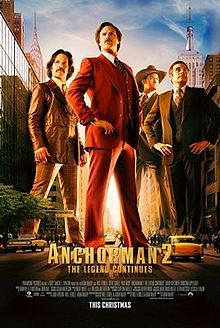 Will Ferrell has given some truly terrific performances in films like Stranger Than Fiction and Everything Must Go, but when analyzing his pure comedic vehicles, they can be summed up like so: "they contain hilarious bits that do not add up to a satisfying whole." Having said that, the first Anchorman was a blast. I don't consider it a classic in the strictest sense of the word, but I did enjoy it for the most part, aside from the horrendous ending with the bear. And even though I'm not the biggest Ferrell fan, I was still looking forward to this sequel. Sadly, Anchorman 2: The Legend Continues takes the few aspects I hated about the first film and amplifies them with gusto.

The first half was fine. Ron searching for the broadcast team was funny, especially Brick's funeral. I loved the storyline, focusing on Ron changing what type of news is being reported and how much that changed the field for the future. That obviously reverberates for today's viewers and it was a genius set-up to hook me in. James Marsden was outstanding as Jack Lime, a minor foe for Ron. Meagan Good was a welcomed new love interest as Linda Jackson and Dylan Baker was cool to see as Freddie Sharp (though underused). Those were new additions I dug. However, Judah Nelson was awkward and somewhat flat as Ron's son Walter. I know some dislike criticizing child actors, but this was a flaw that stood out in my opinion. Kristen Wiig was passable as Chani I suppose, but I expected the exchanges between her and Brick to be funnier. Maybe it's just me, but the uncomfortable atmosphere they were aiming for wasn't super effective.

Unfortunately the second half of Anchorman 2 nosedives fast and ultimately the film gets a thumbs down. There are two main reasons for this. The first is that it was too obvious that Adam McKay was striving to give the plot and structure of the original new skin. This sequel is almost the same stuff we saw previously. The second major drawback is that McKay, Ferrell, and the others were trying way too hard here. The desperate attempts to be as random as possible resulted in numerous dud gags. The ice-skating accident, the blind segment, the pet shark scenes, and just about everything that went down with Veronica during the last act was too stupid for my tastes. The news team showdown, which was such an unexpected treat in the first film, was expected and though I understand some find Ferrell funnier than I do, I cannot understand how anyone could be satisfied with this particular sequence. To say they go overboard is an understatement. I guess if you love cameos for cameos sake, this will be right up your alley. Actually, promising ideas that go overboard can describe most of the jokes in Anchorman 2.

The characters that inhabit this universe are hysterical and wonderful. The problem lies with the writing and the narrative that surrounds those characters. If what you give them to work with is crap, the movie will be a failure and to me Anchorman 2 starts swimmingly, but flies off the rails. I think the goal here was to simply keep the die-hard fans of the 2004 original happy. In that they possibly succeeded, but apart from the shortcomings I mentioned above, this is also nowhere near as memorable, quotable, or energetic as the first flick. But as disappointed as I was, I did laugh every now and then. Anchorman 2: The Legend Continues had something to say about the nature of news, which may have been pandering, but it worked for a bit until it grew into a dumb, bloated mess. Too bad.

Final Rating = 5.0/10.0

If want to know more about my movie tastes, check out my page on Letterboxd by clicking right here. Also, make sure to look at all the great articles and writers at 411, particularly in the Movie-zone because that's where I predominantly am, but all of the zones.







Deaths



In case I forgot to mention a notable death this week, you can always peruse the list yourself by clicking here.



The Questions



No questions this week.

I hope all you readers out there have a great New Year's! In the words of Andrew W.K., party hard. If you are interested in some of the best flicks that involve New Year's in some way, check out: Money Train, Strange Days, The Hudsucker Proxy, When Harry Met Sally, Boogie Nights, Trading Places, About a Boy, Forrest Gump, Assault on Precinct 13, The Apartment, Sunset Blvd., Sleepless in Seattle and/or The Godfather Part II to name a few.

See you in 2014!





The Top 10 Movie Trailers of 2013



I've never done this particular list, but then again I didn't have this column last year either. I thought this would be a fun list to compile before I get started on the Top 10 Best/Worst Films of 2013, Best/Worst Posters, and so forth. A trailer qualified for this list if it was released within this year. That means even if the film itself has not been released yet, if the trailer dropped, it can be ranked. Also, the quality of the film is not up for debate, just the preview. For as many horrible movie trailers I see, I noticed in researching this that several awesome ones have been pumped out as well. Enjoy!

10) The Grand Budapest Hotel Trailer #1 - I have to say, I'm really anxious to see this. I like most of Wes Anderson's efforts, but after the glorious Moonrise Kingdom, this cool preview has me ready for another film from the unique director.



9) Don Jon Trailer #1 - Although it received generally favorable reviews, in my circle, this is a polarizing film. Nevertheless, the first trailer was assembled in a brisk, fun way that matched the approach of Joseph Gordon-Levitt's directorial debut. And come on, it had Marky Mark's "Good Vibrations."



8) The Secret Life of Walter Mitty Teaser Trailer #1 - I lost a bit of enthusiasm for this film once I saw subsequent trailers and realized it was a remake, but the initial teaser is phenomenal. Making it completely silent aside from the song from Of Monsters and Men ("Dirty Paws") was a neat, inventivce choice.



7) The Raid 2: Berendal Red-Band Trailer #1 - The Raid: Redemption was one of the best action movies of its year, some say many years. Any sequel would have a tough act to follow, but after seeing this, I am more than amped.



6) This Is The End Red-Band Trailer #2 - It's difficult to recall some of the red band trailers, and this movie had great trailers regardless of whether or not it was red or green band, but the one with Emma Watson was the best.



5) Godzilla Teaser Trailer #1 - I love the feeling of not know what teaser you're watching when you view a preview for the first time in the theater. Those trailers that have such a great build toward the title that they get our blood pumping and suspense building in less than 3 minutes. This one does that. One never knows how Godzilla flicks will turn out, but this looks bad ass.



4) The LEGO Movie Teaser Trailer #1 - Obviously this is aimed primarily at kids, but how can you not chuckle a little at this trailer. The marketing for this film thus far has been sensational. I can't wait to see it. From the looks of this, it will be witty and imaginative, not to mention faithful to Legos.



3) The Wolf of Wall Street Trailer #1 - I say it all the time, but my favorite trailers are the ones that are competent enough not to reveal everything. They need to leave me wondering what that movie is all about and excited enough to pay for a ticket. Martin Scorsese's always accomplish that. This is a snappily paced preview that makes good use of Kanye West even though the track was everywhere this year.



2) X-Men: Days of Future Past Trailer #1 - This isn't out yet, but damn I became instantly psyched after I saw this. I've watched it numerous times. I hope the movie delivers as much as this did.



1) American Hustle Trailer #1 - From the scene with Bale & Cooper to the magnificent use of Led Zeppelin's "Good Times Bad Times," this is a brilliant preview to get audiences hyped up for the film. They leave enough out and put enough in get us curious.



Honorable Mentions: The Conjuring Trailer #1, Gravity (any), Man of Steel Trailer #3




--Thanks to Misty for my banner.

"The plural of Chad is Chad?"
--From the movie Recount

comments powered by