SPOTLIGHTS
Comics 411 1.01.14: Unlikely Comic Book Movies Edition!
Posted by Steve Gustafson on 01.01.2014

Is The Dark Knight Strikes Again the comic book that should be least considered for a movie version? Plus news and thoughts on an X-Men/Fantastic Four movie, a new big Marvel wedding, a companion to Dark Horse's The Star Wars and more!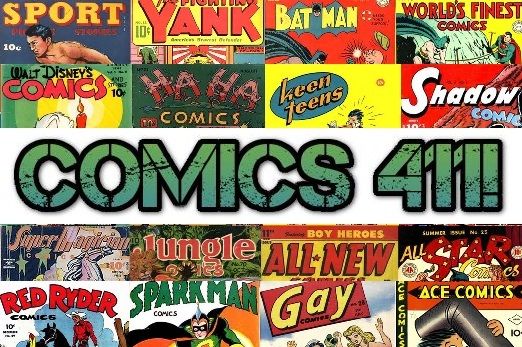 Welcome back to the Comics 411! My name is Steve Gustafson and this is a corner of 411mania reserved for those interested in talking comics! As always, I want to thank everyone who took a few minutes to read and comment last week. Check out my interview with Playboy's Miss November, Gemma Lee Farrell!

Happy New Year! As I'm sure most of you are recovering from a great night, we have another light column this week!


And away we go...

Who was the lamest comic villain of all time? Which actor was originally tapped to play Wolverine in the movies? And does Canada even need superheroes? Geek out on these 5 facts about comic books, featuring 30 Rock star Grizz Chapman!







READER ROUNDTABLE

Last week I matched up Mary Jane Watson and Lois Lane over Who is the Better Damsel in Distress?. These are the results:

Mary Jane Watson 73.35%
Lois Lane 26.65%

Looks like many felt Lois was portrayed more strongly, as Mary Jane won in a landslide. Here's what you had to say:

Michael L : "I don't know how Lois is portrayed today, but in the 90's, she was almost always an equal partner to Superman/Clark, both at work, and in their personal lives. She came a long way from the "Damsel in distress" she was in the 60's and 70's."

WillyDope: "Lois is a more important character but Mary Jane is WAYYYY hotter so she gets my vote"

CyberVenom : "The question asked was "Who plays the bigger damsel in distress role?". Between the two, the answer is most certainly Mary Jane. While both are major "damsels", Mary Jane has stayed pretty consistent in her role. Lois, on the other hand, evolved. Even though she might need Superman to rescue her every now and then currently, she isn't the same "SAVE ME, BECAUSE I'M A WOMAN" mindset from her older appearances. She's now very much more independent. So MJ is the "winner", but Lois has more dimensions to the character."

geoffrey : "MJ is Marvel
Lois lane is DC
wonder who will win?"

Gold Any Ranger : "Mary Jane. Even after the deal with Mephisto that wiped out her marriage to Peter, her worst nightmare is still Venom, as evidenced recently in Superior Spider-Man 24. I don't think any villain scares Lois."

Joe: "I love both equally. The 2 best love interests of 2 of the 3 most iconic characters in comics."

redhotrash : "Two terrible characters. Both Superman and Spider-man keep their identities secret (dunno how putting on a pair of glasses accomplishes this but moving on) and still these women get into trouble over and over. At least Lois Lane has the excuse of her job bringing her into dangerous situations. MJ on the other hand just makes a mess of everything. I've always been a fan of the Black Cat and Wonder Woman/Maxima pairings."

Wow : "Have to admit MJ losing the baby at the end of the clone saga was heartbreaking. Plus I felt she was the best damsel, girlfriend, wife, etc."


Props to CyberVenom and CraigL. These two proved that it IS possible to engage in meaningful debate, respectfully.

Due to the holiday, we'll keep things light again this week. It's no secret that Hollywood has found the Golden Goose with the comic book industry. The Avengers, The Dark Knight, lead the charge in box office results. But is there a comic book that SHOULDN'T be made into a movie? Here are a handful of my suggestions. Vote and add your own below!

Trouble
Year: 2003
Marvel Comics

In 2003 Joe Quesada and (then) Marvel president Bill Jemas decided to tell a faux backstory of Peter Parker's parents and their relationship with Uncle Ben and Aunt May. They hired Kick-Ass writer Mark Millar to write the 5-part miniseries, as a love story involving teenage pregnancy.

Did we really need to see Peter's origin told this way? From Aunt May being a wild (and cheating) party girl to Peter's adoption, this will (hopefully) never see the light of day.

Love and Rockets
Year: 1982 - 1996, 2001
Fantagraphics Books

I love this book but hope it never gets made into a movie because it's world is so massive and intricate, the movie won't stand a chance. Back in the 1980s there was an alternative comics revolution with artists/writers/brothers Jamie and Gilbert Hernandez helping lead the way with Love and Rockets.

Bad Girls
Year: 2003
DC Comics

What was this? DC made a play for the tween-age girl demographic in the worst way possible. It's a poorly done Mean Girls with superpowers.

Marville
Year: 2002
Marvel

I've read this book a few times and I still can't tell you what I think of it. It's a mess. The series consists of seven books (Six storied comics with the final seventh "issue" devoted to guidelines on submitting work to Marvel's new Epic Comics line)

The main character is Kal-AOL Turner, son of media mogul Ted Turner, living in the year 5002 - but thanks to a time machine built from old video game systems, he travels back to the year 2002. Jane Fonda, Alan Greenspan, Batman, Superman, Iron Man and Black Panther all make appearances.

Dark Knight Strikes Again
Year: 2001 – 2002
DC Comics

I read this with high hopes. I made excuses for the writing. The art. The story. But I finally realized that Frank Miller had lost a step.

That's my 5. Vote and comment below!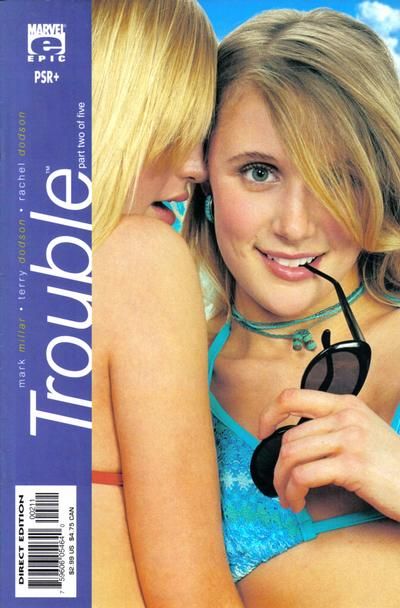 NEWS

Crossover! According to the stock tip website Motley Fool, 20th Century Fox "may" consider crossover movie between the Fantastic Four and the X-Men film franchises. Motley Fool's Chris Katie suggests that Fox, who acquired the movie rights for these two franchises in the early 1990s and created movies based on both, could combine the two teams for an "Avengers-style" movie that could conceivably be a four-quadrant blockbuster for the company.

Currently, Fox has two movies for the X-Men in the works – 2014's X-Men: Days of Future Past and a sequel featuring Apocalypse – and is also planning to reboot Fantastic Four as a 2015 feature with Chronicle director Josh Trank. Back in October it was announced that Fox had hired X-Men: Days Of Future Past screenwriter Simon Kinberg to write this Fantastic Four relaunch. In the August 2013 edition of the magazine SFX, writer-consultant for Fox's Marvel movies Mark Millar said that a crossover between the two Fox-owned franchises is "without question" an eventuality. "Without question I think you have to see some of these guys showing up in each other's movies," Millar said. "I think the most exciting thing in superhero movies, until Avengerscame along, was when Nick Fury showed up in Iron Man. Even though it was a guy with an eye patch it was really cool – and I expect we will see more of that."

As a comic book fan, how awesome is this?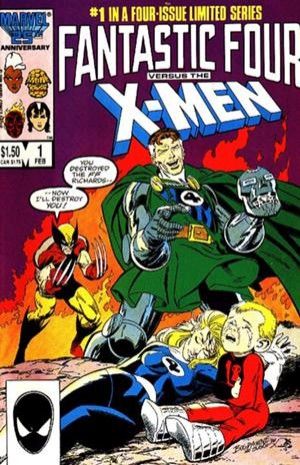 Star Wars! A companion to Dark Horse's The Star Wars adaptation of George Lucas' original screenplay, on sale next week. Here's a preview.

THE STAR WARS #0
Jonathan Rinzler (W), Randy Stradley (W), Mike Mayhew (A), Sean Cooke (A), Kilian Plunkett (A), Stéphane Roux (A), Scott Kolins (A), and Nick Runge (Cover)
On sale Jan 1
FC, 32 pages
$3.99
One-shot
A companion to the eight-issue adaptation of The Star Wars, this is an exclusive peek behind the scenes at the designs that have brought a new—yet incredibly familiar—galaxy to life.
Included in this volume are the never-before-seen comics sequences that were used in Dark Horse's pitch to George Lucas!
• Previously unpublished designs and comics pages!
• Companion to the official eight-issue adaptation of George Lucas's original rough-draft screenplay forStar Wars!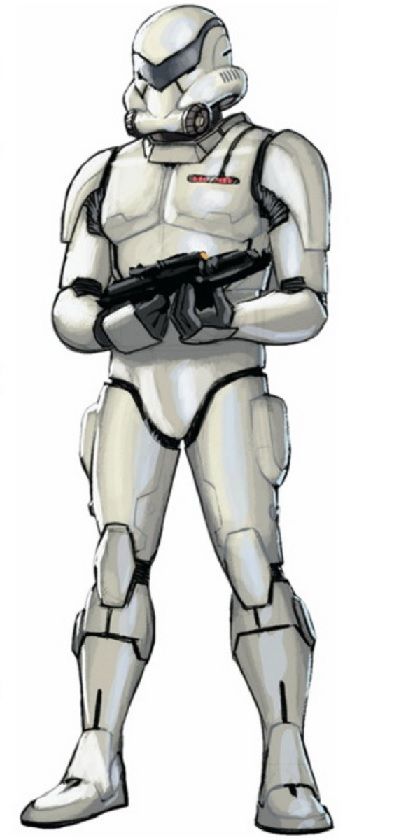 Wedding Bells! Marvel is apparently planning a wedding in April 2014! The last Marvel nuptial of significance was 2012's wedding of Northstar and his longtime boyfriend Kyle in the pages of Astonishing X-Men. The image's filename is "invitation_2" so be on the look out for another piece of the "puzzle" sometime soon.

Any guesses?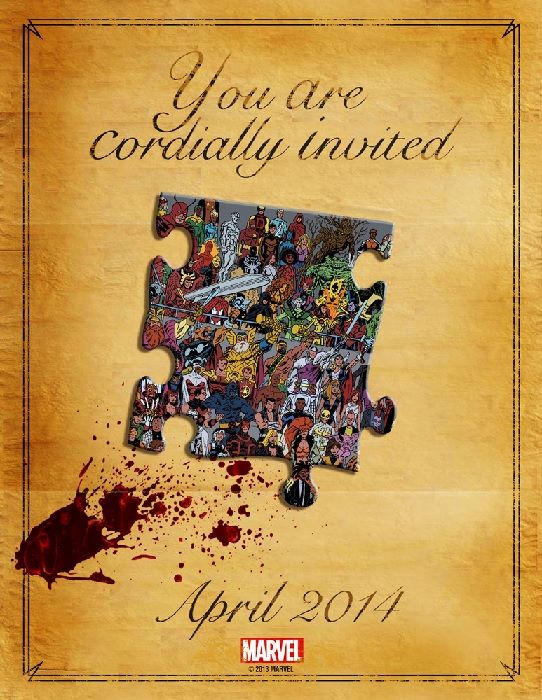 Prophet! This March, the epic space saga of Prophet will come to a close. What a trip this character has taken. This 1990s creation was given new life when Brandon Graham and cartoonists took hold of the concept in January 2012. He did an interview with Newsarama and here are the highlights:

On researching the history of Prophet and Diehard in regards to Youngblood: "There's certainly a lot of room to dance around in. The Empire came about long after Youngblood was over. While Diehard knew the first John Prophet, this is the first time he's met these versions of his clones."

On how this story fits within the larger sprawling story in the Prophet series as a whole: ""In Prophet #39 we showed a lot of Diehard's life, but he's lived like 10 thousands years so there's a lot of ground to cover. Ron's issue, Prophet #42, is a nice excuse to focus more on Diehard's life away from humanity and show what he lived like beyond just a few pages. It's fun to try and think about what someone who'd lived that long would be like. I imagine he would've had entire life times he just doesn't think about much. I feel like we could just do an endless number of miniseries of Diehard across time."

On the balance of art and story" "I can say that everyone who works on Prophet does draw and write. I feel like understanding both of those things is what comics is all about--its comic book language. I do see a trend of text running the show, which I'm sure works for some books but it's not how I think of comics. One of the reasons that I send the guys I work with rough layouts instead of a text script is how much I've hated working off of just text in the past. I like that in making comics a lot of times things are learned outside of any set schooled rules, so we all have the chance to learn our own ways of doing things. When I started doing more collaborative books it was important to me to rethink how I would want to go about that. My ideal comics aren't usually collaborations but seeing guys like Naoki Urasawa made me think about how possible it is to do interesting things with multiple people on one book."


REVIEWS!

Do YOU want to be a reviewer for COMICS 411? Send me an email at stevethegoose@gmail.com to find out how! Take it away, RobF!

Forever Evil #4

By RobF

It's a light week in the comic book universe but evil never takes a holiday. Forever Evil 4 is here and both Batman and the Injustice League maneuver against the Crime Syndicate. Who will make the first move and what will it be?

I think this series has taken a slow turn after a fast start. This issue is almost entirely table-setting, slowly moving players into position. We begin with Batman and Catwoman formulating a plan to combat the Crime Syndicate, Lex Luthor and Co doing the same. I don't get the feeling that they will put aside their differences to work together: John's is too sophisticated a writer to use such a simple plot device (I hope). I think in the end they will use different means to accomplish the same goals.

It's nice to see Johns include some material focused on the various Crime Syndicate members. Johns plays up the rivalry between Owlman and Ultraman, while simultaneously calling into question just where Superwoman's loyalties lie. We also get to see how insecure, almost manic Power Ring can be.

David Finch's art is consistent. There are some cool moments and he handles them with ease. You'll almost be happy we had so few new comics this week because you'll want to take the time and just keep looking over these pages to take it all in.

I think this series would benefit from a shorter duration. Seven issues seem to be stretching some points that probably could have been wrapped up in 5 or six issues. I am anxious to see how John's and Co pulls this all together.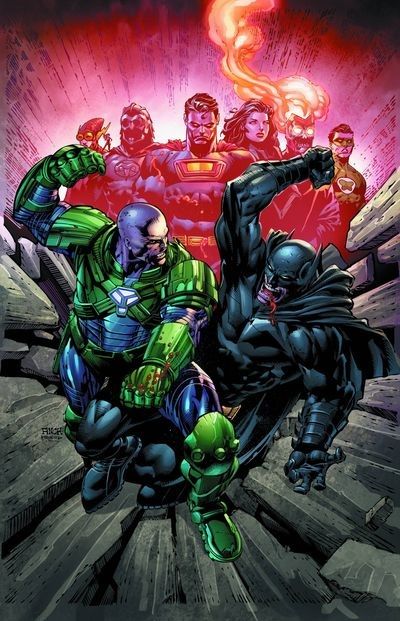 Before I say GOODBYE!
Follow me on Twitter for random bits, news RT's, and updates! Only at http://www.twitter.com/stevethegoose!

My Hollywood gossip (and anything else!) Hollywood 5 & 1!

Are you a fan of 411mania on Facebook? Keep up-to-date on news and contests!

Are you following 411mania on Twitter?
http://www.twitter.com/411mania
http://www.twitter.com/411wrestling
http://www.twitter.com/411moviestv
http://www.twitter.com/411music
http://www.twitter.com/411games
http://www.twitter.com/411mma

If you have some down time and are looking for a great place for great fun, check out Tiger Flash Games!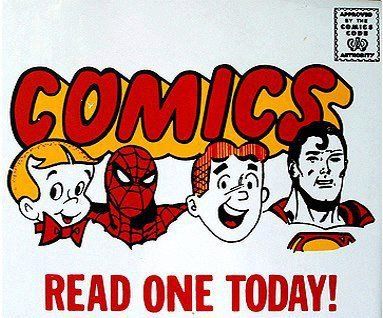 That's all the time I have. See you next week!



comments powered by