SPOTLIGHTS
A Bloody Good Time 01.02.14: Upcoming 2014 Horror
Posted by Joseph Lee on 01.02.2014

From Godzilla and Paranormal Activity: The Marked Ones to The Purge 2, I, Frankenstein and more, 411's Joseph Lee takes a look at the coming year in horror films!

































Opening Logo courtesy of Benjamin J. Colón (Soul Exodus)



Welcome to A Bloody Good Time.

It's been two weeks since we last talked, as Christmas was last week and I had other things to do. This week we're going to look at the upcoming 2014 horror and then next week it's my annual look at the best horror films of the year. So if there's anything you think I need to watch, now would be the best time to recommend it.

This upcoming horror movies list is by no means complete, as the horror genre has a quick turnaround so any number of films could be added. As proven with previous years, the fact that movies are on this list doesn't even mean they'll come out this year, as they could get postponed or, as in the case of The Poughkeepsie Tapes, never released at all.

The Big Releases: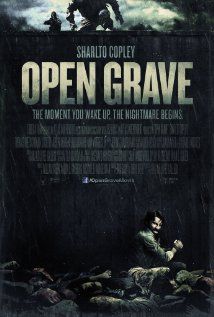 Open Grave

Starring: Sharlto Copley, Josie Ho, Thomas Kretschmann, Joseph Morgan, Erin Richards

Directed By: Gonzalo Lopez-Gallego

Release Date: January 3

For some reason I hadn't heard a single thing about this movie until doing research for this very column, and it opens Friday! The early buzz on this is that it's a very solid and suspenseful horror movie. In fact, Arrow in the Head called it a "horror Memento", which intrigues me to no end because I love that movie. It follows a man who wakes up in a huge open grave full of dead bodies and has no idea how he got there, but he suspects he's the one who killed them all.

I don't think this is opening anywhere near me, so I'll probably have to catch it on DVD. It sounds more promising than the other film opening this Friday, so check it out if you can. I don't think Sharlto Copley's had any bad work since he got big with District 9, and he's had many different roles. I think he was the best part of Elysium too, which makes it a shame that he probably wouldn't be back for a sequel.






Paranormal Activity: The Marked Ones

Starring: Andrew Jacobs, Richard Cabral, Carlos Pratts and Gabrielle Walsh

Directed By: Christopher B. Landon

Release Date: January 3

As I mention later on, I don't think even the staunchest Paranormal Activity fans could defend PA 4, as it was a complete waste of time that didn't move the story forward at all and was a bunch of poorly set-up jump scares that led to a "shocking ending" that didn't make any sense. Some argue this is the franchise in a nutshell, and I'm not about to spend this edition documenting why the way the original film did it was well-done and the way 4 did it was lazy.

I will say that this looks to spin off from that story and focus on new characters, as a way to keep the series going without bringing back Katie every single time. Already the previews seem to have more scary stuff than the last few sequels, but the previews for these movies are also notorious for having moments that don't appear in the film. We'll see if The Marked Ones can be a breath of fresh air for a series that really should be wrapping up its story. Otherwise it becomes Saw all over again.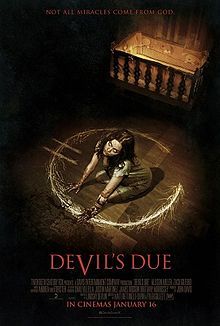 Devil's Due

Starring: Zach Gilford, Allison Miller, Sam Anderson, Aimee Carrero, Vanessa Ray, Robert Belushi

Directed By: Matt Bettinelli-Olpin and Tyler Gillett

Release Date: January 17

This is another one I only just recently learned about. The found footage movies sneak up on you quick though, so that's why. This one is about a couple documenting the women's pregnancy only to discover she's in what appears to be a Rosemary's Baby scenario and is set to give birth to the devil. That's what I took away from the trailer, anyway.

It's not hard to screw up a found footage movie and it's very difficult to make one worth watching. It's so hard, in fact, that many would say that there hasn't been a found footage movie worth watching yet. So right away Devil's Due has that going against it, but if it can overcome obstacles with its story and scares then it might stand a chance at not being as bad as the last found footage movie with "Devil" in the title.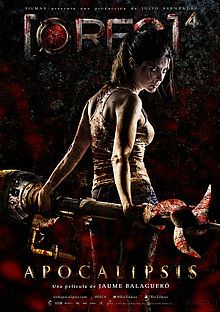 REC 4: Apocalypse

Starring:Manuela Velasco, Paco Manzanedo, Hector Colome, Ismael Fritschi, Crispulo Cabezas

Directed By: Jaume Balagueró

Release Date: 2014

The release date is actually October in Spain, but undecided in the US. It could be held off until 2015 but REC 3 came out in both countries in the same year so I'm holding out hope. The REC series in general is one of the most surprisingly strong franchises in modern horror.
Everyone loves the first one, and while I think it's actually the weakest of the bunch, it's still a good example of found footage done right. REC 2 is even better as it tries new and different things with the concept and actually advances the story.

Then we got the "sorta kinda" prequel REC 3 which abandoned found footage halfway through but was still a gory and disgusting movie. REC 4, like the last one, will also not be found footage and from what I can tell is the last of the series. They're even bringing back Angela Vidal, who we know now is completely evil and ready to spread the demonic virus. I'm really interested to see how the series turns out and if it's really the end, I hope they go out in style.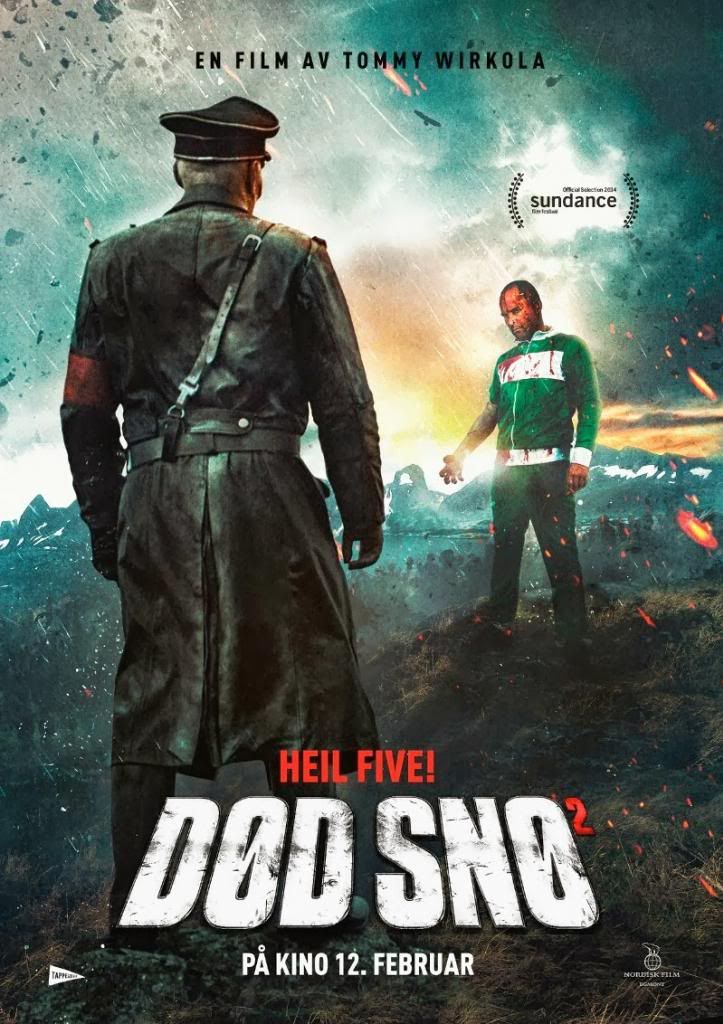 Dead Snow 2: Red vs Dead

Starring: Martin Starr, Derek Mears, Amrita Acharia, Ingrid Haas, Kristoferr Joner, Christin Rubeck

Directed By: Tommy Wirkola

Release Date: 2014

It going to debut at Sundance, and likely hit DVD by October, I would suspect. It's definitely going to arrive this year because it's festival debut is so early in the year. I absolutely loved the original, and even debated Shawn S. Lealos over its merits back when it was first released (he didn't care for it). It's just a really fun zombie comedy that is full of great horror references and just as much gore as laughs.

I don't think it's necessarily a movie that needs a sequel, but I'm all for another movie featuring Nazi zombies. It's nice to see Wirkola directing again even after the huge hit that was Hansel and Gretel: Witch Hunters. I still haven't seen it but hey, he could probably get any kind of gig he wants in Hollywood right now since he made a film that earned quadruple its budget. Yet here he is doing Dead Snow 2.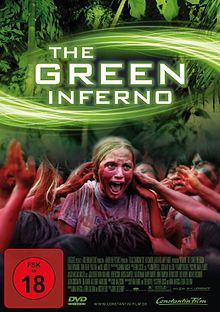 The Green Inferno

Starring: Lorenza Izzo, Ariel Levy, Sky Ferreira, Daryl Sabara, Nicolas Martinez, Kirby Bliss Blanton

Directed By: Eli Roth

Release Date:September 5

We might only get a limited release with this one, because I don't see a movie about cannibalism that was clearly inspired by Cannibal Holocaust and Cannibal Ferox getting a wide release. A modern-day movie inspired by the cannibal exploitation movie is kind of the perfect vehicle for someone like Eli Roth, isn't it? His movies are pretty much modern-day exploitation movies anyway. You don't like any of the characters, the story isn't really important, you're just there to see the grotesque.

Roth hasn't directed since the Thanksgiving trailer, as he's been dabbling in acting and producing. The Green Inferno is getting a lot of buzz from the horror community, surprisingly from those who otherwise wouldn't give Roth the time of day. I used to like Cabin Fever and still enjoy the Hostel movies for what they are (mindless exploitation films) so we'll see how this holds up. As long as it doesn't brutally butcher any animals for the sake of filmmaking it's already better than Cannibal Holocaust.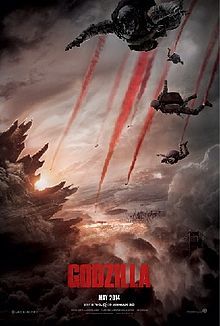 Godzilla

Starring: Aaron Taylor-Johnson, Bryan Cranston, Elizabeth Olsen, Ken Watanabe, Juliette Binoche, David Straithairn

Directed By: Gareth Edwards

Release Date: May 16

I don't think there is any other movie this year I'm excited for, horror or non-horror, than the American return of Godzilla. There hasn't been any kind of Godzilla movie since 2004 and of course, the last time we had a chance at one we blew it epically. Even if this one fails at least it'll be likely to inspire Toho to make a new one as the 1998 attempt did.

But I don't think this will fail. The trailer and bits of advertisement say that this time it could be good. Sure, the 1998 one had some of the best advertising ever and it sucked but that movie starred Ferris Bueller and Moe. This one has a much better cast and a much better director. Oh and Godzilla actually looks and sounds like Godzilla. I'm so pumped for this that I may pay the extra movie just to see the King of the Monsters in IMAX 3D. It's kind of the way he should be seen.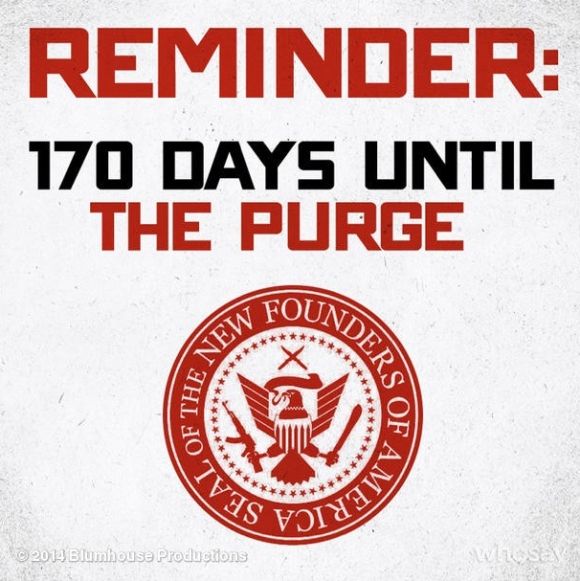 The Purge 2

Starring: Frank Grillo, Michael K. Williams, Zach Gilford, Carmen Ejogo and Kiele Sanche.

Directed By: James DeMonaco

Release Date: June 20

The last film barely cost anything, took a small time to shoot and made a ton of money. Naturally a sequel was expected, but I didn't think anyone expected a sequel within a year of the first film. That usually spells bad news from a quality standpoint, but you never know, the concept alone has enough story potential for an entire franchise if they do it right. There are many who hated the first, and some like me who really liked it (but did I like it enough to include it next week? WE WILL SEE).

It's a concept that opens itself up to many different tales of normal people turning to murder or various other crimes because it's legal. The movies could play it safe with just some people looking to kill for fun or go really dark with some depraved people looking to do very heinous things because its legal. We could also explore the fact that some people of certain levels can't be touched. The world that was created is open to more than just one house at one time. Hopefully it gets expanded here.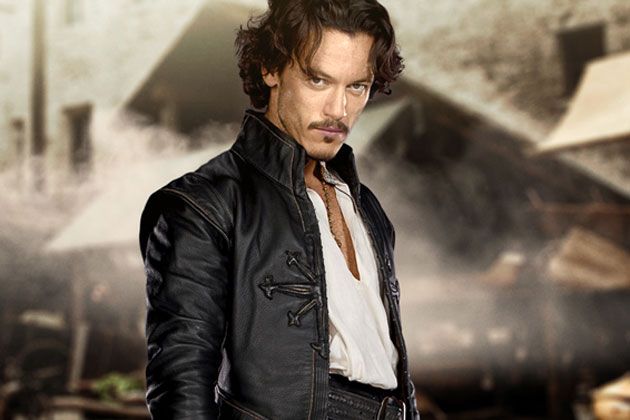 Dracula Untold

Starring: Luke Evans, Sarah Gadon Dominic Cooper, Samantha Barks

Directed By: Gary Shore

Release Date: October 17

I liked this better when it was still called Dracula: Year Zero and Alex "Dark City" Proyas was directing, but I'll still take a movie about Vlad the Impaler. If there's one movie monster that could benefit from a prequel movie, it would be Dracula. The story of Vlad Tepes is a historically interesting one anyway, and if they add some supernatural elements to it to eventually make him an evil creature of the night then I'm on board.

Luke Evans impressed me with what little he had to do in The Hobbit and Immortals (The Raven sucked all around, not his fault) so I'm very interested to see what he can do with a starring role like this. He's also going to be the new version of The Crow, so hopefully we'll get a chance to see him pull off "brooding" before that happens.




Deliver Us From Evil

Starring: Eric Bana, Olivia Munn, Joel McHale, Sean Harris, Edgar Ramirez, Dorian Missick

Directed By: Scott Derrickson

Release Date: July 2

Before James Wan came in and dominated the horror genre in 2013, a lot of people were talking about Scott Derrickson's big horror release Sinister the year before. It ranked #3 on last year's countdown for me and it adds to an already impressive resume from Derrickson. He took a Hellraiser sequel that had no right to be any good (Inferno) and made it the best sequel of the series other than Hellbound. He made a court movie about demonic possession into something suspenseful and entertaining with The Exorcism of Emily Rose. Then Sinister came along and blew everyone away. We'll just ignore that hiccup he had remaking The Day the Earth Stood Still. It never happened.

Obviously someone has faith in him because his new movie is getting put into a crowded summer that includes a new Planet of the Apes and a new Transformers. He's even getting direct competition from a proven moneymaker in Melissa McCarthy. I can't say their faith is misplaced. This new film is about a cop involved in the world of exorcisms and stars Eric Bana. That's all I really know about it and it's enough for me to be there opening night.


The Others:

Poltergeist: Whether we want it or not, Poltergeist is getting remade. IMDB lists this as a 2014 film. The last word said that it started production in September, but no official release date has been announced so I'm going to have it in this section just in case it's pushed back to 2015. Given the competition next year, it seems likely they'll try to rush this out for Halloween but I'm thinking we don't see this until January 2015 at the earliest. If you want my thoughts: I think the original holds up 100% but I'm a huge fan of Sam Rockwell and he can make it work if he's the star.

Trick r' Treat 2: This is another one that is looking more like a 2015 release, as it was just announced a month or two ago. Needless to say I'm hyped for it, as the first one is great and should be regular viewing every Halloween.

Resident Evil 6: Yup. They're still making these. No, I probably won't see it.

Paranormal Activity 5: The spinoff comes out Friday, but last time we saw a true Paranormal Activity movie was #4 and that was a big boring pile of nothingness. I think this franchise could be on its way out soon as it seems like the fourth one was unanimously hated, even by hardcore fans of the series. #5 stands a good chance of bombing, unless The Marked Ones takes the brunt of the impact from 4.

I, Frankenstein: I wrote about this last year not knowing anything about it, and at the time I thought it sounded like a fun monster mash. Now we've seen photos where Frankenstein's monster, a stitched-together monstrosity, somehow looks like Aaron Eckhart and is fighting terrible CGI gargoyles. It looks atrocious and I will not be surprised if it bombs.

Raze: It's listed on several horror sites but seems more like an action movie to me. It stars Zoe Bell as a woman forced to fight for her life in underground prison.

A Fantastic Fear of Everything: Another horror-comedy starring Simon Pegg. This time he's an author who is obsessed with serial killer and thinks everyone's out to get him. I think it could be very funny, although early reviews don't agree with that viewpoint. If you're curious to see what Claire Higgins of Hellraiser fame is up to now, she's in this.

Wolf Creek 2: A lot of horror fans seem to really like the first Wolf Creek, but I found it to be very boring. It spends an hour setting up characters that aren't all that likable to begin with. I seem to remember campfire scenes that took forever to complete before the killing starts. I'm not looking forward to the sequel, but it's happening so if that's your thing, enjoy.

Cabin Fever: Patient Zero: The first Cabin Fever doesn't hold up at all and the sequel was so bad that Ti West tried to take his name off of it. This is a prequel and neither the normally good West or Roth had anything to do with it. It could be good. There's a good story involving a flesh-eating virus out there. We'll see.

All Cheerleaders Die: Lucky McKee's follow-up to The Woman (which you need to see) is this movie, a remake of his own 2001 movie. McKee is also the man who brought us May, and I'm fiercely loyal to everyone involved in that movie.

Eliza Graves: It's based on an Edgar Allan Poe story and is directed by the guy who made Session 9. Do I need to say anything else? Okay. The cast is a who's who of great actors including Michael Caine, Ben Kingsley, David Thewlis and Brendan Gleeson. Yeah, this is going to be good.

Leprechaun: Origins: The reason the Leprechaun series works as well as they do for what they are is because of how completely devoted Warwick Davis is to the role. It's easy to assume that Hornswoggle's turn in the role will be horrible but a) The Leprechaun series isn't very good to begin with and b) I think he could be just as devoted as Davis. Look at the kinds of stupid stuff he willingly jumps into on WWE TV. I'm willing to give it a chance.

Patrick: This is a remake of an Australian horror film that not many have heard of. It's technically already out in Australia and is just waiting on a US release of some kind.

The Town That Dreaded Sundown: Another remake, although more people have heard of this movie. Your average horror fan only knows it as the character that Jason in Friday the 13th Part II looks like. It's not really something that's going to get a lot of hate for being remade, I don't think.

Cooties: How in the world has a horror movie about cooties not been made yet? It's 2014 and we're just now getting to this? This one is obviously a comedy, and just the very idea of it is enough to get a list a glance from me. The movie stars Elijah Wood, once again stepping into new and different roles.

More ABCs of Death: The insanity of the first movie continues with 26 more short films from 26 directors. I'm not even sure the first one can be topped, but they're certainly going to try.

The Quiet Ones: Hammer's next release stars Jared Harris as a professor who leads a team with the goal of creating a poltergeist. Because that's always a smart idea.

Jessabelle: The plot synopsis is rather vague on this and the title obviously doesn't bring to mind anything. It's also directed by the guy who made the worst of the Saw sequels.

The Sacrament: Ti West's next movie, and it looks at a seemingly perfect community with sinister undertones. It's also found footage, but West is a guy who is still getting my views thanks to his work with The House of the Devil and The Innkeepers.

Oculus: This one stars two female sci-fi stars (Katee Sackhoff and Karen Gillan) and follows a woman trying to prove her brother's crimes were actually caused by the supernatural.

Nurse 3D: An erotic thriller about a killer nurse. It could go either way, depending on how serious it takes itself.

Jinn: The only djinn I know was in Wishmaster. They are still an ancient race in this movie but I don't think they are the same kind as in that series. The trailer doesn't really tell much about the story either.

See No Evil 2: The first one was dumb as hell, but it's not the worst slasher movie I've ever seen. The sequel is already incredibly promising with Katharine Isabelle and Danielle Harris starring under the direction of The Soska Sisters, who gave us American Mary this year. More on that next week.


Ending Notes:

That's it for me. Leave some comments here on or my Twitter. Next week I present my picks for the best horror films of 2013. If there's anything you think I need to see, speak now or lose the right to complain.



Closing Logo courtesy of Kyle Morton (get your own custom artwork and commissions at his Etsy account)



A Bloody Good Time: The Store is now officially open! Like this design? You can now find it on most of my merchandise! Click here to find shirts, posters and more!

For those interested in more of my movie reviews, I've created a new blog! Check out the brand new Not-So-Bloody Good Time!

And of course, if you want to know if I've ever covered anything or want to read a past edition, there's the Bloody Good Time Archives! Yes, you can finally read every edition of ABGT going back to the beginning! Just ignore my early writing style...I was new.

See you next week!
comments powered by