SPOTLIGHTS
The 2013 411 Movie Awards 1.07.13: Best Of Cinema
Posted by Ben Piper on 01.07.2014

Was Pacific Rim the best Blockbuster? Was This Is The End the funniest movie? What was our 2013 Movie of the Year? And who were the best actors and actresses of 2013? The 411 staff weighs in on all this and more!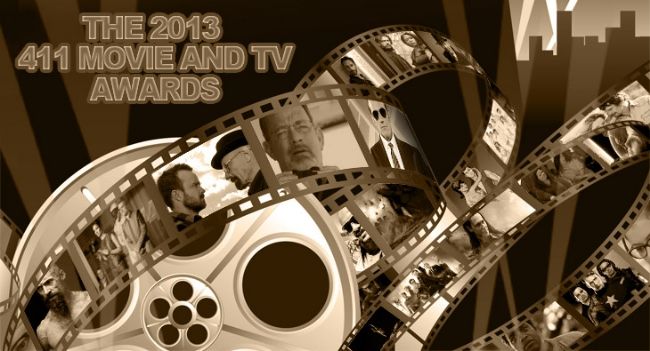 All banners courtesy of Velcronius

Hello, and welcome back one and all to the second half of The 2013 411 Movie and TV Awards! Yes, indeed, this is the annual year-end kudo fest where many of the 411 staff shares their insights with regards to what the consensus felt was the very best entertainment to be had in pop culture in the year 2013. I am your host, Ben Piper.

The movies of 2013 were quite a fantastic lot. The summer blockbusters mostly delivered, although some were met with mixed reaction from fanboys and audiences alike. Comedies that ran the gamut of various hilarious possibilities tickled our collective funnybones. And on the more serious side of things, not only did the more dramatic movies themselves deliver in spades, the performances that we were treated to were absolutely stellar.

The nominations were determined by the 411 staff. Each writer was given the opportunity to nominate up to three choices in each of the categories. Top five vote getters received nominations, and in the cases of ties (which were several) more than five were permitted into the final tally.

The final voting process which determined the winners and runner's up was simple; each staffer got to vote for only one of the nominees in each of the categories. Based on that simple criteria, that is how we've arrived here.

I'd like to thank everyone on the staff that voted and took part in shaping this up to what it eventually became. I shall now list them for the record, in no discernable order;

Shawn S. Lealos; Jeremy Thomas; Mike Gorman; Porfirio Diaz; Trevor Snyder; Joseph Lee; Michael Weyer; Steve Gustafson; T.J. Hawke; Chad Webb; Jeremy Wilson; Nolan Woodford; Larry Csonka; Bryan Kristopowitz; Todd Vote; Tony Acero; John Dotson; Larry Csonka; Terry Lewis; Daniel Wilcox; Robert Cooper; Paul Lapointe; Mathew Sforcina; & Jack McGee

And yes, I voted as well, but it would be kind of weird to thank myself for doing so.

Note: Due to the timeframe presented, nominations were closed December 15th. As such, movies released after then are thus not included.

So let's get started! We're now moving onto the Movie side of things. Here to introduce the first category is Chad Webb!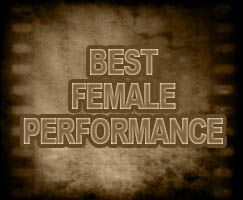 If one were to make the claim that the performances from women weren't quite as strong overall as the men, they would be wrong. While it's true that the males had a lot of heavy hitters and perhaps the showier roles, the best acting from women in 2013 is remarkable to admire. The ladies exhibited their range in wondrous ways this year. Cate Blanchett delivered a knockout part in the middle of the year with Woody Allen's Blue Jasmine. Julie Delpy reprised her cherished character with Ethan Hawke in Before Midnight, and Jennifer Lawrence proved once again that she is one of the best young actresses around by engaging us with Katniss in The Hunger Games: Catching Fire. Dame Judi Dench presented the world with her customarily brilliant work in Philomena, while Emma Thompson also played a real person in Saving Mr. Banks, possibly stealing the movie from the more buzzed about Hanks.

The nominations 411mania has decided to elect are all over the place and a bit zany as usual, but that's what makes us, us after all. It was Sandra Bullock, who fairly recently won an Oscar in The Blind Side, arrived and informed the world she was not finished wowing us with her stunning turn in Gravity. Aside from a few moments with George Clooney, Bullock was drawing us in on her own. But the one lady that definitely floored the staff was Jane Levy in The Evil Dead reboot, reimagining, sequel (whatever). This was a franchise with big shoes to fill, but Levy gave it her all and amazes us. She's not likely to be recognized at the Oscars, but what makes 411mania special is that we take a hard look at every genre and every performance. This was a spectacular year for females in cinema. The ones vying for notoriety in 2014 have their work cut out for them. -Chad Webb



And The Nominees Are;

Cate Blanchett, Blue Jasmine
Sandra Bullock, Gravity
Julie Delpy, Before Midnight
Judi Dench, Philomena
Jennifer Lawrence, The Hunger Games: Catching Fire
Jane Levy, The Evil Dead
Emma Thompson, Saving Mr. Banks



Runner Up- Sandra Bullock, Gravity I've never really liked Sandra Bullock. She was cute and funny enough in Speed and Demolition Man (two of my favorite action films of the '90s), but after those she seemed to settle into the sort of safe and clichéd chick-flick roles that I know are oh-so-easy for Hollywood actresses to rely on, but offer little of real substance. When she did try to branch out, taking "tough girl" roles in stuff like Murder by Numbers, I didn't find her particularly convincing. And when she finally won her Best Actress Oscar, I assumed it was more for her likable reputation in the industry than it was for the Blind Side performance itself.

I don't say any of this to bury Bullock, nor am I about to pull that "her performance in Gravity was clearly a fluke" nonsense. Because, the truth is, her work in Alfonso Cuaron's thrilling space adventure is much too good to be a fluke. I'm sure when Bullock took the role she was aware that there was a risk of the two human characters simply getting lost in the bigger picture, feeling secondary to the special effects and Cuaron's captivating visual style. But – working closely with Cuaron for months in advance of filming – Bullock helped turn Dr. Ryan Stone into a captivating character that serves as a much needed emotional anchor for the audience. She acts the hell out of both the film's quieter human moments and its bombastic action scenes, and we desperately want to see her make it through this hellish ordeal. She stands her own against the movie's pure spectacle, and ends up being just as memorable as any of the film's amazing set-pieces. So, no, this is no fluke, but rather the sort of performance that can make a former doubter, like myself, suddenly find themselves eagerly waiting to see what she does next.-Trevor Snyder

Winner-Jane Levy, The Evil Dead: It isn't easy to be an lead actress in a horror film. Or I guess I should more properly say that it isn't easy to do it and be considered a great performance. Because let's be honest; you can be an effective horror lead actress (or actor) without giving a fantastic performance. That's why it is so impressive that Jane Levy has managed to top our list this year. Look at the field she was pitted against: Sandra Bullock, Julie Delpy, Cate Blanchett, Judi Dench, Jennifer Lawrence and Emma Thompson. Those are all previous Academy Award nominees who delivered stellar work this year. And yet this relatively new actress with just three film credits to her name takes it away for a splatter horror remake?

Surprising as that may seem, it really makes perfect sense to me. Not just because many of us love horror here, although that's part of it. Hell, I know some of us who don't even find themselves deeply enamored of the movie itself who loved Levy's work in it. The reason is simple: Levy did turn in a great performance. As Mia, Levy stepped into a supremely difficult role. She had to be the remake's version of Bruce Campbell, even if she wasn't just a female Ash. What's more, she had to play a role that could have very easily come across as an annoying, unlikeable type who is little more than a drug addict that puts herself in harm's way and cost everyone else their lives. Levy humanized the role though; while Mia is certainly a rough character and not one you'd want to trust your back to early on, she walks the difficult tightrope of being sympathetic at the same time.

That makes us care when she has the horrific things inflicted on her…which, by the way, is the other part of Levy's performance. This young woman throws her all into the possessed role, squeezing every drop of malicious blood out of the character, and still manages to turn it around to make her a badass hero by the end. This is what makes Mia a great character, and thus Levy an actress who delivered a great performance. She took what could have been a coastable role and ever gives anything less than her utmost. Sure, all of the gory bits and nods to the original film made Evil Dead a fun horror film, but Levy was a big part in making it a great one. -Jeremy Thomas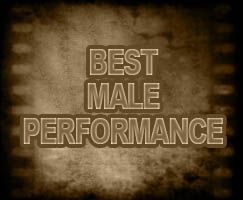 2013 was a year with numerous great performances by males. You had established stars like Tom Hanks and Hugh Jackman handing in compelling turns. In the case of Hanks, he has two roles he could be recognized for, Captain Phillips and Saving Mr. Banks. There were also divisive efforts such as James Franco in Spring Breakers and dependably fun acting from the likes of Simon Pegg in The World's End. The quality of the pictures these men represent and their individual performances, can be debated, but at 411mania we like to think that if nothing else, they elevated the films they were in. This is exceedingly true for Tom Hiddleston, whose Loki instantly brings energy and intrigue with every scene in he appears in Thor: The Dark World. yet as good as Hiddleston was, Chiwetel Ejiofor is the one who moved us the most with his stirring portrayal of Solomon Northrup.

It doesn't matter what organization you're voting for, picking a select number of male performances to nominate will be incredibly difficult because so many deserve attention. The nominees that the 411 staffers have picked range from various genres and incorporate different types of approaches and styles. But they are all important depictions from 2013. As the mainstream award ceremonies begin to go down, it will extremely interesting to see who walks away the victor. Will any of 411's choices get the nod from the Academy? Only time will tell, but we're proud of these nonetheless.-Chad Webb



And The Nominees Are;

Chiwetel Ejiofor, 12 Years A Slave
James Franco, Spring Breakers
Tom Hanks, Captain Phillips
Tom Hiddleston, Thor: The Dark World
Hugh Jackman, Prisoners
Simon Pegg, The World's End



Runner Up-Tom Hiddleston, Thor: The Dark World: Tom Hiddleston is legit. He who played the charming Loki made Thor: The Dark World doubly fun. You can go so far as to say he was the best part of the sequel. He made us forget about the many many many plot holes with his charm! In fact, Thor 2 was a nothing piece of nothing until Hiddleston showed his magnificent face and charmed the crap out of this movie. This blurb should really be "OSCAR CHARMIATED LOKI > SERIOUS THOR AND FUNNY THOR" written in canyon and I would have easily fulfilled my writing obligations. Just give Loki all the Pulitzers already.

Sight exaggerations aside, Tom Hiddleston made Loki out to be a show-stealer both in over the top hilarity – the hallway scene with Thor stands out the most – and emotionally vulnerable scene form. Chris Hemsworth remains great as Thor, but the movie doesn't spring to life as much compared to whenever Loki is onscreen – final act excluded. Thor may have the god of mischief beaten in a game of strength and honor and body tone, but in terms of placement on the likeability scale, Loki is king. Just as Hiddleston has done in the original Thor and The Avengers, he drapes the scene with his eccentric wise guy demeanor and the world is a better place for it. In other words, funny Loki is funny.

Thou can truly say Hiddleston deserves recognition as the second best male performance of thy twelve-month cycle. An improbable feat considering he beat out other prominent thespians of modern cinema on our awards list. Despite his supposed treachery, fans formed a strong emotional connection with the character more so than the headliner of his own movie. The more Loki was on the big screen, the better the movie became. In conclusion, Thor 2 is a ridiculously fun movie that was largely made possible thanks to the performance of one Tom Hiddleston, Charmslinger Extraordinaire. Honorable mention: Kat Dennings' cleavage. -Porfirio Diaz


Winner- Chiwetel Ejiofor, 12 Years A Slave 12 Years a Slave is unquestionably my favorite film this year. The biggest reason being how well it depicts the brutality of slavery in ways we haven't seen on screen before. Many have made comparisons to Schindler's List, which is an excellent comparison. I would also throw in the addition of Saving Private Ryan, because it makes the audience feel as if they were actually there. Realism aside, none of this could have worked if it weren't for the film's fantastic performance from Chiwetel Ejiofor. In the film, Ejiofor is more than willing to rise to the occasion and it magnifies the scary nature of the story to the tenth power. The first scene alone where he realizes he is no longer free gave me absolute chills to my core. Watching the hopelessness in his face and eyes still rattles me long after the viewing. It's truly a powerhouse role for the actor.

For me, some of the most powerful performances are not delivered through dialogue, but through the emotion conveyed without saying anything at all. Chiwetel Ejiofor not only accomplished this effortlessly but manages so without fear of depicting weakness. It's a remarkable feat for any actor who is able and willing to take themselves to such harsh places, as well as sell the realism. Chiwetel Ejiofor's performance of Solomon Northup-- a free man thrown into the horrors of slavehood-- is easily the most moving performance of 2013. -John Dotson








The word disappointment is bandied about all the time nowadays when it comes to a plethora of things, sometimes with reckless abandon and sometimes with some kind of reputable merit. I mean my parents tend to use that word a lot but mostly its because their son has reduced himself to writing for one of them internet blogger sites but I say that is something to be proud of, right 411 Nation? (Waits for upheaveal...none comes). Carrying on then to pressing business in regards to the aspect of entertainment, disappointment and all its glorious guts and glory.

Crap, disappointment can mean a whole heck of a lot of things in the world of glitz and glamour and for a multitude of reasons on top of that. It could mean a film was a total and utter financial bust and creative failure for a studio like the XMAS movie of the season the 175 million dollar 47 Ronin. It could also just inherit something like Man of Steel which was the complete opposite and remained one of the top ten grossing films this year but has had a huge impact online and in print as to the merits it showed to its representation of Superman as a murderer and cosher make out artist when a city crumbles around him. I mean it did piss alot a people off. Or maybe its that shows like The Millers exist for the sake of air time. Disappointment has and can mean a lot obviously.

Turning the corner into the New Year tho we at 411 have our own personal favorites that we hope to succeed both artistically, critically, financially and independently for both personal reasons and others but one thing is certain- it will be a roller coaster as to whether or not that can or will happen. I just hope to be entertained and with that in mind, I hope that does not turn out to be a disappointment. Paul Lapoint



And The Nominees Are;

A Good Day To Die Hard
The Hangover III
Iron Man 3
Man Of Steel
Marvel's Agents Of S.H.I.E.L.D.



Runner Up- A Good Day To Die Hard: Given the amount of testosterone and similar tastes in film running through us staff members at 411, I was a bit surprised A Good Day To Die Hard didn't top this. Still, it more than deserves its Runner Up of Biggest Disappointment of the Year status.

A cutdown to a PG rating is a massively bad idea for John McClane after four terrific outings in one of, if not, THE premier action franchises as none of the really cool violence or trademark profanity remains. The fifth Die Hard fails miserably by giving a bored shitless Bruce Willis aspects of modern action movies which doesn't make this film really a DH anymore. We have a lame sidekick with McClane's son (played by the woeful Jai Courtney), a ridiculous twist as said son is a secret agent, a bland landscape to tool around in with dog vision-esque Moscow and action scenes even direct-to-DVD movies would consider leaving on the cutting room floor. Ill praise must be lavished on director John Moore for taking one of the most sympathetic 'everyman' characters and turning him into just another soulless action meathead.

What hurts the most is that A Good Day To Die Hard drew money at the box office and was relatively inexpensive to make so you kinda know the team behind this are itching to make another, despite how terrible this was according to critics and the fanbase. There's rumors abound that Courtney may pick up from the end of here. If so, Die Hard as a franchise would be going out with a whimper, rather than a bang. -Terry Lewis

Winner- Marvel's Agents Of S.H.I.E.L.D.: The fact that Agents of S.H.I.E.L.D. isn't a totally polished classic out of the blocks isn't the most surprising occurrence in television history. There are countless examples of shows that have started slow and tread water until things finally clicked and they got steadily better. Hell, Joss Whedon has had at least three series that followed that trajectory. And that very well may be the case when we look back on S.H.I.E.L.D. in a few years. Then again, Joss and his team were never at the helm of a series with as much network backing and as many resources as Marvel's Agents of S.H.I.E.L.D. Add in spectacularly high expectations fed by a carefully planned out and highly entertaining cinematic universe, and you had 2013's most anticipated new show by a long way. Unfortunately, all that promise and hype eventually has to materialize into something tangible. And what we got, in the end, was 2013's biggest disappointment.

Television is littered with procedurals, good and bad, innovate and cliché. That Agents of S.H.I.E.L.D is one of these isn't necessarily a surprise or a problem. The fact that it is a dull, cluttered, redundant procedural is something of a surprise...and a troubling sign of what to expect from the series in the future. Even with precipitously declining ratings since its solid debut, the show remains a hit, especially by ABC standards, though the buzz surrounding the show before and in the immediate aftermath of its premiere is long gone. The writers have overplayed their hand and given too few details to questions that aren't nearly as interesting as they think. While other new shows barrel through plot, action and intrigue at a breakneck pace (Orphan Black, The Blacklist, Sleepy Hollow, etc...) S.H.I.E.L.D. lumbers at a snail's pace. The series is a tonal mess, the humor routinely falls embarrassingly flat, casting – save a couple early cameos – has all too often been disappointing (Peter MacNicol as an Asgardian Berserker, for example) and the action – sporadic as it is – feels second-rate, easily when compared to other genre shows (with less resources) such as The CW's Arrow and Fox's Almost Human.

What's most disappointing, however, is that there feels like a distinct lack of urgency and Marvel in Marvel's Agents of S.H.I.E.L.D. The majority of the stories have been disposable. The characters, backstories and relationships have been bland, especially surprising since characters have been the strong point of previous Whedon shows (even when the show hadn't yet hit its stride). While the show was originally pitched (and sold) as Coulson's show, the writers have been far more interested in the nature of Coulson's resurrection than in him. Skye was positioned early on as the focal point and our entry into this world, but she's gradually been pushed to the background, all-too-often standing around and trying to come up with something to do. They've teased romance and laid the foundations for relationships only to turn around and throw a swerve that seems unnecessary and unlikely. Not to mention there seem to be two of every type of character, none especially distinct or compelling.

It also doesn't seem to be taking proper advantage of Marvel's rich history and catalogue, and when it tries...well it fails. I didn't expect Chris Hemsworth or Natalie Portman to actually be on the show, but I also don't expect to be misled by a "special crossover" episode that doesn't really have much to do with Thor: The Dark World. Perhaps the most immediate (and fixable) issue is the longer term arc. The show would likely become markedly improved once the team faces a real threat and consistent, week-in, week-out rival. They still might be able to make Centipede into a serious threat and rival to S.H.I.E.L.D., but they've only been involved in less than half the series' episodes to this point. The final episode before the holiday break was a start, but they've still got a ways to go.

At this point, Agents of S.H.I.E.L.D. isn't terrible or unwatchable. If it was, it would be more interesting and we'd probably be talking about it more. No, at the moment, it may actually be something worse: interminably dull and consistently mediocre.-Jeremy Wilson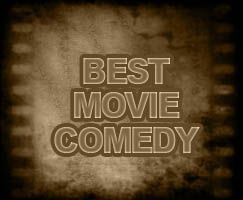 2013 was a surprisingly decent year for comedy on the big screen which offered alot and delivered massively in places. Of course, like all opinions and other genres of film, every person's view of comedy is completely unique for one man's treasure is another man's trash.

Case in point, you may have been a fan of Adam Sandler's work, highlighted with his summer blockbuster outing sequel in Grown Ups 2. Each to their own, but I'm more of a Ron Burgundy guy and I can only hope you forgive me for indulging myself over his return in the, in my opinion, Anchorman 2. You may not agree with our winner and runner up but hopefully you can see why us 411 staffers have gone in for them.

If anything, 2013 was a year when comedy actors decided to spread their wings and get behind the camera more. Ben Stiller added to his directorial resume with a lovely to watch Secret Life Of Walter Mitty and Seth Rogen returned to form with his Hollywood buddies, directing them in the quality apocalyptic set This Is The End. The eagerness for actors to expand their skills is impressive but let's not forget the actresses with the lady led, Sandra Bullock and Melissa McCarthy buddy cop vehicle The Heat nor Britain putting a sizeable foot in the door with the 'Blood and Cornetto Ice Cream' trilogy finale The World's End as well as emotionally driven Philomena.

A very good if not great year for 2013 in comedy and I can only hope we get a year half as good in 2014. -Terry Lewis



And The Nominees Are;

The Heat
John Dies At The End
This Is The End
We're The Millers
The World's End



Runner Up- This Is The End: It could have come off as an exercise in complete self-indulgence. Writing partners Seth Rogen and Evan Goldberg, based upon a previous short film they made, went ahead and put together a script that they would make their co-directing debut. In it, they cast Rogen as a heightened version of himself, as well as several of their famous friends, (Jay Baruchel, James Franco, Jonah Hill, Danny McBride, & Craig Robinson chief among them) whom again, would all be playing versions of themselves, as they find the world coming to an end outside of the McMansion where they are all holed up together, hoping to survive the seeming apocalypse.

But the end result is relentlessly brutally funny, heartfelt at times, and self-aware not only of perceived Hollywood trappings, but of each of the actors themselves. Not only do they poke fun of the empty-headed studio machinations, but their own individual personas and professional careers as well.

Backed up with a laundry list of cameos from other notable names (including a foul-mouthed Emma Watson and a coked-up Michael Cera), what results is one of the most surprising cinematic efforts of 2013. Not only is it one of the most gut-bustingly funny laugh-out-loud movies of the year, it's also a serviceable little horror movie in its own right at certain sections. (The Exorcism of Jonah Hill, nonewithstanding.)

However, one caveat? As I came out of the theater after the showing a gaggle of older teenaged guys in front of me were haranguing their friend for picking this particular movie to them to see. "Gayest ending of a movie, ever!" one of them said. (His words, not mine) Although I kind of have to agree. The Backstreet Boys? At least have the balls to book Slayer in Heaven. But to each his own. -Ben Piper

Winner- The World's End: In the Top 5 column counting down 411 writers' favorite movies a few weeks ago I listed The World's End as my favorite movie of the year so I am glad to see it get similar recognition here. The Three Flavours Cornetto trilogy is a near perfect comedy saga, starting with 2004's Shaun of the Dead, continuing with 2007's Hot Fuzz and concluding with this year's The World's End. Our heroes once again played by Nick Frost and Simon Pegg (not Clegg, as I inexplicably wrote in the Top 5 column), this time around facing an enemy consisting of an army of alien robots, having already conquered zombies and a swarm of corrupt countryfolk. Shaun of the Dead and Hot Fuzz are two films that I will sit and watch any time I come across them on TV, and at least a couple of times on DVD every single year. I also know practically every line from those films by heart. Well The World's End tweaks with the formula somewhat; the roles of Pegg as the reliable anchor and Frost as the unreliable and naive annoyance are reversed as the pair and three friends venture out to complete a 12-bar pub crawl that culminates at the titular World's End public house.

More important however, is the film's fantastic emotional element that isn't present in its predecessors. What begins as a satirical science fiction comedy turns into a powerful and heart-wrenching tale of friendship, addiction and growing old. It hits all the rights notes at every turn, mixing laughs and serious moments to perfection thanks to some fantastic performances by Pegg and Frost as expected, as well as great turns from Paddy Considine, Martin Freeman and Eddie Marsan. There's some great cameos as you'd expect, and the climax is as phenomenal an ending as I've seen all year despite its sheer ridiculousness. Edgar Wright is moving on to direct Ant-Man, but it'd be a damned shame if he doesn't reunite with Pegg and Frost at some point to bring us more of this stuff.

The World's End provides more genuine laugh out loud moments than any film I've seen this year and indeed probably for the last several years. Just as impressive is how this film forces you to make an emotional investment in its characters unlike any other comedy has managed in a long, long time. The film is absolutely everything you would expect from the trio of Wright, Pegg and Frost but it offers so much more than a few tongue-in-cheek laughs. It's far and away the best comedy of 2013, in a year when This is the End, Movie 43 and Anchorman 2 disappointed, but it's also one of the best films of the year outright. -Daniel Wilcox








When it comes to blockbuster movies, 2013 seemed to be a bit of a mixed bag. While there were plenty of mega hits, like Iron Man 3, The Hunger Games: Catching Fire, Thor: The Dark World, Fast and Furious 6, and the second The Hobbit movie, there were several mega disasters, like The Lone Ranger, After Earth, R.I.P.D., Ender's Game, and most recently 47 Ronin. All of those mega disasters, on one level or another, featured top notch talent both in front of the camera (Johnny Depp, Will Smith, Jeff Bridges, Harrison Ford, Viola Davis, and Keanu Reeves) and behind it (Gore Verbinski made Disney oodles of money with the Pirates of the Caribbean movies, but failed to duplicate that result with The Lone Ranger). What the heck happened with those movies? Shouldn't they have been better received by audiences?

Yeah, sure, but then, sometimes, even with big stars like Depp, Smith, and the like, the movie going public just doesn't care. It doesn't matter what the story is, what the movie is based on, or when it comes out; audiences just don't want to go and see it in a theatre. It stinks for all of the people expecting to make lots and lots of money for their efforts, but, again, audiences sometimes just don't care (sensing a pattern here? I am laying it on pretty thick).

And then there were the middling hits, like Pacific Rim and Elysium and, to a lesser extent, World War Z, movies that made some money, garnered some good acclaim, but didn't break box office records. Rim didn't have any major, A-list stars in it, but Z and Elysium each had major stars fronting them. And while Elysium probably isn't going to get a sequel, there's talk of both Pacific Rim and World War Z getting part two's (international grosses helped that along).

So what did 2013 show us in terms of blockbusters? There's no such thing as a sure thing? Sometimes, the audience just doesn't care?

Yeah, I think I'll go with that one. -Bryan Kristopowitz



And The Nominees Are;

The Hunger Games: Catching Fire
Iron Man 3
Pacific Rim
Star Trek Into Darkness
Thor: The Dark World



Runner Up: The Hunger Games: Catching Fire: After the debacle that was Twilight-hysteria, one could be somewhat forgiven for assuming the next big teen literature series to translate to screen would be another embarrassing franchise where you would be hard-pressed to see just what it is these screaming fan-girls see in the whole thing. Of course, anyone who actually read the Hunger Games novels already knew better…but there was still the question of whether Hollywood would be able to adequately capture Suzanne Collins' captivating, layered storytelling into something more than just another generic action series. Two films in, and we are no longer questioning it. In fact, I think it's safe to say we should all feel damn lucky – you just don't get a "teen" series this enjoyable – for all ages – very often.

Picking up where Gary Ross left off with his terrific adaptation of the first book, new-to-the-series director Francis Lawrence has crafted that rare Hollywood beast – the blockbuster sequel that not only lives up to the original, but even in some ways improves upon it. Catching Fire excellently builds upon and expands the already established world and characters, while also introducing fantastic new characters…all of whom, it must be said, are perfectly portrayed by world-class performers. Has there been a better cast blockbuster series than this one in recent memory? At standing at the middle of it all is the franchise's greatest weapon – Jennifer Lawrence, playing Katniss with the same level of commitment and pure raw talent that she applies to more "serious" fare like Winter's Bone and Silver Linings Playbook, and helping create one of the already all-time greatest female action icons. As smart as it is exciting, as thought-provoking as it is visceral, Catching Fire cemented The Hunger Games as the most exhilarating blockbuster series out there right now. Some (including myself) have questioned the decision to turn the final book into two movies, but if the work of Francis Lawrence and his cast and crew here is any indication, the odds are still very much in this franchise's favor. -Trevor Snyder

Winner- Pacific Rim: Our selection for "Best Blockbuster" falls within what many traditional critics might label as one of the more mediocre films of 2013, but that is because their assessments fall solely upon the box office numbers. Pacific Rim did not break any box office records nor did it perform as many predicted it would but, and this is a big but, the film delivered one of the more action pack, fun rides of the summer; And to the 411Mania crowd that is what counts.

Director Guillermo Del Toro promised a feature length romp focused on battles between giant monsters, Kaijus, and giant human piloted robots, Jaegers and man did he deliver. In the world of the movie a rift in space at the bottom of the ocean has allowed the Kaiju to pour into our dimension laying waste to the cities in their pasts. The human race has no choice but to unite and build weapons that can handle these skyscraper sized monsters. They create the dual piloted Jaegers. Two pilots work in sync, sharing memories and feelings as well, to bring the giant battle-suits to life. Monsters versus robots, no more, no less. And that is why the film is a success!

There was no expectation of subtle storytelling or character depth when you walked into the theater to see this film. You wanted to see some knock down, drag out battles and get tossed a heaping helping of pseudo-science along the way. Del Toro delivered this in spades with a cast that was able to make the scenarios seem real and some phenomenal special effects. Pacific Rim was all of those old robot battle suit cartoons brought to life and mixed with a heavy dose of Godzilla-esque monster movie action. It was the true definition of popcorn movie this summer and we loved it for being just that! -Mike Gorman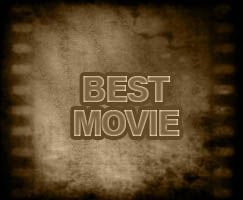 Well 411Maniacs, it's been quite a year for film. 2013 not only delivered tremendous blockbusters, but also brought back the risk-taking Hollywood we've all waited for. Some of this was witnessed in theaters, while at home the Video-on-Demand movement flourished like never before. In the mainstream blockbuster section, we saw fresh ideas such as Guillermo del Toro's monster epic Pacific Rim, as well as the visually impressive space thriller Gravity from Alfonso Cuaron. Not to mention another high-reaching science fiction film from Neil Blomkamp titled Elysium. The last mention was undoubtedly a disappointment, but I'll take an interesting failure any day over another Grown Ups sequel.

As previously mentioned, the Video-on-Demand market saw an audience this year with noteworthy and successful titles such as V/H/S 2, John Dies at the End, The Man from Tai Chi, Drinking Buddies, and much more. Originality finally found an outlet for making profit.

Then, just like every year, we have the blockbusters that caused rifts between fanboys everywhere. The two biggest which come to mind came from the two largest comic book studios operating today. Marvel's Iron Man 3 sent shock waves through the fanbase. Some were happy with Marvel's third Iron Man, while others wanted to torch the studio. On the flip side we had DC's moody reboot of Man of Steel, which was undoubtedly more divisive than the Marvel output.

The point is a lot of diverse and fresh ideas were brought to the screen in the year 2013. Were they all winners? Of course not, but the chosen selects decided by the 411 staff speak volumes to this year. Only in 2013 could it be possible for 12 Years a Slave, The World's End, Gravity,Captain Phillips, and much more be considered for 411 contention. Without further ado, here is the Best Movie and Runner-Up chosen by the 411mania staff! -John Dotson




And The Nominees Are;

12 Years A Slave
Before Midnight
Captain Phillips
Gravity
Pacific Rim
The Way, Way Back
The World's End



Runner Up- 12 Years A Slave: Certain topics are ones you just automatically associate with the phrase "Oscar bait." If a film deals with World War II (especially the Holocaust), it's Oscar bait. If a movie examines the life of a complex historical personality, it's Oscar bait. And most certainly if a film tackles the topic of slavery in the United States, it falls under that very same category. And there's an argument to be made for the fact that some (if not many) of these films are made with big gold statuettes in the studio heads' eyes, which is sure to earn the derision of many. And in some cases, that derision is certainly justified.

Here's the thing though: being "Oscar bait" doesn't automatically make a movie bad. Take 12 Years a Slave, for example. Steve McQueen has long been a film-maker who has been loved by critics and cinephiles, but who hasn't found a wide mainstream audience. As great as his resume is, most people still confuse him with the King of Cool from Bullitt and The Getaway or remember him primarily as the guy who directed the film in which Michael Fassbender showed how well-endowed he was. McQueen is a director of consummate skill and it appears he has finally broken out with this adaptation of Solomon Northup's account of his kidnapping and period of slavery. McQueen takes John Ridley's exceptional script and invests it with all of the drama you might expect, but also a lot of heart. As much as we are subjected to the brutality and indignities that Northup endured, we also see his indomitable spirt as embodied in the exceptional acting of Chiwetel Ejiofor. There isn't one aspect of this film that isn't exceptional whether you look at the gorgeous cinematography of Sean Bobbitt, the emotive and moving score by Hans Zimmer or the performances by everyone in the cast. Ejiofor finally gets the chance to truly push himself to the brilliance that fans of his have seen for years while the work by Lupita Nyong'o, Sarah Paulson and Adepero Oduye are revelatory. And the A-list cast is fantastic as well.

12 Years a Slave is an exhausting movie, but not out of frustration. There are some movies that emotionally drain you because they heap inequity upon inequity at the viewers until they can't take anymore. There are others that fire off so many saccharine "inspirational" moments that you just have reject them because of how obviously forced it is. McQueen avoids both of these traps and instead gives us a movie which holds nothing back but never goes gratuitous in either direction. And that makes it one of the best films of the year without question. -Jeremy Thomas

Winner-The World's End: It may have taken until the end, but the summer's best really was saved for last with The World's End. Unsurprisingly, we can thank Edgar Wright, Simon Pegg and Nick Frost for the year's best comedy and what we here at 411 deem the best movie of the year. The final film in the trio's Cornetto trilogy was very clearly the best mainstream movie of the summer, but while it got great reviews and we here have bestowed it with honors, one still gets the feeling that The World's End is underrated.

The wonderful thing about the film is that it's the group's most mature project, one that hits a very particular kind of bittersweet, often sad note that is rare in these kinds of mainstream comedies. Wright, Pegg and Frost have always used genre conventions – whether they be zombies, cultists or robots – to work through personal issues and societal norms. In The World's End they've sharpened it to almost unbearably piercing levels, resulting in a film less reliant on spoofing and reveling in its genre elements, because it has such a powerfully emotional resonance at its core. That resonance comes from Simon Pegg as a character and his relationship with his childhood friends, along with the realization that you really can't go home again. The dream isn't real, the nostalgic return of the small town conquering heroes instead becomes what it actually is; the dawning realization as you get older that what you may (or may not) have left behind matters more to you than you ever did to it.

The comedy is crisp, the music fantastic and features some of the year's best action sequences. Both Pegg and Frost do tremendous work, but Pegg reached a level I hadn't seen from him before. Only when the narrative reaches its breaking point are genre elements ramped up, as if to both push the film forward and relieve some of the unresolved pain and tension that threatens to end the festivities down The Golden Mile early. Name me another filmmaker or collaborative team that could turn in a movie this smart, this funny, this bittersweet, this personal and this powerful for $20 million and I'll call you a liar. Among a strong field of contenders in what turned out to be a pretty good year for movies, The World's End is exemplary and arguably the year's best. -Jeremy Wilson





And with that, so ends the 2013 411 Movie & TV Awards. Thank you all for reading, and I hope that you all had a good time in doing so. Did you agree with our picks? If not, please let us know, as we're all more than willing to interact with you, our readership, in the comments section. See you next year!
-BP





http://www.twitter.com/411s_Ben_Piper
http://www.twitter.com/411mania
http://www.twitter.com/411wrestling
http://www.twitter.com/411moviestv
http://www.twitter.com/411music
http://www.twitter.com/411games
http://www.twitter.com/411mma




comments powered by