SPOTLIGHTS
411 Movies Roundtable 01.07.14: January 2014
Posted by Chad Webb on 01.07.2014

Was The Hobbit: The Desolation of Smaug the biggest winner of December? Will Paranormal Activity: The Marked Ones be a successful sequel? Are we looking forward to I, Frankenstein? All that and more in this month's MOvie-Zone Roundtable!










































411 readers, I bestow upon you the Movie-Zone Roundtable for January 2014. January always has plenty of releases we're dreading, but sprinkled throughout our choices are some that the movie-zone staff members want to see as well. Check out the rest of our thoughts!

For the January 2014 edition, the following staffers have contributed:

Jeremy Thomas: Host/Writer of multiple columns. The 8 Ball
Jeremy Wilson: Reviewer (The Grandmaster)
Bryan Kristopowitz: Creator of The Gratuitous B-Movie Column
Terry Lewis: Reviewer (The Secret Life of Walter Mitty)
Paul LaPointe: 411 Staffer
Chad Webb: Columnist/Reviewer of Ask 411 Movies



THE MONTH THAT WAS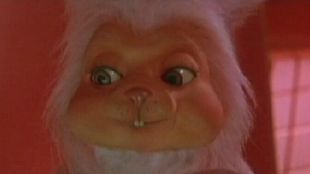 BRYAN KRISTOPOWITZ



Biggest Winner of the Months: Disney, as its animated comedy Frozen became a bigger hit than expected. In fact, it's still making money over a month later. When was the last time that happened to a non-Pixar Disney movie?

Biggest Loser of the Month: Director Carl Rinsch, as his 47 Ronin tanked at the box office and quickly became one of the biggest flops of 2013. Early word on the movie wasn't good, and when it failed to make money overseas, especially in Japan, Universal knew the movie's goose was cooked. In the end, star Keanu Reeves will probably be okay, but will Rinsch ever be allowed to make another big budget anything?

Biggest Movie News of the Month: Disney buying the rights to the Indiana Jones franchise. It'll be interesting to see if Disney goes ahead with a part 5, or if it will somehow reboot the franchise with a new star wearing the fedora. You know someone at Disney is thinking about doing it.

Your Most Anticipated Movie of the Month: I, Frankenstein is the only one that screams out as a "must see." The new Jack Ryan movie looks pretty good, too.

Recommended DVD Release of the Month: We Are What We Are (remake), Big Ass Spider, Riddick, Carrie (remake), You're Next, Rewind This!, Machete Kills, Gingerdead Man vs. Evil Bong, Rush, and Dario Argento's Dracula

Classic Movie of the Month: John Carpenter's Big Trouble in Little China (1986): Director John Carpenter's homage to westerns and kung fu flicks is also one of his best movies. As I'm sure everyone here knows, the flick stars frequent Carpenter collaborator Kurt Russell, a hilariously inept badass trucker who, while visiting his old pal Wang (a brilliant Dennis Dun), gets caught up in a weird battle happening in Chinatown featuring warring factions, a centuries old bad guy named Lo Pan (James Hong), flying kung fu killers, monsters, and a "six demon bag." It's fast paced, it's fun, it's plenty weird, and it kicks ass from the second it starts until the end, and every performance is spot on and great. This movie has been around for 28 years? Holy hooey it doesn't seem like it's been that long.

Movie Quote of the Month: "It's all in the reflexes!"- Jack Burton (Kurt Russell)- John Carpenter's Big Trouble in Little China (1986)





JEREMY WILSON





Biggest Winner of the Month: The Hobbit: The Desolation of Smaug ended 2013 as one of only two films to win the American box office three straight weeks, along with Gravity.. Peter Jackson's fifth Middle Earth epic got noticeably better reviews than last year's An Unexpected Journey and while it won't be able to match that film's box office performance (the original made over $1 billion worldwide), it still was a more than solid #1 holiday release. Desolation may be struggling with both being the middle film of this new trilogy and overcoming some of the last film's issues, but this franchise continues to have major financial muscle. Next year's There and Back Again, as the last Jackson-helmed film in the series, will likely continue the series' success and hopefully can be the best of this new trilogy.

Biggest Loser of the Month: There were a slew of holiday releases that disappointed (The Wolf of Wall Street, Walking with Dinosaurs, The Secret Life of Walter Mitty, Grudge Match), but none moreso than Universal's epic bomb 47 Ronin. Seemingly a mega-priced folly from the start, the execs at Universal handed $175 million to first-time filmmaker Carl Rinsch (best known for making commercials) and then, even after they knew it wasn't working, they threw good money after bad. The result was a cinematic disaster and one of the year's biggest – and most head-scratching – bombs.

Biggest Movie News of the Month: It may not have gotten much play beyond the reviews, articles and Twitter accounts of critics and film buffs, but Martin Scorsese's The Wolf of Wall Street dominated the conversation as 2013 wound down. From the film's 3-hour running time to its borderline NC-17 excesses to the debate of whether it glorifies Jordan Belfort or not, the running (and sometimes heated) discussion over Wolf ended 2013 with one of its most divisive films yet. Many critics loved it, though if only managed a "C" CinemaScore (if you care about that sort of thing; after all, 47 Ronin got a B+). The conversation may not be over either; the film has scored Golden Globe and Producer's Guild nominations, and is in the running for a number of Oscars as well.

Your Most Anticipated Movie of the Month: In what is a very weak month of new releases, I'd probably say that the rebooted Jack Ryan: Shadow Recruit looks like it could be a solid hit and perhaps the start of a new, updated Hollywood action franchise.

Recommended DVD Release of the Month: One of the better Hollywood releases of 2013 was Paul Greengrass's Captain Phillips, the true story of a Captain Richard Phillips and the 2009 hijacking by Somali pirates of the US-flagged Maersk Alabama, the first American cargo ship to be hijacked in two hundred years. In addition to the film's consistent tenseness, Hanks' performance is one of his best in a number of years.

Classic Movie of the Month: Releasing later this month in what I would imagine to be a very limited run, Visitors is the fourth collaboration between Godfrey Reggio and Philip Glass. To know why that matters, anyone with an interest and appreciation for experimental, independent cinema should check out the pair's first collaboration, the haunting, entrancing 1982 film Koyaanisqatsi. The film is part of the pair's Qatsi Trilogy (along with Powaqqatsi and Naqoyqatsi), all of which were included in a superb Criterion Collection set. Koyaanisqatsi is the best of the three and is a singular, landmark American film. Its structure (featuring no plot, no characters, no dialogue) is outside the mainstream to be sure; however, its use of time-lapse and slow motion photography (the film was shot by legendary DP Ron Fricke who went on to helm Chronos, Baraka and Samsara) in conjunction with one of the greatest musical scores in cinema history from Philip Glass (even if you haven't seen Koyaanisqatsi, you've likely heard part of its score) marks it as a true original artisitc vision, unconcerned with commercial pressures.

Movie Quote of the Month: From Clear and Present Danger [1994]:
Jack Ryan: "I didn't sign up for this. This is someone's bullshit political agenda. Who authorized this? Cutter?"
Ritter: "Cutter couldn't tie his own shoes without permission."
Jack Ryan: "If I go down you're coming with me."
Ritter: "Wrong again. I have an autographed get-out-of-jail-free card! 'The President of the United States authorizes Deputy Director of the CIA Robert Ritter to conduct Operation Reciprocity including all necessary funding and support. This action is deemed important to the national security of the United States etcetera, etcetera, etcetera.' You don't have one of these, do you Jack?"
[as Ryan wallks away]
Ritter: "Gray! The world is gray, Jack!"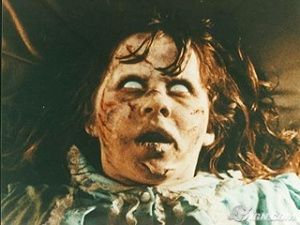 TERRY LEWIS



Biggest Winner of the Month: Not exactly a news story per se but the overall quality of films noticeably goes up this time as we head into awards season and for the holidays. As well as great audience pleasing blockbusters like The Hobbit and Anchorman 2, the contenders like American Hustle and The Railway Man should guarantee some fantastically well made, top draw, highbrow viewing.

Biggest Loser of the Month: Forbes recently complied a top 10 of actors and actresses with their wages/fees to box office performance. The number one may not be so surprising as I'll reveal below but there's a lot of notable draws like Steve Carell, Jennifer Aniston and Matt Damon who are floating around the $10 dollar box office for $1 fee. Admittedly there's better/worse draws for your fees in Hollywood and Forbes doesn't make fully clear on how they work it out (they state three years until June this year but not how many films needed to qualify), but that's a decent base line with not too many disappointments. Anyway, being slightly unfair as Forbes' list doesn't include Grown Ups 2, the crux of the story is Adam Sandler is the most overpaid actor in Hollywood, $3.40 to $1 draw.

Biggest Movie News of the Month: Joesph Gordon-Levitt stars and directs The Sandman adaptation. One of the most popular outside of comics comics, Neil Gaiman's personification of dreams, Dream, was a creative and financial success for DC/Vertigo Comics and is still spun off with numerous spin-offs to this day. With a cinematic tale at it's core, it's prime for bringing to life on the big or small screen. Who better than proclaimed nerd the JLG to bring it to life then? I'm not thrilled about another Goyer comics script but I have faith after the superb JLG directed Don Jon.

Your Most Anticipated Movie of the Month: Bit of a three way tie for me. I love the look of I, Frankenstein as a fantastic bit of escapism but also us British are only getting Wolf Of Wall Street and American Hustle now so busy month for me for things I want to watch!

Recommended DVD Release of the Month: There's actually a few I'm keen on, including Elysium and We're The Millers but the winner is Pain & Gain. It's The Rock and Mark Wahlberg. In an heist-action movie. Even if it's directed by Michael Bay, it should be at least watchable.

Classic Movie of the Month: In a nice coincidence, I got round to watching the Hunt For Red October finally this month. The first big screen outing for put upon CIA agent Jack Ryan is perhaps muted by Alec Baldwin against bigger stars and performances, like Russians Sean Connery and Sam Neill, but it's still a top thriller which still holds a candle to this day even if the Cold War has been over for 20 years or so. However, from the look of it, I doubt this new one will match up to it's loftier cousins.

Movie Quote of the Month:

Capt. Vasili Borodin: I will live in Montana. And I will marry a round American woman and raise rabbits, and she will cook them for me. And I will have a pickup truck... maybe even a "recreational vehicle." And drive from state to state. Do they let you do that?
Captain Ramius: I suppose.
Capt. Vasili Borodin: No papers?
Captain Ramius: No papers, state to state.
Capt. Vasili Borodin: Well then, in winter I will live in... Arizona. Actually, I think I will need two wives.
Captain Ramius: Oh, at least.

Hunt For Red October (1990)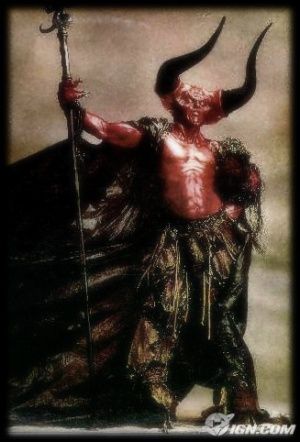 PAUL LAPOINTE



Biggest Winner of the Month: Outside of "The Hobbit: DofS" making the most money this month and being a better film then the first I have to say "12 Years a Slave" is the winner. I say this because it was the biggest recipient that I can see when it comes to critics awards recognition so far which bodes well for its Oscar chances and that is a big win for sure, almost as much as the upcoming 411 Best of Movie and TV awards soon to come! (Cheap Plug)

Biggest Loser of the Month: For overall money it goes to "47 Ronin" for obvious reasons, I mean it cost 175 million to make and was helmed by a first time feature director and released on xmas, I figured its failure was expected stateside. I guess 2ndly it goes to the little to no applause or maybe the unilateral indifference that came and went with "Out of the Furnace" which I think kinda sucks.

Biggest Movie News of the Month: As Brit Mr. Lewis indicated, my dorkness and geekism knows no bounds and have to say "The Sandman" with JGL story trumps all for sure. If this actually gets done in anyway I will stand up and applaud.

Your Most Anticipated Movie of the Month: It is not actually listed in the preview but I would have to say its "Shallow Grave". It has a limited release this weekend and stars Shartlo Copley. Its a horror thriller that has some good buzz and a solid trailer online now and from friends seems worth the time to seek out.

Recommended DVD Release of the Month: I have yet to see it but I am totally interested in checking it out. The film in question actually is the Lifetime miniseries event that was "Bonnie and Clyde" with Emile Hirsch. It got some quality reviews and Hirsch himself always seems to shine when given the chance. Also considering the production had at one point of all people Hilary Duff attached to star I am curious as how it all turned out.

Classic Movie of the Month: Its a gut punch double feature of French films "Amelie" and the Oscar nominated "The Choir". If you want a good sense of modern enough French cinema, here ya go.

Movie Quote of the Month:

"Scott Pilgrim Vs The World"

Wallace Wells: Look, I didn't write the gay handbook. If you got a problem with it, take it up with Liberace's ghost.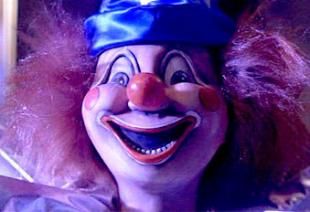 JEREMY THOMAS



Biggest Winner of the Months: Frozen, which has continually retained its spot near the top of the box office all month (and the end of November) ever since it was released. Disney's film was likely to be a profitable one, but as of the New Year ball drop it has pulled in an impressive $263.1 million domestically and $600 million-plus worldwide. That's far better than I anticipated for it and it says a lot in Disney's favor about this one. Could this be the year that Walt Disney Animation Studios actually proves their superiority over Pixar? It could happen come Oscar time.

Biggest Loser of the Month: The most obvious choice is 47 Ronin, a disaster on all levels but most especially a financial one. Putting a director with no experience outside of commercials in charge of a $175 million dollar film starring Keanu Reeves and letting the budget balloon to over $200 million? Why Universal hasn't canned people over this is beyond me. The studio even made the exceedingly rare move of writing off part of the film as a loss in advance, just to save its own ass during first quarter. Making a studio openly admit that they're cooking the books (not in the illegal way, but still) is such a feat of ineptitude that you really do have to honor it.

Biggest Movie News of the Month: Gal Gadot will play Wonder Woman in Batman vs. Superman. Those words sent the internet into the biggest tizzy fit since...well, since Ben Affleck was cast as Batman. Seriously, this drives me insane. I've been on record from the get-go that Affleck will be a fine Batman and I believe that Gadot will be a fine Diana. I'm not worried about them (and am in fact excited over them); I'm worried about what Zack Snyder will do with Wonder Woman on screen. Giving the man who said "Sucker Punch is a feminist think-piece" the strongest female hero in comic book history is like putting Jack Bauer in charge of the hospitality department at the INS.

Your Most Anticipated Movie of the Month: I, Frankenstein. Specifically because I'm looking forward to revelling in how terrible it is.

Recommended DVD Release of the Month: There are a lot of great DVD/Blu-Rays coming out, but if I had to choose one I'd go with Rush. Ron Howard and Peter Morgan combine for the same sort of magic they discovered in Frost/Nixon with jaw-dropping performances from Chris Hemsworth and Daniel Brühl. It's one of my favorite films of the year.

Classic Movie of the Month: It's not a GOOD movie, at all. And calling it a "classic" makes me feel dirty. But in honor of Parnormal Activity getting a spin-off (a bad idea, to be sure) I am going with the sequel to the film that kick-started the found footage format. Book of Shadows: Blair Witch 2 is one of the worst found footage movies today (although to be fair, it's mostly not found footage). Horrible acting from people you now love (Jeffrey Donovan from Burn Notice, Erica Leerhsen from The Guardian and The Texas Chainsaw Massacre), horrifically-bad plotting, terrible dialogue and sublimely stupid moments. This is a real king of bad horror movies.

Movie Quote of the Month: "The gene pool is a little shallow here. Dive in and you'll crack your skull open."

Jeff (Jeffrey Donovan), Book of Shadows: Blair Witch 2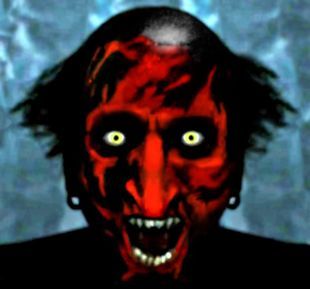 CHAD WEBB



Biggest Winner of the Months: The Hobbit: The Desolation of Smaug and Frozen have dominated the box office over the past several weeks, so they are easily the biggest winners, with Peter Jackson's film given the slight edge because it was #1. Not much else to say here. These are two good films that people are going out of their way to see.

Biggest Loser of the Month: We have had a few duds, both box office and quality-wise, in December, but 47 Ronin has to beat them all simply because it had a huge budget and rightfully tanked. I haven't seen it yet, but it looks horrible and overbaked. Universal should have known this would happen. Keanu Reeves has had hit films based on his name, but he is far from a bankable star.

Biggest Movie News of the Month: Gal Gadot being cast as Wonder Woman was big news, but as it was mentioned above, The Wolf of Wall Street was in the news constantly during the month of December. Most of that news was overblown and the media trying to generate controversy, but it was news after all.

Your Most Anticipated Movie of the Month: Labor Day I suppose. The fact that it has been pushed to January with very little talk at all about it is worrisome, but I enjoy Jason Reitman's films and Kate Winslet is the bomb so I'm there.

Classic Movie of the Month: In preparation for The Wolf of Wall Street, I checked out Martin Scorsese's The Aviator from 2004. It wouldn't quite be correct to label any Scorsese offering as "overlooked," but this comes close. In watching this again I was amazed at how adeptly constructed, brilliantly acted, and masterfully shot this epic biopic was. Leonard DiCaprio is incredible as Howard Hughes. For all the moronic talk about the length of Scorsese's latest, it boggles my mind that people haven't realized that Marty is the best when it comes to crafting great long movies.

Movie Quote of the Month: From The Aviator - Howard Hughes: "I want ten chocolate chip cookies. Medium chips. None too close to the outside."



COMING ATTRACTIONS



January 3rd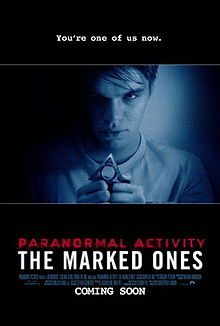 Paranormal Activity: The Marked Ones





Rated R
Plot: After being "marked," Jesse begins to be pursued by mysterious forces while his family and friends try to save him.
Director: Christopher Landon
Stars: Andrew Jacobs, Molly Ephraim, Richard Cabral, Crystal Santos



Bryan Kristopowitz: I haven't really liked any of the Paranormal Activity movies so my enthusiasm for this spin-off is, at best, small. These movies just don't make any sense to me. And they're not scary. They just aren't.

Jeremy Wilson: I haven't seen any of this franchise beyond the original film (which was pretty decent). It seemed as if the series was showing real signs of wear and tear after the fourth film, but with a really weak slate of competition, it will be the only strong new release to challenge the December holdovers.

Terry Lewis: You know those animal noise clock things? With the tab or buttons which you pull and the arrrow spins round? The way Paranormal Activity is heading nowadays and how random the scenarios for the found footage franchise are reminds me of that. I'm being generous by saying it looks abit like The Shield in visual style almost, but it just looks more of the same. And I was bored of it two films ago.

Paul Lapointe: I do love me some unabashed long standing plot hole glaring horror film franchises. I really, really do. Paranormal Activity happens to not be one of them unfortunately. I do admit to sneaking into the very first one at the theatre and actually getting effectively creeped out but unlike another modern franchise that admittedly did lose luster over time in say "Saw" they filled in story points and created a new line to interested in when creating a continuing story in my opinion. PA on the other hand has just lost me over every subsequent cash grab they call a movie and even with this entry at least adding some sort of new face to the cycle of films I am hesitant to invest much faith in it, I mean PA 5 comes out this Halloween.

Jeremy Thomas: Let me be clear; I actually enjoy the first three Paranormal Activity films. Yes, they are all flawed but they have a lot of good points and I enjoy the way they've resolved some of the inherent flaws of found footage. That being said, Paranormal Activity 4 suggested they were out of ideas and when I heard they were doing a spin-off strictly to appeal to Latino audiences, I groaned. I have nothing against films marketed to certain demographics but this was a decision made for no other reason than a cheap buck. The trailer looks bad and I don't expect much good out of it, to be honest.

Chad Webb: Amen Bryan. I know many 411 staffers like horror more than me and that's fine, but for the life of me I honestly don't know why anyone enjoys this franchise or has anything positive to say about it. This is a series built around cheap scares, nothing more. They are not frightening, the plot is beyond dumb, and the filmmaking is boring. If pots banging and doors closing suddenly is your idea of good horror, well more power to ya. I would say they are scraping the bottom of the barrel, but they did that after the first film. Please make these stop.

January 10th





One Chance





Rated PG-13
Plot: The true story of Paul Potts, a shy, bullied shop assistant by day and an amateur opera singer by night who became a phenomenon after being chosen for -- and ultimately winning -- "Britain's Got Talent".
Director: David Frankel
Stars: James Corden, Julie Walters, Jemima Rooper, Mackenzie Crook



Bryan Kristopowitz: It features a familiar underdog story that we've seen a million times, true, but it looks okay, and with this kind of movie that's damn near a win. I do wonder, though, if this story would have been better suited for a TV movie.

Jeremy Wilson: I had never heard of this until now, so I don't really know what to expect. It looks like your standard inspirational down-on-his-luck schmuck who has a dream that no one but him believes in story, although I'll give it points for looking appealing.

Terry Lewis: Oh this is a weird one you're getting. Paul Potts' true story is kinda stuff you can put into a inspirational, feel good film but it's so alien to see British comedian James Corden being unleashed on America. I don't really recall any buzz or talk about this when it came out here a few months ago but it has a decent British comedy cast. Probably be alright if you're into this sort of thing.

Paul Lapointe: I think when it comes to reality talent competitions in this entertainment day and age that there is about 1200 too many or so. And though it could be a feel good story that is not sports related I just can not find a reason to care that this was even filmed in the first place. Shame on you David Frankel you deserve better then a January pop culture film release! Now you sit in the corner and think about where your life is going and then come back when you realize you have more to offer...(pretty please?)

Jeremy Thomas: The Got Talent series just doesn't interest me, and I have a hard time thinking that I will find much interest in an inspirational underdog story related to that. I love a good underdog film but the concept has to catch me right away for me to care about the stakes. I like a reality competition show but this one isn't it and despite what looks to be a really good cast, I'm apathetic.

Chad Webb: I love an inspirational story as much as the next guy, but I can't help but think a feature based on Paul Potts' story might be aiming too high. I've seen the YouTube clips of his first audition and they're great. To be honest you'd probably have a better reaction to just watching that. This biopic comes off as very by-the-numbers and since it's David Frankel directing I'm not surprised. His features have never interested me.

January 17th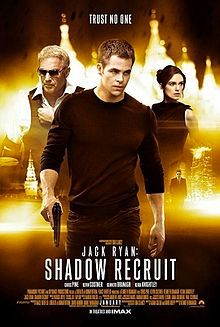 Jack Ryan: Shadow Recruit





Rated PG-13
Plot: Jack Ryan, as a young covert CIA analyst, uncovers a Russian plot to crash the U.S. economy with a terrorist attack.
Director: Kenneth Branagh
Stars: Chris Pine, Kevin Costner, Keira Knightley, Kenneth Branagh



Bryan Kristopowitz: The Tom Clancy/Jack Ryan movies have been, at best, hit and miss up until now, but this reboot looks and feels a little more energetic, which is fine with me. Branagh looks like he's having a blast playing the villain, and Kevin Costner is always interesting to watch even when it seems like he's bored (it comes across in the trailer). I do wonder, though, if Chris Pine can really play Ryan. He still seems kind of young. And is it me, or has the bathroom fight become a kind of cliché for these movies?

Jeremy Wilson: In a weak month, this look like the strongest bet for a big hit that is also entertaining. Its got the cast, but can Kenneth Branagh follow up Thor with another film outside his normal range?

Terry Lewis: As I said above I was more than happy with Hunt For Red October as a tense spy thriller for the character of Jack Ryan's first big screen outing - yet, I see this and it looks like they've just put him in just another action-spy film that we get nowadays. I like Chris Pine and it's a very watchable cast at least, so I'll probably go see it still. I just want to see certain characters do their thing, not try reinvent the wheel.

Paul Lapointe: Alec Baldwin, Harrison Ford, Batfleck and now Chris Pine, Jack Ryan is back...hopefully. Though the shift in release dates from the XMAS holiday to mid January is a bit alarming I do remain optimistic about this one. With Kenneth Branagh both directing and playing the villain it bodes well that at least the subject matter and story should be solid, the man is known to be really picky when choosing Hollywood projects. The trailer to me also is a little bland but I am hoping in all honesty that its just bad advertising and the film re-invigorates the character and possibly the franchise.

Jeremy Thomas: You always have one would-be franchise in the Janary mix. If any film is going to break out and be an early hit, this one is. You have a top-notch cast, a franchise that people enjoy and recognize, a good director and an intriguing plot. So why, with all of that being in play, do I not quite feel it? I'm really hoping that I am proven wrong because I desperately want this one to succeed, but I'm not sold.

Chad Webb: I'm a huge action fan, but I am so sick of Paramount trying to resurrect this franchise. None of the movies have been overly special in any way. The Hunt for Red October was probably my favorite of the bunch because Harrison Ford's stint was basically just a regular Harrison Ford vehicle. The Sum of All Fears wasn't too bad, but not memorable either. I like Chris Pine, but I don't see him becoming the major action star everyone wants him to be. I will see this for exactly two reasons: Kenneth Branagh is directing it and Kevin Costner is one of the cast members. Other than that, "meh."





Ride Along





Rated PG-13
Plot: Fast-talking security guard Ben joins his cop brother-in-law James on a 24-hour patrol of Atlanta in order to prove himself worthy of marrying Angela, James' sister.
Director: Tim Story
Stars: Ice Cube, Kevin Hart, Tika Sumpter, John Leguizamo



Bryan Kristopowitz: I like the concept and the trailers I've seen have been funny so I'm sort of interested in seeing this. I'm worried about the balance, though. Action comedies are hard to pull off, and if there's just too much of one thing, like too much Kevin Hart being a smart ass, the whole thing could fall apart. I hope that doesn't happen here.

Jeremy Wilson: Meh. Kevin Hart can be funny, but this looks your typical January dumped release. Meaning...not good.

Terry Lewis: I must be honest, this wouldn't be the first thing I'd go see but I like the ride along set up and I've not been touched enough by Kevin Hart yet to be annoyed. Plus, Ice Cube is awesome and instantly makes anything watchable. Keen.

Paul Lapointe: As I mentioned in a recent Film/TV FoF I took part in Kevin Hart makes me want to punch him in the face. I say this in earnest only because I find his stand up comedy sets to actually be funny but now that he is seemingly transitioning into making more films the way he is presented in most if not all trailers for his upcoming slate is that of an annoying catterwalling fool. It works for most of his comedy but for a whole set of movies I may have to watch? Plus Ice-Cube's track record speaks for itself, "First Sunday" was released in January, nuff said.

Jeremy Thomas: All of the cast in here can be funny in the right roles. These do not appear to be the right roles. This seems like a generic film that was signed on by all cast and crew as a stop-gap between their last project and their next one. That's not the kind of mindset you want for a comedy.

Chad Webb: When is Ice Cube going to film another Friday installment with Chris Tucker. Cube is an ok actor when he wants to be, but this is yet another comedy duo project where we all wish it was Chris Tucker instead. Kevin Hart is humorous in small doses, but seems to be playing to the Meet the Parents story approach. Pass.





Devil's Due





Rated R
Plot: After a mysterious, lost night on their honeymoon, a newlywed couple finds themselves dealing with an earlier-than-planned pregnancy. While recording everything for posterity, the husband begins to notice odd behavior in his wife that they initially write off to nerves, but, as the months pass, it becomes evident that the dark changes to her body and mind have a much more sinister origin.
Directors: Matt Bettinelli-Olpin | Tyler Gillett
Stars: Allison Miller, Zach Gilford, Steffie Grote, Robert Belushi



Bryan Kristopowitz: I feel as though I should be more excited for this movie than I actually am. I mean, it looks generally okay, but is this going to be another waste of time horror movie that's just going to piss me off when it's over? Do I want to put myself through that again?

Jeremy Wilson: For every decent found footage horror film, there's three that don't pass muster. I couldn't even get through half of this film's trailer without being bored and rolling my eyes. After a year that actually saw some pretty good mainstream horror films...we're back to this apparently.

Terry Lewis: Despite not being a fan of modern horror films, especially of the found footage genre, I don't mind the look of this, even if it reminds me waaaaaay too much of Paranormal Activity. The demon child aspect is something not tapped nowadays and at least they're nailing the Smeagol/Gollum "us" aspect - color me interested.

Paul Lapointe: Found footage horror film dumping ground is January now it seems. Seriously folks- watch the trailer and then promptly plop palm to face and say with me...ugh!

Jeremy Thomas: If Paranormal Activity: The Spin-Off bombs with you, this may be more your style. It probably wont because it looks pretty terrible too, but hey weirder things have happened. Demonic possession is always fun but let me remind you of The Devil Inside. Be warned, fellow movie-goers. This doesn't look anywhere near as bad as that, but then Devil Inside didn't look as bad as it ended up being.

Chad Webb: It's January so that means we are bludgeoned with another demonic possession film. You just know this is going to suck. My hope that people will stop paying money to see crap like this so it won't continue to get made went out the window years ago.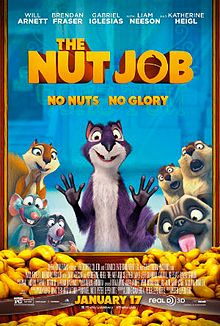 The Nut Job





Rated PG
Plot: Surly, a curmudgeon, independent squirrel is banished from his park and forced to survive in the city. Lucky for him, he stumbles on the one thing that may be able to save his life, and the rest of park community, as they gear up for winter - Maury's Nut Store.
Director: Peter Lepeniotis
Stars: Will Arnett, Katherine Heigl, Brendan Fraser, Liam Neeson



Bryan Kristopowitz: Comes off as cute enough to see if there isn't anything else worth seeing, so who knows? The trailer is funny.

Jeremy Wilson: Like a more conventional version of Fantastic Mr. Fox featuring squirrels, this looks to be one for the kiddies. Side note: I'm interested to see if Katherine Heigl's powers of sucking and choosing terrible, terrible projects extends to animated films.

Terry Lewis: Yet another kids film. Cast looks fine enough but probably another forgettable drop in the ocean of CG kids films.

Paul Lapointe: I know it seems I have overly pessimistic of the upcoming release schedule so far but, Katherine Heigl in anything is never a good sign, animated or not. But hey Liam Neeson is in it to maybe balance out the suck.

Jeremy Thomas: Nope. I have no desire for this one. Don't have much else to say.

Chad Webb: A story about squirrels wanting nuts. This is called: "We have time and money for another CGI film. What animal haven't we stuffed down the public's throat?" January seriously blows for movies.

January 24th





I, Frankenstein





Rated PG-13
Plot: Frankenstein's creature finds himself caught in an all-out, centuries old war between two immortal clans.
Director: Stuart Beattie
Stars: Aaron Eckhart, Bill Nighy, Miranda Otto, Virginie Le Brun



Bryan Kristopowitz: Yes, it looks like a rip off of the Underworld franchise (which makes sense since the Underworld people are producing it), but I'm okay with that. Aaron Eckhart looks awesome as the lead, and the action looks both awesome and ridiculous. It'll be interesting to see if this movie generates as much audience love as the Underworld movies.

Jeremy Wilson: Oh hey, it's January everybody! Boy does this look terrible. The best thing we can hope for is that it has some sort of sense of humor (like last January's Hansel & Gretel: Witch Hunters) or goes completely bonkers off-the-rails and doesn't try to copy Underworld note for note (it's from the folks behind that franchise). And that's coming from someone who considers himself an Underworld fan. It's got Bill Nighy (who I always love even in bad movies), but the CG looks beyond atrocious and I couldn't begin to tell you what the story is from the trailer. It just looks like a massive mess.

Terry Lewis: Frankenstein's monster stuck in the middle of a war between gargoyles and demons? With Aaron Eckhart as the lead? Yeah, I'm sold on this badboy. I rate Eckhart alot and hope this kicks off his career again after it's stalled after Dark Knight for me. It reminds me alot of the old Underworld series in look and, as a bit of escapism at the movies, is not a bad series to take a few cues on.

Paul Lapointe: Having read the source material in question I was excited to see this property get picked up for the whole movie making go round. But then production troubles happened both on and off set, post production issues happened when it came to re-shoots for more CGI and then it was promptly bumped from September 2013 to this current date. I wish with all the hoopla that it presented itself from script to screen it turns out to be cheap fun. Cautiously though I was forced to watch "Tommorow When The War Began" the other day in which Stuart Beattie (director) was responsible for and dear god did I want my two hours back after that fiasco.

Jeremy Thomas: Wow, this looks Van Helsing bad. Like that one, this has a great cast in a terrible-looking film that I don't expect to do anything more than bomb hard. You never know, it could be more of a Hansel & Gretel: Witch Hunters which I enjoyed for not taking itself seriously at all. That one also made a crap-ton of money, too. Nothing makes this one seem like it will be that sort of fun though, unless you like bad movies (which I do sometimes). We'll see.

Chad Webb: This is going to be horrendous also, and you know what is truly sad and depressing about that? Aaron Eckhart chose to drop out of the Dennis Wilson biopic because he was exhausted after this production. Yes, pass on a picture that could have potentially garnered you awards and boosted your career for a piece of trash horror action turd for January. That makes sense.

January 31st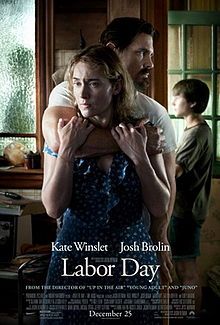 Labor Day





Rated PG-13
Plot: Depressed single mom Adele and her son Henry offer a wounded, fearsome man a ride. As police search town for the escaped convict, the mother and son gradually learn his true story as their options become increasingly limited.
Director: Jason Reitman
Stars: Kate Winslet, Josh Brolin, Gattlin Griffith, Clark Gregg



Bryan Kristopowitz: I have almost zero interest in this movie. Jason Reitman is an overrated director and the trailer for this movie is ridiculous. Not happening.

Jeremy Wilson: It is seemingly in vogue for critics to bash Jason Reitman. Well, I'm a fan and I've never seen him make a bad film. I know the reviews and buzz around Labor Day isn't great (its January release date is also a major worry), but Reitman has made too many good movies to ignore or dismiss his latest out-of-hand.

Terry Lewis: With the recent good run of award contender films, there's usually one that aims for that category but doesn't quite get there. Whilst there's nothing wrong with the look of it, Labor Day looks like this year's unlucky one for me. I can see the appeal and it has a winning double lead with Brolin and Winslet but I don't think there's enough, even with the intriguing premise, for it to compete with it's flashier rivals this year.

Paul Lapointe: Young Mr. Reitman has proven to be a hot commodity since bursting on the scene some years ago with "Juno". This his latest effort originally had ALOT of press behind it that it would befit Oscar nominations for its leading cast as his previous efforts have had. Sadly it seems to have been lost in the Hollywood shuffle and is being bandied out at the end of January instead. I am still looking forward to it as Mr. Brolin has had a career resurgence and has chosen some interesting projects and anything with Kate Winslet is worth a shot because she is bloody brilliant. Intrigued? Yes I am.

Jeremy Thomas: I legitimately wondered if this was a new Gary Marshall hyperlinked holiday comedy when I first heard the title. Luckily its not, and it is instead a Jason Reitman film. This is simple enough: the cast is great, Reitman generally delivers and this is a perfect sort of plot for him. I'm sure that it could all go terribly wrong but I hope that it doesn't because we need something good in January.

Chad Webb: I have not seen a Jason Reitman film I didn't like. Granted, Young Adult had serious third act flaws, but I am a loyal fan and will be excited to see this despite the fact that I have heard nothing about its quality. I hope its release date doesn't mean it will be disappointing.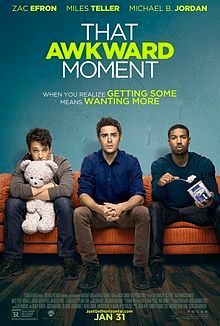 That Awkward Moment





Rated R
Plot: Three best friends find themselves where we've all been - at that confusing moment in every dating relationship when you have to decide "So...where is this going?"
Director: Tom Gormican
Stars: Zac Efron, Michael B. Jordan, Miles Teller, Imogen Poots



Bryan Kristopowitz: I have seen the trailer for this "comedy" twice now and the only thing I want to know is how does the one guy survive after being hit by the taxi cab. I'm going to assume that the guy does survive. Would this kind of movie kill a guy?

Jeremy Wilson: Bro comedies are still a thing, I suppose. The only thing this has going for it is that it has three of the bigger up-and-coming stars in their mid-20s. Jordan and Teller, in particular, are coming off huge years. In a weak release window (the December holdovers won't be in the mix at this point), perhaps young moviegoers could get this to a relatively strong showing. Otherwise, this looks like the kind of comedy you can skip in theaters and that'll be showing up on cable in a couple years.

Terry Lewis: See, I'm not so sure about this. I took away from the trailer that two out of a trio of buddies decide not to date/sleep with girls until the third friend gets with a lady after being horrifically dumped. That's alright if a little farfetched for me, especially when it's a story about three hot blooded young males. Suppose I'm not the audience for this, rather it seems aimed at teen/young girls and guys given that Efron is leading the three. Altogether, looks pretty skippable.

Paul Lapointe: Love the cast and the trailer. It honestly looks freakin' hilarious and if the teaser is an indication it should be good fun. Plus Imogen Poots is worth 90 minutes of my time for the cute factor alone.

Jeremy Thomas: Call it bias, but Zac Efron is an immediate pass for me. Add in Miles Teller and I seriously couldn't care less about this. Neither of the two has ever portrayed a character that I liked (to be fair, I have not yet seen The Spectacular Now and hope to within the next week or two). The plot is silly, the teaser didn't make me laugh and I just am not interested.

Chad Webb: I wasn't planning on seeing this anyway, but this is the type of romantic comedy about young people that was old in the 90's. Guys who say they don't want to commit but actually do. Blah blah blah. February should have something worthwhile right?

Thanks for reading! Check back with us next month for the February roundtable as we cover The LEGO Movie, Robocop, Pompeii, and Non-Stop.

comments powered by