SPOTLIGHTS
A Bloody Good Time 01.16.14: Top Twenty Songs Made For Horror Films, Part 1 (#20-11)
Posted by Joseph Lee on 01.16.2014

The 80s were the best decade for horror. This list just proves it.

































Opening Logo courtesy of Benjamin J. Colón (Soul Exodus)



Welcome to A Bloody Good Time.

This week, we're taking a little break from talking about actual horror films in order to go into a topic I don't normally get into here in the movies/tv section: music. No, I'm not talking about film scores, as I covered that way back in 2010 (if you must know, Psycho was my favorite). No, I'm going to break down my choices for the top twenty songs that were made for horror movies. I'm not as good talking about why I like music as I am why I like movies, so you'll have to bear with me. I'm judging on how much it entertains me in addition to how much it fits the movie it's featured in.

I do have some caveats with my list, to make everything fair.

1) The song had to be made just for the movie. That means no "Red Right Hand" for Scream or anything like that.

2) No horror musicals. I have to include this one because otherwise, horror musicals would dominate. Rocky Horror Picture Show would practically eat up my top ten.

Let's get to the first part of the list. I'll include a link to every song so you can judge for yourself if it belongs. I realize Mike Gorman's doing a similar list with Disney songs, but I swear it's just a coincidence. I plan my ABGT schedule out months in advance.

Honorable Mention: Ghostbusters. If I included this movie's theme song by Ray Parker Jr, I'd have to make it #1, because it's "Ghostbusters". Ultimately, while the song is great and a staple of Halloween season, it's from a movie that isn't horror. Even calling it a horror-comedy is a stretch, even though I have in the past. It's more of a comedy with slight horror overtones. The fact that it scared me way more than something like The Devil Inside ever could is beside the point. Either way, the title song is catchy from the opening few seconds and it's one that you can listen to over and over. Who you gonna call?




#20: "Bad Taste" by The Remnants (Bad Taste, 1987)

Bad Taste isn't as fondly remembered as Peter Jackson's Braindead, but it still delivers the splatter comedy goods. The title song is a mellow rock song that doesn't even really have lyrics until about a mintue in. The lyrics are pretty much the story of the movie, a small army going against the aliens that want to turn us into a fast food dish. One of them is also crazy, but that's not really reflected in the lyrics.

It's not the best song for a horror film out there, as it's slow and kind of bland, but it does fit this one, I think. Plus, it's from a little-known band (my apologies to any Remnants fans) on a very low-budget film that most people didn't see until after Peter Jackson became a somebody. I do think it's a good start to this list and an underrated little song from an underrated little splatter comedy.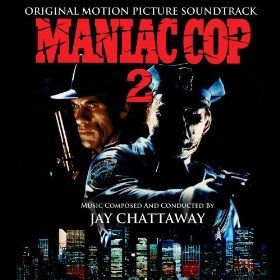 #19: "Maniac Cop Rap" by Yeshwua (Josh) Barnes and Brian "B.Dub" Woods (Maniac Cop 2, 1990)

The late 80s/early 90s were a weird time for movies and rap music. I'm not consseuir of hip-hop by any means but the mainstream rap (or the family friendly stuff, I guess) is so far away from the stuff you hear today it's like a completely different genre. And everyone in Hollywood wanted a piece. Freddy got rap songs from The Fat Boys and The Fresh Prince, the Ninja Turtles had a song by Vanilla Ice and even the Maniac Cop got his own rap theme.

The Maniac Cop series is fairly obscure by horror standards. It's three slasher movies about a cop that kills people which gets increasingly more convoluted as it continues. And yet William Lustig directed all three, so I guess he knew what he was doing. The song is well, it's a 1990 cheesy rap song about a cop that kills people. It doesn't really fit the movie at all and yet, it's too goofy not to be included here. At least it's better than "Ninja Rap".






#18: "Scream Until You Like It" by W.A.S.P. (Ghoulies II, 1988)

This is probably the only time you'll see anything Ghoulies related on any of my "best of" lists, so don't get used to it. As a friend pointed out, why would a somewhat successful band like W.A.S.P. ever lend their music to a movie franchise as awful as Ghoulies? And not even the first film, this was for Ghoulies II! I know it's not like it's Guns N' Roses or Aerosmith working on the soundtrack but still, it's a little mind-boggling.

This song is a tremendously fun effort that actually matches up to the concept of the Ghoulies quite well when you look at the lyrics. I'll never watch Ghoulies II again, unless I'm watching it with Joe Bob Briggs providing facts between scenes. But I will throw this song on sometimes just because I enjoy it. I'm not even a W.A.S.P. fan really, but they did do a really good job with this one and they deserve credit for it.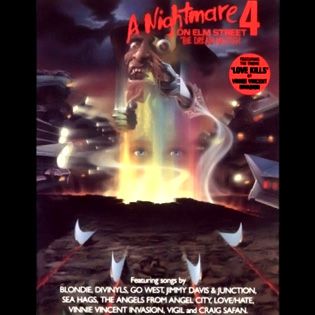 #17: "Nightmare" by Tuesday Knight (A Nightmare on Elm Street 4: The Dream Master, 1988)

1988 seems to be a good year for this list. This song plays over the opening credits of the movie and is from Tuesday Knight, who takes over the role of Kristen Parker from Patricia Arquette just before she is killed off almost halfway in. I've called this movie the "MTV" Freddy movie before and the soundtrack definitely shows that. There's a song where Freddy raps, there are songs from Sinead O'Connor, Billy Idol and Blondie, and then there's this.

This is a very pop-oriented song that you wouldn't think would go with something like Freddy Krueger, who just had Dokken performing a song in his last movie. But there's just something about it that makes it work over the opening credits. It's dark and foreboding with her admittedly good voice singing about nightmares and evil forces coming after her. And yes, I enjoy it a lot more than the song where Freddy Krueger raps. Sue me.






#16: "Prince of Darkness" by Alice Cooper (Prince of Darkness, 1987)

It only makes sense that Alice Cooper would make a song for the movie that he has a supporting role in. Cooper sings as only he can about, who else, the Devil. This song was only briefly in the movie and wasn't released until a year later, but it counts because it was written for the film. It's also a really good song. I'm not sure how often Cooper performs the song live, but I get the feeling it would be a good song for his set list.

It's also one of the longer songs on this list at five minutes, making it more epic than the rest. Most movie songs run 2-4 minutes as they're meant to play for a bit over the end credits and sell some extra copies of the soundtrack. This one doesn't even appear in the movie all that much and it's much longer than the average title track for a film. John Carpenter and Alice Cooper just don't do anything the way that other people do, which is probably why they eventually had to work together.




#15: "Fright Night" by The J. Geils Band (Fright Night, 1985)

I guess we should just go ahead and say that when it comes to songs written especially for horror films, the 1980s were the best time for that. It's something you rarely see anymore with Hollywood horror, as most of those films always have to be serious. No room for a song made just for the movie now unless they're going for an Oscar for Best Original Song. Where was I? Oh yes, "Fright Night".

I'll be honest, when I first saw the movie I remembered the song but only the constant use of the title. I'd put this on the same level as "Bad Taste", although it works better because it has the same kind of poppy sense of humor that the film itself has. "Prince of Darkness" fit its film because it had the proper tone of dread with lyrics about Satan. "Fright Night" fits its movie because it's tongue-in-cheek, playing off the comedic undertones in the movie.






#14: "The Ballad of Harry Warden" by John McDermott (My Bloody Valentine, 1981)

This song shouldn't be perfect for this movie, but for some reason it is. It's a slow country-esque folk song about Harry Warden. But it works because it's a folk song, talking about the legend of the killer Harry Warden. Much like the tales of Paul Bunyan or John Henry, Harry Warden became part of the folklore of the town of Valentine Bluffs, which hasn't even had a proper Valentine's Day in 20 years due to Warden's actions.

Sometimes songs are just fun, and sometimes song match their source material perfectly. This is a little of both. It does fit the themes and plot of its movie, but it also a good song in its own right. It's written exactly like a folk song should be written, telling of the legend and why Valentine's Day isn't celebrated in the town from the movie. The fact that they didn't have to include something like this on their low-budget slasher but did any way shows how much love they put into the movie.




#13: "House of 1000 Corpses" by Rob Zombie (House of 1000 Corpses, 2003)

The story of this song is a little weird. The song appeared on 2001's The Sinister Urge, which was released two years before the movie was. However, the movie was finished in 2000 and presumably was supposed to coincide with the song. Of course Universal was afraid of it and had it shelved until Zombie was able to buy back the rights and sell them to Lions Gate. You have to question just what Universal thought they were going to get when they hired Rob Zombie to direct a horror film.

So you have to think this song was written for the movie of the same name. I mean, Rob Zombie's music doesn't make a whole lot of sense to begin with, but if they have the same name and were set to arrive the same year, it makes sense that they were meant for each other. The song itself is very dirty and grimy, much like the movie. It's about a house full of corpses killed by someone sick and depraved. The movie may not have lived up to expectations, depending on who you ask, but this song sure works.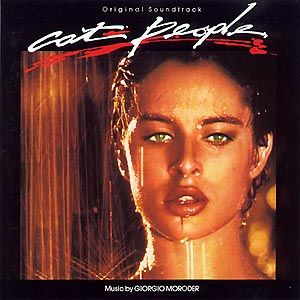 #12: "Cat People (Putting Out Fire)" by David Bowie (Cat People, 1982)

Good lord, even David Bowie made a song for a horror film. The 80s were great for the genre, no doubt about it. This also takes the prize for longest song on the list, passing up Alice Cooper with seven minutes. It's 1980s David Bowie. If you're a fan of his material during that decade you're going to love this. I like pretty much all of his music so I'm definitely on board with this song. It's just a good song in general, it doesn't have to be for a movie necessarily. The fact that it is certainly helps.

The song starts out slow and melodic but then suddenly intensifies for the chorus. I like the sudden change as, like a good jump scare, it builds to the moment and then hits you with impact, seemingly out of nowhere. If you've never seen Cat People, well, you don't need to in order to enjoy this song. I admit that I haven't seen it, it's one of the few I haven't from this genre, but this song makes me more inclined to check it out. If it's good enough for Bowie, how can I say no?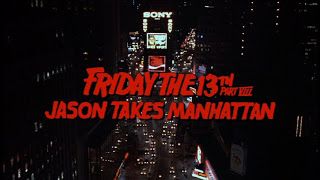 #11: "The Darkest Side of the Night" by Metropolis (Friday the 13th Part VIII: Jason Takes Manhattan, 1989)

While I could take or leave Jason Takes Manhattan depending on my mood (it's a bad sequel, but at least Kane Hodder is in it), this is a really good song that opens things up. You may remember it from the opening credits of the movie. It plays over shots of the tamest Vancouver New York City ever while someone tells us that we can't live without the terror. I don't know why this song was chosen to open up a movie about a guy in a hockey mask slaughtering people but I approve.

I think maybe the song was included more for the fact that it's talking about the worst parts of a big city like Vancouver New York City, which is where we're supposed to be visiting in the movie, even though we spend 3/4 of the film on a cruise ship. The song definitely fits the decade it was made in. The fact that it features a rocking guitar solo is just a bonus.



Ending Notes:

That's it for me. Leave some comments here on or my Twitter. Next week it's the top ten, and you can probably guess some of the choice. Hint: It's not Warwick Davis rapping as the Leprechaun.



Closing Logo courtesy of Kyle Morton (get your own custom artwork and commissions at his Etsy account)



A Bloody Good Time: The Store is now officially open! Like this design? You can now find it on most of my merchandise! Click here to find shirts, posters and more!

For those interested in more of my movie reviews, I've created a new blog! Check out the brand new Not-So-Bloody Good Time!

And of course, if you want to know if I've ever covered anything or want to read a past edition, there's the Bloody Good Time Archives! Yes, you can finally read every edition of ABGT going back to the beginning! Just ignore my early writing style...I was new.

See you next week!
comments powered by