SPOTLIGHTS
Comics 411 1.22.14: Best Comic Book Villains Turned Heroes Edition
Posted by Steve Gustafson on 01.22.2014

Is Magneto the best comic book villain turned hero? Plus news and thoughts on what's next for the Teen Titans, the line-up for the All-New Ultimates, a review of Superman/Wonder Woman #4 and more!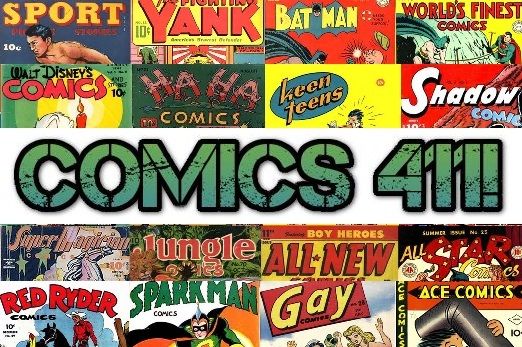 Welcome back to the Comics 411! My name is Steve Gustafson and this is a corner of 411mania reserved for those interested in talking comics! As always, I want to thank everyone who took a few minutes to read and comment last week. Check out my interview with Playboy's Miss November, Gemma Lee Farrell!


And away we go...

Damian Wayne may be dead in the comic books, but he'll be alive on TV screens later this spring. TV Guide has the trailer for DC's next animated feature-length home video release Son of Batman, based on Grant Morrison and Andy Kubert's 2006 Batman and Son story arc from Batman #655-658 and #663-666, in which he learns of the existence of Damian.

The movie will world premiere at Anaheim's WonderCon on Easter weekend.

The voice cast features Jason O'Mara as Batman/Bruce Wayne, Stuart Allan as Damian, Morena Baccarin as Talia, Giancarlo Esposito as Ra's Al Ghul, David McCallum as Alfred, Xander Berkeley as Kirk Langstrom/Man-Bat, and Thomas Gibson as Deathstroke.







READER ROUNDTABLE

The best Spider-Man artist ever. Who could it be? That was the question I posed last week. These were the options and results:

Todd McFarlane 37.33%
John Romita, Jr. 18.11%
Mark Bagley 14.76%
Steve Ditko 12%
John Romita Sr. 9.75%
Humberto Ramos 6.69%
Mike Deodato, Jr. 0.84%
Ron Frenz 0.28%
Lee Weeks 0.28%
Steve Skroce 0.28%

Todd McFarlane? Really? I guess it had to come out eventually. I'm not a Todd fan. While his action spots are entertaining, I found him to be a poor artist when it came to the quiet moments. Judging from the feedback, it depended on the artist you grew up with. Even though I didn't grow up on Ditko, his image of Spidey is the one I think of most. Followed closely by Bagley's. For Dan D.: I was seriously considering adding Larsen in there and I think my own personal bias jumped in. While he had a solid run, his artwork never worked for me in regards to Spider-Man. Interesting comments this week. Let's look at some.

Kyatollah: "I think Ditko, McFarlane and the Romitas are inexorable from the visual legacy of Spider-Man, but if I'm honest, I'm going to have to go with Mark Bagley. Ultimate Spider-Man was part of a revolution for Marvel, and he is half of the reason for its' success in the original run, which beat the Lee/Kirby F4 run by about 7 issues. You see Bagley's Spider-Man in toys, videogames, clothes, TV, and clear influence can be seen in the new movie's suit design (not to mention the modern take on Electro.) He has defined Spider-Man and redefined his rogues gallery for a generation (I was ten when USM debuted, and I own about 75% of the original run. ) His work was clean, consistent, and iconic. For Spidey art, it really doesn't get better."

Donald R. Maust: "Even before Bagley's Ultimate run, he had a great run on Amazing Spider-Man. I don't get all the love for Todd Mcfarlane. He had too many random lines thrown in just to make his work look more busy. Give me the nice clean solid work of a Ron Lim, Mark Silvestri, or a Mark Bagley."

Jeremy: "Can someone explain the appeal of John Romita Jr. to me? I much more enjoy his dad's work."

Benjamin J Jeremy: "The appeal for me personally is that he is, and always has been, an excellent storyteller. Good storytelling ability in comics is sort of similar to having a good referee in a wrestling match - when it's being done well, you usually don't even notice it, but when it's poor, it sticks out and can tank a story HARD.

Sometimes his stylistic approach can be more miss than hit, but when it comes to laying out a story as a whole, and making it both clear and exciting, I can't think of too many artists on his level. But your mileage may vary."

Jeremy Thomas: "I'm not a huge Romita, Jr. fan either; I think his art is far too (for lack of a better term) "sketchy." But I do recognize his skill and influence as an artist, both of which are important even if he's not my cup of tea."

Blah: "I wish I could explain it, because I like his dad's work more as well. However, I also like Jr.'s work, too. The only answer I can give is that he was the artist for some of the comics when I first started reading comics as a child. He may not be overly flashy but it's effective and easy on the eyes!"

Dan D: "No Erik Larsen?"

troof: "Where can I find the "anyone but Ramos" option for voting?"

Caliber_Winfield_The_3rd: "There's a reason McFarlane's work turned him into the first and only rockstar of the comic artist world."

redhotrash : "Whoever draws the best Black Cat."

CyberVenom: "On to my top ten Spidey artists! This time, in order!

10. John Romita, Jr.
9. John Byrne
8. Sal Buscema
7. Ross Andru
6. Humberto Ramos
5. Mike Wieringo
4. Gil Kane
3. Todd McFarlane
2. John Romita, Sr.
1. Steve Ditko"

Benjamin J: "I grew up with Romita Jr, McFarlane, and Bagley myself (Romita Jr's my favorite artist, in fact), so I'll always have nostalgia and love for their respective Spider-Man runs.

But that said, it is no exaggeration that everything they did was directly influenced by Steve Ditko and John Romita Sr. That can't be overstated. Between the two of them (Dikto for the first three years, and Romita for about the next ten, give or take), they laid the groundwork for nearly every major villain and supporting character used to this very day. If Stan Lee gave Peter Parker and the rest a voice, these guys most certainly gave them a face. They gave the New York City these characters inhabited it's own identity and personality. They made Spider-Man's movements and mannerisms completely unique and memorable, and they could always just as soon draw a compelling dramatic scene between non-costumed characters as they could draw the hell out of an entertaining hero-villain fight scene.

It kinda sucks only being able to choose one, really."

Craig L : "As far as the best creative, IE coming up with new concepts etc I'd have to go with Ditko. So much was created in the first 24 issues that it's hard to imagine anyone else creating the looks these characters have.

As for the "Classic" Spidey looks I would have to go with Romita Sr. When I think of Spidey it's his Spidey that comes to mind.

But for me personally I grew up with the Bagley Spider-Man. Bagely's art is fluid and smooth. His web swinging poses and fight scenes are always great. Plus he draws a bad ass Venom.

As for the John Romita Jr debate, yes his work isn't as polished as everyone elses but most of the time he's penciling 3 books at a time."


Great comments about artists. Seriously. If you looked at some of the other comment boards around 411mania, you'd never have guessed. Thanks!

Geoff Johns told told readers to "Keep your eyes on Lex [Luthor]. He's the one to watch ." Looks like we'll be watching him not only join but maybe lead the Justice League starting in April, and it appears he'll be bringing Captain Cold with him. "Lex Luthor is sporting a new title on his business card: Hero," wrote Matt Moore of the Associated Press. It got me thinking about the long history of bad guys who turned good. Who stands out to you? I only listed 10 but could have easily done 50. Vote for who you think is the best to cross the line and comment below!

I really went back and forth including Magneto on here.


NEWS

Teen Titans! The DCU was rebooted in 2011 and the Teen Titans were some of the most altered superheroes from the reboot. A different origin for Kid Flash, Robin was Red Robin, and Superboy was a clone who existed to attack other teen heroes. Over the last two-and-a-half years since Teen Titans launched with a new #1, writer Scott Lobdell has been taking these new versions of teen heroes on an ever-changing journey through a variety of challenges. But all that will end in April, when Teen Titans #30 is the final issue of the title for DC. The issues in April will not only be a finale for the series, but will end Lobdell's run on the book, as DC and the writer announced last week.

Lobdell did an interview about the book and here are the highlights:

On if the Teen Titans (the team) is ending: "I am working on the Annual this weekend so I will be able to tell you better next week! But... after everything that has happened in the past few months, there is not much of a team left to even disband."

On the story's premise in April: "They are going to be working towards a definitive victory of N.O.W.H.E.R.E. and Harvest — the impetus for them coming together as a team in the first place. People who have been reading the book from the beginning will be pleased!"

On his proudest accomplishment on Teen Titans: "I would be lying if i didn't say I'm going to miss Bunker most of all. I just love the guy and how upbeat and even how grounded he is. I love that he's always talking to and about God — and I'm glad that it appears God loves him right back. I'm also proud that Teen Titans launched with a lot of diversity and new characters. I looked around at a lot of the other relaunches in recent years and most of the companies relaunch their biggest teams with the "classics" — the founding fathers of the books. But Bobbie Chase and Katie Stewart were very supportive of us developing Bunker and Skitter and using the relatively new Solstice (go JT and Nicola!) on the team. When I think of young people of color or young gay and lesbian readers looking to new comic books and seeing themselves not reflected in team memberships, it always makes me sad. So I'm happy that these three really got their chance in the spotlight.

On his hopes for the Teen Titans going forward: "As I have been a huge Teen Titan fan for as long as I can remember reading comics, I'm excited to see the take the next creative team has for the concept and the characters in the book. While I've noticed that everyone has their favorite iteration of the team, from the sidekick club of the early years, to Marv and George's trying-to-step-out-of-the-shadows of their mentors, to Peter David's youth in revolt of Young Justice, Geoff's mentor program and Judd's "hail, hail the gangs all here" run, to mine and Brett's "All New All Different Teen Titans" (not to mention the multitude of animated variations on the theme, including the laugh riot that is currently on the air) and up to and including Tiny Titans... the truth is the Teen Titans lends itself to many different variations! How can one not be excited about what's coming up for this team?"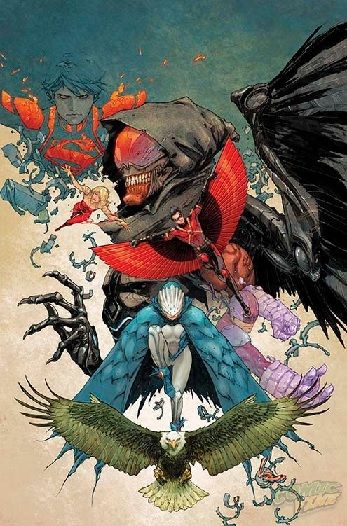 Comic Book Fans! VERY INTERESTING! In a new press release, comiXology released the map below, showing where their comics are being read in the world, the answer? Everywhere! A big surprise, U.S. readers are the leader in digital comics, making it the #1 top grossing non-game iPad app in 2013, but the cool information here is that the majority of comiXology users - 51% - are outside the U.S.

Many have wondered how digital comics fit in with the traditional print medium and the local comic book shop model, and this may be telling that tale. Being the top iOS book app in France, Belgium, Germany, Spain, the UK, Australia, Brazil, Canada, Chile, India, Mexico, The Netherlands, New Zealand, and more, it's clear that comiXology is helping readers worldwide get into the American comic book. Just as international moviegoers are more drawn to things like 3D and IMAX than US are (percentage wise), it seems the halo effect of wanting to see the comic books that those films come from is working better in international markets.





Ultimate! "Ultimate Marvel NOW!" begins with the new series All-New Ultimates showing the Ultimate Universe's Miles Morales (Spider-Man) leading a team of fellow teen heroes as the newest iteration of that universe's flagship team, the Ultimates. The team is comprised of Spider-Man, Kitty Pryde, Cloak, Dagger, Black Widow (formerly Spider-Woman) and the reformed villain Bombshell. Creator Michel Fiffe and artist Amilcar Pinna are leading the way for the team, which was announced last week as the beginning of a new era for the Ultimate line. Fiffe spoke about the book and here are some highlights:

On the All-New Ultimates: "It's a team of teen superheroes trying to make a dent in the insane crime wave that has swept their city. They're disassociated youth, misfits and loners who have to work together while trying to prevent absolute mayhem in Hell's Kitchen."

On if the All-New Ultimates team is connected to the main Ultimates team: "They're pretty much connected by the name and by their general ideals but - spoiler alert, readers - that's about it. The old team has been decimated. There is a new system in check but the New Ultimates are now operating outside of it, not within it."

On what are the All-New Ultimates are up against: "They'll be up against the many super powered street gangs that have taken over West Manhattan, primarily the top crew, the Serpent Skulls. They've also got to deal with the gang war sparked by a gun toting lunatic who loves to pick off teens in costumes. Let's not forget the cybernetic hit squad, hormones, sewer experiments gone terribly wrong, more hormones, a white power organization, and yet more hormones."

On his formular and inspiration: "High tension, lust, revenge, responsibility, sexual identity, rage, confusion, super powers... what's a teen book without these things? All-New Ultimates aren't a family like Power Pack or an institution like the X-men, and they weren't brought together by a stranger's premonition ala Teen Titans. They're modern kids on their daily grind trying to survive, unsupervised, untamed. That can be fun but deadly and full of consequence. As for inspiration, Degrassi High all the way. I'm not talking about that Wheelchair Jimmy stuff either, I'm talking about old school Wheels going on the hunt for his deadbeat drummer dad. Teens played by real teens; you cannot beat that."

Nrama: What would you say is the big theme and the over goal you have for this series?





Nameless! Grant Morrison and Chris Burnham are reuniting for a six-issue creator-owned series dubbed Nameless, delving into the heart of what scares you. Described by Burnham as the "ultimate horror comic" when announced earlier this month at Image Expo, Nameless aims to reinvent horror by examining Western culture's obsession with it and push it beyond.

In an interview with USA Today's Brian Truitt, Morrison says that the book focuses on a man named the Nameless. Morrison describes the Nameless as extremely intelligent but damaged, comparing him to Sherlock Holmes as seen in the BBC series Sherlock as well as Batman, whom he wrote continuously from 2006 to 2013. And as Burnham told Newsarama, Nameless comes out of an idea for he and Morrison to have free reign to create stories in a way they couldn't on Batman Inc.

"I had a blast on Batman Inc., and editorial left us alone for the most part to tell our story the way we wanted to. But there are still a lot of inherent restrictions working on a character that's been around for 75 years, will probably be around for at least another 75, and has eight other books coming out simultaneously," Burnham explains. "If we wanted to mind-swap Batman and The Joker, both we and the audience would be damn sure they're going to be swapped back by the end of the story. With Nameless we've got no such restrictions. This is our guy and we don't have to worry about putting him back in the toy box when we're done with him. We're going to melt this poor bastard with a magnifying glass and light the house on fire before we close the door behind us."

Nameless is the first "straight-up, balls to-the-wall horror book" for both creators says Burnham, and something he had asked for when Morrison brought up the idea of a creator-owned project. And it's something the two creators had been talking about even before Burnham began Batman Inc. "The first email Grant ever sent me, he invited me to do a run on Batman Inc. and then a creator-owned book, so this has been a long time coming," Burnham reveals. "My Batman Inc. run quickly expanded from doing two or three issues to handling the bulk of the series, so we only got serious about figuring out a creator-owned book since last year's San Diego Comic-Con."

Although the creators are keeping the plot of the series under wraps, Burnham has opened up about the dark and bizarre research he's done for the project. It's involved everything from Rotten.com to "the dark subthreads of Reddit," with Burnham experiencing the grossest of internet memes and stomach-turning real occurrences. "It's a little too early to start quoting too many my sources, but it has become something of a dark addiction," Burnham admits. "You start out with your friends watching people fall off their bicycles, move on to some pimple-popping stuff when no one is watching at 2am, and before you know it you're mainlining Mexican drug war decapitations while your niece and nephew are opening up Christmas presents in the next room."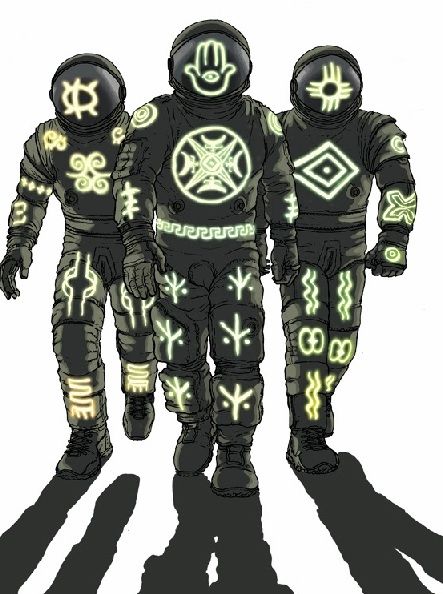 REVIEWS!

Do YOU want to be a reviewer for COMICS 411? Send me an email at stevethegoose@gmail.com to find out how! Take it away, RobF!

Superman/Wonder Woman #4

By RobF

The secret is out. Through Clark Kent's own blog the world knows Superman and Wonder Woman are a couple. What affect does this have on the DC Universe and more importantly what affect does it have on Clark and Diana?

The story begins with Batman giving Superman some astute advice on his situation. Superman is surprisingly naïve about relationships and Batman sets him straight. Next we move on to Zod who is a "prisoner" in the Fortress of Solitude. He takes advantage of Superman's lack of knowledge of Kryptonian technology and frees his love from the Phantom Zone.

There is a backup story that shows Clark meeting with his business partner Cat Grant in order to find out how she got the information about the Superman/Wonder Woman romance. Also there is a two page montage showing a wide range of reactions, from the general public as well as their teammates, the gods and Amanda Waller and Steve Trevor.

The art on both stories is strong and appropriate. Tony S. Daniel, who drew the first part, has an edgier style which fits the more action-oriented story, while Paulo Siquera has a softer style, which is fitting as most of the second story takes place at a laid back party.

While this series has been entertaining it feels like more of Superman guest-starring Wonder Woman rather than Superman/Wonder Woman. They have only faced Superman villains to this point and most of this issue was Super-sentric. Hopefully Charles Soule and Co will rectify this in future issues.





Before I say GOODBYE!
Follow me on Twitter for random bits, news RT's, and updates! Only at http://www.twitter.com/stevethegoose!

My Hollywood gossip (and anything else!) Hollywood 5 & 1!

Are you a fan of 411mania on Facebook? Keep up-to-date on news and contests!

Are you following 411mania on Twitter?
http://www.twitter.com/411mania
http://www.twitter.com/411wrestling
http://www.twitter.com/411moviestv
http://www.twitter.com/411music
http://www.twitter.com/411games
http://www.twitter.com/411mma

If you have some down time and are looking for a great place for great fun, check out Tiger Flash Games!


That's all the time I have. See you next week!
comments powered by