SPOTLIGHTS
A Bloody Good Time 1.23.14: Top Twenty Songs Made For Horror Films, Part 2 (#10-1)
Posted by Joseph Lee on 01.23.2014

From A Nightmare on Elm Street III"s "Dream Warriors" and the theme from Pet Sematary to Friday the 13th Part VI: Jason Lives' "He's Back" and more, 411's Joseph Lee counts down the top 10 songs from horror films!

































Opening Logo courtesy of Benjamin J. Colón (Soul Exodus)



Welcome to A Bloody Good Time.

This week we continue our look at songs made specifically for horror movies. You know, I probably could have made this thing three parts and only in hindsight do I wish I had. Some songs will be left out that you guys mentioned last week, because we only had twenty spots. Just wanted to let you guys know that, but I also think that this list of twenty is very solid and stand by it. The songs are not only good but many of them fit their movies almost perfectly, especially when we get to the top ten.

I do have some caveats with my list, to make everything fair.

1) The song had to be made just for the movie. That means no "Red Right Hand" for Scream or anything like that.

2) No horror musicals. I have to include this one because otherwise, horror musicals would dominate. Rocky Horror Picture Show would practically eat up my top ten.

Let's get to the first part of the list. I'll include a link to every song so you can judge for yourself if it belongs.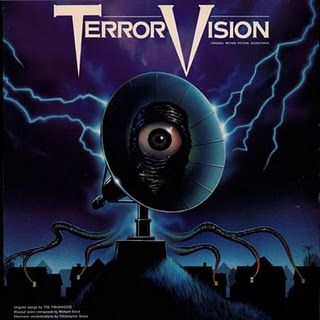 #10: "Terrorvision" by The Fibonaccis (Terrorvision, 1986)

Not many people remember this odd little monster movie from the 1980s, but it has a theme song that immediately has you interested when the opening credits play. The movie was actually intended to bring a little fame to The Fibonaccis, but the movie and subsequently the soundtrack bombed, as most people dismissed the film for being too cheesy. In fact, it currently has a 0% on Rotten Tomatoes. So it's easy to see why some people don't embrace it for the tongue-in-cheek horror comedy that it is.

However, we're not talking about the movie. We're talking about the song. It's fun, poppy and sets the right mood heading into the film. What better way to let the audience know they're meant to laugh and have fun than by including this odd song that doesn't make a whole lot of sense (to me, anyway) but is easy to listen to and almost fitting a cartoon...which is exactly the tone of the film. It's a perfect match which is why it ranks so high on the list.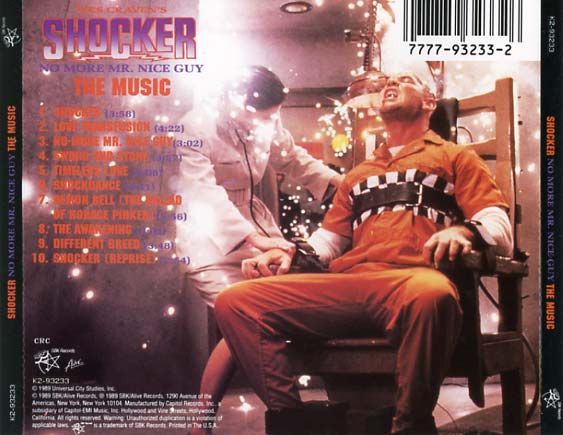 #9: "Shocker" by The Dudes of Wrath (Shocker, 1989)

I probably could have went with Megadeth's cover of the Alice Cooper song...but cover songs are a tricky situation. So unless it was Alice Cooper providing a revamped version of his own song, I think it's best to just go with an original song. You don't get more original than The Dudes of Wrath, a band that as far as I can tell, was put together specifically for the soundtrack to this movie. Seriously, google "The Dudes of Wrath", the only thing that pops up is stuff about Shocker.

The band was a supergroup that included KISS' Paul Stanley and producer Desmond Child on vocals, Def Leppard's Vivian Campbell and Guy Mann-Dude on guitars, Whitesnake's Rudy Sarzo on bass guitar and Motley Crue's Tommy Lee on drums (with backing vocals from Van Halen's Michael Anthony and Kane Roberts). It's literally a who's who of 80's rock bands all combined for one song in a horror movie. You can tell that Wes Craven and Universal wanted this thing to be a success. They did everything but beg audiences to come in an see the movie. Oddly enough, it was a success (three times its budget) but never spawned a franchise. In spite of all that, the title song is a absolutely rocking song with enough talent behind it to make it a great track in its own right, not just one made for a movie.







#8: "Forsaken" by David Dramain (Queen of the Damned, 2002)

The movie Queen of the Damned, while not very good at all (in fact, probably one of the worst vampire movies I've ever seen), is really only known for two things. The first is the fact that it was one of Aaliyah's last projects before she died in 2001. The second is the soundtrack, which is every bit as good as the movie is bad. Jonathan Davis of Korn wrote several songs for the track list and brought in some of his nu-metal/rock buddies to come in and sing them. There are original songs performed by Marilyn Manson, Jay Gordon of Orgy and Wayne Static of Static-X, in addition to songs from bands that weren't made just for the movie.

The song I'm talking about was written by and performed by Davis for Queen of the Damned, but I think Disturbed frontman David Dramain did a much better job with his version (which is also on the soundtrack) so that's the one I went with. It's odd to hear Dramain not being backed by the hard rock sounds of Disturbed, but instead actually using his unique brand of vocals on a more melodic track than his fans were used to at that point. It's actually a little haunting and slightly creepy as he sings of being immortal and feeding on the innocent ("we walk amongst you, feeding, raping"). A perfect song for a vampire movie. It's just a shame Davis didn't write it for a good vampire movie.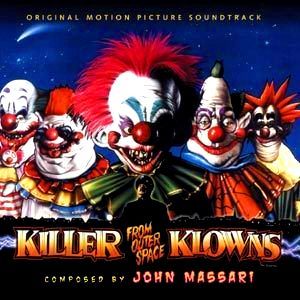 #7: "Killer Klowns from Outer Space" by The Dickies (Killer Klowns From Outer Space, 1988)

It's another 80s song as we hit the heavy hitters of that decade. Much like "Terrorvision" (and the film itself is like that movie in tone, even if this one is more popular), The Dickies' "Kiler Klowns From Outer Space is an amusing track that opens up its equally ridiculous film. It actually starts out kind of dark and foreboding with the old school Universal-esque music mixed with some demented circus music and evil laughing. Don't worry, it's just messing with you.

It immediately speeds up into a more fun beat, much like the movie, to let you know that it's okay to laugh and be entertained. Sure, clowns are scary, even these clowns look creepy, but they're not meant to scare you and the Chiodo Brothers knew that going in. In addition to the lyrics that let you know exactly what kind of monsters the Klowns are, we get a background chorus informing us that yes, these are Killer Klowns. This song is relentlessly catchy and you will probably be humming it for a while after hearing it, even if you haven't seen the movie. But seriously, see the movie.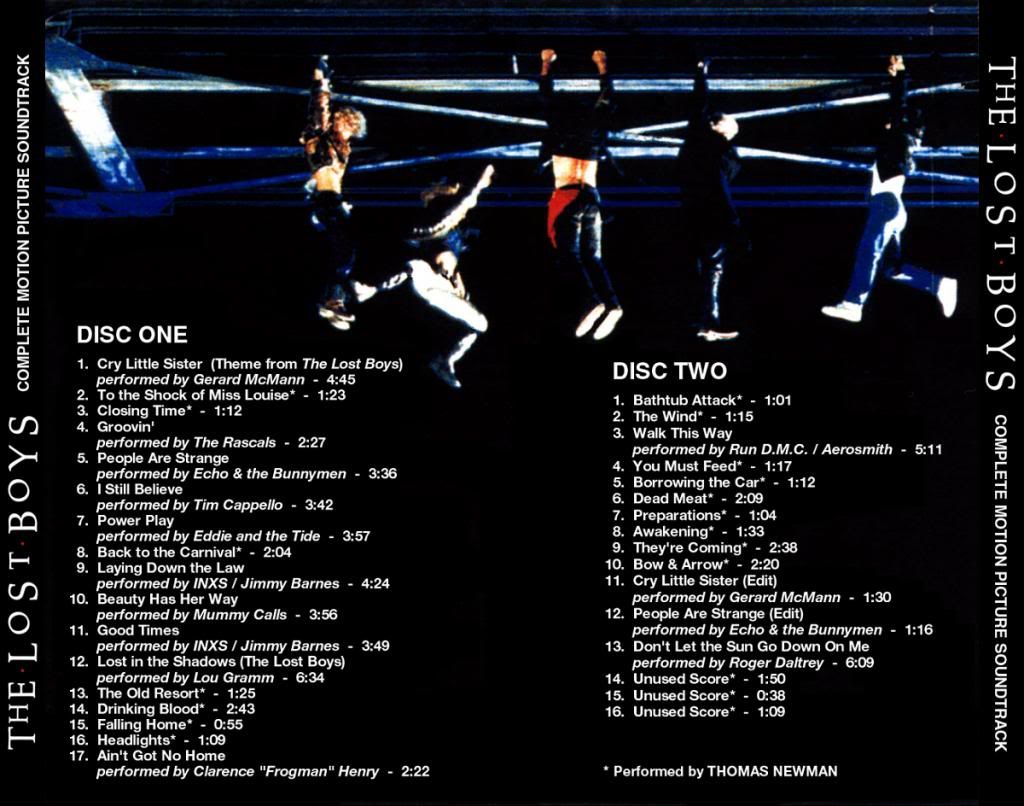 #6: "Cry Little Sister" by Gerard McMann (The Lost Boys, 1987)

I think that this song, like "Forsaken", is about vampires, or at least immortal beings. I'm not quite sure but I was never good at reading vague lyrics. Maybe someone else can let me in on that in the comments. What I can tell you, is that Gerard McMann's "Cry Little Sister" is an epic 80s song that just happened to get written and performed for the 80s classic vampire movie The Lost Boys.

In addition to McMann's impassioned lyrics, we have a background chorus of children which just fits the song perfectly. If the title of The Lost Boys and the fact that the vampires are all teenagers don't let you in on the fact that this movie is about lost innocence, then the kids singing "thou shalt not kill" in this track definitely will. It's a song so good that even the cover versions have provided good to great results, including the more recent version by Seasons After (which incidentally, was the only version to ever chart). But it's the original we love and it's the original that gets included on this list.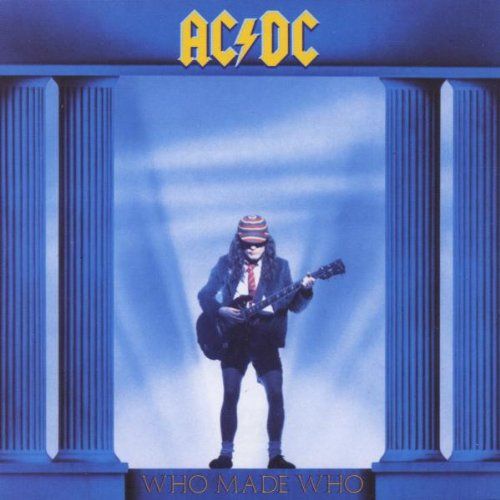 #5: "Who Made Who" by AC/DC (Maximum Overdrive, 1986)

Sure, bands making entire albums for a movie has been done after this (and probably before, I didn't do much research on that particular statistic), you have to give credit to AC/DC for deciding to put their metal muscle behind this Stephen King movie that, depending on who you ask, is either a really dumb movie or a dumb but fun movie. At least we can agree it's dumb.

What isn't dumb is the fact that Stephen King (or someone behind the movie) managed to convince the band to provide an entire soundtrack for the movie, which included the song "Who Made Who", which may be one of AC/DC's best songs. I'd certainly put it in the top twenty, at any rate. Do I even need to explain why this song is great? It's Brian Johnson. It's Angus Young. It's AC/DC. Bonus points for the really cool music video (which is what I included below because hey, we've all seen Maximum Overdrive).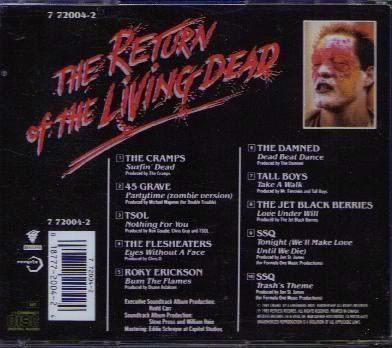 #4: "Partytime" (Zombie Version) by 45 Grave (Return of the Living Dead, 1985)

I was disheartened to learn that 45 Grave's song "Partytime" was not originally made for the Return of the Living Dead soundtrack. I came across this fact while doing my research. However, the "Zombie version" made for Return is such a completely different song from the original that yes, it counts as being explicitly made for a movie. The "Zombie Version" fits the movie as it talks about a group of teens encountering evil (and even mentions the "acid rain" from the movie).

The original version? Not so much. It's about the rape and murder of a five-year-old girl. Yeah, pretty dark. The only thing the two songs share is similar instrumentals and the chorus, which probably is a lot more ironic and disturbing for the original. This song counts due to how different lyrically the two songs are from each other. They made a brand new version of a song for the movie, and it's that version that I am including. It's good too, because who doesn't love the closing song for this great 80s movie (there's that decade again).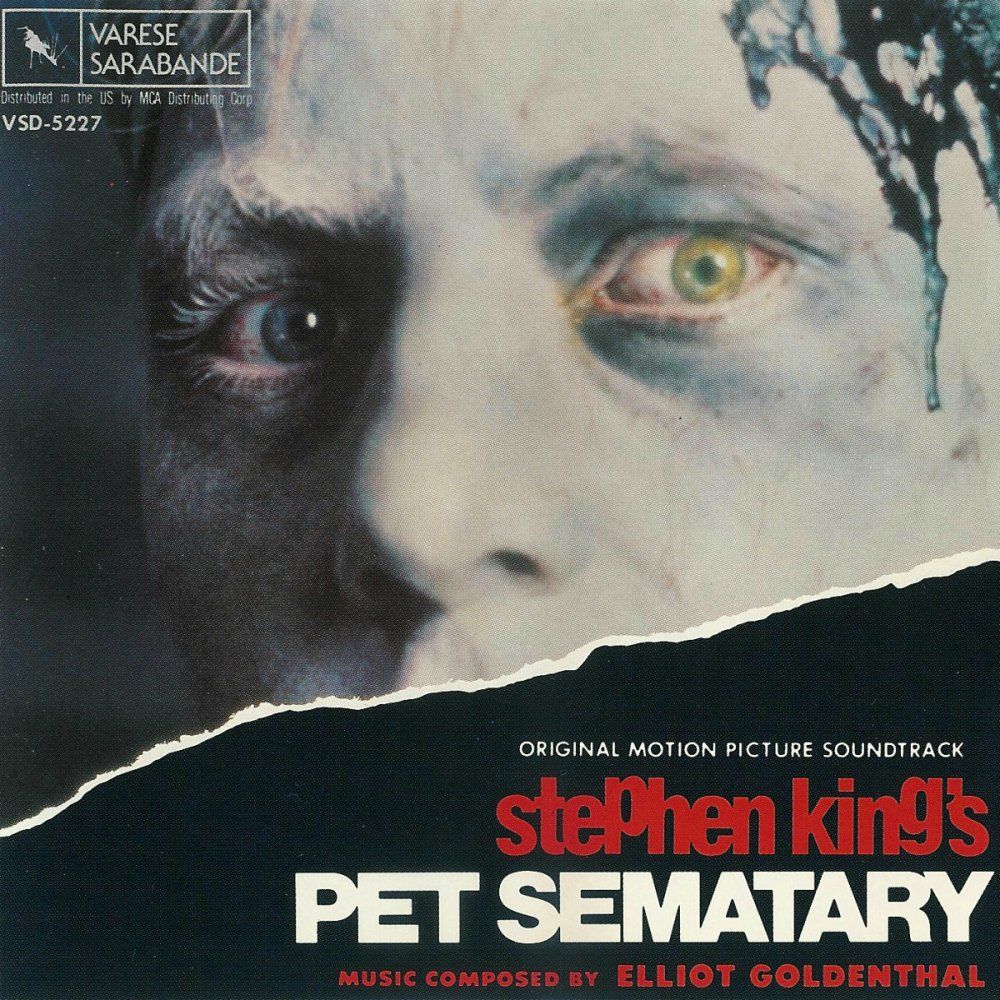 #3: "Pet Sematary" by The Ramones (Pet Sematary, 1989)

Another Stephen King movie makes the list. After such a dark and spooky movie like Pet Sematary, naturally a punk band like The Ramones should close it, right? Not necessarily. But in this case it's a good song that really does fit the movie as it plays over the ending credits. It's also just a really good song that you can listen to at any time, because hey, it's The Ramones. I don't know if Stephen King is responsible for picking the bands that provide music for his films but if he is, he's got good taste.

The song is, suitably enough, about death. It ties directly into the film as it not only mentions Victor Pascow ("Follow Victor to the sacred place") but sums up the concept of the film in its chorus ("I don't want to be buried in a pet sematary. I don't want to live my life again"). I happen to agree with them. If being buried in the pet sematary (well, techincally in the Micmac burial grounds) means I have to come back as an evil psychopath, I think I'd rather just stay dead. Sometimes, dead is better.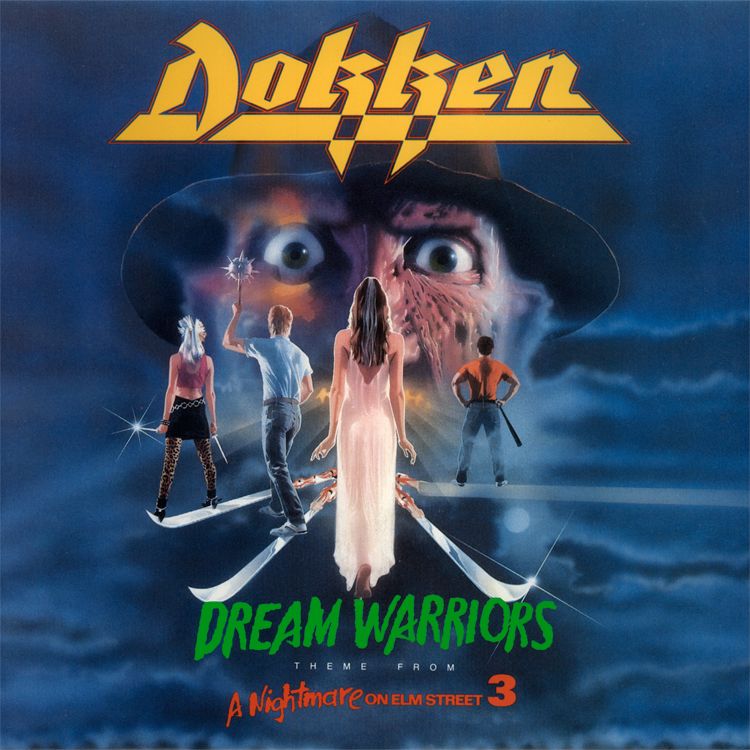 #2: "Dream Warriors" by Dokken (A Nightmare on Elm Street 3: Dream Warriors, 1987)

This might be the song most people think of when they think of songs made just for horror films. This might also be the song that most people think of when they think of Dokken. Dokken had some success during their peak, but I don't think many of their songs were as big as the title track for the third Freddy movie. The song fits the movie well (it should, considering) as the lyrics mention not wanting to go back to sleep and dream. Perfect for a Nightmare movie, since sleep equals death.

This song is also great because of its music video. Kristen Parker has another terrible nightmare in which she appears in Freddy's boiler room (located under 1428 Elm). It looks like it's going to be another nightmare where Freddy takes another victim, but that's when Dokken shows up. Freddy tries to take them one by one, but they return just in the nick of time to defeat Freddy Krueger through the power of metal. That's awesome.




#1: "He's Back (The Man Behind The Mask)" by Alice Cooper (Friday the 13th Part VI: Jason Lives, 1986)

It's not only another song from the Friday the 13th franchise that closes out this list, but it's another Alice Cooper song, who appeared in part one with "Prince of Darkness". Maybe "Dream Warriors" should be on top, but this is my list and personal preferences puts the Alice Cooper song about Jason Voorhees ahead. Alice Cooper is obviously a fan of all things horror, so it makes perfect sense.

The song also has some lines that apply directly to the movie ("and he crawled right out of his hole") and just good advice about Jason ("if you see him coming get away if you can"). The beat is rocking, the lyrics work and it even has Jason's iconic "ki ki ki ma ma ma" noise in the background. It's the perfect song created just for a horror film and it's just a really good song in its own right. It's definitely my personal favorite Alice Cooper song. I've included the live version below, so you can get an example of how Alice uses Jason at his live shows.



Ending Notes:

That's it for me. Leave some comments here on or my Twitter. Next week we keep this music train rolling. While it's not getting two-parts, I am going to do a list of the best songs used in horror films that weren't made just for that movie. If you've got any listening suggestions, post them now!



Closing Logo courtesy of Kyle Morton (get your own custom artwork and commissions at his Etsy account)



A Bloody Good Time: The Store is now officially open! Like this design? You can now find it on most of my merchandise! Click here to find shirts, posters and more!

For those interested in more of my movie reviews, I've created a new blog! Check out the brand new Not-So-Bloody Good Time!

And of course, if you want to know if I've ever covered anything or want to read a past edition, there's the Bloody Good Time Archives! Yes, you can finally read every edition of ABGT going back to the beginning! Just ignore my early writing style...I was new.

See you next week!
comments powered by