SPOTLIGHTS
411 Fact or Fiction Movies/TV 1.24.14: Week 417
Posted by Ben Piper on 01.24.2014

Is Johnny Depp a poor choice to play Dr. Strange? Will I, Frankenstein be horrible? Is a spinoff of Dexter a bad idea? 411's Michael Weyer and Daniel Wilcox debate these topics and more in this week's Fact or Fiction: Movies/TV!




Darnit. I had meant to ask about the Oscar Nominations this week, but it completely slipped my mind and so I went with other questions instead. Oh, well. Nobody's perfect.

So let's do that Fact or Fiction thing! This week we've got Michael Weyer and longtime 411 staffer but a newcomer to contributing to the Movie/TV Zone,,Daniel Wilcox. Let's see what's on their minds.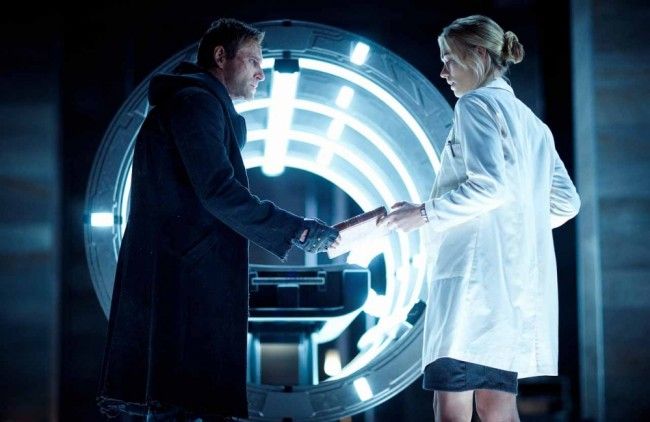 1. I, Frankenstein will only be considered good if judged by B-movie standards.

Michael Weyer: Fiction. I don't know if even by those standards you can enjoy it. It just looks horrible in every way imaginable and I can't understand how a star as talented as Aaron Eckhart is going through with it. Angels fighting about, flame whips, seemingly nothing to do with the Frankenstein myths, it just looks completely insane and not in a good way. Maybe some will enjoy it for its stupidity but for me, I just can't accept it even with my own low standards for dumb fun.

Daniel Wilcox: Fiction. I'm in full agreement with Weyer on this one that, even going into this with low expectations, there doesn't seem to be any redeemable qualities about this film. Aaron Eckhart is an actor who's credibility is going to be seriously damaged by this film, I feel, and that's a damn shame considering his work in the likes of Rabbit Hole and Thank You For Smoking. That said, he's been in some pretty awful films already and survived (looking at you, Rum Diary and Battle: Los Angeles. It doesn't need to bare resemblance to Frankenstein we're all familiar with because it's based on a specific graphic novel, but it's hard to see who exactly this film appeals to. Couple those issues with an unproven director, a female lead best-known for TV roles and voice work, a massive budget and its release date and this has "bomb" written all over it. Steer well clear of this one, as Eckhart himself should have done.

Score: 1 for 1

2. You'd be interested in a big screen Magic: The Gathering movie.

Michael Weyer: Fiction. I'll be honest, I have never gotten into this property. I'm a fantasy fan in a lot of ways but just not into the whole card game it's based on. I really know nothing about it or its characters so I can't judge it one way or another. Another fun fantasy property on screen may be fun but to me, just not that important or huge a deal.

Daniel Wilcox: Fiction. I'm not going to lie, I had to look up what the hell this was. Apparently this was the first trading card game. Who knew? When I was a kid it was all about Pokemon and Yu-Gi-Oh! and neither franchise produced anything of quality when transferred to the big screen, despite both having entertaining TV franchises. Simon Kinberg seems to be behind this project for Fox and to me, his resume is a mixed bag; he's most-famed for his work on the X-Men franchise but has also been involved in some horrible projects such as Mr. And Mrs. Smith and This Means War. Aside from a lack of knowledge on this, I'm not very much into the fantasy genre anyway, Harry Potter aside, so this is almost certainly going to get a pass from me even though it sounds like it could turn out to be quite profitable for Fox.

Score: 2 for 2

3. A spinoff of Dexter is a bad idea.

Michael Weyer: Fact. Let's face it, the 8th season of Dexter is one of the absolute worst final seasons of any show ever. The finale was atrocious as the long-expected revelation of Dexter's true face to his colleagues never happened and the last shot was a huge letdown. A spin-off would be as bad as it's not like there were that many really likeable characters around, the whole point of the show was Dexter killing under everyone's noses so not sure how you can build around a bunch of cops so oblivious. I truly see no way you can do a spinoff of it and given how even its most loyal fans bailed on that horrible finale, I don't see any point in even trying. Just let it rest in peace as it deserves.

Daniel Wilcox: Fact. That's "fact" with a caveat. It's a good idea if recent rumours are true that a spin-off would actually feature Michael C. Hall's Dexter in a whole new setting with a whole new cast of characters. The interviews I've come across with David Nevins suggest that's that is the way he would want to go and rejected the idea of doing a spin-off with a supporting character, which many seemed to think would be Hannah McKay (Yvonne Starhovski of I, Frankenstein fame, incidentally). I think the show's finale left such a bad taste in the mouth's of many that there just would not be the interest in a direct continuation of the story, nor following the path of any supporting character. But even if Hall is on board and the show is focused around Dexter himself, would it be enough to make up for the show's poorly-received conclusion? Personally I think not and in most instances like this, it's usually best to leave well enough alone even if I wouldn't commit to not giving it a chance.

Score: 3 for 3



Switch!!!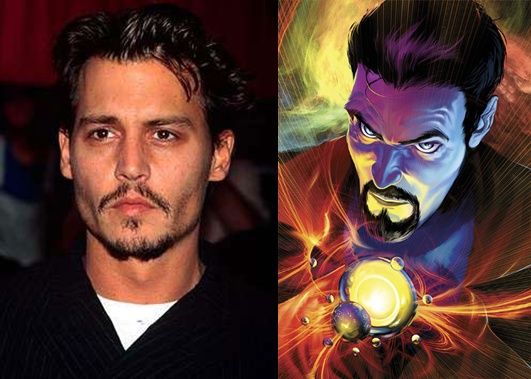 4. Johnny Depp would be a poor choice to play Dr. Strange.

Daniel Wilcox: Fiction. Well Johnny Depp would certainly be a much better choice than Patrick Dempsey, who I know was campaigning for the role a couple of years back. Personally I feel that Depp's work in recent years has been very hit-and-miss but mostly not up to standard, though I wouldn't be opposed to seeing what Depp could do in the role. To say Depp has phoned-in certain performances in recent years would be an understatement, so for me it would depend on just how committed to the role Depp is as well as his familiarity with the character, of which I have no idea. Furthermore, casting Depp could lead to some serious scheduling conflicts with Depp currently tied up in a new Pirates of the Caribbean movie as well as Alice in Wonderland 2 so he may not even be available, regardless of whether these talks between Marvel and Depp actually occurred last week. At the moment the only other name in the hat seems to be Mad Men's Jon Hamm who is a credible actor and a young enough prospect that Marvel could really build around. The only other name I've even seen mentioned is Joseph Gordon-Levitt, who I'm sure would do a great job but I'd much prefer him to stick to more serious films. Of course, we're all getting ahead of ourselves as the supposed Phase 3 film is due for a complete re-write, according to reports. So to summarize my answer, Depp may not be the best choice but there are far, far worse possibilities out there.

Michael Weyer Fact: Yes, Depp can handle the goofy air of the magic stuff. But here's the thing on Doctor Strange: He's serious. There's no quirky humor to him, no wild stuff or such, no funny walk or voice. He's a man who has to handle the darkness of a magic world and the weight of responsibility of being Sorceror Supreme. This is not a role meant for a guy notorious now for going wild. Depp is a very capable actor but this is hardly the first time he has taken a role meant to be dark and serious and turned into a joke. He ruined Barnabas Collins, he ruined Tonto and I'd hate to see that streak continue with Dr. Strange. Not to mention that Depp is 50 now, a bit too old to play an origin story Strange and just can't see him getting the look right. Star power, yes but I just don't think he's right as his perchant for going whacky is totally wrong for such a serious character.

Score: 3 for 4

5. You'd be interested in a biopic of the influential rap group N.W.A.

Daniel Wilcox: Fact. Interested enough to catch it on television at some point sure, but I don't know if I'd go to a cinema to watch it. What I will say is that the few details we currently have about the project, titled Straight Outta Compton has me intrigued. F. Gary Gray is in the director's chair and while his movie credits (Law Abiding Citizen, Be Cool among others) aren't much to write home about, he knows the subject well and would be dedicated to doing the group's story justice, I'm sure. Then you have Ice Cube, Dr. Dre and the widow of Eazy-E producing, so that sounds promising. And it was confirmed last month that Jonathan Herman has been roped in to write the script, and although he doesn't have a ton of experience, he is supposedly quite well-respected within Universal and thought of as a great writer. Casting only began this week so the project is in the very early stages, but I am interested enough that I shall be keeping an eye of further developments.

Michael Weyer Fiction: Frankly, never a rap guy to begin with and while I know the stories of N.W.A., not that into the idea of a whole film about them. I'd sure it'd be good and an audience there but I'm not part of that. I'll withhold judgement since, as I said, not a huge fan of the genre or the band itself but frankly not that interested in a project right off.

Score: 3 for 5

6. The prospect of a big screen Gilligan's Island movie makes you cringe.

Daniel Wilcox: Fiction. Not at all, but then I've seen the show and therefore I have no allegiance to it whatsoever. Firstly, the show is before my time and secondly, it was never as big over here in the UK as it was State-side; as I understand it Gilligan is something of a cultural icon. Regardless, nothing is sacred anymore when it comes to film-making and cashing in, so there's no point getting bent out of shape about it. I'm a massive, massive fan of the horror genre and was appalled when I first heard about the Evil Dead remake, and that turned out to be one of my favourite films of 2013 so I've learned to never jump to such foolhardy assumptions when it comes to Hollywood's lack of originality. There are very few original ideas anymore, that's just something we all have to come to accept.

Michael Weyer Fact: I was a huge fan of the show growing up as were millions more and the idea of a movie version just doesn't sit right. First off, it's hard to picture anyone else capturing the magic Bob Denver, Alan Hale and the rest had, the chemistry that made the show such a success for so many and a huge following. I'm fearful of how they'd go overboard with sex jokes and such and ruin that charm that remains part of the show's appeal. Plus, there's how the whole point of the series was them never getting off the island so not sure how a two-hour movie can capture that. Of all the various "TV to movie adaptions," this one has never sat right with me as any attempt comes off just a cheap copy of a show that stands the test of time for enjoyment and milked its concept wonderfully well.

Final Score: 3 for 6

After a fast start, Michael and Daniel wind up splitting the difference.Thanks to them both for playing, and see you again next week!
-BP



TWITTER

http://www.twitter.com/411s_Ben_Piper
http://www.twitter.com/411mania
http://www.twitter.com/411wrestling
http://www.twitter.com/411moviestv
http://www.twitter.com/411music
http://www.twitter.com/411games
http://www.twitter.com/411mma





comments powered by