SPOTLIGHTS
411 Fact or Fiction Movies/TV 1.31.14: Week 418
Posted by Ben Piper on 01.31.2014

Would a Pixar-made Star Wars film be awesome? Is it a bummer that Quentin Tarantino won't make Hateful Eight? Are we glad that Bill Cosby's getting a new show? 411's Andy Critchell and Sean Garmer debate these topics and more!




This coming weekend brings the unofficial National Holiday, The Super Bowl! Who am I rooting for you ask? Well, considering my favorite team's hated rivals are the Broncos, there you go. Don't get me wrong, I like and respect Peyton Manning as much as the next guy, I just can't stand the team that he's on. Not to mention my best friend's favorite team is The Seahawks, so considering they have never won the big game, I'll be pulling for Seattle.

Also, a note: Some people were asking last week in the comments section why there wasn't a poll to vote on who 'won' the column. While the Wrestling and MMA zone's versions of Fact or Fiction do this, The Music and Movies/TV zones do not. When I pointed this out and stated that it's never been done in the Movie/TV zone, someone else chimed in "B.S". I find that interesting, in that the individual seems to think he knows more on the subject than I. Considering I've been in charge of this column for the past six and a half years, sorry, dude. But you don't have a leg to stand on.

This week we've got Andy Critchell and Sean Garmer helping us out. Let's see what they have to say.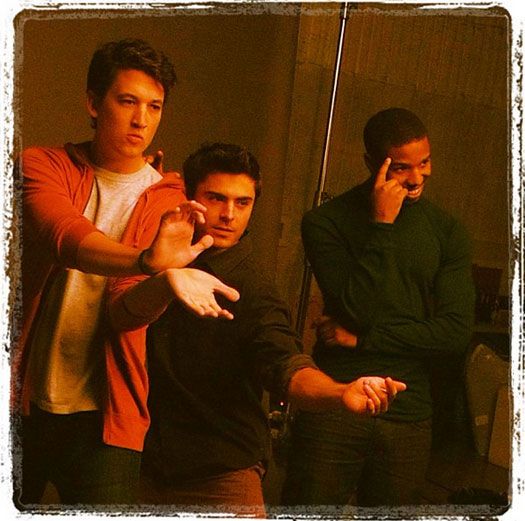 1. That Awkward Moment won't be very good.

Sean Garmer: Fiction. From watching the trailer I can see myself watching this movie. I tend to like romantic comedies because it is a movie I can easily see with the wife without her putting up a fuss. But this one includes guys in it and isn't the total cliche' about one guy meeting the perfect girl and all of that. It is about relationships and friendships based around three guys that inadvertently help each other find love. At its core it probably has all the usual romantic movie tropes but this one seems different in a unique way and I like that.

Andy Critchell:Fiction. I am with Sean here and I think this movie actually looks pretty good. I like that none of the guys come off like caricatures and even the "super handsome guy" (Effon) is not without his weird issues. I really like Michael B Jordan as well so his involvement definitely does not hurt my opinion of the movie's potential.

Score: 1 for 1

2. You're bummed that Quentin Tarantino won't be filming his next script due to it being leaked.

Sean Garmer: Fact. I don't blame him for not wanting to make the movie and I don't blame him for suing the website too. He has every right to do it. Anything Tarantino writes winds up being gold so I would say that this would probably be awesome as well. But, how do we know he won't just change a few things around in the script and decide to wait a year and make the movie anyway? I am bummed right now, but I don't think this is the end of this script.

Andy Critchell:Fiction. I am disappointed for Tarantino as I am a fan of the work he has done but at the end of the day I don't care enough to be disappointed that he won't be making this movie. Besides, it could be the greatest script of all time but it takes more than that to make a great movie so it is impossible to know exactly what it is we're missing out on. I'm sure that this one script is not the only one he has in the pipeline so maybe this can be turned into an opportunity to make another/better movie.

Score: 1 for 2

3. You'd be interested in a live action remake of the anime cult classic Ghost In The Shell.

Sean Garmer: Fiction. When it comes to anime I'm a huge fan of it and I don't like the idea Hollywood has of thinking these animated films will translate over to live action versions. Ghost In The Shell is one of the best ever made and I don't trust that they will do it justice. It seems like this is just Hollywood trying to see if they can abuse another genre and milk it for all it's worth if they can just make one live action hit. Leave Ghost in the Shell, Akira, and any other anime film classic alone and its original form please.

Andy Critchell: Fiction. I am coming at this from the exact opposite place as Sean. I am not familiar with this anime "classic" so I don't really care about this at all. I suppose it may be good for this to be made into a live action film so that it may be exposed to a larger audience but I tend to think that if there was really a large demand for something like that it would have been done already. If Sean is any indication of the fan response then making it into a live action movie probably is not worth it.

Score: 2 for 3



Switch!!!






4. Circulating rumors has this as a future prospect so I ask: Pixar making a Star Wars movie would be awesome.

Andy Critchell: Fiction. I don't see why. I haven't seen any Star Wars content produced since the original 3 movies which would get me excited about any future or rumored projects. The fact that JJ Abrams is involved in the next series of movies gives me some hope but still I will need to see it before I believe it. As far as Pixar's involvement, well they have made some really fun and nice looking movies for sure but I don't know if they are capable of doing anything that is pure action. Again, I will need to see it before I believe it.


Sean Garmer: Fact. I'd assume this would have to be another Clone Wars movie or Disney decided to make their own CG Star Wars series first and then Pixar makes a film based on that. IMO Pixar has never made a bad film, yes I even liked Cars 2 sue me, even if Disney just wants to take a part from something in the new films and have Pixar make a CG film about it I'm fine with it because Pixar put great care into their films and a Star Wars one would be no different.

Score: 2 for 4

5. Bill Cosby returning to network sitcom work is a good thing that you'd welcome.

Andy Critchell: Fact. Sure, I'm all for the return of Bill Cosby. The Cosby Show was obviously a watershed show in television history and a cultural touchstone for anyone who grew up in the 80s. Cosby is still a funny guy and while he has a broader appeal that might seem a bit passé I am willing to give him the benefit of the doubt. If it doesn't work then it doesn't work but let's see how it is before passing judgment.

Sean Garmer: Fact. Why not? The Cosby Show was a landmark television production that still holds up well today. As Andy mentioned, Bill Cosby is still a funny guy and I'm sure he wouldn't return to a network sitcom without having creative input to make sure his character represents him. I'd have no problem seeing Bill Cosby back it would definitely make the world of sitcoms a better place for it.

Score: 3 for 5

6. Amy Schumer teaming with Judd Apatow for her first big screen comedy venture is not only a win for both parties, but for the movie going audience as well.

Andy Critchell: Fact. This is kind of a slam dunk in my mind. Schumer is a super talented stand up with a fresh voice and a sharp wit and movies seem to be the next logical step for her. Apatow knows how to make funny movies with funny people so I can't see any reason why this would not work out well for everyone involved.

Sean Garmer: Fact. I've watched a few episodes of Inside Amy Schumer and I laughed quite a lot. She is pretty talented and if she feels she can expand that to a movie than why not? Judd Apatow for the most part is a hit machine when it comes to making comedy films so this is going to be a big win for both parties. Until the partnership proves to me that it sucks, why not try it and see what happens?

Final Score: 4 for 6

Andy and Sean agree more often than not. Thanks to them both for stopping by, and see you all again next week!
-BP



TWITTER

http://www.twitter.com/411s_Ben_Piper
http://www.twitter.com/411mania
http://www.twitter.com/411wrestling
http://www.twitter.com/411moviestv
http://www.twitter.com/411music
http://www.twitter.com/411games
http://www.twitter.com/411mma
comments powered by