SPOTLIGHTS
411 Movies Roundtable 02.05.14: February 2014
Posted by Chad Webb on 02.05.2014

Is Robocop the most anticipated movie of February? Was I, Frankenstein January's biggest loser? Are we looking forward to Monuments Men? The 411 staff looks ahead in their February roundtable preview!










































411 readers, I bestow upon you the Movie-Zone Roundtable for February 2014. The staff isn't very enthusiastic about many titles this month. Nevertheless, look through it to see which ones we are looking forward to and which ones we aren't. Check out the rest of our thoughts!

For the August 2013 edition, the following staffers have contributed:

Terry Lewis: Reviewer - Devil's Due
Jeremy Wilson: Reviewer - The Grandmaster
Bryan Kristopowitz: Creator of The Gratuitous B-Movie Column
Chad Webb: Columnist/Reviewer of Ask 411 Movies



THE MONTH THAT WAS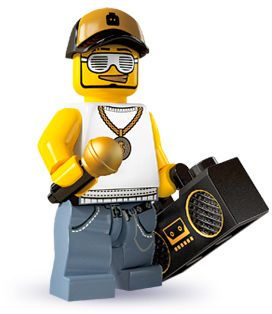 TERRY LEWIS



Biggest Winner of the Month: In a reasonably quiet month for non-Oscar news winners, I'd have to go with Ride Along dominating the box office for two weeks straight. When we talked in last month's roundtable, I said it would be a film I would be keen on but I'm nicely surprised at the attention it's getting. As I said, anything with Ice Cube acting is instantly awesome so it's no surprise for him being a draw, but what I've read from reviews, it may put down a marker for Kevin Hart being a box office attraction.

Biggest Loser of the Month: I feel a bit pained to label him as one but unfortunately Tom Hanks being snubbed from the Oscars noms takes my vote. I had my difficulties with Captain Phillips but I admit alot of that film is carried by Hanks heroic efforts in capturing the essence of the ordeal of the real life story in a worthy leading man performance. Similarly, the selling point of Saving Mr. Banks was surely to see Hanks play Walt Disney himself. In an entertaining turn, perhaps he wasn't quite worth of a leading gong to me because of his criminal lack of screentime, but he was easily worthy of a supporting nod there.

Biggest Movie News of the Month: Neither terrible or great was the news that Superman/Batman is slipping to 2016. Some guff was sprouted about giving the film time so it could be made properly after originally being fast tracked for next year, which wasn't a good idea in the first place. To me, I'm not too fussed since Snyder's vision of Supes wasn't what I wanted from a Superman film but I can appreciate alot of people want to see it. For those who do, absence will only make the heart stronger or something like that - it'll just make everyone whose interested in this film more eager for it. To my immediate knowledge, there's nothing big coming out in the summer for 2016 so it should have a whole month or two to make some massive bank. It's just fans will have to wait a bit longer.

Your Most Anticipated Movie of the Month: There's some intriguing stuff this month, however I'm probably most anticipating Robocop. I love all the uber violence and messages of Robo yet I'm bracing myself for the worst with this modern imagining of our favourite half man, half robot policeman.

Recommended DVD Release of the Month: There's a few oddbits that slippped through my fingers that I'm half bothered about seeing eventually like Metallica: Through The Never and Filth but since the fourth season isn't too far away I think it's a very good time to catch up on Game Of Thrones.

Classic Movie of the Month: I urge you all this Valentine's Day weekend, to send a little time with the original uncut version of Robocop. Top action, top gore, top messages and a very entertaining film about half a robot and half a policeman. If you still have reservations, I encourage you to check out Michael Weyer's sooperb review of the latest blu-ray editiion.

Movie Quote of the Month: "Come quietly or there will be... trouble." - Robocop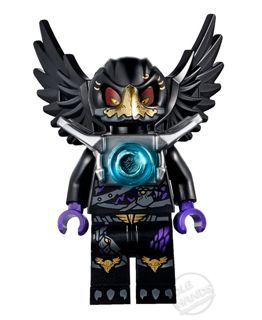 BRYAN KRISTOPOWITZ



Biggest Winner of the Months: It's probably a toss up between Disney, as Frozen continues to make money each weekend, and Universal Pictures, as Lone Survivor was a bigger hit than anyone expected.

Biggest Loser of the Month: Lakeshore Entertainment, as its I, Frankenstein tanked in its first weekend. The company thought it had another Underworld on its hands. Sadly, that didn't happen.

Biggest Movie News of the Month: Warner Bros removes Superman vs. Batman from 2015 and moves it to 2016. The big Marvel vs. DC mega movie competition will have to wait for another summer, I guess.

Your Most Anticipated Movie of the Month: Non-Stop looks pretty cool. And The Lego Movie looks sort of interesting.

Recommended DVD Release of the Month: Escape Plan, Battle of the Damned, Hellbenders, Thor: The Dark World, Gravity, Bullet (Danny Trejo), Legit: Season 1

Classic Movie of the Month: Taken (2008): Yes, it seems kind of weird to call a movie from 2008 a "classic," but Taken is one of those rare exception movies that manages to do more than anyone ever thought it would. It made Liam Neeson a bonafide box office draw and a full on badass (not that he wasn't a badass before Taken, but he was still sort of a dramatic actor before he started looking for his kidnapped daughter), and it was one of the few straight up action flicks to find an actual audience. It wasn't a comic book adaptation or part of some existing franchise. Taken was its own thing. And it's still a kick-ass action flick five years later. Don't get between Bryan Mills and his family. The man is relentless. He will find you and he will kill you. He has the skill set for it. Ha.

Movie Quote of the Month: "I don't know who you are. I don't know what you want. If you are looking for ransom, I can tell you I don't have money. But what I do have are a very particular set of skills; skills I have acquired over a very long career. Skills that make me a nightmare for people like you. If you let my daughter go now, that'll be the end of it. I will not look for you, I will not pursue you. But if you don't, I will look for you, I will find you, and I will kill you."
- Bryan Mills (Liam Neeson)- Taken (2008)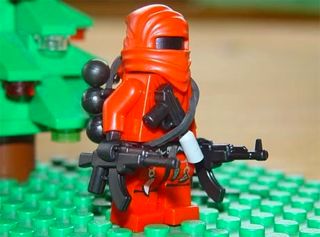 JEREMY WILSON





Biggest Winner of the Month: Lupita Nyong'o. Even after the early Oscar buzz and superb reviews for her in one of the 2013's signature films, 12 Years a Slave, I remained skeptical that Lupita Nyong'o could overtake Jennifer Lawrence and some of the other big name competition to take home many awards. Here we are though at the beginning of February and the Yale drama graduate has become the favorite to take home an Academy Award for her feature film debut. Not only that, Lupita has become the breakout star of the awards season earning raves for her fashion choices and acceptance speeches. Even if she doesn't take home the Oscar (she has already won at SAG and Critics Choice among others), Lupita Nyong'o has become a star and one of 2014's biggest early winners.

Biggest Loser of the Month: The entire January box office and moviegoers everywhere. January stinks for movies. We all know this. Year after year, the first month of the year is the biggest dumping ground for studios looking to unload second-rate horror, pricey third-tier blockbusters that can't compete with the big boys and disappointing awards bait that doesn't have the quality or buzz to compete for awards. And boy was this past January a doozy.

Biggest Movie News of the Month: Technically it happened in February, but the death of Philip Seymour Hoffman was a huge blow for everyone who loves movies and the actor's superb work. It's almost impossible to select just one signature Hoffman performance, as so much of it was top-notch (his Oscar-winning role in Capote is a good place to start, as are his collaboations with PT Anderson). Hoffman's troubles were known, but it's still a tragic, stunning loss for cinema. Addiction sucks.

Your Most Anticipated Movie of the Month: I don't know if February will be much better than January, but there was almost nothing I wanted to see last month. That's not the case this month, because I actually am really looking forward to The Lego Movie. The light, funny marketing campaign has reminded me a bit of how Disney marketed The Muppets. It looks delightful and fun and, unlike so much else currently in theaters, is worth going out in this ridiculous cold to see.

Recommended DVD Release of the Month: This one is simple. Fantastic Mr. Fox. Criterion Collection. February 18th.

Classic Movie of the Month: Even though Harold Lloyd may not be as well known in today's mainstream as his silent era comic contemporaries Charlie Chaplin and Buster Keaton, doesn't mean he was any less popular and influential in his time. This year, Janus Films is distributing a new digital restoration of Lloyd's biggest box office hit The Freshman. It's making its way around in limited release now, but will also arrive on The Criterion Collection on March 25th.

Movie Quote of the Month: From Fantastic Mr. Fox [2009]:
Mr. Fox: [sighs] "Who am I, Kylie?"
Kylie: "Who how? What now?"
Mr. Fox: "Why a fox? Why not a horse, or a beetle, or a bald eagle? I'm saying this more as, like, existentialism, you know? Who am I? And how can a fox ever be happy without, you'll forgive the expression, a chicken in its teeth?"
Kylie: "I don't know what you're talking about, but it sounds illegal."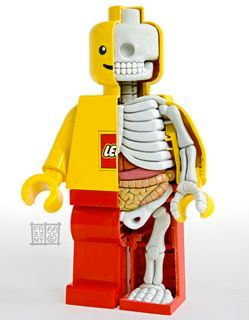 CHAD WEBB



Biggest Winner of the Months: How can you not pick Ride Along? Sure, it's not a critical triumph, but when has any Ice Cube film accomplished that AND box office success? Whether any of us like it or not, most of what the man touches becomes a franchise. That is worth something. This has dominated 3 weeks straight now, one of those weeks falling into February, but this is still easily the big winner of January.

Biggest Loser of the Month: I'll piggy back Terry's answer here and say Tom Hanks getting snubbed by the Academy. Look, I'm biased because he's my favorite actor, but he deserved a nod for Captain Phillips. This was a stacked year for the lead actor category, but Hanks was magnificent. He was also trying to get recognized this year, which he hasn't gone out of his way to do since Charlie Wilson's War. And he's usually an Oscar darling, so take all of that and it makes the whole situation puzzling. Plus, there was a period where people expected him to get two nominations, the second being for Saving Mr. Banks. It does suck, but it's not like he hasn't won yet or anything.

Biggest Movie News of the Month: Yeah the Superman/Batman film kind of dominated news in January. In particular, it was announced that the release date was being pushed a year. And then we've had all the casting announcements, rumors, and so forth. I talk at length about this project in this week's Fact or Fiction, but at this point this film is coming across like a clusterfu**. But Perhaps Zack Snyder will surprise us.

Your Most Anticipated Movie of the Month: This is a week month for theatrical releases, at least ones I'm aching to see. I suppose Non-Stop will provide a healthy dose of action for me, and on the dramatic side a movie called Jimmy P. starring Benicio Del Toro and Mathieu Amalric is coming out as well. Here is the plot summary for the latter: "A Native American Veteran suffering from a series of psychological issues develops a deeply powerful friendship with his progressive French psychoanalyst as they discover and attempt to understand the source of his illness." Sounds boring on paper, but I like the cast, so we'll see.

Recommended DVD Release of the Month: If February is weak for theatrical titles, it is strong for Blu-Ray/DVD releases. I will probably be picking up Escape Plan soon, but we also have Dallas Buyers Club, All is Lost, Gravity, and Nebraska. Criterion will also be putting out a bunch of good ones: Fantastic Mr. Fox, Foreign Correspondent, Blue is the Warmest Color, and Tess. On the TV side of things we have the third season of Game of Thrones and the first season of Beware the Batman, which I haven't seen yet. There are too many to choose from!

Classic Movie of the Month: In honor of its 40th Anniversary Blu-Ray hitting stores, I devote this section to Death Wish from 1974. Michael Winner directs the great Charles Bronson in what is still one of the classic revenge flicks in cinematic history. This is not a fancy movie or a complex one, but a simple tale with superb direction and a brilliant star. The franchise had some clunker sequels, but the original manages to stand on its own to this day. If you haven't seen it, climb out from under the rock you've been living under and rent it asap!

Movie Quote of the Month: From Death Wish - Paul Kersey: "Nothing to do but cut and run, huh? What else? What about the old American social custom of self-defense? If the police don't defense us, maybe we ought to do it ourselves."




COMING ATTRACTIONS



February 7th





The LEGO Movie





Rated PG
Plot: An ordinary LEGO minifigure, mistakenly thought to be the extraordinary MasterBuilder, is recruited to join a quest to stop an evil LEGO tyrant from gluing the universe together.
Directors: Phil Lord & Christopher Miller
Stars: Chris Pratt, Elizabeth Banks, Will Arnett, Morgan Freeman



Terry Lewis: I think this will be everyone's curiosity of the month and I'm no different. As a kid who had tonnes of Lego and a vivid imagination, this is a bit of a dream come true with a completely batshit storyline. I'll admit I'm disappointed it's CG and not real Lego bricks for the most part, but it looks to be in safe hands with the Robot Chicken guy co-directing with the team behind Cloud With A Chance Of Meatballs and it's got a great voice cast too.

Bryan Kristopowitz: I never thought I would see a movie featuring or based on Legos, but then I never thought I would see licensed Lego products, like Star Wars and Harry Potter Lego sets. Or a Lego video game. A definite must see, just to see if it's going to be stupid and ridiculous or hilarious and a sort of animated classic. It really could go either way.

Jeremy Wilson: Hopefully the wit and charm found in the film's trailers and clips can be sustained over a feature length running time. It looks like a winner, but maybe I'm just desperate for a decent offering at the muliplex.

Chad Webb: I have appreciated the marketing campaign behind this movie and that alone has peaked my curiosity to the point where I want to see this. We see Lego products everywhere now, but I dig the concept behind this and they appear to be having fun with themselves, which is wise. I hope it's good.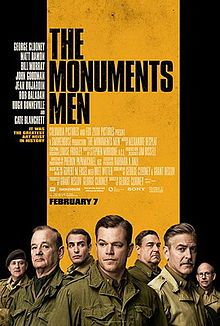 The Monuments Men





Rated Pg-13
Plot: An unlikely World War II platoon are tasked to rescue art masterpieces from Nazi thieves and return them to their owners.
Director: George Clooney
Stars: George Clooney, Cate Blanchett, Matt Damon, Bill Murray



Terry Lewis: Doesn't look bad this and that's one hell of an arthouse 'Magnificent Seven' in the cast. Me and my friend were discussing how you could spin the plot of this into silver age comic book territory as it's something ludicrous from then almost. I'm half interested in how George Clooney does in a George Clooney directed and George Clooney produced movie but it's all about Bill Murray's one film every one or two years for me going to theatres to see this.

Bryan Kristopowitz: This Clooney directed movie has a good cast and an interesting story, but then so did Clooney's Leatherheads and that movie was terrible. So I don't know what to think. I'll give it a maybe.

Jeremy Wilson: Once upon a time, this was seen as a possible 2013 Oscar contender. Fast forward a few months to now as George Clooney's next project has undergone a lengthier post-production process than anticipated, a less-than-stellar marketing campaign and early reviews that are disappointing to say the least. I don't really know what to expect from this, but there are some troubling signs that this may not live up to early expectations.

Chad Webb: The cast alone is intriguing enough for me to pay a ticket. George Clooney is certainly a capable filmmaker, but not one with a perfect resume. I still have to wonder why they chose February for a release date. I know they weren't finished with it in time for awards season, but you'd think they would have pushed until later in 2014. I'm a bit skeptical, but I want to see this because the story sounds fascinating.

February 14th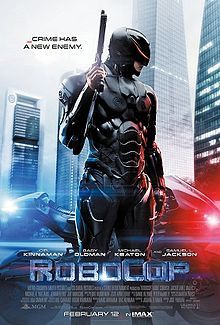 RoboCop





Rated Pg-13
Plot: In 2028 Detroit, when Alex Murphy (Joel Kinnaman) - a loving husband, father and good cop - is critically injured in the line of duty, the multinational conglomerate OmniCorp sees their chance for a part-man, part-robot police officer.
Director: José Padilha
Stars: Joel Kinnaman, Douglas Urbanski, Abbie Cornish, Gary Oldman



Terry Lewis: Your lonely male Valentine's day lifesaver folks. That said, last year's effort was the shambles of A Good Day To Die Hard and this isn't any better looking. I just think the makers behind this are missing the point almost with this Robo-make by adding in emotional depth and a political stance when really Robo is all about the uber-violence.

Bryan Kristopowitz: My only hope for this remake is that it isn't a total abomination, but I get the feeling that it will be every time I see a trailer or a TV commercial. I want it to be good, though. I really do. But, again, I'm not hopeful, even with the cast involved and Jose Padilha behind the camera.

Jeremy Wilson: At this point, I have no idea what to think about this. I'll probably see it, but I'm doubtful it have anywhere close to the impact of the original, even if its pretty good. I'll be interested to see how it does at the box office; February isn't traditionally a great time for this kind of movie and I think The LEGO Movie might have staying power throughout the month.

Chad Webb: Oh poor Joel Kinnaman. He is a terrific actor, but his talents were overshadowed by poor writing in The Killing and now he will have another huge dent to his career with this remake. As Vinnie Mac might say, there is no chance in hell that this will be good. Why? Because the 1987 smash was a cheesy, gory, entertaining classic. Paul Verhoeven's original is to date the only version of the character that is worthwhile. The sequels, the shows, the comic books have all been disappointing or downright terrible. This looks too clean, too modern, and nowhere near edgy enough to compete with the craziness of the original. I'd also wager it lacks Miguel Ferrer snorting coke. I'll give it a shot, but I'm not counting on this delivering the goods.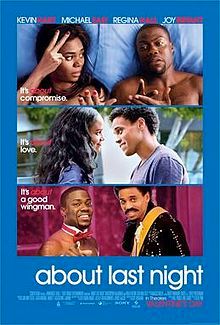 About Last Night (2014)





Rated R
Plot: New love for two couples as they journey from the bar to the bedroom and are eventually put to the test in the real world.
Director: Steve Pink
Stars: Kevin Hart, Joy Bryant, Regina Hall, Bryan Callen



Terry Lewis: Typical V-Day "we must have a romance film" guff that we've seen too many times before. Kevin Hart is entertaining but looks to be taking a backseat here to cast members I ain't familiar with.

Bryan Kristopowitz: It'll be interesting to see how quickly this becomes a full on Kevin Hart movie in the advertising since Ride Along was such a hit. This doesn't look terrible, but then I'm not all that enthused either. I'll rent it in a few months.

Jeremy Wilson: The continued shoving of Kevin Hart down our collective throats continues. Pass.

Chad Webb: I never did see the original 1986 film with Demi Moore and Rob Lowe. I've heard positive things. This is based on a David Mamet play also by the way. This remake doesn't really catch my attention, but you never know. Kevin Hart is everywhere lately. I'll probably pass on this.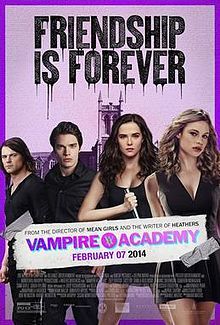 Vampire Academy





Rated PG-13
Plot: Rose Hathaway is a Dhampir, half human/vampire, guardians of the Moroi, peaceful, mortal vampires living discretely within our world. Her legacy is to protect the Moroi from bloodthirsty, immortal Vampires, the Strigoi. This is her story.
Director: Mark Waters
Stars: Zoey Deutch, Lucy Fry, Danila Kozlovsky, Sarah Hyland



Terry Lewis: Urgh. What a din. The trailer is just noise and bright colours, the Twishite audience like that right? Yes somebody saw fit to combine Harry Potter with Twilight with a vampire school movie. Dreadful.

Bryan Kristopowitz: This looks excruciating. Aren't we done with this lame vampire thing yet?

Jeremy Wilson: This looks kind of schlocky to me, sort of like a second-rate and this kind of YA genre stuff never seems to amount to much.

Chad Webb: This might be a decent film, but anything involving vampires these days is almost an immediate turn off. I'm tired of the trend and need a long breather before caring about our fanged friends in any capacity again. Mark Waters is directing and boy does he have a strange resume. Among the titles: Mean Girls and Mr. Poppers Penguins. I'll be honest. I don't seem myself seeing this.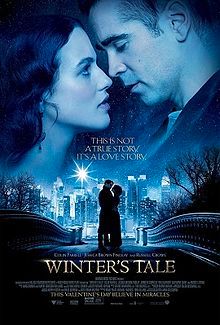 A Winter's Tale





Rated PG-13
Plot: A burglar falls for an heiress as she dies in his arms. When he learns that he has the gift of reincarnation, he sets out to save her.
Director: Akiva Goldsman
Stars: Colin Farrell, Jessica Brown Findlay, Russell Crowe, Will Smith



Terry Lewis: Oddity is the best way to describe this. To be honest, I would have been happy with a Farrell on Crowe struggle over a girl in old Irish NYC but with a reincarnation slant? Hmm, not sold well but Goldsman has a ridiculously good track record so hopefully he can pull this one off.

Bryan Kristopowitz: I am not looking forward to this movie at all because it's just going to lead to advertisements on how it's a "movie for adults." Like that has ever been a viable advertising strategy. I'm not even sure I want to rent it.

Jeremy Wilson: This looks very silly and I can't help giggling at Russell Crowe's level of overacting, even in the trailers. I don't hate Colin Farrell (well, at least when he's working with Martin McDonagh), but I don't think this sort of thing is when he's at his best.

Chad Webb: Initially you think this is another period romance, but throw in reincarnation and a humdrum plot becomes fascinating. This is the directorial debut of screenwriter Akiva Goldsman, so it's worth a look for that alone. But you have Colin Farrell shedding tears, Russell Crowe sporting a scar, and Will Smith is somewhere?! I'm sold on this as acceptable Valentine's Day fare.

February 21st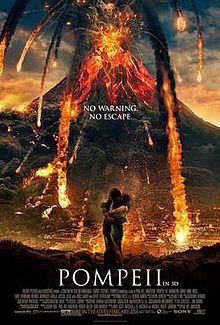 Pompeii





Rated PG-13
Plot: A slave turned gladiator finds himself in a race against time to save his true love, who has been betrothed to a corrupt Roman Senator. As Mount Vesuvius erupts, he must fight to save his beloved as Pompeii crumbles around him.
Director: Paul W.S. Anderson
Stars: Kit Harington, Carrie-Anne Moss, Emily Browning, Adewale Akinnuoye-Agbaje



Terry Lewis: Oh Paul W.S. Anderson, how I've missed thee. He has a weird on-off track record with me but as a bit of escapism disaster porn mixed with some fine fantasy actors, this could be a hit I think.

Bryan Kristopowitz: I like director Paul W.S. Anderson (I think he's an underrated director), so I'm pulling for this to be both good and to do well at the box office. It isn't a Resident Evil movie, so the odds aren't in Paul's favor. I'm still pulling for him, though.

Jeremy Wilson: In no possible scenario am I interested in this. It looks like another dark and dreary 3D mess. Plus, Paul W. S. Anderson isn't exactly my cup of tea.

Chad Webb: The history of Pompeii is very interesting to me, and I was excited at the notion of a movie built around that. But the trailer comes off like a mixture between 300 and Gladiator. And poor Jon Snow is the star. I can't come to the defense of Paul W.S. Anderson like Bryan. I'm not a fan of his and this looks to be a waste of talent and story potential.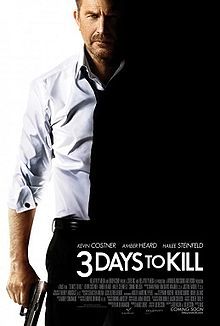 3 Days to Kill





NYR
Plot: A dying Secret Service Agent trying to reconnect with his estranged daughter is offered an experimental drug that could save his life in exchange for one last assignment.
Director: McG
Stars: Amber Heard, Kevin Costner, Hailee Steinfeld, Connie Nielsen



Terry Lewis: Sure it looks cliché but I like the look of this. Costner is one of my favourite actors and I don't have too much of a problem him having a go in the Taken role. The concept is great but it reminds me alot of Escape From New York.

Bryan Kristopowitz: I like the idea behind this movie and Kevin Costner hasn't kicked ass in a movie in a long time, but I'm leery of having McG as the director. The man just doesn't inspire confidence.

Jeremy Wilson: This is a joke right. The marketing for this makes me think its a Funny or Die vido, with Kevin Costner demanding to be the next Liam Neeson. Looks terrible, but perhaps it could reach so-bad-it's-good territory.

Chad Webb: All of a sudden Kevin Costner is working regularly again. Fine by me, but this strikes me as overly familiar territory for him. He seems to be craving action thrillers. This premise is so pedestrian upon first glance. I sincerely hope it is better than the trailer affords because right now this scream "wait for DVD!"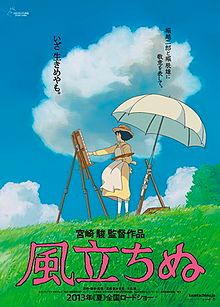 The Wind Rises





Rated PG-13
Plot: A look at the life of Jiro Horikoshi, the man who designed Japanese fighter planes during World War II.
Director: Hayao Miyazaki
Stars: Joseph Gordon-Levitt, Emily Blunt, Jennifer Grey, Mae Whitman



Terry Lewis: Hayao Miyazaki is calling it a day and earning a well deserved retirement but he's leaving us with something that could top his previous works with his beautiful looking life story about the man who designed Japan's fighter jets in WW2. Niche, yes. Ignorable, no.

Bryan Kristopowitz: It's a Miyazaki movie, his last one. Why wouldn't I want to see it, even if it's controversial and historically suspect? But will I be able to see it in an actual theatre? Will it get a wide release?

Jeremy Wilson: I absolutely loved The Wind Rises when I saw it back in October (I know Chad did as well) and I don't really understand the furor around it. Its both stunning and powerful, and if it is Miyazaki's last film, then the master goes out on top. Probably the best movie you could see this month.

Chad Webb: Already saw this one. It is fantastic. I can't recommend it enough. If this is indeed Hayao Miyazaki's swan song, it was a grand finale for the master. Go see this!

February 28th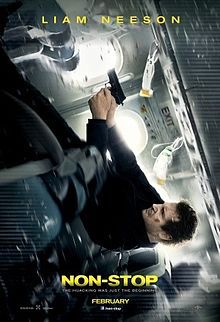 Non-Stop





Rated PG-13
Plot: An air marshal must spring into action aboard an international flight.
Director: Jaume Collet-Serra
Stars: Julianne Moore, Michelle Dockery, Liam Neeson, Anson Mount



Terry Lewis: WOW! Neeson is back with Die Hard on a plane! Love this concept. Really want to see this sooner rather than later.

Bryan Kristopowitz: Liam Neeson kicking ass, taking names, and figuring stuff out while trapped on an airplane? Of course I'm going to see it!

Jeremy Wilson: Speaking of Liam Neeson...its the first couple months of the year so naturally that means we're getting another Neeson action baddass outing. I'm not a huge fan of the Taken films but The Grey was pretty good and I'm okay with this whole Neeson renaissance.

Chad Webb: I feel like the trailer gives away way too much information, but then again I've complained about that a lot. When are those trailer restrictions going into effect? Neeson was great in Taken but if you ask me his stint as an action hero peaked early with that and has been downhill since. Nevertheless, this is one of the only February titles that is my cup of tea, so I'll see it and hope for the best. I'm just curious about who Anson Mount portrays. He's the hero on Hell on Wheels, but I wouldn't be shocked if he's the villain here.





Son of God





Rated PG-13
Plot: The life story of Jesus is told from his humble birth through his teachings, crucifixion and ultimate resurrection.
Director: Christopher Spencer
Stars: Diogo Morgado, Roma Downey, Amber Rose Revah, Darwin Shaw



Terry Lewis: Adapting Bible stories isn't new. Making me interested in seeing one on the big screen would be. It looks like a straight to video film released on the big screen.

Bryan Kristopowitz: I didn't watch this when it was a cable mini-series, so why would I want to pay to see it in a movie theatre in truncated form? Screw that nonsense.

Jeremy Wilson: Not even a little bit.

Chad Webb: We see Bible adaptations and versions of Jesus Christ's story every so often. You get used to it. This one strikes me as the religiously safe account. People yelled about Mel Gibson's movie, as they did with Martin Scorsese's, so many still declare them controversial. I don't get a "pushing the envelope" vibe with this, which is why this is the one you'll see shown in schools. Just my guess. Overall, I'm indifferent to this.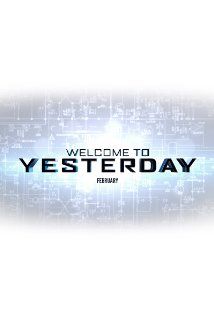 Welcome to Yesterday





NYR
Plot: A group of teens discover secret plans of a time machine, and construct one. However, things start to get out of control.
Director: Dean Israelite
Stars: Sofia Black-D'Elia, Ginny Gardner, Jonny Weston, Amy Landecker



Terry Lewis: Hmmm, not great looking. I usually like time travel films but they've gone quite heavy on the consequences angle which could ruin the fun in going back in time in the first place. Standard teen fare looks too.

Bryan Kristopowitz: I liked the trailer I saw for this found footage time travel movie, but I have a feeling that this is going to be longer than it needs to be. And will it make sense? So few time travel movies do.

Jeremy Wilson: Looks like a rental, but if it gets good buzz perhaps it might be worth seeing.

Chad Webb: I saw this trailer and liked it enough that I would see the film. Though I admit I am partial to time travel storylines. I don't know most of the cast and I'm not familiar with the director, so that has me intrigued. I doubt it will be a masterpiece, but it's worth the price of admission.

Thanks for reading! Check back with us next month as we dive into the March titles with 300: Rise of an Empire, Need for Speed, Divergent, Noah and Sabotage.

comments powered by