SPOTLIGHTS
A Bloody Good Time 02.13.14: The Top 10 Empire Pictures Films
Posted by Joseph Lee on 02.13.2014

From Re-Animator and From Beyond to Trancers, Puppet Master and more, 411's Joseph Lee counts down the top 10 Empire Pictures horror films!

































Opening Logo courtesy of Benjamin J. Colón (Soul Exodus)



Welcome to A Bloody Good Time.

Before we get going, I just wanted to point out that as of this week, A Bloody Good Time is now on Facebook! Get the columns the second they're posted, as well as my thoughts on horror news and movie reviews that I may not be able to post on this website. Just another way for me to keep connected with my readers.

I was going to do Avco-Embassy this week, but then I realized that I've only seen a handful of their genre releases. So I'm going to postpone that for a future week and instead focus on Charles Band's Empire Pictures. I've previously written two retrospectives on his Full Moon Pictures, a brief history in 2008 and a top ten in 2011. I also wrote up a separate list ranking the Puppet Master series. I said I would one day get to Band's arguably more successful Empire films and now is that time. You may recognize two of the films on this list from the Full Moon lists, because they were Full Moon releases but produced by Empire.

As far as the history goes, there's not much to say. Empire was the company that Charles Band had before Full Moon. In fact, he opened Full Moon shortly before Empire folded. He started the company in 1983. It had a few hits in the 80s (some of which will be covered here) but then began to have financial and debt issues before it fell apart in 1989. A year before, he sold it to Epic Entertainment, but that didn't save it. Various companies ended up getting the rights to the films, like Lionsgate, Anchor Bay and others.

So let's get to my picks for the top ten Empire releases.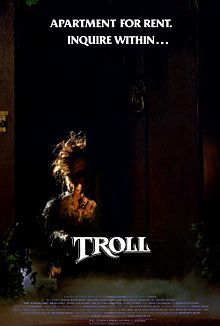 #10: Troll (1986)

Troll isn't exactly a good movie, but it's definitely something every fan should watch. It's just so bizarre and more fitting of Full Moon's catalog than Empire's. However, it's not nearly as bad as Ghoulies or the Troll sequels and still a lot of fun in a bad movie sort of way. A lot of people called Troll 2 the "best worst movie" ever made for a lot of reasons. However this is almost as enjoyable for completely different reasons.

The acting is a lot better than the sequel, for one thing. Phil Fondacaro (who also plays the titular Troll) as Malcom Malory actually gives a good performance as someone who has been smaller all his life and as a result he's the most likable character in the movie. There's also an early role from Julia Louis-Dreyfus (nearly naked, if you're into that) and some surprisingly good special effects, which make sense since John Carl Buechler. The main character is named Harry Potter, which is funny for obvious reasons today. I only hope he keeps that name in the inevitable remake.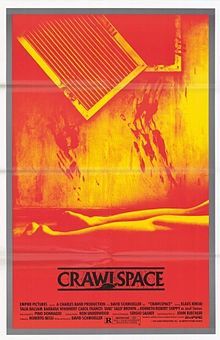 #9: Crawlspace (1986)

Klaus Kinski was a very creepy man. Even if the allegations against him by his daughters were false, he was still, from what I read, a nightmare on set of several films and not a very likable person. Even if all of that were just gossip, the man looks like a crazed killer. He has wild eyes, crazy hair and has played the villain in so many movies it's hard to see him as anything else. So naturally making him the creepy landlord who murders people in his apartment building is a perfect bit of casting.

He kills young women because he's the son of a Nazi doctor. He even keeps a woman prisoner with her tongue cut out, but won't kill her because he wouldn't have anyone to talk to. This movie isn't well-liked by a lot of critics but it is disturbing, violent and weirdo or not, Kinski knows how to get under your skin as the psychotic killer. This was recently released by Scream Factory, so it's readily available should you want to check it out.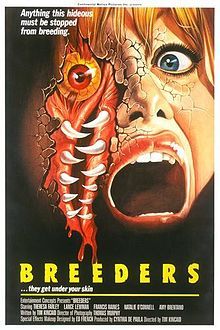 #8: Breeders (1986)

This is not to be confused with the 1997 movie of the same name, because that was a remake. See, sometimes a movie can get remade even if no one's really heard of the original. The film sees a series of women getting raped but what they can only describe as something alien. Only virgins are being attacked, and then they're later becoming pregnant with spawn. It's kind of like C.H.U.D. in that the women are being attacked by something living underground, but it really is an alien and it's not eating them.

This movie is really cheesy but it has a good concept. Aliens want to continue their species, they find their compatible with humans so they just take what they need. It doesn't limit who is in danger by restricting it to virgin women. Like Species, if the aliens succeed in breeding, they're going to spread and kill us all. So there's still a level of threat there. Of course, at least in Species, Sil appeared as Natasha Henstridge and seduced men. These poor women are just getting assaulted by disgusting monsters.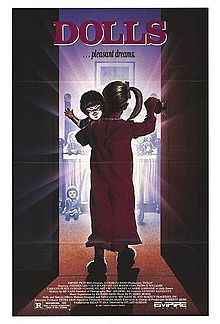 #7: Dolls (1987)

Ah, the Charles Band doll obsession begins. This movie benefits from having Stuart Gordon direct and some neat doll effects, as well as a story that isn't what you think it is when it continues. The people being killed are all jerks and while they may not deserve death, they're not really being killed. They're being turned into dolls so they can bring happiness to children. It's still a scary thought, but I appreciate the creativity.

This movie not only features good direction, decent special effects and one of the most ridiculous dream sequences ever (a girl imagines her teddy bear grows to gargantuan size and kills her father and stepmother), but Stephen Lee is sometimes funny and quite likable as Ralph, which is good since he's kind of the hero of the piece. It's a different kind of horror film that's more like a dark fairy tale than anything else.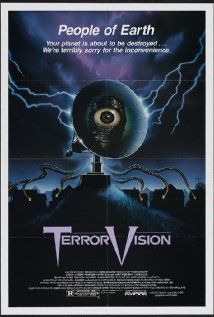 #6: TerrorVision (1986)

Here's another goofy horror movie that has to be seen to be believed. I wouldn't really call it "good" in the general sense. It is weird, insane and stupid as hell but very entertaining. A family installs a satellite that receives a signal from outer space. Unfortunately that signal came from aliens who were disposing of a monster that they were having some trouble with. The monster arrives in the home and begins eating various family members, with only the kid seeing what's really going on.

The monster itself looks like the most non-threatening space creature ever. At one point the kids even try to make it into a pet and it seems to be working, but of course things go wrong like they always do in this type of movie. If you're looking for some harmless dumb but fun 80's cheese, this is a perfect choice. Scream Factory's also released this one and it has been available on Netflix off and on. I'd definitely check it out, if only to hear the great theme song again.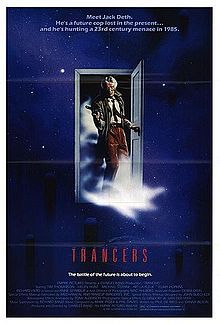 #5: Trancers (1985)

This actually made my #1 on the Full Moon list, so you know there are some heavy-hitters for it to only get #5 here. Tim Thomerson is a bad ass as Jack Deth and even if Full Moon wasn't one of those companies that made a ton of sequels to its own films, I'd want more movies featuring Deth and his world. Thomerson is so great in this role that he eventually got another attempt at a franchise for Full Moon when he played Dollman. He basically acted like Jack Deth, only smaller.

As I mentioned before, the way that the characters go back in time in this movie is great. You travel along your own bloodline and possess one of your ancestors. It's a movie that's a lot of fun and while not a horror film, is certainly a genre movie (sci-fi action) and one that I'd watch over and over. I wish this one had a blu-ray release, but there's certainly enough DVD copies out there courtesy of Full Moon, even complete series sets for fairly cheap with all four sequels. Well, there is a Trancers 6, but most people hate that one because Thomerson is not in it.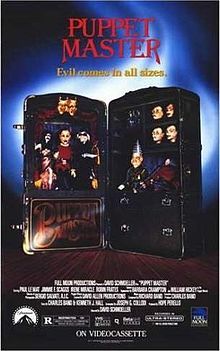 #4: Puppet Master (1989)

Had I included any of the Puppet Master movies in my original Full Moon list, this would have ranked #1. It was one of the last Empire films, as it was produced by Empire but when Empire folded, Full Moon and Paramount teamed up to release it. The franchise is still going but it's the original that most people care about (although Toulon's Revenge is really good). I've seen this movie more times than I care to admit but I still really enjoy it. I'll watch even a bad Puppet Master movie (which this is most certainly not) over most other movies any day.

For those of you new to the concept, this follows a group of psychics at a hotel who are killed off one by one by puppets controlled through a combination of science and magic. The puppets obey the will of the Puppet Master, which means they are either good or evil depending on who is controlling them. At the same time, they'll only take so much crap from you before they turn on you too. This movie isn't necessarily scary, but as someone who is a fan of stop-motion animation and ridiculous b-movies, this is one of the better ones.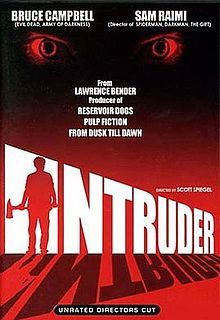 #3: Intruder (1989)

This is a slasher from Scott Spiegel, who worked with Sam Raimi on the Evil Dead movies. It's also his only good movie as a director, but let's ignore that. It has a cameo from Bruce Campbell and supporting roles for both Sam and Ted Raimi. It's about a supermarket that is being closed for the night, only to be terrorized by an unknown assailant. This person begins killing the night crew one by one. This movie starts out a little slow, but when the deaths start happening (about 25 minutes in on a 80 min run time, mind you), they happen fast and furious until the finale. I loved a lot of the clever camera angles and shots they used for this, as well as scene transitions. There were also some nifty bits here and there that you appreciate as a horror fan who thinks he's seen it all (I've never seen someone's location be given away via nosebleed, for example). Outside of a abrupt end, this is pretty fun.

Check this out uncut if you can. I watched it cut on Netflix Instant and was disappointed by the lack of 80's slasher gore, but the blu-ray release from Synapse is completely uncut. There is a death sequence that is just really, really sick and I mean that in a good way. It involves a head and an industrial-sized, electric meat slicer. Unlike something like Halloween, which doesn't need it, this movie would actually be hurt from lack of gore. Why else would you watch slasher film with a large body count?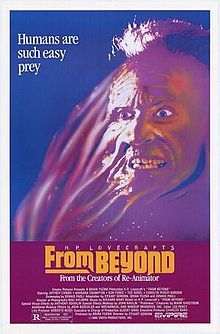 #2: From Beyond (1986)

Another movie from Stuart Gordon, this time starring Jeffrey Combs, fresh off a certain other film they did together. I've loved this movie for years. It's weird, it's gory and it's nasty. It's another Lovecraft adaptation from the Gordon/Combs/Crampton combo, and features Ken Foree in addition to the usual suspects. This is one of those movies that I rented from just seeing the video cover, because the tagline "Humans are such easy prey" is one that pretty much sells me on a movie, even if it doesn't tell me what that movie is about.

I've seen this movie several times and I probably can't really explain to you what it's about. I'm sure I could try, and I'm sure there's a synopsis I could copy and paste, but it's really something you have to see. Inter-dimensional travel, pineal gland monsters and otherworldly abominations are all featured here. It's a movie that's surprisingly crazier than the other Lovecraft adaptation Gordon did but still almost as good. I've given away which movie is #1, haven't I?




#1: Re-Animator (1985)

It pretty much had to be this. Re-Animator is, for me, one of the quintessential 80s horror movies. Everything about it is great from the acting (Jeffrey Combs is just amazing as Herbert West) to the gore effects to the crazy story. There are certain movies you hear about and wonder if they live up to the hype, and Re-Animator was one of those for me. I heard about it as this really cool funny and gory movie that is from what I can tell, universally praised. I had to see it.

If you're a fan of 80s horror that features a lot of blood and some darkly funny moments, then you don't get a more perfect blend than Re-Animator. It has a reputation for a reason. It's hard to imagine that the series would get even more ridiculous, but both Bride of Re-Animator and Beyond Re-Animator have proven that things can indeed get worse. If you've never seen it, do yourself a favor and either watch it on Netflix or just buy it outright. This is one blind buy you will never regret.




Ending Notes:

That's it for me. Leave some comments here, on my Twitter or my Facebook. Next week it's a much bigger film company as I take on American International Pictures.



Closing Logo courtesy of Kyle Morton (get your own custom artwork and commissions at his Etsy account)



A Bloody Good Time: The Store is now officially open! Like this design? You can now find it on most of my merchandise! Click here to find shirts, posters and more!

For those interested in more of my movie reviews, I've created a new blog! Check out the brand new Not-So-Bloody Good Time!

And of course, if you want to know if I've ever covered anything or want to read a past edition, there's the Bloody Good Time Archives! Yes, you can finally read every edition of ABGT going back to the beginning! Just ignore my early writing style...I was new.

See you next week!
comments powered by