SPOTLIGHTS
The Hollywood 5 & 1 2.15.14: Dania Ramirez VS Selita Ebanks Edition!
Posted by Steve Gustafson on 02.15.2014

Dania Ramirez takes on Selita Ebanks in Vs, a rumored list of Marvel's Phase 3 movies leaks, a look at the supposed direction for I Am Legend 2, Stacey Poole is your "& 1" Model of the Week and more!




































A WORD FROM STEVE...
Welcome back! How was your week? We're back for another week of hot women, the biggest Hollywood news, and some celebrity gossip! For some additional reading you can check out my Comics 411. Or you can check out my Big Screen Bulletin for more movie related news and thoughts! Last week I interviewed Playboy's Miss November, Gemma Lee Farrell!

It's true...





Hey everyone! How was your Valentine's Day? I hope you treated your hand extra special. OK, who's greeting us this week? None other than Romi Rain! Romi's an up-and-comer and if you take a few moments to Google her, I think you'll agree. But only if you're of legal age.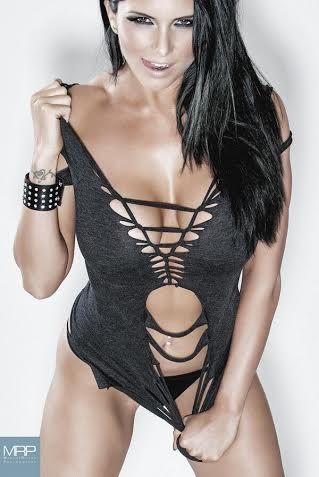 It was the Battle of the Wonder Women! Gal Gadot took on Chanel Preston and here are the results:

Gal Gadot 55.22%
Chanel Preston 44.78%

Gal squeaked it out after Chanel's fans had a late rally to close the gap. Make your own joke with that one. This is probably the most positive reception Gal's received since being cast as Wonder Woman. This week we put Dania Ramirez up against Selita Ebanks. Can't go wrong there.

Who wins in this one?



Dania Ramirez VS Selita Ebanks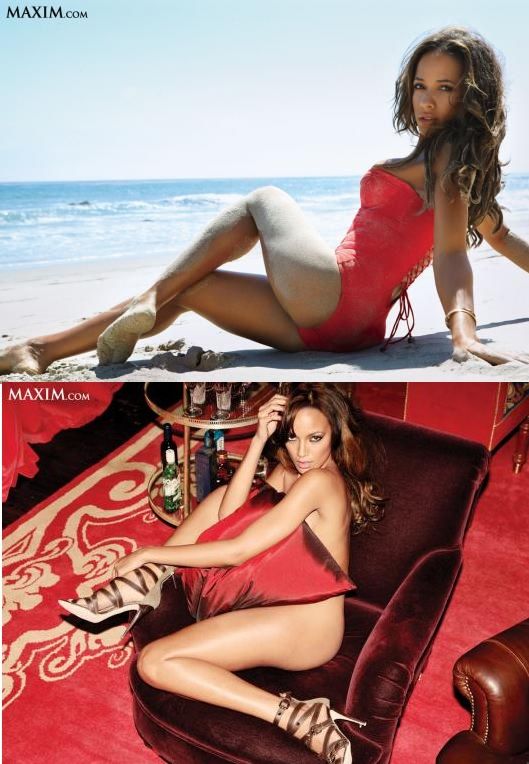 VOTE!




PIC OF THE WEEK!
Check out Irina Shayk showing off some Olympic pride: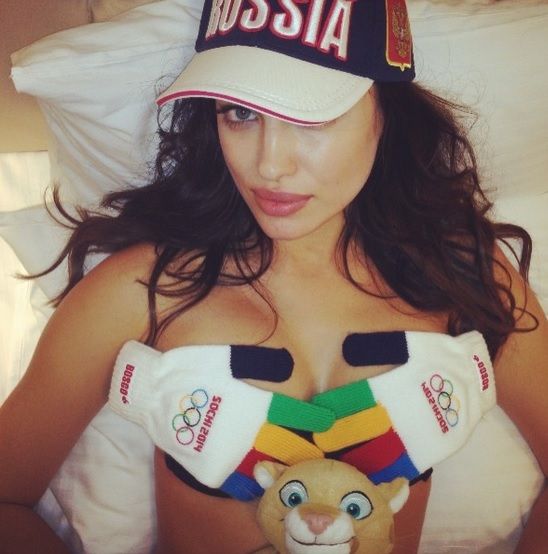 WHAT THE HELL?
Captain America: The Winter Solider co-director Joe Russo recently spoke about the costume change for Steve Rogers in the new movie. Here is what he had to say:

"It was about a real world grounding approach to the character, in the spirit of Ed Brubaker's book, which is postmodern and deconstructionist and a grounded thriller. We wanted to put Cap in a space where he's a special forces operative for SHIELD who goes on missions around the world that are clandestine and sometimes require a certain level of anonymity or stealth. We wanted to use his Super Soldier outfit from the comic books as a way to represent, thematically, his place in the world of SHIELD and the difference between working for SHIELD and being Captain America. That's something that gets explored on a very concrete level in terms of what outfits are used in the film. We didn't feel like we were messing with the icon. People can say that they're fans of the books if they're only loyal to the '60s and '70s version of the character – well, then you're a fan of that version of the character, but if you've been reading the books till the current runs then this is a journey that the character goes on and it's a pretty explicit journey. We just felt like we were being faithful to the more recent issues of the books. The movie has a very thematic component in terms of the use of costumes. When you come to see the film I think you'll understand why we made the choice we made…"

As you might have heard, Batroc the Leaper will be appearing in Captain America: The Winter Soldier, portrayed by French Canadian former UFC Welterweight Champion Georges St-Pierre.





TWITTER-A-GO-GO!
Make sure you're following all the comings and goings around 411mania on Twitter! Follow me for some witty tweets from time-to-time as well. Dana White, Jesse Jane, and Larry Csonka follow me. What are you waiting for?



http://www.twitter.com/stevethegoose
http://www.twitter.com/411mania
http://www.twitter.com/411wrestling
http://www.twitter.com/411moviestv
http://www.twitter.com/411music
http://www.twitter.com/411games
http://www.twitter.com/411mma









Phase 3!
The rumors are flying over which movies will be part of Marvel Studios Phase 3. Recent reports have claimed that Guardians of the Galaxy 2 and a Black Widow movie are in development. Other rumors have suggested that a Black Panther and Inhumans movie are in the works.

However, SchmoesKnow has revealed a list of movies that their source says are definitely part of Marvel Studios Phase 3. According to their source, the only movies absolutely certain for Phase 3 at this point are Ant-Man,Captain America 3, Thor 3, The Avengers 3 and Dr. Strange.

Speaking to Total Film, Marvel Studios Chairman and producer Kevin Feige discussed some details on more of Black Widow's backstory being revealed in The Avengers: Age of Ultron.

Feige stated: "We start filming the next Avengers film at the end of March. [Black] Widow's part in that is very big. We learn more about her past and learn more about where she came from and how she became in that film. The notion of exploring that even further in her own film would be great, and we have some development work with that."

The Avengers: Age of Ultron is due out on May 1, 2015. Black Widow will next be seen in Captain America: The Winter Soldier due out on April 4.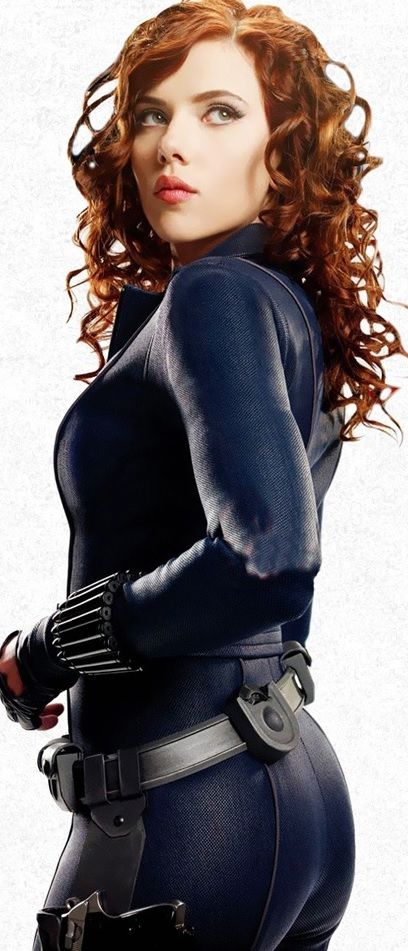 Would you watch a Black Widow movie?




I Am Legend 2!
Akiva Goldsman, doing some marketing for his feature directing debut Winter's Tale, chatted with iO9 about the I Am Legend sequel that never came to be. The writer and producer spoke about the project, which looked to bring back Will Smith, despite his character's fate in the original film. But it this project went they way of Independence Day 2, with Smith refusing to take part in any planned follow-ups. Without Smith, there could be no I Am Legend 2, so Goldsman talked a bit about what might have been:

"I mean, we wrote a prequel [and] a sequel. We had a really interesting prequel, which was the first outbreak of the virus, during a Thanksgiving Day parade, which was awesome. We did a really interesting prequel that [took place] later. Which was right after the first… really right when the population of of humans became pretty decimated. And it was this sort of trek to Washington. Which included a dark seeker elephant that had broken out of the zoo.

Then we did a sequel, that started with Neville again — and you realized that he was cloned. We've tried every which way. In fact if you're available you could be in the next movie. It will never happen but we really enjoyed trying to make it happen."




Do you want to see I Am Legend 2?




Guardians vs Wonder Woman.
This:





This:





I'm a huge fan of raccoons with guns.




Oh, Kardashians!
The Kardashian family is set to sign a new multi-year deal for Keeping Up With the Kardashians. TMZ reports that the cast, minus Bruce Jenner, is about to sign a deal that will top the $40 million three season deal that they signed in 2012. At the time, that was the richest reality TV deal in history.

The show is currently in the midst of season ten and the new deal will start with season eleven. Jenner will not return because, as previously reported, he is done with the show and was "fatigued" from the series. He also reportedly disliked the mocking he received as a cast member. Producers are not said to be worried about his departure as he wasn't considered a "major character."

It is unknown if the deal is officially signed yet, but it is believed to be a done deal at this point.




No Bruce!




What's the VIDEO BUZZ?
Warner Bros. has released an animated blooper reel from THE LEGO MOVIE, based on some of the outtakes from their voice cast.


What do you think?






Welcome back to the & 1 Model of the Week! It's pretty obvious what this is. A couple pictures of a sexy gal for you to look at before clicking to the next article. This week our & 1 Model is ...Stacey Poole!!


Ladies and Gentlemen, I present...Stacey Poole!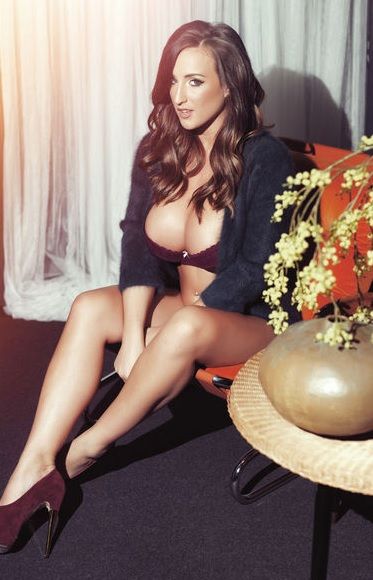 Before I say GOODBYE!
I started a suicide prevention resource site. Give it a look and share! www.youcanendure.com . If you or someone you know is feeling isolated, don't hesitate to call the National Suicide Prevention Hotline 1-800-273-8255. Finally, if you have some down time and are looking for a great place for great fun, check out Tiger Flash Games!


All pictures courtesy of Maxim Magazine, Complex, Huffington Post, V Magazine, People, FHM, Details magazine, www.cnn.com, and www.imdb.com.
comments powered by