SPOTLIGHTS
Comics 411 2.19.14: Comic Book Numbering Edition!
Posted by Steve Gustafson on 02.19.2014

News and thoughts on what to expect from Batman Eternal, X-Men Legacy celebrating its 300th issue and should comic books do away with the conventional way of numbering books? Plus a review of Superior Spider-Man #27 and more!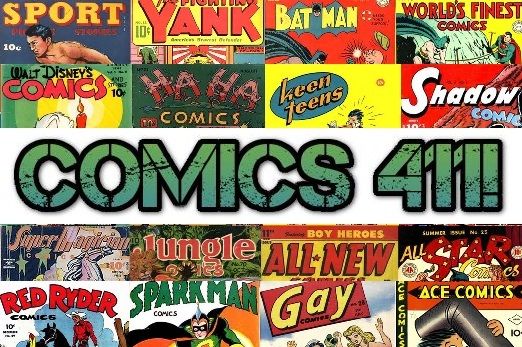 Welcome back to the Comics 411! My name is Steve Gustafson and this is a corner of 411mania reserved for those interested in talking comics! As always, I want to thank everyone who took a few minutes to read and comment last week. Check out my Hollywood gossip (and anything else!) Hollywood 5 & 1 and my weekend movie recap The Big Screen Bulletin!


And away we go...

Do you find this to be true?







COVER VS COVER!

I've been wanting to do a Cover VS Cover since I started the Comics 411. It's real simple, each week I'll take two covers and you vote on your favorite. Some weeks the covers will be random, some will be themed, some will be classic, and some will be ones you've never seem. Have fun with it.

Two classics to start us off. The Dark Knight Returns and Batman Year One. Which one is your favorite cover?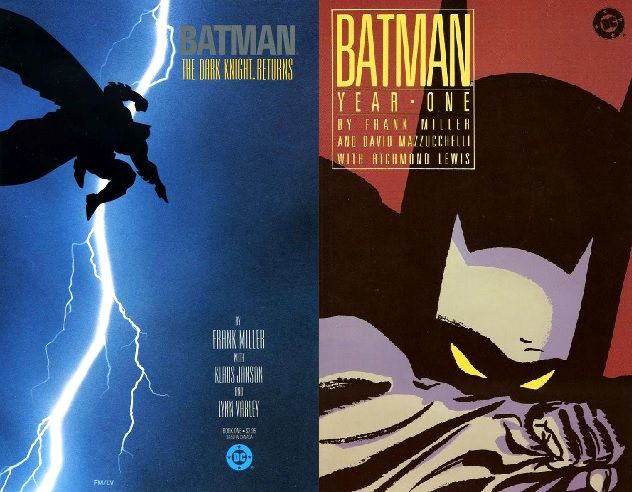 READER ROUNDTABLE

The Comic Book Relaunch. It's been done time and time again for titles facing low sales, stale storylines, to make a dollar or just for fun. Which was the best? These were the options and results:

Giant-Size X-Men 35.06%
The Dark Knight Returns/Batman Year One 23.85%
The New 52 18.39%
Green Lantern: Rebirth 8.62%
Showcase #4 8.05%
Heroes Reborn/New Avengers 3.16%
Marvel Knights Daredevil 3%

You all love your X-Men. Giant-Size X-Men takes the top spot as the most important comic book relaunch. The Batman Dark Knight/Year One combo comes in second, also not a surprise. As much negative press The New 52 gets, it has a respectable showing. I was a little surprised by Green Lantern beating out Showcase #4. I felt Showcase should have been top 3 but wasn't shocked that it didn't get the love it deserved. Here's what you all had to say:

Wrestling Fan: "Showcase #4 should win by default. That book launched the Silver Age, bringing super heroes back after years of being limited to Batman and Superman. Other than them, the books were horror, westerns, sci-fi, and romance. Barry Allen exploding onto the cover of this book was symbolic not just of his character debuting, but of the explosion of super hero comics that the following years would bring.

The other relaunches were important for the respective characters, books, and (in DC's case) company. But Showcase #4 relaunched an entire genre of books. And that makes it not only the single most important relaunch, but arguably the most important single issue of comics of the last 60+ years."

CyberVenom: "My top 10 relaunches:

10. Doom Patrol (Vertigo)
9. The New Teen Titans
8. The New Avengers
7. Wonder Woman (Perez)
6. Batman: Year One
5. Cap's return in Avengers
4. Giant Size X-Men
3. JLA #1 (Morrison)
2. Man of Steel
1. Showcase #4"

disqus_UyajAGGpfa: "Personally my favourite is the Man of Steel reboot after the Crisis by Jon Byrne, cos it led to my favourite ever major run on Superman, Dan Jurgens. But of the ones there it has to be the Flash in Showcase 4. It relaunched superhero comics, and helped a major boom in the industry. Other stories may be better (may), but this was the most impactful, as well as being pretty fun."

lorddarias: "My personal vote goes to the New 52. Before the DC relaunch about 95% of my comic reading was from Marvel. The New 52 gave me a reason to start reading DC because I didn't have to go through 700 issues or so of whatever title I wanted to read. Don't get me wrong, I've read most of the main DC stories like The Killing Joke, Crisis on Infinite Earths, Dark Knight Returns Etc. Now it's probably a 49/49 split between DC and Marvel because I read a few titles by other publishers. Rachel Rising, Conan, Walking Dead, stuff like that."

Used: "I went with DKR/Year One, mostly because, in my mind, I lump that in with Man of Steel/Crisis and that whole DC reboot that happened in the 80s - that's the continuity I read as a kid. So most important EVER is debatable, but it's certainly the one that had the biggest impact on me as a reader."

SonoftheMountain: "Would Marvels Ultimates titles count as a relaunch? I am a big fan of the Ultimate X-Men book."

Craig L: "For me its the MK: Daredevil. This lead to Joe Quesada becoming EIC at Marvel which lead to a lot of other stuff:

The rise of Bendis and Millar
Origin
JMS on Spider-Mna
The Ultimate universe - Bill Jemas had some input on this.
Morrison on X-men"


There's been a lot of talk and debate lately about the comic book numbering system. Some are complaining how relaunches are ruining the rich history of comic books while others are saying the numbering system should be done away with and just go by month and year like other periodicals.

Wolverine has been relaunched more times than I can remember. Does a number #1 mean anything if it's the 8th time it's been done? This week is a pretty straight forward poll but comments are welcome!


REVIEWS!

Do YOU want to be a reviewer for COMICS 411? Send me an email at stevethegoose@gmail.com to find out how! Take it away, RobF!

Superior Spider-Man #27

By RobF

The end is near as we begin the last four issues of the Superior Spider-Man. The long awaited showdown between the Green Goblin and our favorite wall-crawler is here. Before we start celebrating the return of the original friendly neighborhood web-slinger, Otto Octavius is still in charge and ready to take on the Green Goblin.

The highest compliment I can pay Dan Slott is that I can feel every emotion he gives Otto/Spidey. Whether its anger or disgust or any other emotion they literally jump off the page and grab you by the neck. Not many authors can claim that type of skill.

After last issues Goblin smackdown we get down to the main event: The Superior Spider-Man/Otto Octavius vs (possibly) Norman Osborn the one true Green Goblin. After trying desperately to find the bug in his system our hero finds himself face to face with the top Goblin. That's when GG drops the 1st bombshell of the issue, that he knows who really controls the Spider. He follows that up with the 2nd bombshell that he wants to team up with Spidey. I think there may have been a deal until he mentioned Spidey as his second, not as his partner. It's a great scene, one that we've really been waiting for, because while the Green Goblin has classically been Spider-Man's greatest enemy. This is where we see Otto's true colors – or rather, what those colors have become after a year of fighting the crime he once caused. He defies the Goblin, declaring his intent to stop him at all costs. The issue ends with an all-out assault on Spider Island. The first salvo has been fired in this war and it's a big one.

Giuseppe Camuncoli art is perfect for this series. His Goblin is a frighteningly dangerous looking one. I loved the intricate work on the Goblin's face; you can feel the evil behind the smile.

I am sad that Superior Spider-Man is ending but I am looking forward to how it ends. I am also curious to see how the returning Peter Parker will clean up the mess that Octavius will leave behind. Right now I am just going to enjoy the ride.


NEWS

X-Men Legacy #300! X-Men Legacy #300 is almost here. In observance of the title's 300th issue, writers Mike Carey, Christos Gage and Simon Spurrier return to tell an all-new tale of the X-Men. If you've read X-Men: Legacy #24, don't spoil anything!





Batman! Are you ready for the upcoming Batman Eternal weekly series? Newsarama had a look at the artists that will be drawing each weekly issue in month two, May 2014, along with the solicitation copy/story description for each. The writing team of Scott Snyder, James Tynion IV, Ray Fawkes, John Layman and Tim Seely will remain the same for each issue, and covers to all four issues will be by Andy Kubert. As a reminder, Layman's run on the series will be finite and he'll eventually be replaced by Kyle Higgins.

Here are the new artist/story details for each of May's four issues:

#5: Art by Andy Clarke
As the Dark Knight's weekly series continues, Red Robin takes center stage in a major Gotham City mystery that has Harper and Cullen Row caught in the crosshairs!

#6: Art by Trevor McCarthy
Something hellish is brewing in the tunnels under Arkham Asylum…and Batman's going to need the help of The Demon to stop it!

#7: Art by Emanuel Simeoni
New players enter the gang war that's setting Gotham City ablaze.

#8: Art by Guillem March
Is Stephanie Brown an assassination target?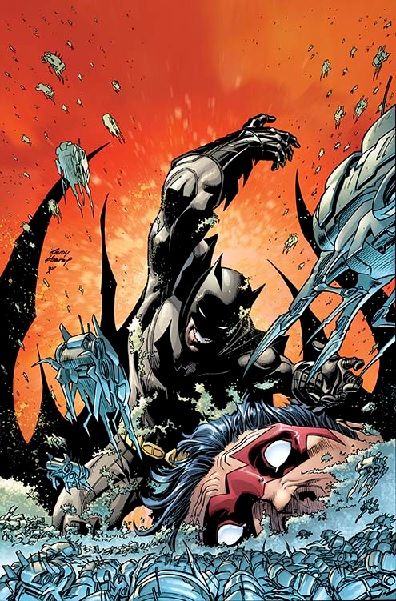 New Warriors! New Warriors #1! They're back! Adventurers Speedball and Justice have come together with a group of young heroes including Nova, Sun Girl, and Hummingbird (and even a couple of new faces) to stop the latest threat to the Marvel Universe—the Atlanteans, Inhumans, clones and hundreds of other so-called "superior" beings are living among the humans of the Marvel Universe, but not everyone is pleased about it. The High Evolutionary has raised an army to combat the evolution of humanity – and the New Warriors are locked in his sights!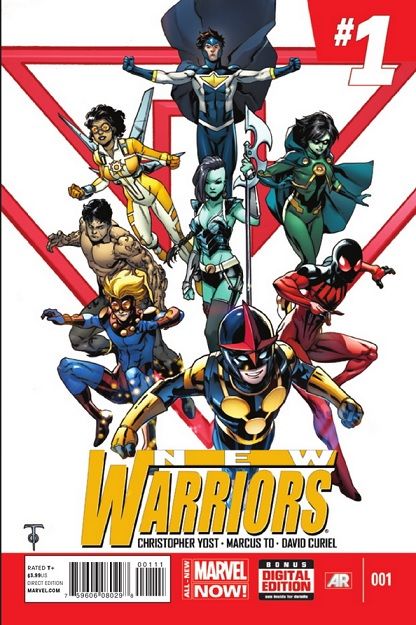 Spider-Man! This April a new chapter begins in the long-running saga of Spider-Man when Peter Parker once again assumes the mantle in Amazing Spider-Man #1 (<--- LOOK another relaunch!), but in May longtime Spidey writer is exploring Parker's roots, once again, in a five-part flashback companion series subtitled Year One: Learning To Crawl.

This series tells what Slott calls "the story you never knew about the story you know by heart," exploring the first 60 days of the fledgling Spider-Man and answering questions that have lingered since Stan Lee and Steve Ditko first put them down on paper in 1962. Joining Slott on this Year One story is artist Ramón Pérez.

Newsarama spoke with Slott about this flashback story into the early days of Marvel's flagship character and here are some highlights:

On "Learning to Crawl": ""Learning To Crawl" is the story you never knew about the story you know by heart. It's a five-part miniseries which looks into Spider-Man's first 60 days of being a superhero...It goes from the second Amazing Fantasy #15 is over and over the course of Amazing Spider-Man #1 through #3. Those stories are acknowledged, but this isn't about retelling those comics we've already read. In "Learning TO Crawl," you'll be able to tell where these stories takes place but you'll get new insight why certain things happened and it'll really allow us to explore the journey of how Peter learned to become Spider-Man. He knows the lesson of "with great power comes great responsibility," but he doesn't know what to do with it. In essence we're trying to tell a "Year One" style Spider-Man story."

On the villains involved: "Readers will meet an all-new villain, but unlike other stories like this where the new villain is planned as this giant, earth-shattering force like Mr. Sinister who's the secret villain behind everything, in this case it's not. This is actually going down a trickier path, to try to create a villain who will feel like a Spider-Man villain of old. It'll feel like you could have read about this guy at the same time you saw the first appearances of Mysterio, Electro or Sandman. But while we're aiming for that zone, this villain will have an interesting twist that makes him have much more in common with Peter than the others.

When you look at all of Spider-Man's earliest villains, they're all adults. Peter is 15 years old, dressing up as a superhero, and fighting full-grown, mature adults – some guys even as old as the Vulture. What you'll see with this new villain is Peter fighting someone his own age for the first time. With all the high school drama he goes through during the day, this brings all those problems he has in the school yard and puts it on the super villain."





Superman! As Superman: Unchained heads toward its conclusion with the ninth issue, writer Scott Snyder said readers will find out Lex Luthor's role and will see more of Batman and Wonder Woman. "Lex's part really becomes apparent, coming up," Snyder said. "We wanted to keep it pretty secret for a little while, and take him off the table so readers would think, oh, well they forgot about him and he's gone. Where he's going to come in, and how he's going to come in, I think will hopefully surprise and please a lot of people." Lex Luthor is playing a larger role in the DCU in the coming months, as he not only leads a team of heroes against the Crime Syndicate in Forever Evil, but ends up joining the Justice League.

But Snyder's book, which features illustrations by superstar artist Jim Lee, doesn't deal with any of those ramifications, concentrating instead on Lex's role in the specific story of Unchained. However, Snyder admitted that his story also doesn't cast Lex in the role of villain. "He's not really the villain of the story, and I think that's why his role is so interesting in this story," he said. "And he's a lot of fun to write."

Superman: Unchained, which ends after its story concludes in issue #9, has been exploring the differences between a character named Wraith and Superman himself. Both are powerful aliens, and both believe they're using their powers to benefit the human race. But the difference in their approaches seems to be building toward a showdown. Snyder said Superman: Unchained #6 starts the "end game" of the whole story. "The pieces we've laid on the table come together to really begin the climactic fight."

"You'll also see how Batman and Wonder Woman come into play, and the Justice League," Snyder said. "You're going to start to see the cast expand as things get crazier and crazier." In issue #5, Superman was confronted by Wraith about what is means to be a hero. "We wanted issue #5 to be the issue where, you know, Wraith has made his case, and I think Superman has seen that the governments of the world have issue with Superman in a big way, in the series. They're really not happy with the idea that he can do whatever he wants, and he stands outside the agenda of any particular government..."What Wraith is saying to [Superman] is, of course, 'That's going to eventually pit you against them — and me,'" he said. "It's only a matter of time before you stand in the way of a bomb being dropped, of a war being fought… and when you do that, I'll be there. I'll be your enemy.

"And we all have weapons that will kill you. So your time is limited." Snyder said he also wanted to confront Superman about being Clark Kent. "We're basically saying, you might be comfortable right now, doing this thing you think you're doing, being a human and being among everybody, being among these people. But at the same time, if you think about it logically, that's not going to last very long," he said. "So you better join the right side. Who you are as a human will be over very soon...We wanted to make this full case — one that puts Superman's whole mission, his whole existence, into question."





Before I say GOODBYE!
Follow me on Twitter for random bits, news RT's, and updates! Only at http://www.twitter.com/stevethegoose!

Are you a fan of 411mania on Facebook? Keep up-to-date on news and contests!

Are you following 411mania on Twitter?
http://www.twitter.com/411mania
http://www.twitter.com/411wrestling
http://www.twitter.com/411moviestv
http://www.twitter.com/411music
http://www.twitter.com/411games
http://www.twitter.com/411mma

If you have some down time and are looking for a great place for great fun, check out Tiger Flash Games!


That's all the time I have. See you next week!
comments powered by