SPOTLIGHTS
A Bloody Good Time 02.20.14: The Best Of American International Pictures
Posted by Joseph Lee on 02.20.2014

From The Amityville Horror and Masque of the Red Death to The Last Man on Earth, The Town That Dreaded Sundown and more, 411's Joseph Lee counts down the top 10 American International Pictures horror films!

































Opening Logo courtesy of Benjamin J. Colón (Soul Exodus)



Welcome to A Bloody Good Time.

Before we get going, I just wanted to point out that as of this week, A Bloody Good Time is now on Facebook! Get the columns the second they're posted, as well as my thoughts on horror news and movie reviews that I may not be able to post on this website. Just another way for me to keep connected with my readers. I know I used this last week but I just wanted to get the word out again.

This week we're going to look at a film company that was around for almost forty years and produced many B-movie classics (and some genuinely good movies too). We're going to look at the best from American International Pictures.

AIP started in 1954 and it was founded by James H. Nicholson and Samuel Z Arkoff. It's known for releasing independent, low-budget movies, usually aimed at the drive-in crowd as a way of getting money. They were associated with Roger Corman for a number of years, especially when he began producing Poe films. They even had a formula for their movies: action, "revolution" (novel ideas and themes), killing, orartory (dialogue and speeches), fantasy and fornication. This was known as the ARKOFF formula.

In addition to the Corman-Poe series, the studio also released non-genre movies like Mad Max, the original Fast and the Furious, and Rolling Thunder. They also were the distributor for several Godzilla movies during the 60s and 70s. The studio finally closed up shop in 1980 when it merged with Filmways (which Orion later bought) and Arkoff formed a new company called Arkoff International Pictures.

With that very brief history out of the way, it's time to look at my picks for the best the company had to offer. While they are known for the B-movie output (and they've released some terrible movies like The Brain that Wouldn't Die and The Terror), they have had some quality movies in there too. I think this list is a good combination of both. You'll notice a lot of Vincent Price here because they practically made his horror career.




#10: The Town That Dreaded Sundown (1976)

Known mostly today as "that movie that inspired Jason's look in Friday the 13th Part II", The Town That Dreaded Sundown was loosely based on the true story of The Phantom Killer. The Phantom killed eight people in Texarkana between February and May of 1946 and was never caught. In fact, they never found out who he was. That's as good a premise as any for a horror film, even if the movie itself wasn't as factual as the real case.

This one is one of the early slashers, following The Texas Chainsaw Massacre and Black Christmas but coming before both Halloween and Friday the 13th. It's also somewhat unheralded in the genre, as most people just know it or the bag on the killer's head which, again, Jason wore in his first time out as a killer. This is getting a remake sometime this year, which may actually stick closer to the truth. Only time will tell.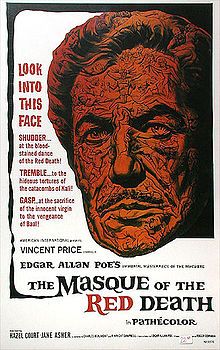 #9: The Masque of the Red Death (1964)

This is not only the first Vincent Price film on the list, but it's the first Poe film. I tried to narrow both down to have more variety but I like what I like, and I enjoy both Price and Poe. In this case, Price plays Prince Prospero, a Satanist. As you can tell, he's the bad guy of this picture. In addition to generally being an evil guy and terrorizing the country, he's also hiding in his castle for fear of catching the "red death", a disease overcoming the area.

This is one of the stranger Poe films in the AIP library as cult movies are usually strange anyway. Price is great as the villain who is also somewhat three-dimensional, as we have to have a reason to follow such an evil man for ninety minutes. While not entirely true to the original Poe story (and it actually contains some other stories to fill the gaps), it's still a really good movie that features Price at his best. This was his best period of acting, no doubt.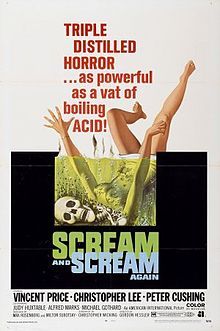 #8: Scream and Scream Again (1970)

This is a weirdly-structured movie about killers on the loose, body parts being stolen and featuring an impressive cast, even if they don't spend as much time together as I would like. The movie stars Vincent Price, Peter Cushing and Christopher Lee. However, Cushing's role is very brief and Price and Lee don't share much screen time together. The story is all over the place as it goes back and forth between different plots, but ultimate it all comes together for the end.

I think my favorite bit is the man in the beginning, who keeps waking up to find body parts missing. First one leg, then two, then his arms. It's not only horrifying (imagine being in his place) but morbidly funny. The main story involves a murder investigation of a man who is murdering women over the city and draining their bodies of blood. He may or may not be a vampire as he is drinking the blood and is stronger than a normal person. It's not the best example of a film from any of its stars, but it's a solid murder movie with some interesting ideas.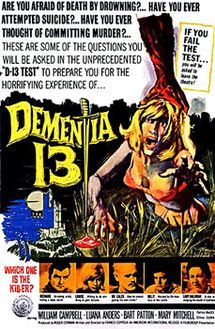 #7: Dementia 13 (1963)

I've grown to appreciate this one more over the years as an early suspenseful effort from Francis Ford Coppola even though I've had some problems with it too. The script was put together in only three days and it shows. The cast is mostly a group of jerks that makes it hard to root for anyone and it has some times when it can be a chore to sit through. However, there are some positives that make it at least worthy of a watch.

The first reason is that it's in the public domain, so hey, it's a free movie for you to watch. Next, the score is actually quite good, and I'm not one who notices score in movies too often (especially today). Next, there are flashes of what a good director Coppola would become even with some obvious meddling from Roger Corman. It's not great, but it's a solid movie, clearly inspired by Psycho and you may be able to tell why it has a cult status from hardcore horror fans today.






#6: The Amityville Horror (1979)

I do have my problems with the original version of The Amityville Horror and I do think it's overrated. I'm not going to suddenly change my opinion well. James Brolin is over-the-top and the movie has a snail's pace at times that makes it hard to watch. But it has held up as a minor horror classic for a reason, and that's because when it works, it really works.

The flies and the "Get Out" moment is iconic for a reason. It's the best scare of the movie and it's one of the only scenes that's actually scary. That's a shame considering how terrifying the book is. Rod Stieger as the priest also does a great job in his brief time in the film, and there are a few scares here and there that keep it going. It has its fans, some who even enjoy the things I don't care for. I can admit that it's good but it's also very flawed. It's just a matter of enjoying the good parts and ignoring those flaws.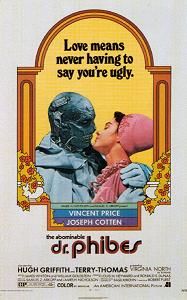 #5: The Abominable Dr. Phibes (1971)

Before Jigsaw, there was Dr. Phibes. Arguably Price's most iconic role, Dr. Phibes is a madman gaining vengeance against the nine doctors he thinks are responsible for his wife's death. As a result he sets up torturous traps against them to pick them off one by one. He uses the ten plagues of Egypt as a theme, which means bats, frogs, locusts and more. While not exactly a full-fledged slasher film, it's actually pretty close and yet it doesn't ever get credited. It certainly has a body count and it has as much blood as the time would allow.

The makeup on Anton Phibes, when he's not wearing his disguise, is also quite good. He looks like he's certainly been deformed. I enjoyed the themed deaths and without being able to speak (sort of, he needed a machine and his lines were put in during post-production), Price is still able to carry the movie. I'm honestly surprised this one never got a remake while Saw was big, but then it would have been just another torture horror movie and quickly forgotten, so it's probably best that it wasn't.






#4: The Last Man on Earth (1964)

This one is in the public domain, so you can watch it whenever you want. It's the first adaptation of Richard Matheson's I Am Legend and depending on who you ask, it's also the best. Price takes on the role of Robert Neville (changed to Morgan for the movie), the last man alive in a world overrun by vampire-like creatures. The very concept has always been a disturbing one, which is why Matheson's book has endured for so long.

It's also one of the only movies to get Matheson's book mostly right even if Matheson himself didn't enjoy it. I've always enjoyed the story ever since I first read it and while I enjoy at least parts of the other two major attempts (The Omega Man and I Am Legend), this is probably my favorite. Omega Man, honestly, may be the weakest while Legend would have been the best if it didn't fall apart toward the end.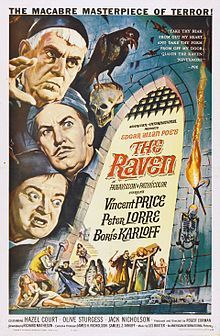 #3: The Raven (1963)

Our last of Price's films, as well as our last Poe film, is actually a horror comedy. It's light on the horror but it is very funny, assuming this older style of comedy is your thing. It also has an impressive cast, including Price, Peter Lorre, Boris Karloff and a young Jack Nicholson (who could be anyone, let's be honest).

It's just a fun movie full of humorous moments and the enjoyment of seeing three of the greats trade barbs with each other. Karloff and Price attempt to out-charm one another and its a sight to see. It has almost nothing to do with Poe's poem (there is a raven, and there's someone named Lenore), but you can't really expect anyone to do a reasonable adaptation of something that isn't much of a story to begin with, from a quantity perspective.






#2: Sisters (1973)

Before he made Carrie, Dressed to Kill or Scarface, Brian de Palma made a little forgotten horror movie called Sisters. Margot Kidder plays two twin sisters, one of which is a murderous psychopath...or is she? The ending is one that has been ripped off in the past but I think there are enough red herrings and clues to make it not seem obvious even today. This was when de Palma couldn't be touched as a suspense director and many were comparing him to Hitchcock. Hard to believe now when he's all but fallen off the face of Hollywood.

Kidder is quite good as both Danielle and Dominque, and the story moves along faster than most movies of this time. There's not many dull moments and even though I've seen several movies similar to this over the years, I was still captivated by where the story was going. De Palma was obviously a great director at one time, even if most don't see him that way now (his last well-received movie was Mission: Impossible). If you want to see why so many people enjoyed his work, check this one out.




#1: Deranged (1974)

The Texas Chain Saw Massacre wasn't the only movie released in 1974 based on the killings of Ed Gein. In fact, this one is actually about Ed Gein...sort of. Roberts Blossom (Old Man Marley in Home Alone) plays Ezra Cobb, an obvious expy of Gein. I believe this was the first actual attempt to tell the story of Gein, even if the inspired Psycho came first. It actually Chain Saw into theaters by eight months. While some of the story has been sensationalized by the movie-making machine, this is actually a pretty good account of Gein's life.

There are several things it gets wrong, and several things it gets right. Overall, it's just a good movie, with a creepy, devoted performance from Blossom. He completely embodies his character to the point that I don't think I'll be able to watch Home Alone the same again. It's his performance that adds to the entertainment value of an already decent movie, although it does suffer from some silliness every so often.



Ending Notes:

That's it for me. Leave some comments here, on my Twitter or my Facebook. Next week a certain TV show comes back and I think you really need to be watching it. It's ten reasons why you should be watching Hannibal.



Closing Logo courtesy of Kyle Morton (get your own custom artwork and commissions at his Etsy account)



A Bloody Good Time: The Store is now officially open! Like this design? You can now find it on most of my merchandise! Click here to find shirts, posters and more!

For those interested in more of my movie reviews, I've created a new blog! Check out the brand new Not-So-Bloody Good Time!

And of course, if you want to know if I've ever covered anything or want to read a past edition, there's the Bloody Good Time Archives! Yes, you can finally read every edition of ABGT going back to the beginning! Just ignore my early writing style...I was new.

See you next week!
comments powered by