SPOTLIGHTS
411 Fact or Fiction Movies/TV 2.21.14: Week 421
Posted by Ben Piper on 02.21.2014

Are we interested in a Black Widow movie? Will 3 Days to Kill be an above-average action-thriller? Will Pompeii be an enjoyable B-movie? 411's Wyatt Beougher and Nolan Woodford debate these topics and more!




What's happening, my good people? I ask that rhetorically knowing full well that I'll never get a proper answer. Such are things when one goes about writing an intro to one of these columns, trying to figure out what to talk about. Sometimes I genuinely do have something worthwhile to get off my chest. Other times I'm just filling some space and killing some time before I move on to the matters at hand. Gee, wonder which one of those instances this is?

This time out for Fact or Fiction, we've got Nolan Woodford and Wyatt Beougher. Enough with the yapping, let's see what they have to say…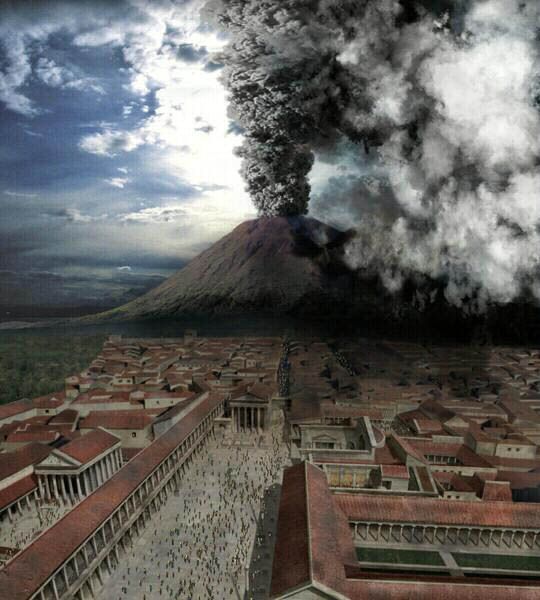 1. Pompeii will be a very enjoyable B-movie.

Wyatt Beougher: Fiction. I'll admit to not paying too much attention to the original trailer for this film, so my first thought was that it was basically going to be Titanic-lite - a film based on a historic event with a completely fictional narrative added to it to get past the fact that everyone knows the end of the story [spoiler alert: (almost) everyone dies]. Even after watching the newer "Harbor" trailer, my only response was, "Hey, I remember splashing around in that harbor during the final battle in God of War." In order to give this statement the attention that it deserves, I sat back down and rewatched both trailers, as well as a few clips from the film, and, based on that alone, I thought this would be an easy FACT. This film has all the earmarks of a B movie - Paul WS Anderson directing, a cast of young stars who aren't A-listers, including a lead from a popular genre show and a former A-lister playing the villain, the basis of the film being a major disaster - the pieces are all there, but I guess in my mind it all comes down to the tone.

So I dug a little deeper, and I found two things that basically moved the needle into FICTION territory for me - the filmmakers apparently spent upwards of six years researching the story of Pompeii to ensure the film's historical accuracy, and the budget for the film is reported at $100 million. Historical accuracy and a nine-figure budget are two things that don't scream "B-movie" to me, so while I'm confident that Pompeii will be leaps and bounds better than The Legend of Hercules, I just can't get behind this statement because I'm not sure Paul WS Anderson will actually keep the tone light enough to make this movie qualify for my own personal B-movie status. All the nerd love for Jon Snow and Emily Browning might make it a cult hit down the road, though.

Nolan Woodford: Fiction. Maybe I'm missing something here, but "enjoyable" and "Paul W.S. Anderson" don't necessarily go hand-in-hand. Each Resident Evil movie has made less sense than the one before it, so I don't foresee Anderson flipping a switch and becoming capable of handing an even larger project. Like Wyatt said, the time spent on the project and budget keep it from really being a "B-Movie". The track record of the guy in the director's chair likely will keep it from being "enjoyable".

Score: 1 for 1

2. You would be very interested in seeing John Travolta play a Bond villain.

Wyatt Beougher: Fact. but with the caveat that it's not in either of the next two Bond films. Why, you may ask? Simply put, in this day and age, John Travolta is two decades removed from playing Vincent Vega and has a tendency to chew scenery, which I don't think works in the Daniel Craig Bondverse. That's not to suggest that 2014 Travolta, late of Wild Hogs, Bolt, and Old Dogs, couldn't be a perfectly fine Bond villain, but, ironically enough, the Vincent Vega Travolta would be far better suited to the current run of Bond movies, while the current Travolta is better suited to the more over-the-top Bond films of the era that gave birth to Vincent Vega. Should Barbara Broccoli and Michael G Wilson decide that they'd like to cast Travolta as a villain, I think it'd work best if they took the franchise back to the more over-the-top excesses of the Brosnan era.

Of course, that could just be Broken Arrow and Face/Off talking, and I could be completely off-base; after all, Christopher Walken was a fantastic Bond villain in A View to a Kill.

Nolan Woodford: Fiction. First off, Travolta turns 60 this week, so I'm not sure how many more Bond movies he'd be able to wait around through before finally taking his turn. And I don't think Travolta is cut out for that kind of a role anymore, if he ever really was. Yes, he had a career resurgence for a few years after Pulp Fiction, but what has he done of late to show he could hang with Daniel Craig like Javier Bardem did in Skyfall? I'm not saying Travolta couldn't work in the Bond franchise in a lesser role, but as the top bad guy, I don't see it happening.

Score: 1 for 2

3. AMC developing an 'edgier' reboot of the Michael Landon series Highway To Heaven is something that you would check out.

Wyatt Beougher: Fact. Initially, I was skeptical, and when early research turned up that Marky Mark was going to be an executive producer, even moreso; however, the more I read, the more it seems like this might actually be a good idea. It all starts with the network, and while A&E isn't traditionally associated with either critically acclaimed or "must-see" original dramas, both Longmire and Bates Motel have bolstered the network's standing in the past two years. From there, take a look at who's running the show - John Wirth, the former showrunner for AMC's severely underrated Hell on Wheels, Wahlberg and Stephen Levinson, the producers of HBO's excellent Boardwalk Empire, and the fact that Wayne Lepoff will be representing the Landon Estate tells me that their pitch for the show was good enough to get Landon's family on board.

As for the 'edgier' designation, based on the network, I think it makes the most sense. The lead character is an angel sent to earth on probation, tasked with helping mortals overcome problems in their lives, and the original series ran from 1984-1989. Now take a minute and think about how much the landscape of television has changed since then - if they were doing a straight-up remake or continuation of the Landon series, that'd be fine for a network like ABC Family or the Hallmark Channel, but with A&E gaining notoriety for the aforementioned Longmire and Bates Motel, it only makes sense that the series would have a more realistic take. With the airwaves dominated by Sons of Anarchy and The Walking Dead, I'm confident that A&E could revisit issues from the original series (war widows, terminal illness, and corporate greed, among others), but I think the overall theme of the show is going to have to be more realistic and less like an 80's after school special. I'm hoping that's all they mean by "edgier", and I'm also hoping that the Landon Estate doesn't push for the Hallmark version of the series, or it could end up being tragically short-lived.


Nolan Woodford: Fact. If nothing else, it has to be better than the dreadful R.I.P.D. was. I never saw the original Highway to Heaven series, but the concept is something that certainly should be able to work if placed in the right hands. A couple of the most popular dramas on TV involve dragons and the undead, so an hour long drama following an angel shouldn't be too far fetched to be sold if it's properly produced. Obviously, it depends on the pieces in place as far as actors, directors, etc. go, but this should be worth a look.

Score: 2 for 3



Switch!!!






4. 3 Days To Kill will be a better than average action thriller.

Nolan Woodford: Fiction. Dude, it's February. We're beginning to wrap up the annual movie dumping ground that is the beginning of the year, but we're not out of it yet. I would like to think that it will be more enjoyable than McG's last effort, This Means War, but I'd still expect a sloppy and unfocused action movie. And while Kevin Costner may be best remembered for movies like Field of Dreams and Dances With Wolves, lest we forget he's a three-time Razzie Worst Actor "winner" and hasn't been the lead in a wide-release movie in over half a decade. And it was Swing Vote. This one looks like Redbox or Netflix material at best.

Wyatt Beougher: Fact. I've actually gone back and forth on this one, because, on the one hand, it's Kevin Costner, and on the other hand, the trailers actually make it look pretty good. I think if the statement was worded that it would be a more successful than average action thriller, I probably would've gone FICTION, because, Man of Steel notwithstanding, Costner has yet to really recover the box office mojo that he had with Dances with Wolves, Robin Hood: Prince of Thieves, and The Bodyguard. Of course, maybe this will be the movie that finally returns Costner to the upper echelons of Hollywood moneymakers, but that's irrelevant as the statement is worded, so back to the matter at hand: quality.

Without actually seeing the film, I could be completely off-base, but I do think that, based on the trailers and clips that I've seen, 3 Days to Kill certainly has the potential to be a very good action thriller. Costner's now in that Harrison Ford-as-Jack Ryan and Liam Neeson-as-Bryan Mills demographic, but 3 Days to Kill seems to have a lighter tone than either of those series did, which I think actually plays to Costner's strengths. That should also scuttle some of the "Taken knock-off" chatter that stems from Costner having to take care of his daughter in this movie. I don't know, I could be completely wrong, as the plot doesn't seem particularly inspired or original, but something about this film just makes me think it'll be a solid way to spend two hours.

Score: 2 for 4

5. You'd be down with a standalone Black Widow movie.

Nolan Woodford: Fact. Sure, why not? I'm not as crazy about The Avengers movies as some, but I am certainly a fan of watching Scarlett Johansson don the Black Widow attire. It's part of a franchise that prints money and there aren't enough comic book movies centered around female leads, so I have no idea why Marvel wouldn't move forward with this at some point.

Wyatt Beougher: Fact. Truth be told, I'll watch pretty much anything from the MCU; however, I'd much prefer if the proposed movie about Black Widow also prominently featured Hawkeye and delved into the backstory that they hinted at in The Avengers. Call it Marvel Team-Up and you've got the basis for about a thousand future standalone movies. Assuming the talk of Captain America: The Winter Soldier being a "political espionage thriller" are indeed true, and with Marvel's Agents of S.H.I.E.L.D. finally putting some focus on the espionage aspect of the agency, I think a solo Black Widow movie could fit really well within that corner of the MCU, with or without Hawkeye. Plus, your star is widely considered to be one of the most attractive women in the world and the basic plot of the movie is going to involve her kicking butt in a skin-tight black catsuit. People are going to watch that movie.

Also, as an aside, what's up with all of Marvel's sequels now having additional descriptors in the titles? Thor 2: The Dark World, Captain America: The Winter Soldier, The Avengers: Age of Ultron? Didn't Iron Man 2 and Iron Man 3 do just fine without that additional naming convention? If they did go the Marvel Team-Up route, at least it would make sense - Marvel Team-Up: Black Widow and Hawkeye, Marvel Team-Up: Hulk and Doctor Strange, etc.

Score: 3 for 5

6. You are tired of the Winter Olympics and are more than ready for them to be over.

Nolan Woodford: Fact. My day job is producing a sports talk show and we've talked about two things pertaining to the Olympics in the last two weeks... Hockey and @SochiProblems. I'd prefer not to have talked about that much. The Olympics are a joke and it's a waste of taxpayer dollars to send athletes to a country where we have to have warships stationed to ensure their safety. The IOC is as corrupt an organization as there is in the world (isn't that saying something?), including reportedly as much as $30 BILLION in funds for the games disappearing. Plus, these pricks do things banning the Olympians from the Ukraine from wearing black armbands in memory of those who have lost their lives there over the last few days. If there was never another Olympics after this one, it would be too soon.

Wyatt Beougher: Fact. I don't watch hockey and I haven't snowboarded in over a decade, so aside from curling, I have absolutely no interest in any of the other Olympic sports. I haven't checked a medal count or actively watched anything that wasn't curling-related (ice dancing or figure skating or something was on at the restaurant where I took my fiancee on Valentine's Day, but one quick glance at the televisions over the bar was about all I'd venture on that nonsense), so basically all this is doing is making me wait for new episodes of television shows that I actually do watch. #firstworldproblems

Final Score: 4 for 6

Wyatt and Nolan agree more often than not. Thanks to them both for stopping by, and see you all again next week!
-BP



TWITTER

http://www.twitter.com/411s_Ben_Piper
http://www.twitter.com/411mania
http://www.twitter.com/411wrestling
http://www.twitter.com/411moviestv
http://www.twitter.com/411music
http://www.twitter.com/411games
http://www.twitter.com/411mma




comments powered by