SPOTLIGHTS
Ask 411 Movies for 02.24.14: Oscar Bait or Bust!
Posted by Chad Webb on 02.24.2014

Is Rocky one of the greatest Best Picture winners of all-time? Is Shakespeare in Love one of the worst? Which Liam Neeson movies should you see before Non-Stop? All that and more covered in this week's Ask 411 Movies!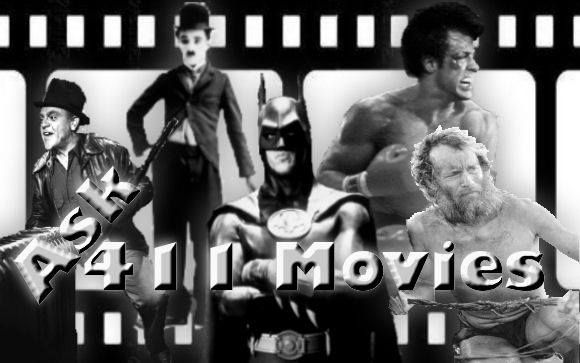 An "Ask 411 Movies" column would be nothing without questions, so please toss them my way. Why should you ask me instead of using Google? Well, perhaps I'll tell you something you can't find there, or maybe you just like my conversation and soothing words. You can post any questions or thoughts below in the comments section, email me at cthomaswebb@gmail.com, or send me a tweet using the links below:













---




What I Watched This Week



I did see The LEGO Movie this week, which was fantastic. The most polarizing aspect of it seems to be the end, which I won't spoil, but I thought it added to the overall quality. I also saw The Monuments Men, which was disappointing considering the caliber of the cast. I watched the Oscar nominated foreign film from Belgium called The Broken Circle Breakdown, which was quite good, but also extremely sad and not easy to watch. The bluegrass music in it is great. Give the soundtrack a listen.

On the TV side of things, I was watching tons of Olympic hockey this past week, despite having it spoiled by nearly every news outlet and person on social media. Unless you took two weeks off, the time difference has been a bit of a pain in me wanting to watch certain events without knowing the outcome. I'm still getting through Ray Donovan, which I dig (Liev is badass), but it's SO much like The Sopranos. The Walking Dead is still entertaining, regardless of the fact that they're on the 20th showrunner. Not totally caught up on The Following, but this season is intriguing, though not as creepy as the first. I'm anxious to see where that goes. I'm also psyched for the return of Suits.

If want to know more about my movie tastes, check out my page on Letterboxd by clicking right here. Also, make sure to look at all the great articles and writers at 411, particularly in the Movie-zone because that's where I predominantly am, but all of the zones.

Documentary Review of TCM's "And the Oscar Goes to…"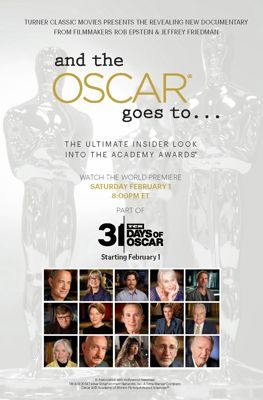 The duo who gave us mediocre efforts such as Howl and Lovelace, but who also made the classic documentary The Times of Harvey Milk, have now delivered a piece on the Academy Awards. And the Oscar Goes to... aired on TCM to kick off its "31 Days of Oscar" showcase and is certainly not groundbreaking in any way, but acts as a nice little refresher on the Academy as we prepare for this year's telecast. Basically this is a collection of clips and stories dating back to its inception in 1929 and the first televised ceremony in 1953.

Rob Epstein and Jeffrey Friedman gather previous hosts like Billy Crystal and Whoopi Goldberg, people who won like George Clooney and Ellen Burstyn, and plenty of others to discuss their experiences and emotions. Narrated by Angelica Houston, this is obviously more of a love letter to the Academy than anything else, but the directors do touch on a couple of the controversial aspects of Oscar's past. I enjoyed it for what it was primarily because it is fun to see an assortment of various clips (Marlon Brando declining his award, Jane Fonda accepting for her father) together in one special instead of having to dig through them on YouTube.

The problems is, Epstein and Friedman try to so hard to incorporate everything possible from the Academy's decades in existence that the documentary ends up being almost forgettable, reminiscent of a Wikipedia version of Oscar history. I don't think it's being too critical to say that this could have been more enlightening than it was. Still, it is just a TV special, so it provided a cool jumpstart to a favorite time of year in my household if nothing else. I'm not sure how often they will put this on in the future, but you may be able to find it.

Final Rating = 7.0/10.0






Deaths



In case I forgot to mention a notable death this week, you can always peruse the list yourself by clicking here.



The Questions



We did get one question this week, but it came in later in the week after this column was already written. I will get to that person next week. To the rest of you, keep the questions coming. As Simple Minds would say…





Randomness: Academy Award Best Picture Winners



So, I had a totally different filler topic prepared for today, but then I realized its Oscar week! Why not post something about the Academy Awards?

Now, I have not seen every film nominated for Best Picture. That would be quite the mission indeed. But I have seen all of the Best Picture winners, so I thought it would be fun to compile a few lists looking ONLY at the titles which took home the most important statue of the ceremony.

The categories are simple: best, worst, and overlooked. Obviously narrowing down "the best" was extremely tough, so keep that in mind. As usual, these are not specifically ranked. Well, here we go.



THE WORST



* The Broadway Melody, also known as The Broadway Melody of 1929, is a 1929 American musical film and the first sound film to win an Academy Award for Best Picture. It was one of the first musicals to feature a Technicolor sequence, which sparked the trend of color being used in a flurry of musicals that would hit the screens in 1929-1930. Today the Technicolor sequence is presumed lost and only a black and white copy survives in the complete film. The film was the first musical released by Metro-Goldwyn-Mayer and was Hollywood's first all-talking musical. The Broadway Melody was written by Norman Houston and James Gleason from a story by Edmund Goulding, and directed by Harry Beaumont. Original music was written by Arthur Freed and Nacio Herb Brown, including the popular hit "You Were Meant For Me". The George M. Cohan classic "Give My Regards To Broadway" is used under the opening establishing shots of New York City, its film debut. Bessie Love was nominated for an Academy Award for Best Actress for her performance.

For me, this is the worst Best picture winner of all-time. The acting is poor, the romance angle is frail, and the ending makes no sense. This entire cast of characters are unlikable and annoying. The songs aren't that special either. This was a shabby attempt to transition from silent to talkie pictures. It will go down in history for some reasons, but the film gets worse with age.



*Tom Jones is a 1963 British adventure comedy film, an adaptation of Henry Fielding's classic novel The History of Tom Jones, a Foundling (1749), starring Albert Finney as the titular hero. It was one of the most critically acclaimed and popular comedies of its time, winning four Academy Awards, including Best Picture. The film was directed by Tony Richardson and the screenplay was adapted by playwright John Osborne. The film is notable for its unusual comic style: the opening sequence is performed in the style of a silent movie, and characters sometimes break the fourth wall, often by looking directly into the camera and addressing the audience, and going so far as to have the character of Tom Jones suddenly appearing to notice the camera and covering the lens with his hat.

While I admit this was silly and fun, it didn't really warrant Best Picture. The narration, and multiple breakings of the 4th wall show a lack of coherency in the structure and direction, but it is good natured at least. Director Tony Richardson tries a little bit of everything here. I wouldn't give this a thumbs down or anything, but it is a romantic comedy that hasn't really aged well. Albert Finney gives a good performance though. There are aspects of this production I would praise, but as entertaining as it can be, overall it is exceedingly average.



*Terms of Endearment is a 1983 comedy-drama film adapted from the novel of the same name by Larry McMurtry directed, written, and produced by James L. Brooks and starring Shirley MacLaine, Debra Winger, Jack Nicholson, Danny DeVito, Jeff Daniels, and John Lithgow. The film covers 30 years of the relationship between Aurora Greenway (MacLaine) and her daughter Emma (Winger). The film received 11 Academy Award nominations and won five. Brooks won the Academy Awards for Best Picture, Best Director, and Best Writing (Adapted Screenplay) while MacLaine won the Academy Award for Best Actress and Nicholson won the Academy Award for Best Supporting Actor. In addition, it won four Golden Globes: Best Motion Picture – Drama, Best Actress in a Drama (MacLaine),Best Supporting Actor (Nicholson), and Best Screenplay (Brooks).

I know plenty of females who enjoy this, but this is one of the most depressing films EVER. Basically we witness Emma and Aurora having various issues with love, and then she gets cancer for the entire conclusion. This is a bummer and a half. I have liked several movies with downer endings, but I hate ones that act as funerals. Who would want to watch this more than once? Generally this was a poor year for films, but this should not have won Best Picture. I would have chosen Tender Mercies or The Right Stuff. I enjoyed the chemistry between the cast members and how naturally they all approached the material, but this was a movie with no clear trajectory.



*Shakespeare in Love is a 1998 British romantic comedy-drama film directed by John Madden, written by Marc Norman and playwright Tom Stoppard. The film depicts a love affair involving playwright William Shakespeare (Joseph Fiennes) while he was writing the play Romeo and Juliet. The story is fiction, though several of the characters are based on real people. In addition, many of the characters, lines, and plot devices are references to Shakespeare's plays. Shakespeare in Love won seven Oscars, including Best Picture, Best Actress (Gwyneth Paltrow), and Best Supporting Actress (Judi Dench).

When I first saw this, I thought it was average for a romantic comedy, but nothing more. As time passes though, I my distaste for this picture increases. The performances are fine and all and John Madden's direction is effective, but the focus is too heavy on Romeo & Juliet and only makes you want to seek that out in some form. Ultimately this is extremely forgettable and as we all know, any other nominee should have won. Saving Private Ryan, The Thin Red Line…anything.



* The English Patient (1996) is a romantic drama directed by Anthony Minghella from his own script based on the novel of the same name by Michael Ondaatje and produced by Saul Zaentz. It stars Ralph Fiennes and Juliette Binoche. The film's invocation of fate, romance, and tragedy unfolds in World War II Italy through the story of a burn victim, a once dashing archaeologist whose sacrifices to save the woman he loves spell his end.

To this day, The English Patient is still a divisive motion picture. I stumble upon people now and again who really adore this epic romance, but I found it to be insufferably boring, a word I don't like to overuse (but it applies here). I love Ralph Fiennes and Juliette Binoche. Anthony Mingehella was a capable filmmaker, but this was a chore to endure and didn't really stand out as anything remotely worthwhile to me. This was the year of Fargo and Jerry Maguire, both of which were far superior.





THE BEST



* The Godfather is a 1972 American crime film directed by Francis Ford Coppola and produced by Albert S. Ruddy from a screenplay by Mario Puzo and Coppola. Based on Puzo's 1969 novel of the same name, the film stars Marlon Brando and Al Pacino as the leaders of a fictional New York crime family. The story, spanning the years 1945 to 1955, centers on the transformation of Michael Corleone (Pacino) from reluctant family outsider to ruthless Mafia boss while also chronicling the family under the patriarch Vito Corleone (Brando). The Godfather is widely regarded as one of the greatest films in world cinema—and as one of the most influential, especially in the gangster genre.





The Godfather Part II is a 1974 American crime epic produced and directed by Francis Ford Coppola from a screenplay co-written with Mario Puzo, starring Al Pacino, Robert Duvall, Diane Keaton, and Robert De Niro. Partially based on Puzo's 1969 novel The Godfather, the film is both sequel and prequel to The Godfather, presenting parallel dramas: one picks up the 1958 story of Michael Corleone (Pacino), the new Don of the Corleone crime family, protecting his family business ventures in the aftermath of an attempt on his life; the prequel covers the journey of his father, Vito Corleone (De Niro), from his harrowing childhood escape from Sicily in 1901 to the desperate founding of his family enterprise in New York City.

I don't need to elaborate on either of these. I decided to put them as a tie here…because I can. Don't make me choose! I reviewed The Godfather: A Novel for Television, which is the first two parts in chronological order, for Nether regions. Click here to read that.

* Platoon is a 1986 American war film written and directed by Oliver Stone and stars Tom Berenger, Willem Dafoe and Charlie Sheen. It is the first film of a trilogy of Vietnam War films by Stone (followed by 1989's Born on the Fourth of July and 1993's Heaven & Earth). Stone wrote the story based upon his experiences as a U.S. infantryman in Vietnam to counter the vision of the war portrayed in John Wayne's The Green Berets. The film won the Academy Award for Best Picture of 1986. It also won Best Director for Oliver Stone, as well as Best Sound Mixing and Best Film Editing. In 1998, the American Film Institute placed Platoon at #83 in their "AFI's 100 Years... 100 Movies" poll.

Choosing between this and The Bridge on the River Kwai was not easy, but Oliver Stone's Vietnam picture is probably my favorite war movie of all-time. There are so many iconic efforts in that genre (several that won Best Picture), but this is what I would pick as #1 if pressed. Maybe there is another on the Best Picture winner list you prefer. Let me know!



*On the Waterfront is a 1954 American crime drama film about union violence and corruption among longshoremen. The film was directed by Elia Kazan and written by Budd Schulberg. It stars Marlon Brando and features Karl Malden, Lee J. Cobb, Rod Steiger, and, in her film debut, Eva Marie Saint. The soundtrack score was composed by Leonard Bernstein. It is based on "Crime on the Waterfront", a series of articles in the New York Sun by Malcolm Johnson. The series won the 1949 Pulitzer Prize for Local Reporting. The stories detailed widespread corruption, extortion and racketeering on the waterfronts of Manhattan and Brooklyn. On the Waterfront was a huge critical and commercial success and received 12 Academy Award nominations, winning eight, including Best Picture, Best Actor for Brando, Best Supporting Actress for Saint, and Best Director for Kazan. In 1997 it was ranked by the American Film Institute as the eighth greatest American movie of all time. It is Leonard Bernstein's only original film score not adapted from a stage production with songs.

Boy I'm glad Criterion gave this the royal treatment on Blu-Ray and DVD. I saw this once when I was going through the AFI Top 100 list and viewed is as a masterpiece, but have not had the chance to revisit it until getting the Criterion release. Elia Kazan is the man and the scene I selected below is timeless for a reason.



* Casablanca is a 1942 American romantic drama film directed by Michael Curtiz and based on Murray Burnett and Joan Alison's un-produced stage play Everybody Comes to Rick's. The film stars Humphrey Bogart, Ingrid Bergman, and Paul Henreid; and features Claude Rains, Conrad Veidt, Sydney Greenstreet, Peter Lorre, and Dooley Wilson. Set during World War II, it focuses on a man torn between, in the words of one character, "love and virtue". He must choose between his love for a woman and helping her Czech Resistance leader husband escape the Vichy-controlled Moroccan city of Casablanca to continue his fight against the Nazis. Casablanca won three Academy Awards, including Best Picture. Its lead character, memorable lines, and pervasive theme song have all become iconic. The film has consistently ranked near the top of lists of the greatest films of all time.

This speaks for itself. Many cite Casablanca as the greatest film of all-time and in truth I would vote for this to carry that title above Citizen Kane. If you know someone who isn't interested in watching "black-and-white" films, convince them to give this a shot and they'll change their mind fast. It is the epitome of a classic.



* Rocky is a 1976 American sports film directed by John G. Avildsen and both written by and starring Sylvester Stallone. It tells the rags to riches American Dream story of Rocky Balboa, an uneducated but kind-hearted debt collector for a loan shark in the city of Philadelphia, Pennsylvania. Rocky starts out as a club fighter who later gets a shot at the world heavyweight championship. It also stars Talia Shire as Adrian, Burt Young as Adrian's brother Paulie, Burgess Meredith as Rocky's trainer Mickey Goldmill, and Carl Weathers as the champion, Apollo Creed.

The last slot was tough. Among the other titles I considered for this limited list of 5: Gladiator, Rebecca, The Apartment, Mutiny on the Bounty. But these are my selections after all and Rocky has been more influential to me than any other movie. I continue to wave the Stallone flag proudly. I also think I could make a strong case as to why it is one of the Top 5 Best Picture winners. This is such a fulfilling, poignant, and superbly acted film. The entire cast built characters that we'll never forget. John G. Avildsen, working from a script by Sly, creates a character and a universe that would become iconic.






OVERLOOKED



* The Life of Emile Zola is a 1937 American biographical film about French author Émile Zola, played by Paul Muni and directed by William Dieterle. It has the distinction of being the second biographical film to win the Oscar for Best Picture. It premiered at the Los Angeles Carthay Circle Theatre to great success both critically and financially. Contemporary reviews cited it the best biographical film made up to that time. In 2000, it was selected for preservation in the United States National Film Registry by the Library of Congressas being "culturally, historically, or aesthetically significant".

This involving and gripping biopic is more a courtroom drama than a life story as the title suggests, but no matter, the story we receive is riveting from start to finish. Paul Muni disappears into his role, delivering a truly amazing and iconic performance as the titular character. This was the first film to win Best Picture as a biography. Director William Dieterle builds a deliberate pacing that augments the courtroom proceedings. Watching this 2-hour drama unfold feels like nothing. This is not totally historically precise, but it doesn't pretend to be. The beginning has a message which states some events and names have been altered. This is a move of the highest quality. I wonder how many people have even heard of this, but check it out.



* Mrs. Miniver is a 1942 British dramatic film directed by William Wyler, and starring Greer Garson and Walter Pidgeon. Based on the 1940 novel Mrs. Miniver by Jan Struther, the film shows how the life of an unassuming British housewife in rural England is touched by World War II. She sees her eldest son go to war, finds herself confronting a German pilot who has parachuted into her idyllic village while her husband is participating in the Dunkirk evacuation, and loses her daughter-in-law as a casualty. Produced and distributed by MGM, the film features a strong supporting cast that includes Teresa Wright, Dame May Whitty,Reginald Owen, Henry Travers, Richard Ney and Henry Wilcoxon. Mrs. Miniver won six Academy Awards, including Best Picture, Best Director (William Wyler), Best Actress (Greer Garson) and Best Supporting Actress (Teresa Wright). In 1950, a film sequel The Miniver Story was made with Greer Garson and Walter Pidgeon reprising their roles.

This is not a perfect movie, but it's one that is rarely in the topic of conversation when it comes to great films, but it excellent nonetheless. This was hugely influential to the morale of the time period. Even Hitler wanted to have his people make a movie that rivaled this. William Wyler's direction is fabulous. The sights, sounds, and vast scope are inspiring. Greer Garson and Walter Pidgeon were both terrific. This might not have aged that spectacularly, but is still worth a look.



* Wings is a 1927 American action silent film about two World War I fighter pilot friends, both involved with the same beauty, produced by Lucien Hubbard, directed by William A. Wellman and released by Paramount Pictures. Wings was at one time the only silent film to win the Academy Award for Best Picture. It stars Clara Bow, Charles "Buddy" Rogers, and Richard Arlen. Gary Cooper appears in a role which helped launch his career in Hollywood and also marked the beginning of his affair with Clara Bow. The film, a war picture, was rewritten to accommodate Clara Bow, as she was Paramount's biggest star, but wasn't happy about her part: "Wings is...a man's picture and I'm just the whipped cream on top of the pie". The film went on to win the first Academy Award for Best Picture at the first annual Academy of Motion Picture Arts and Sciences award ceremony in 1929.

I actually reviewed this for my Nether Regions column back in the day. Here is a link to that article: click here. Basically, this is a flawed film, but I like it and it is important because of its place in Academy history, not to mention the backstory of how it got made. Here is an excerpt from my review: "Wings can be recommended more for its conveyance of soldier camaraderie and accurate depiction of World War I battles than it can for the love triangle. It is far from a perfect motion picture, but it is not a poor offering either. The characters do not drown in their stereotypes and the formulaic premise is augmented by a passionate filmmaker (William Wellman) with spectacular cinematography by Harry Perry and a rousing score from J.S. Zamecnik."



* A Man for All Seasons is a 1966 British film based on Robert Bolt's play of the same name about Sir Thomas More. It was released on 12 December 1966. Paul Scofield, who had played More in the West End stage premiere, also took the role in the film. It was directed by Fred Zinnemann, who had previously directed such films as High Noon and From Here to Eternity. The film won six Academy Awards, including Best Picture, Best Director, and Best Actor. The film ranked number 43 on the British Film Institute's list of the top 100 British films. In 1995, on the occasion of the 100th anniversary of cinema, the Vatican listed it among the greatest religious movies of all time.

I love this movie and deeply I knew more than one other person who has seen it. I keep a private archive of thoughts on titles I do not own and the following is part of that: The dialogue and performances in this Best Picture winner are so fiery, profound, and passionate that it makes the film a joy to watch. The acting is this picture is uniformly brilliant. Paul Scofield, John Hurt, Robert Shaw, and Orson Welles are all sensational. Fred Zinneman directs this, and as a filmmaker who has made a couple classics (From Here to Eternity, High Noon), he has no trouble recreating the period, establishing a brisk pace, and developing the characters. The visual aspects are graceful, but retain that leisurely style. It has similarities to The Passion of Joan of Arc, and other films, but the staging, costumes, and acting make this a stand out effort, and a deserving Best Picture winner.



* The Great Ziegfeld is a 1936 Metro-Goldwyn-Mayer musical film directed by Robert Z. Leonard and produced by Hunt Stromberg. It stars William Powell as the theatrical impresario Florenz "Flo" Ziegfeld, Jr., Luise Rainer as Anna Held, and Myrna Loy as Billie Burke. One of the biggest successes in film in the 1930s and the pride of MGM at the time, it was acclaimed as the greatest musical biography to be made in Hollywood and still remains a standard in musical film making. It won three Academy Awards, including Best Picture for producer Hunt Stromberg, Best Actress for Louise Rainer, and Best Dance Direction for Seymour Felix, and was nominated for four others. Although the film is still praised for its lavish production and as a symbol of glamour and excess during the Golden Age of Hollywood, today The Great Ziegfeld is generally seen less favorably and is considered by many critics to be excessively showy and long at just under three hours.

This is one I might stand alone on as many critics and writers have made the case that it is one of the worst best Picture winners. I disagree. This is a near masterful biopic and at 3 hours, is never boring. William Powell is simply wonderful as always in the title role. He brings a charisma to Ziegfeld that instantly makes him an affable highlight. The rest of the cast is outstanding too, including Anna Held and Powell's Thin Man partner Myrna Loy. The stage and music sequences were fantastic. This was Director Robert Z. Leonard finest achievement during his 45 year filmmaking career. He was not afraid to take risk in how to portray Ziegfeld. This contains all the glitz, glamour, and spectacle that such a production in the thirties should.





Quick Shot: Liam Neeson



Continuing the debut of this section last week, we have Non-Stop hitting theaters this Friday, starring Liam Neeson. And so here are 5 of his movies you absolutely must see before checking out Non-Stop. Gangs of New York would be on here, but I tried to avoid his super small roles.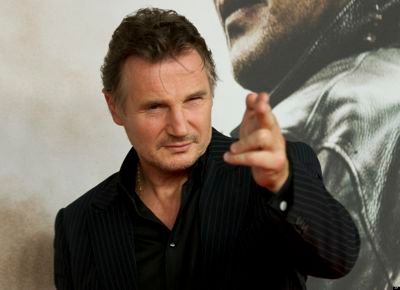 1) Schindler's List
2) Batman Begins
3) Taken
4) Love Actually
5) Kingdom of Heaven



--Thanks to Misty for my banner.

"The plural of Chad is Chad?"
--From the movie Recount

comments powered by