SPOTLIGHTS
411 Fact or Fiction Movies/TV 2.28.14: OSCAR Edition!
Posted by Ben Piper on 02.28.2014

Will Gravity take home the most Oscar wins? Will 12 Years A Slave win Best Picture? How will Ellen DeGeneres fare as host? 411's Jeremy Thomas and Jeremy Wilson debate these topics and more!




This weekend sees the biggest night in Hollywood coming our way, the Oscars! In light of this momentous occasion, we have an Oscar themed Fact or Fiction. Here to help us out with that endeavor are a couple of 411's self-styled 'experts', Jeremy Thomas and Jeremy Wilson. Let's see what they have to say…




1. Gravity will take home the most awards, including Alfonso Cuaron for Best Director.

Jeremy Thomas: Fact. I'm less sure about the latter part of that than I am the former, but they're both pretty safe bets. Gravity is going to take many of the technical awards including Visual Effects, Sound Design, Sound Mixing and Cinematography. Best Score isn't out of the realm of possibility by any stretch either. As for Best Director, Alfonso Cuaron has a very tough rival in Steve McQueen but he seems to have the momentum edge. His win at the Director's Guild of America Awards definitely puts him in a prime position there. Most of the other awards will be split up because this year is highly competitive and the technical sweep will give the space thriller the numerical win. And I'm okay with that; it's not my favorite movie of the year or the overall best but it's high up there and there would be far worse options.

Jeremy Wilson: Fact. Barring some sort of 12 Years a Slave wave that nobody sees coming, Gravity is going to likely have at least four awards by the time they open the envelope for Best Pitcure. Director, Cinematography, Visual Effects are already in the bag and Cuaron's film is a decent favorite in both Sound categories and Score. It could even win Production Design and Editing. Winning all of those would give it eight. No other film is likely to get even half that number and even if 12 Years manages to bring along a few other wins – most likely Adapted Screenplay, Supporting Actress and maybe Editing or Costume – it would fall short of Gravity's total.

Score: 1 for 1

2. Ellen DeGeneres will do a solid job as host, but it will prove unremarkable and forgettable.

Jeremy Thomas: Fiction. I think she'll do a great job as host and will be remembered well enough. This isn't her first time hosting after all, and she was a fine host the last time around. Ellen has the perfect profile for an Academy Awards host; she's popular with a vast swath of Americans across different demographics and she's not edgy, but not dull either. She knows her way around a joke that can actually be funny and I think most importantly, she doesn't try too hard to be hip or traditionalist. Going in either direction just doesn't work anymore; we've seen that in the way the Academy has flipped from Baldwin/Martin (safe) to Franco/Hathaway (edgy) to Billy Crystal (safe) to Seth MacFarlane (edgy). None of them worked for various reasons, although I don't think any of them with the exception of Franco were quite the disasters everyone made them out to be. DeGeneres will do just fine and she won't be an all-time great, but she won't belly flop either. Let's be honest though; no matter what she does people are going to complain because the Oscar host is the most thankless job in Hollywood just this side of an internship at a talent agency.

Jeremy Wilson: Fact. I mostly agree with what Jeremy said above. Hosting the Academy Awards is the most thankless job in Hollywood and I think the best one can hope for is a solid job that leaves people satisfied. The Oscars isn't really the place to try out edgy or risque comedy. It's an awards show and the biggest night the industry has to offer. I think what Jeremy said about Oscar producers swinging wildly between safe and edgy is a good point and DeGeneres slots nicely into that middle ground. She'll be amiable, she'll gently poke and prod, she'll have a more natural interaction with both live and TV audiences, and nobody is going to walk away accusing her of taking away from the broadcast. People will always bitch about the Oscars whether it's justified or not


Score: 1 for 2

3. American Hustle will be completely shut out.

Jeremy Thomas: Fiction. I'm still putting my final Oscar picks together but I think that Hustle will win at least one award. Either Jennifer Lawrence will take home the Best Supporting Actor or David O. Russell and Eric Warren Singer will take home the Best Original Screenplay statuette. (Don't discount Amy Adams if the Academy decides that honoring Cate Blanchett is too risky amidst the Woody Allen debacle either.) I think it will unfortunately get shut out of the majority of the awards, not because it's being screwed but because it is such a competitive year. But it's rare that a film nominated for that many awards wins none at all unless it's a film that just doesn't quite appeal the way its quality should allow it to.

Jeremy Wilson: Fact. A little bit of wishful thinking, perhaps? No film would deserve it more than David O. Russell's messy, overrated, hollow, bad-haired piece of tripe. Frankly, the only aspect of the film even remotely close to being award-worthy is the acting, but Bale, Adams and Cooper have next to no shot. That leaves Jennifer Lawrence attempting to win a second consecutive Oscar for a similar kind of performance she won for last year in Russell's Silver Linings Playbook and all at the age of 23. I've been skeptical that Lawrence would win, but it's definitely something of a toss-up between her and Lupita Nyong'o. Lawrence could benefit from her current status as Hollywood's "It" Girl and also the notion that many may see her race as the only place to reward a movie that until recently was a serious Best Picture contender (Hustle also has a decent shot in Original Screenplay...which I contend is a terrible joke). A shutout for Hustle would have it join The Turning Point, The Color Purple and Gangs of New York as films to walk away empty-handed with double digit nominations. I'm rooting for it, but I'll admit the chances – like both races its a serious contender in – is 50-50.

Score: 1 for 3



Switch!!!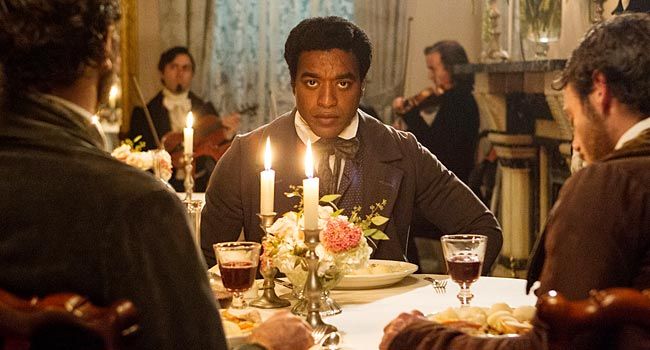 4. 12 Years A Slave will win best picture.

Jeremy Wilson: Fact. I can't remember the last time the Best Picture race was this close and down-to-the-wire. Even though there is a long history of the AMPAS ignoring commercial and sci-fi/fantasy films for Best Picture, it would not surprise me at all if Gravity was called out at the end of the night. However, I've been of the belief that 12 Years would win since the beginning and that belief hasn't changed. It's strange to be predicting a Picture/Director split, but it's not unrealistic (there have been 18 times when Picture and Director have split when the helmer of the Picture winner was nominated) and when the Academy is put in a position of having to reward a "serious" picture about race relations, we've see that kind of split occur. In that regard this race feels comparable to 1967 when In the Heat of the Night won Picture and Mike Nichols won Director for The Graduate and 2005 when Crash won Picture, but Ang Lee took home Director for Brokeback Mountain. Plus, even in a close awards season such as this, a pattern is still visible. At the Golden Globes, Critics Choice, PGA/DGA and BAFTA, Alfonso Cuaron and Gravity clean up the technical awards and take the Best Director prize, but in the end 12 Years a Slave walks away with Best Picture at the end of the night (they actually tied at PGA). I think that pattern holds and the Academy goes with the more substantial film they think best represents them and their tastes.

Jeremy Thomas: Fact. This is going to be a running theme from here on out, but I agree with what Jeremy said. It's an incredibly close race and I honestly wouldn't be shocked to see Gravity or even American Hustle take this one, but I think 12 Years has the edge. It's just been riding too much momentum and considering that the director/film split happened as recently as last year (still annoyed that Affleck didn't even get nominated for Argo, by the way), I don't think it's remotely out of the realm of possibility for it to happen this year.

Score: 2 for 4

5. Frozen will take home the awards for best animated feature and best song.

Jeremy Wilson: Fact. Frozen losing either of these would be a major upset, although there is stronger, more realistic competition in the Song race. Only Miyazaki's The Wind Rises seems like a fitting opponent in the Animated race, but realistically it doesn't have much of a chance, as Frozen has taken all the precursor awards. I don't think anyone saw Mandela: A Long Walk to Freedom and couldn't hum the nominated U2 track for it if their life depended on it, but there is a line of thinking that some would want to see U2 on the stage accepting an Oscar, especially in the year in which Nelson Mandela passed away (his family has also been invited to the ceremony). However, Frozen is a behemoth and "Let It Go" is arguably the most popular nominee the category has seen since either Eminem's "Lose Yourself" or "Falling Slowly" from Once. It's also a return to the category for animated musicals and there was a time Disney dominated this race. Idina Menzel is going to knock it out of the park during the telecast and Frozen will walk away with both Oscars.

Jeremy Thomas: Fact. I honestly feel like Frozen winning for Best Animated Feature is the slam dunk of the night, and Best Original Song is a runaway favorite as well. And they should win, too. "Happy" is a solid song but I honestly don't even remember it in Despicable Me 2, "The Moon Song" is good but doesn't have that integration with the movie that makes it an essential part of the film and "Ordinary Love" is a good U2 song but not a great one. As for the Best Animated Film competition, well...it's not even close. I would love to see The Wind Rises win but I would love to see Frozen win too, and the latter is actually going to happen. That about covers it.

Score: 3 for 5

6. The most difficult of the major awards categories to predict this year are the ones for screenwriting.

Jeremy Wilson: Fiction. 12 Years a Slave has been the favorite in the Adapted Screenplay race since the Fall and while the Original Screenplay race is arguably a toss-up between Her and American Hustle, they're really the only two people are talking about. I actually think both the Supporting Actress and Best Picture races have been closer and more difficult to predict. That doesn't mean 12 Years is a lock, but it would be a terrible blow to its Best Picture chances if it got knocked off by WGA winner Captain Phillips or Philomena. I'm optimistic for Spike Jonze and Her, which won the WGA head-to-head against American Hustle and are in a category that historically has seen quirky, original, critical darlings prevail (Talk to Her, Lost in Translation, Eternal Sunshine of the Spotless Mind, Little Miss Sunshine, Juno, Django Unchained).

Jeremy Thomas: Fiction. Supporting Actress and Best Picture aren't the only ones trickier to pick. I think Best Actress is a tough one too, simply because of the Woody Allen situation. Blanchett is still going to win, but I can see a world in which the Academy got gunshy and gave it to Amy Adams (which wouldn't be an undeserving win, let's be honest). It's unfortunate that, like Jeremy said, 12 Years a Slave is such a lock to win. Not because the script isn't worthy, but because I really think Before Midnight deserves this one. But realistically it never really had a chance. I have American Hustle over Her right now (though I like Her's script better), but I could absolutely see Spike Jonze pick up the win. Anyway, yes, these aren't the hardest ones this year, which makes a nice change from a few of the recent years.


Final Score: 4 for 6

Bonus Question: What is your favorite movie Harold Ramis had a hand in?

Jeremy Wilson: Picking a favorite Harold Ramis film is like picking your favorite child, especially for an '80s child such myself. There are easily at least half a dozen acceptable answers and like everyone I love Animal House, Caddyshack, National Lampoon's Vacation and Ghostbusters, but the one that stands out – especially as I grow older – is Groundhog Day. There's just such a timeless quality to Groundhog Day (ironic, I know) and even 20 years later it manages to hold such great humor, pathos and profound resonance in both Murray's character and in the film itself.

Jeremy Thomas: It'll always be Ghostbusters for me. Ramis is an American treasure and he was involved in so many amazing films, almost all of which I love. And that's the thing; with the exception of a very rare few, he almost never got involved in a bad film. How many comedians can you say that about? It's a rare thing even among more dramatic actors. All of the films that Jeremy mentioned are amazing and I enjoy most of the others, including Meatballs, Stripes, even Multiplicity. Ramis is one of those absolute icons of American comedy who I never thought received the recognition he deserved as such an icon, and he will be missed.



* * *



And there you have it. The two Jeremy's agree more often than not. Thanks to them both for helping out, and see you again next week!
-BP



TWITTER

http://www.twitter.com/411s_Ben_Piper
http://www.twitter.com/411mania
http://www.twitter.com/411wrestling
http://www.twitter.com/411moviestv
http://www.twitter.com/411music
http://www.twitter.com/411games
http://www.twitter.com/411mma




comments powered by