SPOTLIGHTS
A Bloody Good Time 03.06.14: The Top Ten Brad Dourif Performances
Posted by Joseph Lee on 03.06.2014

Gracious me. Was I raving? Please forgive me. I'm mad.

































Opening Logo courtesy of Benjamin J. Colón (Soul Exodus)



Welcome to A Bloody Good Time.

Before we get going, have you heard the news from the folks at Scream Factory? In addition to Nightbreed later this year, Lord of Illusions is getting a blu-ray release! You may recall this was one of my picks for "Horror Films That Need Blu-Ray Releases" last year. Of course Scream Factory was the one to do it. That company is going to bankrupt me.

I think it goes without saying around these parts that Brad Dourif is a great actor. He's good at actually giving an emotional and scary performance (when the situation calls for it) and he's also great at being a ham when he has to. There are times I think he should have had a bigger career but at the same time, an actor like Dourif is perfectly suited to be a character actor. He's just the right guy you need for certain roles when a bigger name wouldn't cut it. Plus I doubt he's really crying over the impact he's made. He's had his money-making roles and his critically acclaimed roles. He'll star in an acclaimed HBO series but not be so stuck-up that he can't make a cameo in a piece-of-crap J-horror remake.

This week we're going to look at the top ten performances of one Brad Dourif. Now, I know that I said in the comments section I wasn't going to include his non-horror roles, but I decided to change my mind. So I'll be looking at Dourif's entire career. I'd rather not have an asterisk on my column if I can help it.




#10: Tommy Ludlow in Eyes of Laura Mars (1978)

Our first selection is one I actually caught for the first time on TV last week. John Carpenter wrote this thriller about a woman who can see through the eyes of a killer. For those of you who haven't heard of this, it has been compared to the Italian giallo films of names like Mario Bava or Dario Argento. It follows a similar structure and plot points, right down to the red herrings and twist ending.

Dourif plays Tommy Ludlow, who gets the murders blamed on him towards the end. It's one of his earliest roles, coming three years after he was nominated for an Academy Award. As with several of his early roles, he's not automatically playing the creepy guy he would take on in a lot of his future roles. If you've followed Dourif's career you may be surprised to see he's pretty normal and actually not the killer.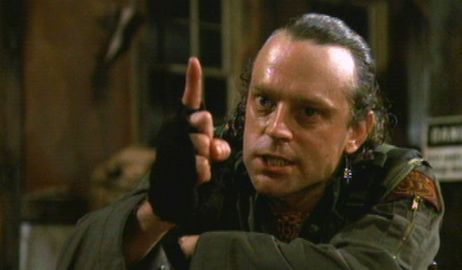 #9: Tucker Cleveland in Graveyard Shift (1990)

I think we can all agree that Graveyard Shift is way better than it had any right to be. The short story is one of King's lesser ones (but still enjoyable enough). The movie takes the story one step beyond to be a monster movie. There are giant rats, a giant bat and other creatures waiting underneath the mill to eat anyone unlucky enough to try to fight them. It's nothing special, but there are some fun creature effects.

The best part of the movie is Brad Dourif's small role as Tucker Cleveland, the exterminator called to get rid of the rodent problem. He's not there for very long but he owns the screen when he's on. This is one of his more hammy performances but he looks like he's enjoying himself. He also gets a gruesome death (which is another reason why this B-movie is fun). Getting your head crushed by a coffin can't be fun.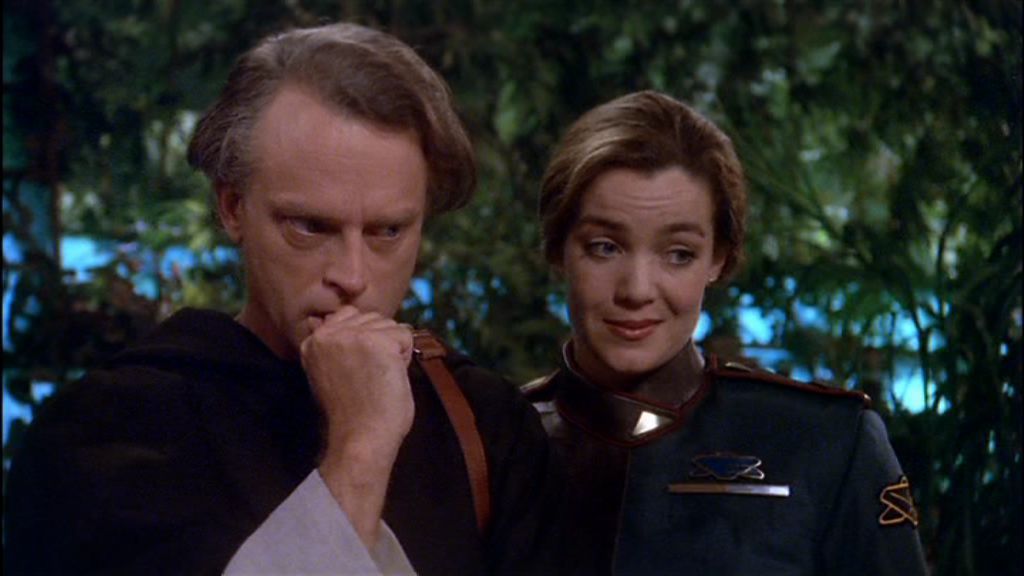 #8: Charles Dexter/Brother Edward in Babylon 5 ("Passing Through Gethesmane") (1995)

Yes, I realize I'm letting my nerdy side show with this choice. One of the good things about character actors like Dourif is that they can show up for a guest spot on a television show and completely own it. In this case he plays a monk in the future who arrives on the titular Babylon 5. He is having visions and being tormented by voices/visions. There's a good reason for that, as he used to be a serial killer. Yes, they even have those in space.

Brother Edward used to be the Black Rose Killer before he was caught and sentenced to death of personality, which effectively erases who you are and replaces you with someone else. I really like this role because of the fact he is technically a bad guy, but he doesn't really remember being that. When he finds out what he's done, his new personality makes him regretful and wanting to pay the ultimate price for his crimes. This is why the show was good, even with a futuristic setting it managed to tell stories that were human at the core.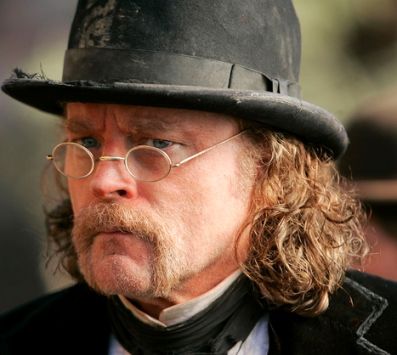 #7: Dr. Amos 'Doc' Cochran in Deadwood (2004-2006)

I'll admit that Doc may have been higher if I had seen more of Deadwood. But I've only seen a little bit so I'm going on those moments that I have seen. I apologize ahead of time. Anyway, Dourif is really good in this, as if you needed me to tell you that. First of all it's a role that's different from many of his others, especially considering around the same time he was playing a slimy toadie in a certain big budget film series.

Doc is a caring individual that seems to want the best for everyone, as he gets really broken up when there's nothing he can do and someone dies. Considering the time period he lives in, that happens a lot. The show allowed Dourif to show a more human, tender side that you don't see a lot. He cares so much about his patients that he can get scary. If there's a reason to get me to watch the show more, it's him.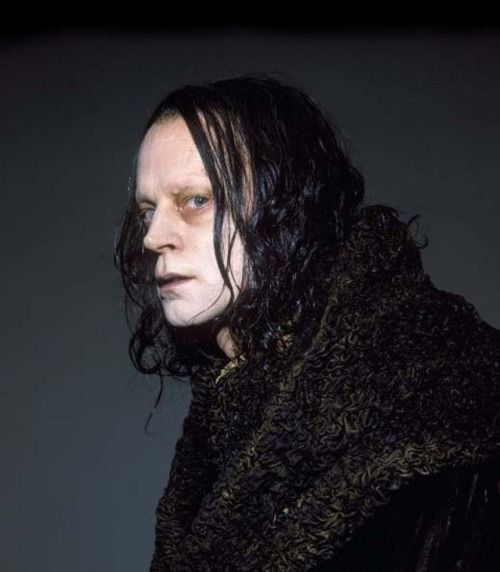 #6: Grima Wormtongue in The Lord of the Rings: The Two Towers (2002)

I think it's safe to say that this is Dourif's biggest role, in terms of big Hollywood movies. He got to play a slimy, conniving character who is the adviser to Theoden but eventually starts working for Saruman and corrupting the king. He's too cowardly to be an effective villain but he has just enough evil inside him to be a a nuisance at the least. He's eventually thwarted and runs back to Saruman. He dies in the extended version of The Return of the King.

While I hadn't seen him in as much as I have now, I was really excited that an actor from horror movies I like was in such a huge movie as this. It's a shame his scenes were cut from Return of the King (unless you have the extended versions), but it's understandable as that movie was way too long anyway. It was probably his biggest role and it's unlikely that he'll land a big movie like that again, but we can always hope.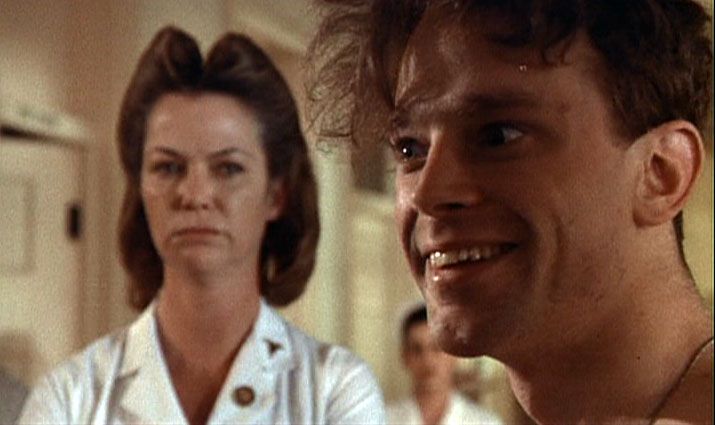 #5: Billy Bibbit in One Flew Over The Cuckoo's Nest (1975)

It's kind of hard to believe that in a movie where Jack Nicholson completely dominates things with his presence that anyone else could be recognized, let alone a role like Dourif's who was only in his second movie at that point. Dourif was nominated for Best Supporting Actor at the Academy Awards against names like George Burns, Burgess Meredith, Chris Sarandon and Jack Warden. He lost to Burns, but that's still a pretty elite group of actors to be included with after your second role.

Billy doesn't have as big of a role as McMurphy or Nurse Ratched, but seems to be the most sane of the group that McMurphy finds himself with when he gets committed. He's nervous and has a stutter, but compared to guys like Martini and Max, he's not so bad. It's when he gets to the end of the movie that he really stands out, as he provides the tragic proof of how wicked Rached is. The movie in general is both sad and hopeful at the same time, and there's a reason that Dourif was nominated.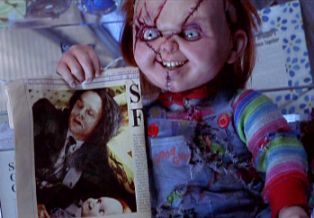 #4: Charles Lee Ray/Chucky in the Child's Play series

I know I'm going to catch some heat for this one but hear me out. Chucky is probably Dourif's most recognized role, sure. But there are two reasons why it's this low. First of all, Dourif is only seen physically in the first scene of the first movie (and some flashbacks in Curse of Chucky). The rest of the time he's simply providing a voice. Secondly, while that voice is iconic and no one could do it as well as he does, he's not really stretching himself as an actor. I think the three roles after this are better examples of Dourif's acting.

However, no one else could do Chucky as well as he can. The best part about Chucky is that as long as Dourif is able to provide a voice, he can keep doing the role no matter how old he is. It's not like Robert Englund as Freddy where he eventually couldn't handle the physical demands. There are no physical demands for Chucky. This is Dourif as his hammy best, spewing foul language and unleashing that epic laugh as that little animatronic doll goes on a killing rampage.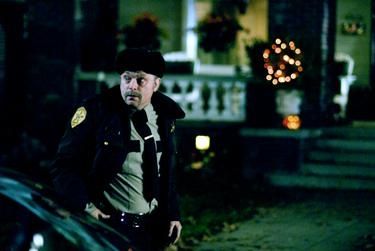 #3: Sheriff Leigh Brackett in Halloween (2007) and Halloween 2 (2009)

Rob Zombie's take on Michael Myers remains a very divisive pair of movies. Even I can't defend some of the choice in the sequel and I actually enjoyed the remake okay enough. However, the best possible decision in both movies was casting Dourif as Sheriff Leigh Brackett and fleshing out his character. Even people who hate the movies have to give Zombie credit for that, as it was inspired casting and Dourif got to do something different in a horror movie.

The scene I point out as the best in both movies, from an acting standpoint, is when Dourif finds Annie dead in Halloween 2. It's absolutely gut-wrenching to see his pain as his daughter is in a bloody heap on the floor and there's nothing he can do about it. If that scene doesn't cut you emotionally then I don't know what to tell you. Dourif killed this role and it remains one of my absolute favorite performances of his.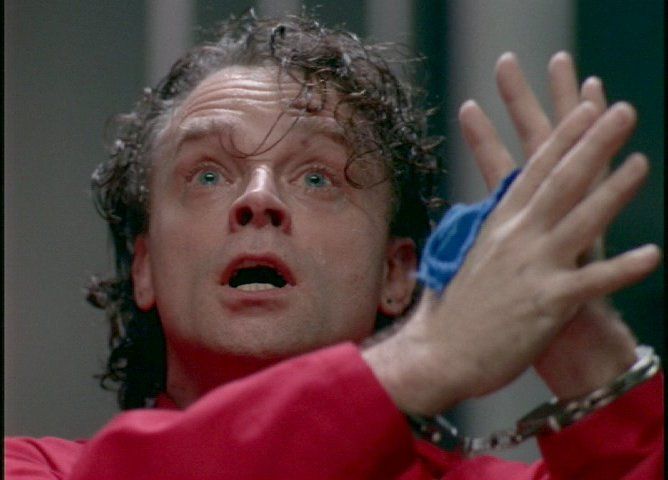 #2: Luther Lee Boggs in The X-Files ("Beyond the Sea") (1993)

This is my favorite episode of X-Files ever, so naturally Dourif's performance in it is going to rank pretty high on this list. Dourif plays a convicted serial killer who claims he is getting visions of someone else's murders. In a nice little role reversal, Mulder is the skeptical one while Scully finds herself believing him more and more. Even though Boggs is a sadistic killer, you are still drawn to him as Scully is and find yourself wanting to believe him.

As evidenced by this list, Dourif has played remorseful killers before. However I don't think he'd take a role that was exactly like another one two years later. Boggs is different in that he doesn't want to die. He's scared of seeing the spirits of his victims greeting him on his way to the chair. That's one reason why Mulder is skeptical, is because he knows this. Dourif plays a character that we should be disgusted by but end up feeling a little sorry for as the episode nears its conclusion.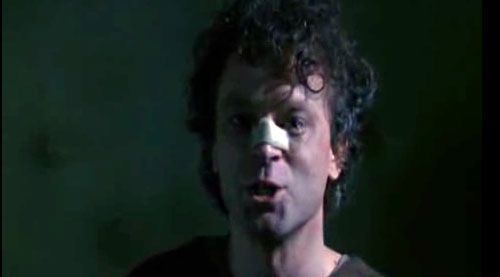 #1: The Gemini Killer in The Exorcist III

This is by far my favorite role of Dourif's and if I ever get the chance to meet him it's all I'll ever be able to talk about. Maybe it will be a nice change of pace from all the other people around him wanting to ask about Chucky. The Gemini Killer is absolutely insane and even though he's more or less locked up through the entire film, he's absolutely terrifying. He's one of the reasons that a movie that could have been yet another flop of an Exorcist sequel (like pretty much all the others) ends up being as good as it was.

This is the only good sequel in a series that shouldn't exist. George C. Scott and Jason Miller are nice additions but Dourif is the real star of the show and you know it from the first moment he appears on screen. There's nothing else I can say that I haven't said before, so let's just end this with some proof of how good the movie is.




Ending Notes:

That's it for me. Leave some comments here, on my Twitter or my Facebook.



Closing Logo courtesy of Kyle Morton (get your own custom artwork and commissions at his Etsy account)



A Bloody Good Time: The Store is now officially open! Like this design? You can now find it on most of my merchandise! Click here to find shirts, posters and more!

For those interested in more of my movie reviews, I've created a new blog! Check out the brand new Not-So-Bloody Good Time!

And of course, if you want to know if I've ever covered anything or want to read a past edition, there's the Bloody Good Time Archives! Yes, you can finally read every edition of ABGT going back to the beginning! Just ignore my early writing style...I was new.

See you next week!
comments powered by