SPOTLIGHTS
Comics 411 3.12.14: Comic Book Antihero Edition!
Posted by Steve Gustafson on 03.12.2014

Is the Punisher the greatest antihero in comic book history? Plus news and thoughts on what's next for the Ultimate universe, a look at Marvel's Tales to Astonish documentaries, the latest developments for Batman, a review of Forever Evil #6 and more!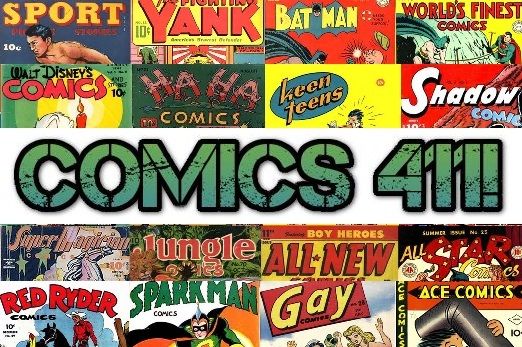 Welcome back to the Comics 411! My name is Steve Gustafson and this is a corner of 411mania reserved for those interested in talking comics! As always, I want to thank everyone who took a few minutes to read and comment last week. Check out my Hollywood gossip (and anything else!) Hollywood 5 & 1 and my weekend movie recap The Big Screen Bulletin!

Congrats to the 5 winners of a Tales of Honor code! Thanks for participating!

And away we go...




COVER VS COVER!

I've been wanting to do a Cover VS Cover since I started the Comics 411. It's real simple, each week I'll take two covers and you vote on your favorite. Some weeks the covers will be random, some will be themed, some will be classic, and some will be ones you've never seem. Have fun with it.

Last week I put two famous Fantastic Four covers up against each other and this is how it went down: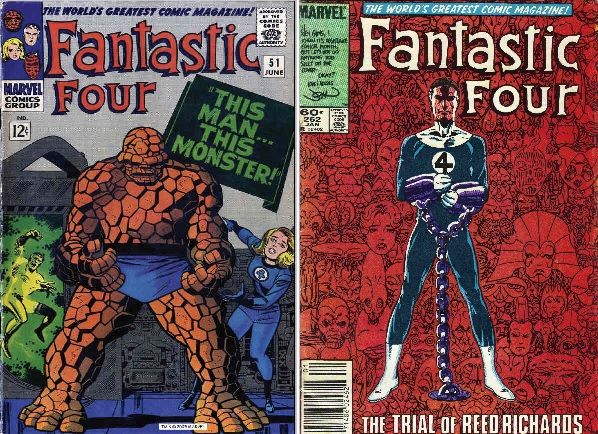 Reed Richards 53.47%
The Thing 46.53%

Reed stretches it out for a slim victory! Nice back and forth on this one and shows the power of a well made cover! This week I have two totally random covers. I like both for different reasons. Which one stands out to you and why?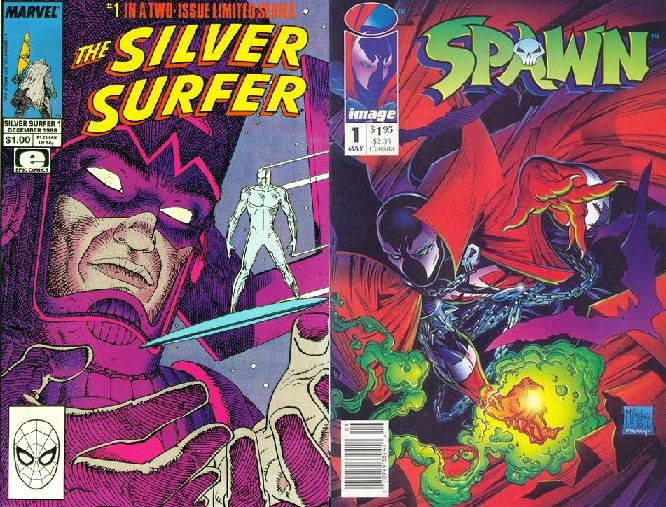 READER ROUNDTABLE

Who's the best supervillain group in comic books? Here's the list and the voting results:

Sinister Six 25.75%
Brotherhood of Evil Mutants 23.74%
Masters of Evil 9.66%
Hellfire Club 7.04%
Flash Rogues 6.84%
Sinestro Corps 5.63%
Legion of Supervillains 4.63%
Injustice Gang/League 4.63%
Crime Syndicate of America 3.82%
Secret Six 3.02%
Serpent Society 2.21%
Frightful Four 1.81%
Fatal Five 1.21%

Wow. The results surprised me this week! Sinister Six? The BEST supervillain group? I see a heavy Marvel slant in the voting because, while I love the Hellfire Club, no way are they a better group over the Flash Rogues, Legion of Supervillains, Injustice Gang, Crime Syndicate....you get the picture. But this is why we vote. And comment!

Wyatt Beougher: "No Suicide Squad? Boooooooooooo." (Steve's Note: This inspired the poll for this week!)

Nuke Dukem: "Sinister Six. Spidey always found himself in deep trouble whenever he encountered them and would get through by the skin of his teeth.

On a side-note: where do the Thunderbolts fall in here if the Suicide Squad can be included?"

1derpalm: "no mauraders?"

K. Bett: "I've Always liked the hellfire club. There's something cool and menacing about a group of villains that didn't care robbing a bank because they already owned it, or getting a politician to do what they want so he can join their group. And still able to go toe to toe with the x-men"

CyberVenom: "Top villain teams is rough! Here's my top 10.

10. Ultimate Fantastic Four Zombies (From Ultimate Fantastic Four)
9. Weapon X (Exiles)
8. the Hellfire Club
7. The Horsemen of Apocalypse
6. The Sinister Six
5. The Brotherhood of Evil Mutants
4. Flash's Rouges
3. The Crime Syndicate
2. The Masters of Evil (They beat up Jarvis!)
1. The Sinestro Corps"

mj: "sinister six. done."

@pleaselikethis: "Suicide Squad"

Gold Any Ranger: "Masters of Evil. The fourth incarnation of the team took over Avengers Mansion and managed to put Hercules in the hospital. Not even his twelve labors took that big a toll on him."

redhotrash: "I remember picking up a comic a ways back, opening it up to see Sinestro, Cyborg Superman, Parallax, Superboy Prime, and Antimonitor on the same team I knew D.C. would be getting my cash."

OrangeChapeu: "No league of assassins?"

VT_JizzyFingerz: "I was a pretty big fan of (no particular order)
#1 Norman Osborns H.A.M.M.E.R/Dark Avengers/Dark X-men
#2 Legion of Doom
#3 The Brotherhood
#4 Universial Church of Truth
#5 Red Lanter Corps
#6 Decepticons
#7 Ginyu Force
#8 Cadmus
#9 Hydra
#10 Annihilation Wave"

KipSmithers: "The Rogues."


Very nice! OK, let's open up our dictionary and look up "antihero". It has someone who is "characterized by a lack of traditional heroic qualities, such as idealism or courage". Kind of a vague definition when it comes to comic books but we'll use that as a starting point. I started off with a list of 40 or so notable antiheroes. Then I started scaling it down.

I found a message board that said an anti-hero is "generally someone who would do non-heroic things for a somewhat heroic cause, or someone who would do heroic things for a selfish cause". A little better within the framework we want.

People love a great antihero. Look at some of the most popular characters over the years and it's a safe bet that it's someone who could be classified as an antihero. You have to be careful though. While many heroes can be called vigilantes, there's a segment that push that line even further into the antihero territory. While Batman could fit the description above, he's seen heroic because he has a set of ideals that he adheres to. Those ideals are more acceptable to the public than the ideals of say, The Punisher. I wanted to include teams like the Thunderbolts and the Suicide Squad but didn't want to muddy the waters too much.

Why no Lobo? He was on the bubble. Lobo is a bounty hunter and could be an antihero but I blame uneven writing for him not making the Top 10. The Hulk was on the bubble as well and just missed the cut. The most jarring absence is Wolverine. I'm going to go a week and not add a very obvious entrant to see how the poll goes down. Also, with his new series showing us a darker side of the mutant, I have a feeling he'd walk away with this one in a landslide. I tried to mix it up a little more with this one.

Here's who we have:

Catwoman
Her heart is in the right place but her disregard for the law puts her in the antihero limbo. I like to think of her as a female Robin Hood. She has her own code of honor and will protect the weak. In her own way. Yes, she has her fights with Batman but has also teamed up with him to reveal her good nature.

Namor the Sub-Mariner
Arrogant and selfish is used a lot to describe Namor. He'll fight for good, when it suits his needs.

The Comedian
He performs acts of brutality in the name of justice. He walks a fine line and if you read the Before the Watchmen book, it was revealed that The Comedian got his start in 'crime fighting' at the age of 16. Not out of a sense of doing the right thing but because he wanted to do harm.

Elektra
A master assassin and a mercenary who kills with abandon but often finds herself alongside heroes.

John Constantine
Is he a magical being? An investigator of the occult? A conman? Since first making his appearance in The Saga of the Swamp Thing, Constantine has always walked the line between hero and bad guy.

Deadpool
Another mercenary but with a comedic bend. He's does what he does for money and his own reasons but he seems to have a heart about it.

Venom
He hates Spider-Man. He shows bad guys no mercy. The symbiote has switched hosts over the years and different writers have used him as a mindless monster to a wise cracking anti-hero in his own right.

Spawn
He straddles the line because he does the work of Malebolgia (A bad guy) but does his best to protect others from evil threats. Even when he was Al Simmons he operated as a covert operative, committing illegal act in the name of freedom and justice.

Rorschach
He has a "moral absolutism" and doesn't care how he carries it out. He has an understanding of good and bad, right and wrong. So much so that he truly believes he's doing the right thing. At any cost.

The Punisher
No one stands out more when you're talking about antiheroes. He fights for and protects the weak and will use murder, torture, and blackmail to accomplish it. He takes the law into his own hands and kills those that the law can't touch.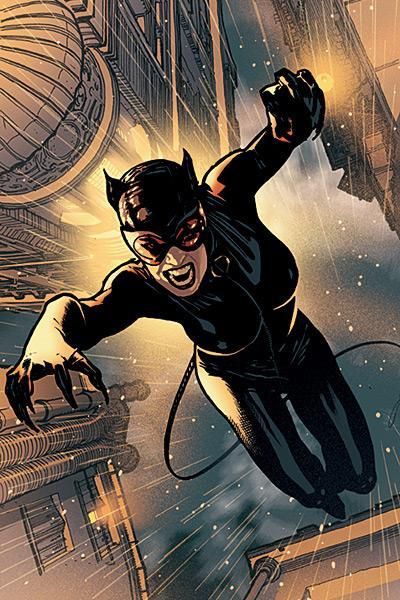 REVIEWS!

Do YOU want to be a reviewer for COMICS 411? Send me an email at stevethegoose@gmail.com to find out how! Take it away, RobF!

Forever Evil #6

By RobF

Forever Evil has been a mixed bag: at times slow and plodding, other times fast-paced and exciting. Issue 6 is the latter, where major events and revelations are on the menu. There is the big question of what will happen to Dick Grayson as well as who is the mystery hooded man the Syndicate brought with them from Earth 3. These two questions get answered but there's even more to see.

There is A LOT going on in this issue. All of the tie-in series are finishing up and with only one issue left there are many plots to wrap up. Between wrapping up FE and bridging the gap to what we know is coming should be interesting. For example, it seems impossible the Lex Luthor will become a member of the Justice League but from the previews we know it to be true. I don't know how Johns and Co is going to pull it off but I am anxious to find out.

One of the major subplots is the fate of Dick Grayson. The issue ends with Nightwing in a tough spot and no matter how it ends it will affect the Bat U for the foreseeable future. Surprisingly Batman doesn't immediately see the solution to Nightwing's entrapment, but Luthor does. When he insults Batman you find yourself agreeing with him.

The big reveal, which was not such a surprise if you have any decent knowledge of Earth-3, is that the man beneath the burlap hood was Alexander Luthor, heroic counterpart to Earth-Prime's villainous Luthor. The revelation that the hooded man is indeed Alex would thus be almost dull if not for two strong twists: First, which Alex is not a good guy anymore and second, more surprisingly, is that Alex has the power of "MAZAHS!!!" As South Parks' Kyle's Mom would say "WHAT WHAT WHAAT?"

David Finch's artwork is stellar as usual. His action scenes are unparalleled, so much better than the dialogue driven ones. The 2 pages spread is awesome, the more characters the better!

One more issue to go and a lot of unanswered questions, but the possibilities of those answers are so intriguing. Forever Evil may seem like it's taken a long road to get to this point but I think in the end we will be satisfied.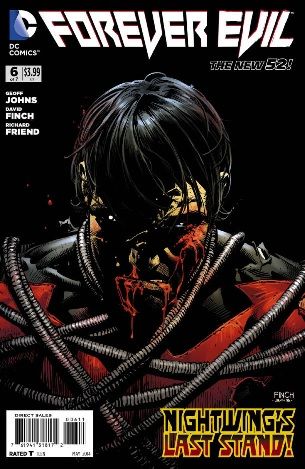 NEWS

Survive! Maybe it's because the Ultimate Universe had such potential and promise and I hope they can finally tap into that. Again. A Marvel Press Release:

"This April, witness the birth of a super-team unlike any you've seen before in ALL-NEW ULTIMATES #1 – the brand new series from critically acclaimed creator Michel Fiffe and rising star Amilcar Pinna!

"As the world attempts to rebuild following untold destruction, we need heroes more than ever. Witness the birth of a new team of Ultimates – as Spider-Man, Black Widow, Kitty Pryde, Bombshell and Cloak & Dagger officially unite to tackle a vicious, rampant crime wave plaguing the streets of New York City!

"It's a war zone in the streets of New York, Hell's Kitchen in particular," says Michel Fiffe. "Certain neighborhoods have been torn apart by the recent galactic cataclysm and crime is exponentially growing; local super-powered gangs rule the environment. That's where Miles and the gang come in, to act with a grittier, more immediate problem while trying to find their own footing as super heroes."

"But Hell's Kitchen isn't the new Ultimates' only problem. Diamondback and her gang of Serpent Skulls run the city's drug & weapons trade and deal in citywide terror. NYPD detective Brigid O'Reilly and her anti-gang unit are on the hunt for Scourge, a new serial killer who's exterminating anyone in a mask. They'll get close, but not without a few casualties! And that's just the first issue!"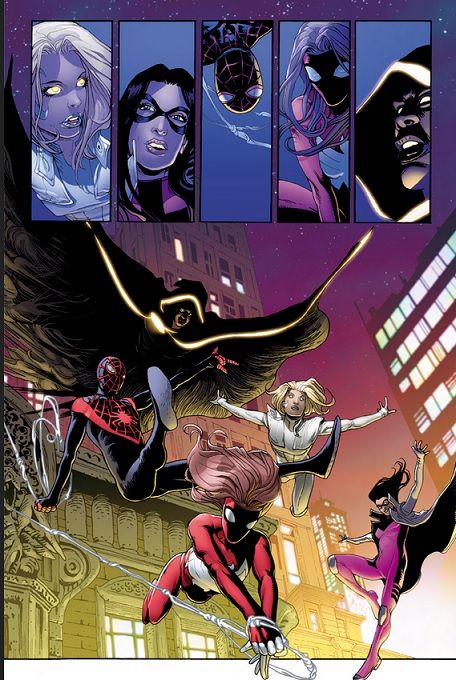 Tales to Astonish! At SXSW Sunday, Marvel Comics announced that they're taking a look at some of their greatest hits. This week's "Marvel: The House of Ideas," the New York-based company announced that it is launching a series of live-action short film documentaries of the publisher's most pivotal moments. Dubbed Marvel's Tales To Astonish, these short films will look at the creation, the impact, and the effect of its characters, series and stories in its 75 year history. The first subject of this innovative documentary series about comics is a look at the 2006 event series Civil War by Mark Millar and Steve McNiven.

"After we thought up the concept for Marvel's Tales To Astonish, we were kicking around ideas for what to cover and Civil War jumped to the top of the heap," says John Cerilli, Vice President of Content & Programming at Marvel. "It did because Civil War is sort of the typical Marvel story: good guys and bad guys who weren't necessarily good guys and bad guys. Their point of contention boils down to a difference of philosophy and opinion, so there's no real right or wrong. Civil War typifies want it means to be a Marvel character."

This inaugural installment of Marvel's Tales To Astonish is directed by Eric Drath, a prominent film documentarian that developed an episode of HBO's 30 for 30 series last year and also directed 2008's Assault In The Ring.

"[Eric Drath] is second to none as far as storytelling goes; I can't wait for the world to see this thing," Cerilli tells Newsarama. "We're premiering the trailer here at SXSW, and it proves a very good flavor for fans to learn more about what we're doing here."






Batman! Readers of February's Batman and Two-Face #28 got quite a shock on the final pages of the comic, as Harvey Dent appeared to commit suicide, shooting himself in the head. The shooting, which writer Peter Tomasi confirms did happen the way it seemed, was only the latest surprise in the comic's portrayal of Two-Face, who was given a new origin for the New 52.

Two-Face's suicide reinforces that the former Batman and Robin comic is still relevant since it lost its second title character. More than a year after the death of Damian Wayne/Robin, Tomasi and artist Pat Gleason have not only kept the series going, but have been building Batman's world while introducing mysteries along the way that the writer promised will get some big pay-outs during an upcoming "uber-arc" and series of oversized issues.

Here are the highlights from Tomasi's interview:

On the revised origin for Two-Face: "The thing with the New 52 is that you have to find a right balance when altering past continuity, but you also have to be willing to take a few risks and shake things up. I wanted his new origin to spring from something deeply personal that comes back to haunt him and also be visceral and grab readers who aren't familiar with the mythology. It's important to write for new readers as much as established one's familiar with the DCU at this juncture, but as long as you stay true to the DNA of the characters, you keep yourself out of danger as a writer — and with a little luck, add something that people like and feel brings an unexpected element to the mix. I feel that intertwining Bruce and Harvey's history so closely — and more importantly from an even younger age — makes their battle against each other resonate even more, along with having new characters like the twin sisters Erin and Shannon McKillen also hit that duality theme, which is something I really wanted to explore and thread into a new Harvey Dent origin."

On Two-Face knowing Batman's identity: "It boiled down to playing off the fact that I felt it deepened the relationship and illustrated Dent's duality in a very specific way, which was spotlighting the battle he waged with himself over knowing Bruce is Batman, day in and day out. I felt it really would give us, and Bruce, a different perspective of Dent, to discover that this internal struggle was going on for so long between the better angels of Dent's nature and his demons. And knowing Bruce so long and also working with him as Batman, it only felt right that Dent would have figured it out, just as I feel Gordon knows that Bruce is Batman, but it always goes unspoken between them. Playing these particular characters smart and "in the know" ups the drama, in my opinion, because of the knowledge they have but don't act on.

On the future of the book: "First of all, #29 is the opening chapter in the "Hunt for Robin" arc, so be warned that issues #29 thru #32 are the prologue for one of Batman's BIG 75th Anniversary stories this year within the family of Batbooks. And it leads to our humongous and major story that starts in July, which I'm sure DC will be announcing in a month or so. This issue's an action-packed story about Batman and Aquaman joining forces against Ra's as Ghul on the island where Talia gave birth to Damian — and all the insane experiments she was working on to take over the world —and how Ra's is taking up the reins again. As Batman looks to put to rest the bodies of Damian and Talia that Ra's dug up and stole, he begins to uncover something that will eventually put him on a path he never expected and will lead to a life-altering event!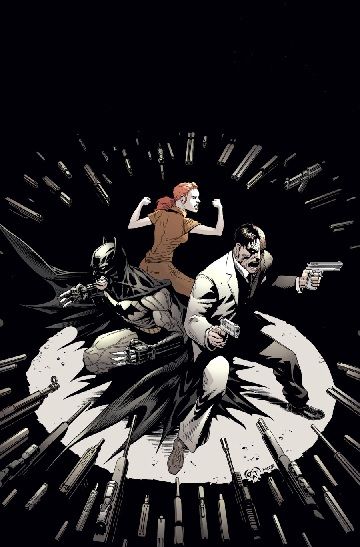 Batman Meets Green Hornet!! Kevin Smith makes his comic book return in May, and he makes his first foray into digital-first comics with Batman '66 Meets the Green Hornet, a 12-part crossover between the DC Comics hit and Dynamite Entertainment's emerald crimefighter. Joining Smith for the adventure is co-writer Ralph Garman, a KROQ radio personality and actor, and Eisner Award-nominated artist Ty Templeton.

Discussing the series with USA Today, Smith said the experience is a dream come true. "It's like getting to be 5 years old again and tell stories that you would have made up while watching the show as a kid," he said. "To be able to do it, man, it really does bring it full circle in a bucket-list kind of fashion." Smith also mentioned his hope for the adventure to play out in animation, pointing out that all of the original actors, save for Bruce Lee, are still alive. "Adam [West] still sounds like Adam. Hopefully that's somewhere in the cards down the road, if the comic book connects the way we think it will."

Batman '66 Meets the Green Hornet debuts May 21 on comiXology.





Before I say GOODBYE!
Follow me on Twitter for random bits, news RT's, and updates! Only at http://www.twitter.com/stevethegoose!

Are you a fan of 411mania on Facebook? Keep up-to-date on news and contests!

Are you following 411mania on Twitter?
http://www.twitter.com/411mania
http://www.twitter.com/411wrestling
http://www.twitter.com/411moviestv
http://www.twitter.com/411music
http://www.twitter.com/411games
http://www.twitter.com/411mma

If you have some down time and are looking for a great place for great fun, check out Tiger Flash Games!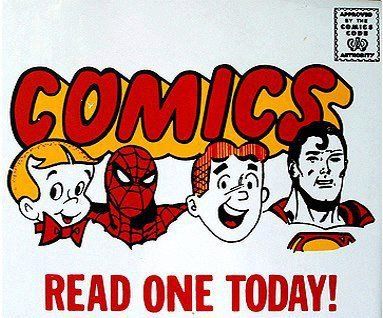 That's all the time I have. See you next week!

comments powered by