SPOTLIGHTS
411 Fact or Fiction Movies/TV 3.14.14: Week 424
Posted by Ben Piper on 03.14.2014

Will we tune in to see NBC's Heroes reboot? Did Fox make a mistake with the casting for The Fantastic Four? 411's Joseph Lee and Ron Martin debate these topics and more!




I don't know how things are going for all of you, but here in NorCal things are pleasant and downright sunny. A nice change of pace after all those cold nights and recent rainstorms. (Although we could still use more precipitation, there is a state-wide drought after all.)

So, Fact or Fiction time. This week we've got Joseph Lee and Ron Martin here to kick about. Let's see what's what with themů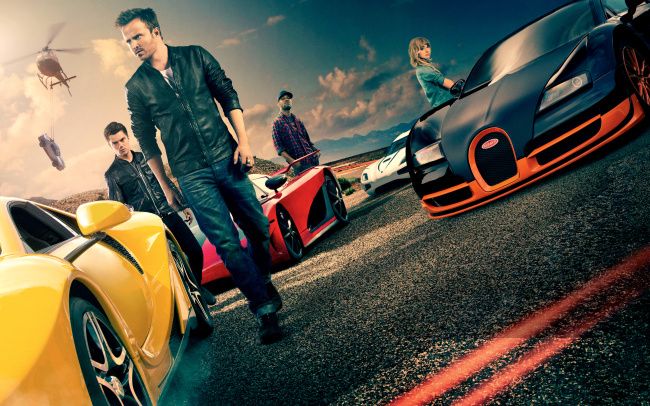 1. Need For Speed will be a fun, entertaining action movie.

Joseph Lee: Fiction. I want to say Fact based on the extensive use of practical effects and stunts (and by extensive, I mean no CG), but I'm just not into car movies. I haven't watched anything with "Fast" or "Furious" in the title and I don't get too thrilled by car chase sequences unless they're really extravagant and over-the-top. I'm sure Aaron Paul will do great, but this movie just isn't my type of thing.

Ron Martin: Fact. Hey, I'm not a car guy either. In fact, I haven't played a non-kart racing video game since the days of Rad Racer on NES. Will I see this movie? Not a chance. Does that mean that it won't be fun and/or entertaining? Of course it doesn't. Aaron Paul is a charismatic actor with a built in fanbase. Add to that the built in fanbase for anything involving really fast cars in movies and I think you have yourself a winner. Though Joseph and I may not be watching things that are Fast or Furious -- somebody is or there wouldn't be six movies (is there six? More?) in the franchise. The fact that there is little to no CGI involved only enhances the allure of the movie for the fans of this type of genre. Fun and entertaining? You bet.

Score: 0 for 1

2. You don't like the casting of the Fantastic Four reboot.

Joseph Lee: Fiction. Comic purist or racist, it doesn't matter. I'm going to be bold and say you're wrong for not wanting Michael B. Jordan to play Johnny Storm. I've seen the man act and I think he will get his personality down perfectly, which is all that matters. I don't really know who Kate Mara and Miles Teller are, but they have to be better than Jessica Alba and Ioan Gruffudd. Meanwhile, Jamie Bell as Ben Grimm is the only questionable one...but he's not really going to be Ben Grimm for long so who cares? The fact that they're young makes sense if they're going with a more Ultimate FF styled story. I really like Jordan as Storm, so I'm willing to give this a chance.

Ron Martin: Fiction. I am neither a comic purist, nor a racist so I can be bold as well! I've not heard much kickback on the fact that Michael B. Jordan (nothing against the guy, but really -- he couldn't have taken a stage name?) is playing Johnny Storm, but then again I live in a liberal college town and wouldn't be reading too many articles on Fantastic Four reboots. I will say that I love this cast because it's chance to make stars out of people we don't know. A movie like Fantastic Four doesn't need name value from it's actors to be successful. As long as the story is good, Fantastic Four has a built in audience -- I don't think the casting matters much. I hope this success can propel one or more of these guys into the public mind. As a sidenote, I'm glad everyone is finally realizing that Jessica Alba is all looks and not much on the talent. The next thing I will see her acting in is a celebrity sex tape -- that's about the only think I'm willing to watch her in.

Score: 1 for 2

3. West Side Story shouldn't be remade, even if Steven Spielberg directs it.

Joseph Lee: Fiction. Eh, musicals are remade all the time on Broadway and on stage, so another film adaptation isn't really going to bother me. Sure, it's considered a classic, but how is another movie version any different from the various stage editions over the years? As long as Spielberg gets the casting choices down (with people who can actually sing), he won't be doing anything wrong. Plus it's Spielberg, so it's probably going to be good.

Ron Martin: Fiction. I've said this many a time when it comes to remakes. I hate them...BUT there are certain entities that can be remade over and over again and it doesn't hurt anything. I've often used Alice in Wonderland, superhero movies, Tarzan, fairy tales and A Christmas Carol as examples. Every generation is going to see some version of the aforementioned entities. I think West Side Story falls into this category. It would take a gifted person to do it right -- obviously Spielberg fits that description. We just saw Carrie Underwood remake Sound of Music (kind of) and if that can happen, surely West Side Story can happen. I don't know how well it would do in the theaters. Musicals almost always seem like a big deal network television event.

Score: 2 for 3



Switch!!!






4. Veronica Mars won't make much of a dent at the box office other than the show's rabid fanbase.

Ron Martin: Fact. I will use one of my favorite bands as an example; Tool. Tool has a very loyal, very rabid fanbase. When they put out an album, said album has a high success rate the week it drops, often hitting the Top Ten in record sales. The next week it's not even in the Top 100. Everyone who wanted the album bought it immediately -- then there were no more sales. Same for Veronica Mars (or any cult TV show). Anyone who loved Veronica Mars is going to see the movie right away, so the majority of the box office will come from the opening weekend. There could be an exception if the movie were good enough to garner the coveted "word of mouth," but I think that nearly impossible given that the film would be written with the assumption that everyone watching already knew the characters and backstory.

Joseph Lee: Fact. I'm sort of thinking the film will be a flop in theaters. The TV show, cult hit or not, wasn't exactly a ratings juggernaut. If The CW cancels your show, the ratings must be pretty bad. This movie will make the bulk of its money through its VOD release and even then it's not going to make much. It doesn't have a huge theatrical release anyway, so I can't see it doing very well in the box office. I'll be surprised if it manages to make the top ten this weekend.

Score: 3 for 4

5. Jason Sudeikis is a good choice to play the titular character in the Fletch reboot.

Ron Martin: Fact. Though I am against rebooting or remaking comedies, if they're going to do it, Jason Sudeikis is as good as anyone else to play the role. Sudeikis has that understated wit that matches early Chevy Chase to the point where I have no doubt that he can pull off the role. The question is whether the writers and director are going to give him a chance to succeed. Repeating gags from the original franchise might be the death of Sudeikis as the character. A nod to said gags (and Chase) would be more appropriate with Sudeikis updating the character and breathing fresh life into him. I probably enjoy Sudeikis' comedy more than the average person, so I may be overrating this.

Joseph Lee: Fact. I guess? I've never seen the first Fletch or its sequel but I do like Jason Sudeikis in the right role. As Ron mentioned, he has a similar style of humor to Chevy Chase that could make him a suitable replacement for the role. I really don't think the film is going to be made any time soon anyway, because it's been in development since the mid-1990s. Remember when Kevin Smith wanted to do it with Jason Lee?

Score: 4 for 5

6. You'll tune in for NBC's Heroes Reborn reboot TV event.

Ron Martin: Fiction. If this were 1996, I probably would. Heroes is an odd case. It started with such huzzah and then kind of fell out of grace as quickly as any show in history. With a track record like that, I will be more willing to wait to hear whether or not it's something I NEED to watch. The great thing about living in this day and age is the ability to watch anything I want whenever I want. If I hear it's worthy of my time, I'll catch it ON DEMAND or somewhere online and set my DVR appropriately. I have my doubts, so I will play the waiting game. I think it's been out of the public eye long enough to have a certain bit of nostalgia that we'll give the series a second chance, however, so I do expect the first episode to do gangbuster ratings.

Joseph Lee: Fact. Even with the faults of the later seasons, I still enjoyed Heroes up until its cancellation. I'm more than willing to give a new series a chance, especially if they bring back the original characters to wrap up their stories. If it gives me a chance to see Sylar and Hiro in action one last time, I'm all for that. Otherwise I'll be less inclined to watch.

Final Score: 4 for 6

And there you have it. Joseph and Ron agree more often than not. Thanks to them both for stopping by, and see you all again next week!
-BP



TWITTER

http://www.twitter.com/411s_Ben_Piper
http://www.twitter.com/411mania
http://www.twitter.com/411wrestling
http://www.twitter.com/411moviestv
http://www.twitter.com/411music
http://www.twitter.com/411games
http://www.twitter.com/411mma




comments powered by