SPOTLIGHTS
The Hollywood 5 & 1 3.15.14: Scarlett Johansson Vs Arianny Celeste Edition
Posted by Steve Gustafson on 03.15.2014

Scarlett Johansson takes on Arianny Celeste in Vs, new clips from The Amazing Spider-Man 2 and Captain America: The Winter Soldier, Lisalla Montenegro is your "& 1" Model of the Week and more!






































A WORD FROM STEVE...
Welcome back! How was your week? We're back for another week of hot women, the biggest Hollywood news, and some celebrity gossip! For some additional reading you can check out my Comics 411. Or you can check out my Big Screen Bulletin for more movie related news and thoughts!

Click and read my interview with Playboy's Miss March Britt Linn!





THIS WEEKEND...





I'm bringing the Spike and Mike's Sick & Twisted Festival of Animation to DC! Presented by Spike & Mike on Thursday, April 10 at 7:30 PM at AMC Loews Georgetown 14 & IMAX (3111 K St NW, Washington, DC, 20007). Tickets are only $10.00 so if you live in the area, come on out and have a great time!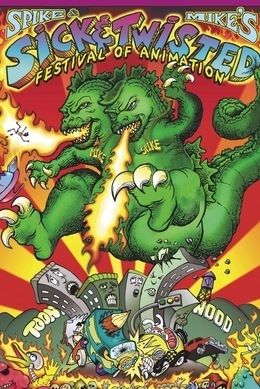 OK, who's greeting us this week? None other than Khloë Terae! Yes! Here's the Playboy Playmate posting a new skin-baring pic with a couple friends to her Instagram account. You gotta love friends!





Last week Kenda Perez took on Brittney Palmer and Arianny Celeste. Here are the results:

Arianny Celeste 50.39%
Brittney Palmer 41.13%
Kenda Perez 8.48%

Did Kenda ruin it for Brittany? While Arianny took it in the votes, would it be the same results with Kenda out of the mix? We might have to revisit this another time. And for those few folks who emailed me about there being a MMA 5 & 1, I know, I know. I was being silly.

I got an email from a...GASP...female reader and wanted to know if I'd run a VS between Dwayne "The Rock" Johnson and Vin Diesel. I gave it serious consideration, just to see what kind of participation I'd get. I'm sure I'd get some fuss in the comments but voting is secret. Curious to hear any of your input.

I decided I wanted Arianny one more week. A rematch with Scarlett Johansson is in order. Scarlett won last time but it was interesting.



Scarlett Johansson VS Arianny Celeste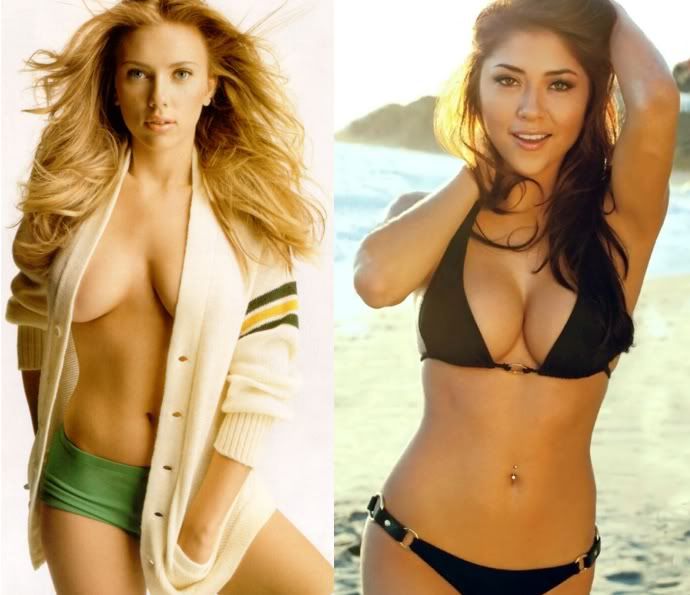 VOTE!




PIC OF THE WEEK!
Kim Kardashian, who welcomed her daughter last June, posted some bikini selfies on her Instagram account Wednesday, revealing that she borrowed her little sister Kylie's black two-piece. "Quick swim before the Dash party!" the 33-year-old wrote along with the first photo, sharing another snapshot shortly after with the caption, "Yep stole Kylie's bikini...she's not getting it back."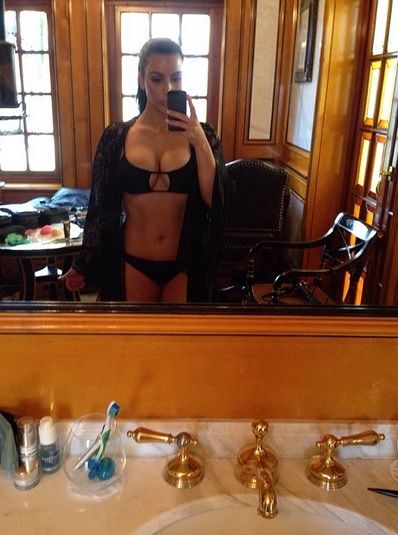 WHAT THE HELL?
TMZ reports that the person who owns the Johnny Carson sex tape wants to sell it but they will only do so without anyone actually seeing it. The attorney representing the owner said that his client will hold viewing parties for those interested in buying the tape. It was filmed in the 1970s and shows Carson having sex with one of his wives.

In order to see the tape, buyers have to make a blind bid. The seller will not set a price but he will just look at the offers made for the tape. To qualify to see the tape, buyers have to place their bids into an escrow account. Only large offers will be accepted. After the screening, buyers will be invited to offer more money.

The person who wins the auction has to sign a document saying that the video can't be sold commercial and must remain in a private collection. If the contract is violated, there will be a stiff financial penalty.

What. The. Hell.

Hey-Oh!





TWITTER-A-GO-GO!
Make sure you're following all the comings and goings around 411mania on Twitter! Follow me for some witty tweets from time-to-time as well. Dana White, Jesse Jane, and Larry Csonka follow me. What are you waiting for?



http://www.twitter.com/stevethegoose
http://www.twitter.com/411mania
http://www.twitter.com/411wrestling
http://www.twitter.com/411moviestv
http://www.twitter.com/411music
http://www.twitter.com/411games
http://www.twitter.com/411mma









Spider-Man!
Sony has released a ANOTHER new clip from The Amazing Spider-Man 2. It features Spider-Man (Andrew Garfield) joining the police in chasing Aleksei Sytsevich (Paul Giamatti), aka The Rhino. The film will be released on May 2. It was directed by Marc Webb and also stars Emma Stone, Jamie Foxx , Dane DeHaan, Campbell Scott, Embeth Davidtz, Colm Feore, Sally Field and B.J. Novak.





Is there any part of this movie that we haven't seen?




Constantine!
The Facebook page Slates for Sarah (a memorial for Sarah Elizabeth Jones, who died working as a camera assistant on the Greg Allman biopic Midnight Rider) has revealed two photos from the set of Constantine. The photos show Matt Ryan in the lead role of John Constantine.

The series will also star Lucy Griffiths as Liv, Harold Perrineau as the angel Manny and Charles Halford as Chas. The pilot was written by David S. Goyer (Batman Begins, Man of Steel) and Daniel Cerone (The Mentalist). It will be directed by Neil Marshall (The Descent, Game of Thrones).

Goyer said: "I've been a fan of John Constantine since he was first introduced in 1985. This Constantine, envisioned by Neil Marshall and embodied by Matt Ryan, looks like he sprang directly from the comics covers. Fans old and new are going to be in for a treat."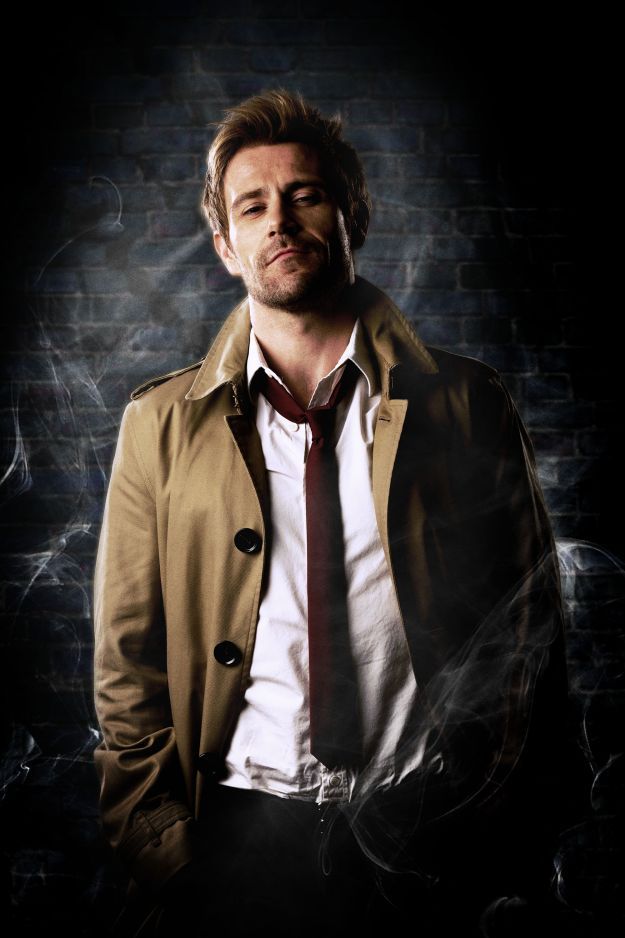 I'm digging it.




Star Rumors!
The week wouldn't be complete without some casting rumors for Star Wars! Variety reports that actors John Boyega (Attack the Block), Ed Speleers (Downtown Abbey), Ray Fisher, Matthew James Thomas, and Jesse Plemons (Breaking Bad) are on the list of names up for a lead role in Star Wars: Episode VII for director JJ Abrams.

It was previously reported that Adam Driver was likely to join the cast as the film's central villain. The film is due out on December 18, 2015.




I could see Jesse here in Star Wars.




Oh, Lindsay!
The author of the blog Crazy Days and Nights was in attendance for a 2 Broke Girls filming, which featured Lindsay Lohan in a guest role. She plays a future bride who is trying to buy a wedding cake and appears to be spoiled and indecisive. Talking about the character she's playing. Here are highlights of the review:

On Lohan taking a phone call in the middle of filming: "She has six or seven lines. 45 minutes later when the audience can see the finish line of this scene a cell phone starts ringing. Loudly. 'I'm sorry, that's mine. Hello. I have to call you back.' Yes, it was Lindsay's phone."

On not getting her lines right: "This first initial half of a full scene had about five lines from Lindsay. It took about 45 minutes to shoot because she never could get through without screwing up. She would get one line and screw up another. There was some combination that she always managed to find that she had not done previously."

On how much Lohan had to repeat her lines: "Myself and all of the other 199 members of the audience are very familiar with every single one of Lindsay Lohan's lines and can repeat them all verbatim to you because we heard them so many times last night. There is not a member of the audience who couldn't do a better job than Lindsay Lohan did last night."




Good ole Lindsay!




What's the VIDEO BUZZ?
Marvel Studios has released another new clip for Captain America: The Winter Soldier. The new clip features Captain America and Falcon in action. The sequel is due out in theaters on April 4.

What do you think?






Welcome back to the & 1 Model of the Week! It's pretty obvious what this is. A couple pictures of a sexy gal for you to look at before clicking to the next article. This week our & 1 Model is ...Lisalla Montenegro!!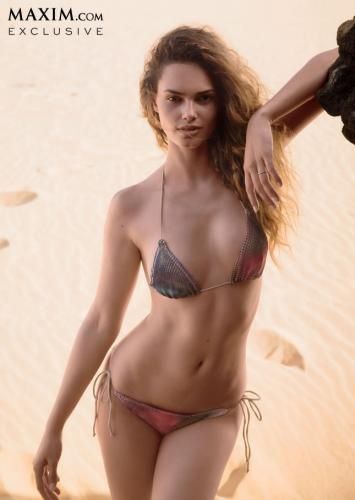 Ladies and Gentlemen, I present...Lisalla Montenegro!



Before I say GOODBYE!
I started a suicide prevention resource site. Give it a look and share! www.youcanendure.com . If you or someone you know is feeling isolated, don't hesitate to call the National Suicide Prevention Hotline 1-800-273-8255. Finally, if you have some down time and are looking for a great place for great fun, check out Tiger Flash Games!


All pictures courtesy of Maxim Magazine, Complex, Huffington Post, V Magazine, People, FHM, Details magazine, www.cnn.com, and www.imdb.com.
comments powered by