SPOTLIGHTS
The Hollywood 5 & 1 3.22.14: Elisha Cuthbert Vs Megan Fox Edition
Posted by Steve Gustafson on 03.22.2014

Megan Fox takes on Elisha Cuthbert in Vs, Marc Webb opens up about The Amazing Spider-Man 2, Lindsay Lohan's sex list hits the internet, Pamela Anderson and January Jones are your "& 1" Models of the Week and more!







































A WORD FROM STEVE...
Welcome back! How was your week? We're back for another week of hot women, the biggest Hollywood news, and some celebrity gossip! For some additional reading you can check out my Comics 411. Or you can check out my Big Screen Bulletin for more movie related news and thoughts!

Click and read my interview with Playboy's Miss March Britt Linn!





I'm bringing the Spike and Mike's Sick & Twisted Festival of Animation to DC! Presented by Spike & Mike on Thursday, April 10 at 7:30 PM at AMC Loews Georgetown 14 & IMAX (3111 K St NW, Washington, DC, 20007). Tickets are only $10.00 so if you live in the area, come on out and have a great time! Grab your tickets HERE!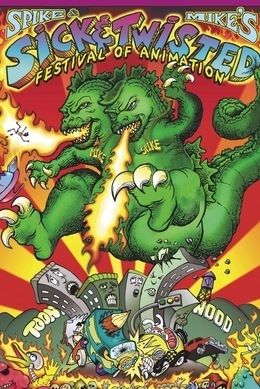 Look at this. See, if you scream and complain enough, you CAN get your way: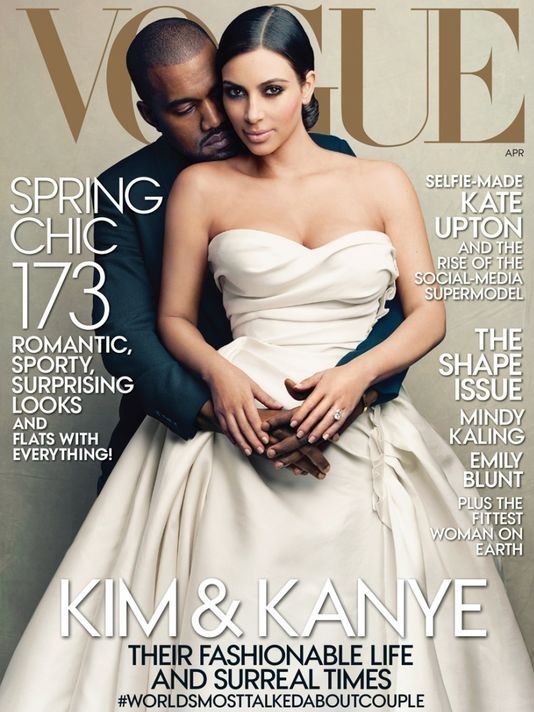 OK, who's greeting us this week? None other than Stefanie Knight! Here's Stefanie and a couple of sexy fellow Playmates in nothing but black tape.





Last week Scarlett Johansson took on Arianny Celeste. Here are the results:

Scarlett Johansson 75.17%
Arianny Celeste 24.83%

Now THAT'S a spanking! Arianny didn't put up any fight when matched up against Scarlett! This week we revisit Elisha Cuthbert and Megan Fox. Why? I'm putting together another tournament and want to pair down the selections. It won't be till after March Madness so you have some time to SUGGEST any hotties I may have missed.



Elisha Cuthbert VS Megan Fox









VOTE!




PIC OF THE WEEK!
Here's Carla Howe in a new selfie posted to Instagram.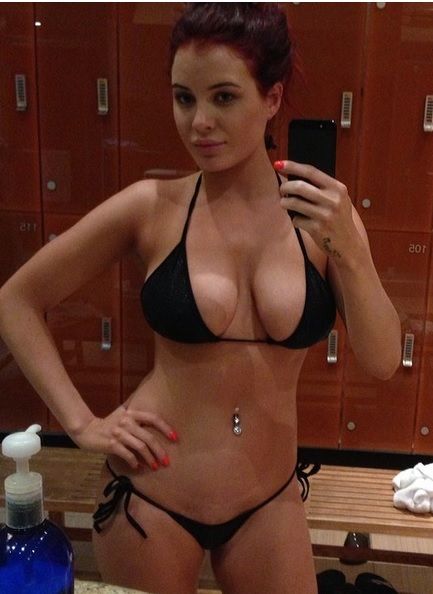 WHAT THE HELL?
Is there anyone who doesn't love Christopher Walken or his dance moves? The Huffington Post has posted a new movie mash-up video of Walken dancing his way through fifty-seven different films over thirty-six years. The video was compiled and edited by Ben Craw and uses clips from over half of his 107-film resume. This will make your day.






TWITTER-A-GO-GO!
Make sure you're following all the comings and goings around 411mania on Twitter! Follow me for some witty tweets from time-to-time as well. Dana White, Jesse Jane, and Larry Csonka follow me. What are you waiting for?



http://www.twitter.com/stevethegoose
http://www.twitter.com/411mania
http://www.twitter.com/411wrestling
http://www.twitter.com/411moviestv
http://www.twitter.com/411music
http://www.twitter.com/411games
http://www.twitter.com/411mma









Excitement!
Coming Soon reports that Jon M. Chu (G.I. Joe: Retaliation, Justin Bieber: Never Say Never) is set to direct a feature film based on...Jem and the Holograms. The film will be produced by Jason Blum and Scooter Braun. You can see an announcement video below, which asks for fan submissions of audition material.

The series was created by Christy Marx along with Hasbro, Marvel and Sunbow Productions. It began airing in 1985 for three seasons. It followed Jem, the musical alter ego of Jerrica Benton. With the help of a holographic computer called Synergy, she performed huge rock concerts with her friends.

How pumped are you?





Who will play Jem?




Marvel Mystery!
20th Century Fox is going full-speed ahead on its Marvel properties. The studio has announced release dates for Wolverine 3, Fantastic Four 2 and an as-yet-unnamed Marvel film. While there's no word on what that might be, the studio was previously reported to be making an X-Force film.

Wolverine 3 is dated for March 3th, 2017 while Fantastic Four 2 hits on July 14th, 2017. The mystery film will release on July 18th, 2018.

Additionally, the studio shifted the release date for Matthew Vaughn's comic book adaptation The Secret Service from March 6th, 2015 to October 24th of this year.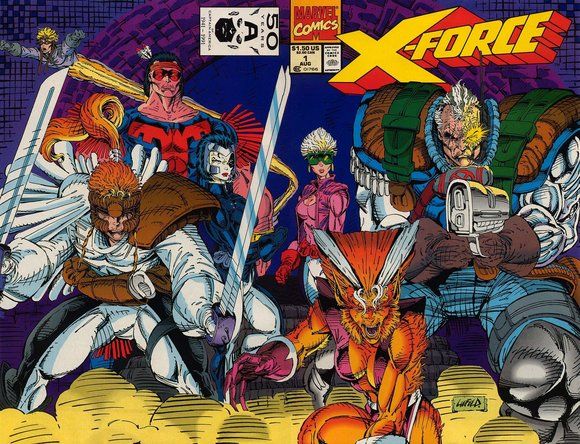 I'm very curious about an X-Force movie.




Spider-Man!
Marc Webb spoke with SHH following a screening of thirty minutes of The Amazing Spider-Man 2. Check out highlights of the interview below:

On using the Daily Bugle in marketing: "Yeah, we're developing the Daily Bugle. Obviously, you're going to get a little hint of Norman Osborn in this film. The Daily Bugle is part of it. The big thing that I wanted to nail this time was the suit, you know? I wanted to return to the iconography that we knew from the comic books and the Daily Bugle is an emerging force to be reckoned with. That's one of the fun things about delving into a universe like this. You can take more time with these things. We really did think about this in a longer format. As far as things like the Daily Bugle and Norman Osborn's story, we were very selective about how to tease that out."

On exploring Electro's need to be needed by society: "To understand Electro is to understand Max Dillon, as Jamie [Foxx] has said. Jamie's been a really great component of this and he was a great partner in trying to generate this in the movie. Max Dillon's character has been sort of ignored by the world, forgotten by people. He's an outcast, much in the way that Peter Parker is an outcast, and he chooses to react to that in a little bit different a way. There is a wonderful pathos that Jamie enables at the beginning of the film. You haven't seen that part yet, but you really feel for him. But there's also a psychosis. There's something mad about him and that eventually gets the better of him."

On expanding on the comedy from the first film: "That's one of the iconic parts of the character that we chose to embrace. Even in the first movie, there's that scene in the parking lot. Something fundamental about Spider-Man, as you guys know, is his wit and his quips, but it's also part of his character. It's how he provokes villains, particularly. It's how he puts them on their heels and I think that, with Rhino, it's particularly convenient because he's such a dumb villain that he can provoke in that way. We always try to think about it in the nature of the scene and the nature of the character. That's where the comedy emerges. We did something that sometimes big comedy movies do, which is to get a roundtable of comedians and just have them spit jokes out. We'd use that and try them out with Andrew and see what worked. We would have, in the beginning of the process, ome of the best comedians. It's sort of a private thing that you can't really tell who's in it, but these are amazing, really brilliant comedians and many of them are comic book fans. The come in and help us with coming up with jokes and one-liners and quips that are part of Spider-Man's universe."

On the third film and the Venom and Sinister Six spin-offs: "We — you know, myself and my partners at Sony, and Avi and Matt — we've been trying to figure out how to develop a larger universe and there are some very exciting things coming around the corner with "The Sinister Six" and "Venom" and future Spider-Man movies. I want to be involved in any way I possibly can and we're already talking. We've had these really wonderful discussions and there's already been some announcements, but you know Alex and Bob and Drew Goddard and a lot of these really brilliant minds who are young and emerging are helping us develop something a little bit more elaborate and exciting. It's just been a blast. It's sort of a dream come true. We've had fantasies about what we could do and they're slowly coming to reality. I'm really excited about that."

On having Peter and Gwen graduate from high school: "Listen, our actors are getting a little bit older. To play around with that for too long would get to be absurd. We're also trying to find stations in life and important moments for them to emerge from. We did spend the whole first movie in high school. This is not that much further in their future. To be honest, there's a thematic resonance with people moving on, with graduation, which felt really potent to us. The graduation speech was a way to introduce the universe and the themes of the movie in an interesting way and that just felt right. They were getting to that age and it's about a gradual teasing of information. It felt appropriate to watch that important moment in their lives."

On the mystery involving Peter's parents and criticism over how it was handled in the first film: "That's the thing. It's a tricky thing because that was part of what we were trying to establish. Of course it was going to be teased out. We had a plan about how to let that unfold. It was sort of the long shadow that was cast over Peter Parker's life. We knew how this was going to emerge. We had ideas about the pathways of these characters, but we didn't want to blow everything out in the first movie because, again, it's about creating a more elaborate universe developing into more and more interesting and nuanced things that the fans are really going to enjoy."

On the running time: "16 hours! (laughs) No, it's going to be over 2 hours, but it's really — I actually don't know the exact number, but we're very careful to invest in the characters while keeping the story moving forward. There's no one more acutely aware of that than me and I am, at times, impatient, but I also really value richness of character and that requires spending some time. I mean, there is a value to understanding the first movie, but it's certainly not imperative to enjoying and experiencing the holistic quality of the second film"

On whether plans for future films affected this one's script: "You know, originally it was conceived as a trilogy. We were thinking about three movies and then we started messing around with the second movie. There was such an enormous wealth of information and we were just like, 'We can't cram them all into one movie! There's too much richness there!' So when we were talking about the beginning of the second film, we were trying to plan out all of the emerging storylines. It just started to make sense to invest in other stories. Then, in particular, the Sinister Six is something we'd always talked about, just asking, 'How do we plan this out?' So, that's where it started, the beginning of the second movie, in terms of developing the universe."

On Electro as the main villain fitting with future plans: "I think primarily — again, in the first film — I had sort of an idea of how these characters would evolve. I just wanted to use Electro. There was purely a cinematic opportunity there that I thought was awesome. Given where we're at with visual effects and technology, I thought we could do it in an effective and interesting way, which I didn't think existed until recently. There was just an opportunity there. So there was part of that which went into it. Then, as we were trying to craft Electro's story, thematically, there was a resonance between Max Dillon's character and Spider-Man. What is that villain going to bring out in your protagonist? How was he going to make that character more heroic? That was important, but really, it was about this movie. It was about finding a villain that was interesting, powerful and strong, but that had a thematic resonance to Spider-Man. That idea of the outcast, which you get a little tease of. Villains and heroes often are foils for each other and there are layers and layers to that. Thematically, it had a lot to do with Max Dillon. Electro is an incredibly visual villain. He needed to be seen, which is a part of his character and that has a relations with Peter Parker's character and his journey."

On whether he felt any pressure to go really big: "There is always a 12 year old kid inside of me that just wants more. More cop cars. I want 10, no 50, no, let's get 80 cop cars and trash them all! If you have the opportunity, I highly recommend you do it. There is also the playfulness of it. It became known on set as the "Blues Brothers" sequence because of what you're talking about. It's something that was fun and felt kind of a way to start off the movie in a more playful way, especially given the opening situation with the plane. I wanted to bring it back into this playful part of Spider-Man that also felt big and action-driven. There's opportunities in action for certain kinds of comedy that you just don't get anywhere else. But yeah, there is a pressure to let it be big and have fun with it. There was a joy that we really wanted to embrace, especially at the outset of the film."

On whether cutting Mary Jane Watson from the film affected the story: "No, it was a separate, tiny little tease that we omitted. It was really uneventful."

On if a female "spider-person" may happen: "Spider person? Anything is possible, but that hasn't been on my mind. It's an interesting idea."

On Norman Osborn's presence in the film: "Norman Osborn, who is played by Chris Cooper, has a really interesting component that I don't want to reveal. We have to be very careful about what we reveal and we get a lot of flack for sometimes talking about too many things. We also want to enthuse people to see the movie so, in keeping with trying to make that cinematic experience for everybody at home really special, I'm going to withhold that answer from you."

On playing with certain well-known elements of the comics story to keep people guessing: "I think it's crucial. You have to think about the story just on its own, irrespective of what people's expectations are first and foremost. The story has to work on its own because people have such a varying degree of understanding of this universe. Some people have never read a Spider-Man comic, but a lot of people have. First and foremost, you just think about the story itself and then, along the way, there are certain teases and hints and acknowledgements that hopefully engender a level of engagement from the super-fans, because they're always close to us. I talk to them everyday and I'm aware of that. I want to make that experience rich for them, so there are certain reference I guess you would say that we implanted for people like me who are fans and interested in the universe."





What do you expect this movie will be like?.




Oh, Lindsay!
More names have been revealed from Lindsay Lohan's alleged "conquest list." In Touch is doling out more names from the list it obtained, which Lindsay supposedly hand-wrote to prove that she's been involved with some hefty celebrities. The new names include Ashton Kutcher, Orlando Bloom, Ryan Phillippe, Benicio Del Toro, Stavros Niarchos, restaraunt empire heir Maggio Cipriani, hockey player Aaron Voros and model Petey Wright. Previously-revealed names include Justin Timberlake, Adam Levine, Zac Efron and Joaquin Phoenix.

The source who revealed the list said she saw Lindsay write the list down, noting, "It was her personal conquest list. She was trying to impress her friends with the list and then tossed it aside."

Some people write a tell-all book and make some money, some people write it on a napkin and give tabloids headlines.




Never a dull moment.!




What's the VIDEO BUZZ?
Entertainment Tonight has revealed a new deleted scene from American Hustle which is another lip-syncing performance from Jennifer Lawrence as Rosalyn Rosenfeld, this time to Santana's "Evil Ways".

What do you think?






Welcome back to the & 1 Model of the Week! It's pretty obvious what this is. A couple pictures of a sexy gal for you to look at before clicking to the next article. This week our & 1 Model is ...Pamela Anderson and January Jones! Yeah, I decided to split it up a little since both ladies had some very sultry picks come out this past week. We've seen Pamela naked before but the 46 year-old wanted to remind us of her hotness. Just in time for Mad Men buzz, January posesd nude in a sexy new photo shoot for Violet Grey Magazine.


Ladies and Gentlemen, I present...Pamela Anderson!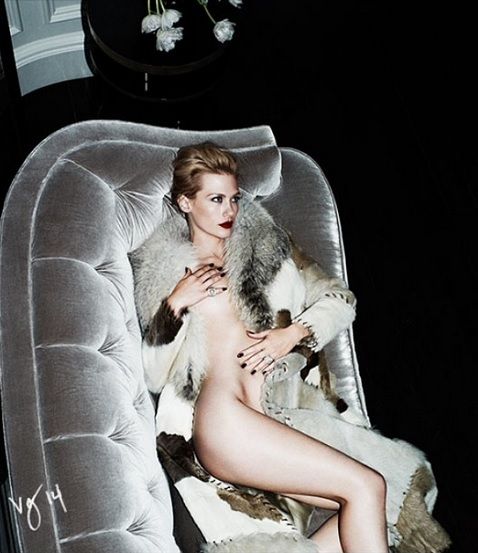 Ladies and Gentlemen, I present...January Jones!


Before I say GOODBYE!
I started a suicide prevention resource site. Give it a look and share! www.youcanendure.com . If you or someone you know is feeling isolated, don't hesitate to call the National Suicide Prevention Hotline 1-800-273-8255. Finally, if you have some down time and are looking for a great place for great fun, check out Tiger Flash Games!


All pictures courtesy of Maxim Magazine, Complex, Huffington Post, V Magazine, People, FHM, Details magazine, www.cnn.com, and www.imdb.com.
comments powered by