Ask 411 Movies for 03.24.14: Jumping the Shark Regularly Since Leonard Left
Posted by Chad Webb on 03.24.2014

Why doesn't Oz get credit for being one of the greatest shows of all-time? What are the best TV families? Which shows never "jumped the shark?" All that and more covered this week in Ask 411 Movies!







































An "Ask 411 Movies" column would be nothing without questions, so please toss them my way. Why should you ask me instead of using Google? Well, perhaps I'll tell you something you can't find there, or maybe you just like my conversation and soothing words. You can post any questions or thoughts below in the comments section, email me at cthomaswebb@gmail.com, or send me a tweet using the links below:













---




What I Watched This Week



This week has been spent catching up on the shows I have stored on the DVR, which I am gradually decreasing the percentage of. I didn't venture to the theater much, but I did see Veronica Mars on demand. I had mixed feelings about that one. I also saw Homefront on DVD, which was solid action fare, nothing special. I have started True Detective, which is spectacular so far. I would like to give a hearty middle finger to all the douchebags who couldn't share their opinion about that show without giving away spoilers. Anyway, I have plans to see Divergent soon, and hopefully some more titles during the coming week.

And in case anyone was curious about my CGI Blood poll results, an overwhelming 60% of you seem to hate, while around 30% have no opinion. I would probably be in the latter group. Only 4 people who voted love it.

If want to know more about my movie tastes, check out my page on Letterboxd by clicking right here. Also, make sure to look at all the great articles and writers at 411, particularly in the Movie-zone because that's where I predominantly am, but all of the zones.


Deaths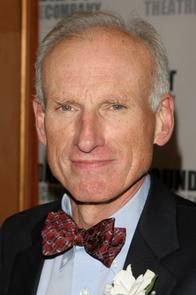 James Rebhorn passed away on March 21, 2014 at the age of 65. The cause of death was due to his long battle with melanoma. Rebhorn is an American actor who appeared in over 100 films, shows, and plays. He is one of those guys whose name you might not recognize, but whose face you would. His resume is a mile long, but here are some of his credits: Silkwood, The Game, Independence Day, Guarding Tess, Cold Mountain, Blank Check, Real Steel, Meet the Parents, The Talented Mr. Ripley, My Cousin Vinny, Basic Instinct. As for shows, he had recurring roles on White Collar, Homeland, The Practice, Boston Legal, Third Watch, Law & Order, and more.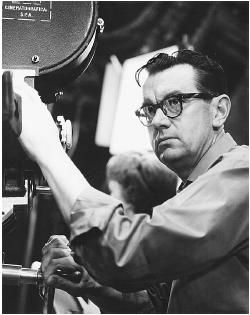 Oswald Morris died on March 17, 2014 at the age of 98 at his home in Dorset, England. Morris was a cinematographer whose career spanned six decades. He collaborated with director John Houston on eight films, beginning with Moulin Rouge in 1952. He was nominated for three Oscars and won for Fiddler on the Roof in 1971. His brother Reginald was also a cinematographer based in Canada. Among the credits for Oswald Morris: Lolita, The Hill, Goodbye Mr., Chips, Scrooge, Oliver!, Sleuth, The Man Who Would be King, The Wiz, The Man With the Golden Gun, Equus, The Dark Crystal. He has three children and also had a building at the National Film and Television School named after him.

In case I forgot to mention a notable death this week, you can always peruse the list yourself by clicking here.



The Questions





Q:

3 questions
1.) I saw a recent list which ranked the greatest TV families.
The Top Five: 1. The Whites, Breaking Bad. 2: The Simpsons. 3. The Sopranos 4. The Wilkersons from Malcolm in the Middle 5. The Addams family
Thoughts?
2. I was bored last week so I decided to stream Oz. From all the reviews I saw I felt like the show was going to be about just shock value. Needless to say, I loved it. I'm in season 3 right now and am surprised that it isn't as remembered as The Sopranos or The West Wing. Why isn't it that popular when it comes to best shows? Are there any other famous shows that aren't remember for quality?
3. Another Show I've been watching is 24. Like Oz, I'm loving it. One of the reasons I like it is that it feels like a Die Hard equivalent for TV Shows. Not a rip off, but has the same impact and gives me the same satisfaction when I watch the Die Hard movies. Agree? Can you name any Movie and their TV show equivalents?
--Mahmood



A:



1) That is an interesting list. Personally, I think Breaking Bad is one of the Top 3 greatest shows ever. In fact, I would probably rate it #1. However, putting the Whites as the best TV family strikes me as a bit bold. They should certainly be mentioned in the conversation, and down the road when the show has time to age, they could very well have a place in the Top 5, but at #1 so quickly after it ended, hmm, I don't know. What are the qualifications for the family to make the list is one question I have. For me, the characters in the family need to be unforgettable apart and above the show they were on. For example, The Simpsons is not a show I watch regularly, but I would not hesitate for a second to put them in the Top 5 best TV families because they are iconic regardless of the ups and downs each season of storylines may have.

I agree with the Sopranos family and the Simpsons. But I was never a huge fan of Malcolm in the Middle, not that I watched the entire series mind you. And even if I was, I would think other classic TV families deserve placement higher than them. I would say the same thing for the Addams family. I've seen a few episodes of the 1964 series, not to mention the more recent movies. They are humorous and it goes without saying that they are a classic family, but I wouldn't call them Top 5 material. I think The Huxtables from The Cosby Show, The Bunkers from All in the Family, The Bradys from The Brady Bunch, and possibly the Conners from Roseanne all have arguments for making the Top 5.



2) Sad to say, I have not seen Oz, but everyone I know who has watched it, enjoys it. It is one of many shows I plan on watching at some point. Six Feet Under and Big Love are on that list as well. But I can answer your question. I perused several sites and most seem to agree that Oz is not "underrated" necessarily, but does deserve to be mentioned alongside the best shows of all-time. So why isn't it? Well, I read an article by someone who loves Oz and they stated that until The Sopranos aired in 1999, HBO had not yet figured out how to properly market this style of smart storytelling to the public.

The fact is, The Sopranos stole the thunder from Oz in a big way. It was able to accomplish this because of HBO putting its full attention into marketing it, plus the public has always had an infatuation with the mafia. Not everyone has a comparable infatuation with hardened prisoners, especially when it is not a prison reminiscent of a Frank Darabont offering (The Shawshank Redemption, The Green Mile). The consensus of the writer I came across seems to be that The Sopranos is escapist entertainment and because people would rather be Tony Soprano than someone in prison, people connected to it better. I also read on a few sites that the highs in Oz were not as high as those in The Sopranos and its lows were worse than those in The Sopranos. But that's just what I read. I can't say until I see the show for myself. But where The Sopranos gets credit for establishing the anti-hero and a specific mode of storytelling, many feel that honor should go to Oz, which got there earlier. For more on Oz, click here.



3) I like 24 as well, though I haven't seen its entire run from start to finish yet. Picking a single movie that would be the equivalent of that series is tough. Certainly it possesses elements of a Die-Hard, but I also see a healthy dose of James Bond & Air Force One in it too (which will prompt comments that it is Die Hard on a plane, but bear with me), not to mention other related films. I think I'll do a longer list of movie-TV show equivalents at another time, but for now, I'll give you two easy ones. For The Sopranos, it would be Martin Scorsese's Goodfellas from 1990 and The West Wing would be the 1995 Rob Reiner flick The American President. Of course there are a lot of shows that were directly based on movies, but I assume we're avoiding them, right?





Q:


6) About show jumping the shark. What is the show that lasted the longest after jumping the shark? Is there any long-lasting show (at least 3 years) that have not jumped the shark?
7) What would be the most obvious ''jumping the shark'' thing to do? I think usually it's when a new cast member arrives likely a little kid or a baby.
-Christophe



A:



Following up from your list of questions last week, we'll explore "jumping the shark."

6) First we need to acknowledge what 'jumping the shark' means. As it states on Wikipedia, it "is an idiom created by Jon Hein that was used to describe the moment in the evolution of a television show when it begins a decline in quality, which is usually a particular scene, episode, or aspect of a show in which the writers use some type of "gimmick" in an attempt to keep viewers' interest. Its name is taken from a scene from a fifth season episode of the sit-com Happy Days when the character Fonzie jumps over a shark while on water-skis. The usage of "jump the shark" has subsequently broadened beyond television, indicating the moment when a brand, design, or creative effort's evolution declines."



Now, it goes without saying that deciding when a show "jumps the shark" is subjective. If I were to say Heroes jumped the shark during its second season, fans of the show might fire back at me that it got better during season 3. I haven't seen Heroes yet (though I did buy the HD-DVD for a penny), but this is just an example. In that case, is it really "jumping the shark", or just a momentary decrease in quality? In my opinion, when you say a show "jumps the shark," you are saying that this is the moment where the dip in quality started and it continued on a fairly routine basis from then on. If a show has a bad season, or a bad series of episodes, but then picks up at some point, I'm not sure I would call it jumping the shark necessarily. The definition for this phrase is hardly set in stone, it should be noted.



So, not only do we have to agree on when a show jumped the shark, but we have to agree on what is considered a lengthy run (or not) after that incident and that it kept going with consistently weak episodes... all while the fanbase stayed loyal. Having said that, let me now say that while I have seen many shows over the years, I can not claim to have seen every show in existence, so some of these answers will be the result of research and seeing the same titles over and over again on various sites.




What show lasted the longest after jumping the shark? One answer that keeps popping up is Law & Order. Many agree that the original series jumped when Det. Lenny Briscoe passed away. He had been transferred to a different branch of the department, died, then his partner Ed Green had a series of new partners that weren't the same. In real life, Jerry Orbach succumbed to prostate cancer while filming Law & Order: Trial By Jury. The show lasted 5 more seasons, not to mention had spinoffs.



Another show that supposedly jumped the shark early was True Blood. I don't watch this (I was already tired of vampires when this began), but I've read it "jumped" in season two, and/or when vampires began to fly? Maybe a fan can enlighten me about that. That show premiered in 2008 and has announced its seventh and final season for summer of this year. There might be some people who would list The Simpsons, but from what I understand that show has improved over the past few seasons, so you can see that it's difficult to reach a unanimous agreement with certain shows. I would also say Glee jumped during season 2, which was just downright terrible. That's still going too and has not improved from what the California Raisins tell me through the grapevine.



As for shows that never jumped the shark, the list is long: The Sopranos, Seinfeld, Star Trek: The Next Generation, The Wire, Battlestar Galactica (2005), Breaking Bad, Arrested Development, The Shield, Cheers, The Dick Van Dyke Show, The Mary Tyler Moore Show. These are general examples. I could go on, but this is a group I think most would be ok with. Terms I didn't know existed: "Grew a Beard." This refers to when Riker in Star Trek: The Next Generation literally grew a beard and the show instantly improved from then on. I might have to do a list of those shows at some point too. By the way, the movie equivalent term of "jumping the shark" is "nuking the fridge" from Indiana Jones and the Kingdom of the Crystal Skull. I'm sure many of you knew that.



7) The two "jumping the shark" traits you listed clearly fit, but I have a slightly more obvious one. Here is a list of common jumping the shark qualities:

*A New Baby - This is typical with sitcoms where the children of the series get old and therefore less cute in the eyes of viewers. It can also be the case of sitcoms that focus on adults but need a fresh story thread. Examples: Family Ties, Full House, Fresh Prince of Bel-Air, 90210, Murphy Brown



*Main Character Leaves - There are several shows that experience cast changes and survive afterwards, but a number of them do not last long after such a transition. Examples: Happy Days, Laverne and Shirley, Three's Company, House, The Office



*Romantic Tension is Resolved - This has also been referred to as the "Moonlighting Curse." Many shows wait a long time before closing the romantic tension story and when they do, viewers lose interest. Examples: House, Bones, Cheers, Who's the Boss



*Too Many New Characters - This frequently occurs with dramas that focus on a town, a community, an organization, etc. Examples: ER, Dallas



*Same Character, Different Actor - This has been called "The Other Darrin" as well, after Bewitched. This is probably the most obvious one, according to your question, and it happens all the time. Showrunners want to maintain continuity and ratings, so they try to keep the viewership by keeping the character but changing the actor. I suppose they find it easier, but it usually results in disaster. Examples: The Fresh Prince of Bel-Air, Roseanne, My Wife and Kids, Family Matters



*Casting a Precocious Kid - On occasions, the creators of a show are desperate for a ratings boost and attempt to revitalize a series by integrating some sort of random kid to shake things up. Examples: Family Matters, Growing Pains, The Brady Bunch, Who's the Boss, Married with Children



Click here for more on Jumping the Shark.



Quick Shot: Russell Crowe



We have the much anticipated and buzzed about Noah hitting theaters this Friday, starring Russell Crowe among others. And so here are 5 Crowe performances that you absolutely must familiarize yourself with before checking out the upcoming film.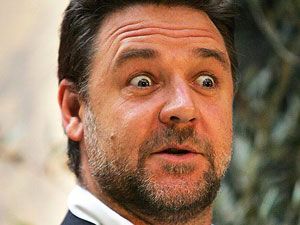 1) Gladiator
2) Master and Commander: The Far Side of the World
3) The Insider
4) L.A. Confidential
5) Cinderella Man



And because I feel like it…from Last Action Hero: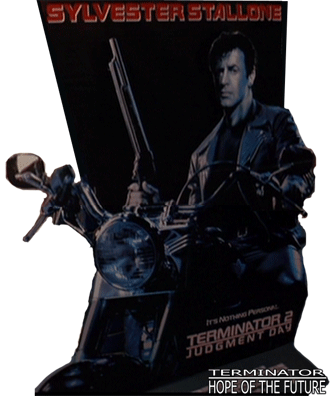 --Thanks to Misty for my banner.

"The plural of Chad is Chad?"
--From the movie Recount

comments powered by