SPOTLIGHTS
411 Fact or Fiction Movies/TV 3.28.14: Week 426
Posted by Ben Piper on 03.28.2014

Are we interested in a Captain Marvel movie? Will Noah be an outstanding Biblical retelling? Should The Grudge be rebooted? 411's Tony Farinella and Todd Vote debate these topics and more!




Man, it's been pouring buckets the last couple of days. There was even Tornado warnings north of where I live. Not that I'm really complaining or anything, what with this statewide drought and all. A few inches of rain are bound to do some good. Well, provided that no more of the neighborhood trees come crashing down causing property damage. That would suck.

So, Fact or Fiction time. This week helping us out is Tony Farinella and Todd Vote. Let's see what it is that they have to say for themselves.




1. Noah will be an outstanding retelling of the Biblical tale.

Todd Vote: Fact. I think it will certainly be the most epic retelling of the story, so I suppose outstanding would fall under that in a sense. I'm not sure if it will be the best retelling of the story, it would be hard to top Evan Almighty.... Okay, maybe not. The previews make the movie look pretty good, Russell Crowe can be great when he's motivated to do so, and you have the acclaimed Darren Aronofsky behind the camera. With details revealed stating that the story sticks close to the scriptures, it should be a solid retelling, with outstanding visuals.

Tony Farinella: Fiction. The director is certainly right for the project as Todd stated in Darren Aronofsky. With Russell Crowe, I could see him taking this one a little too seriously and the performance coming off a little over the top. This one looks like a mixed bag to me. It will be worth seeing and I'm sure it will have interesting touches to it, visually and emotionally, but this one looks like it could be a major flop as well. I could see it being overwrought and an ambitious project that tries, fails, and falls flat on its face. I could also see it being a really powerful film that hits all the right notes. I can't say for sure, so going to vote fiction for now.

Score: 0 for 1

2. The Grudge should not be rebooted.

Todd Vote: Fiction. I've never been a fan of Japanese horror. So needless to say, the many, many remakes of Japanese horror haven't ever really caught my attention. I didn't care for The Grudge, The Ring, Dark Water, none of these held any sort of viewing pleasure for me.

That being said, I can no longer be against remakes, and reboots after Evil Dead. I was dead set against that film being remade, right up until I saw the trailer. Then I saw the film, bought the DVD, and added it to my collection right alongside the original trilogy. So I can say I probably won't watch a reboot of The Grudge, I can't say it shouldn't be rebooted or remade again.

Tony Farinella: Fiction. It shouldn't be but it will be, but I'm still going to stick with fiction because I understand the reasons behind it. It is a horror film that can make money at the box office and the 2004 version made a ton of money. This is strictly a money based decision, like most Hollywood films, especially reboots. If they can milk more money and have parents drop off their teenagers at the cinema to see it, they are going to do it. The only way to stop it is to not see it, but we all know that isn't going to happen. This is the young teen date night movie.

Score: 1 for 2

3. You're stoked that The Incredibles 2 is getting made.

Todd Vote: Fact. Absolutely, yes! The Incredibles stand as my favorite Pixar movie. I know myself, and a lot of other fans have wanted a sequel to this movie for quite some time. Instead we got Cars 2... Now it looks like everything is falling in to place for a sequel. I suppose we better hope the 3D re-release does well, or it could kill the sequel before it even gets off the ground.

Tony Farinella: Fiction. I loved the original film, but I'm very leery of it being a sequel. Everyone loves Pixar, but I feel a strong sense of losing creativity and a strong sense of just going for the name and making the dolls and making money. I'm not seeing a sense of uniqueness and outside the box thinking. That is what worries me. I will see it and I will hope it is good, but I have my fears and my doubts.

Score: 1 for 3



Switch!!!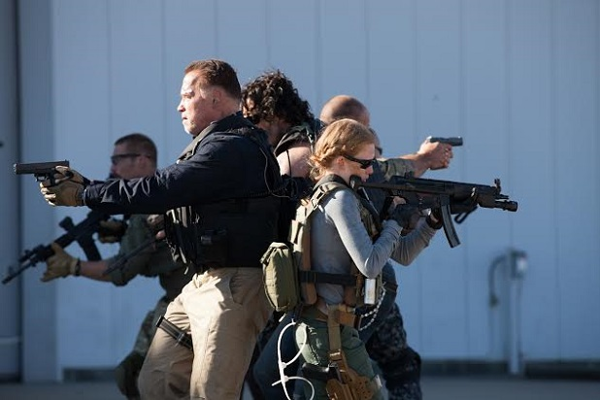 4. Sabotage will be a better than average action thriller.

Tony Farinella: Fact. The director David Ayer, who directed the very good 2012 film End of Watch and of course is known for writing Training Day, gives me hope that this will be something that is fairly interesting and worth watching. I'm a little tired of Arnold in these action roles as they just turn out to be too silly to be taken seriously. I know that is sort of the point of them, as they are supposed to be B pictures with a fun side to them and a sense of humor, but I feel like that has been done to death and it just isn't funny anymore. The rest of the cast is terrific. I just can't take Arnold seriously anymore in these roles. The joke just isn't funny anymore. I'm counting on the director, though.

Todd Vote: Fact. I honestly don't expect Sabotage to reinvent the wheel, but I do think that with the cast and director, we can expect the wheel to roll smoothly down the road. But as with Tony, Arnold is not the reason for my anticipation. I actually feel like his acting has gotten worse since his return. Maybe it is just that he looks so old and rugged. I don't mind his jokes, as they are an Arnold signature, but something is off in his most recent efforts. That being said, the rest of the cast is solid, and the director has worked on some really great films in the past, so I think that should elevate the film above average.

Score: 2 for 4

5. Tom Savini is a great choice to direct a Friday The 13th sequel.

Tony Farinella: Fact. The timing of this question is terrific as I just finished up all 12 of the Friday the 13th movies on Blu-Ray, including Freddy vs Jason and the 2009 remake. I had a ton of fun reliving them and watching them all over again, especially on Blu-Ray. I've always been a HUGE Jason fan and anytime I get to see him on the big screen or any format I'm all for it, unless we are sending him to hell or putting him in space, then it's a whole different story. Savini has strong ties to the franchise so you know he understands how loyal and dedicated the fans are and how much these films mean to them. Because of this, you know he is going to bring his A-game to the party. You couldn't have asked for a better choice and I can't wait to see what he does with the gore of the film as he is one of the best in the game at that.

Todd Vote: Fact. To me, Jason is THE slasher icon to which all others fail to compare. Friday the 13th has always been my favorite of the bunch. Tom Savini is an effects wizard, and has been involved with the series quite heavily in the past. If memory serves, he was one of the men responsible for the original design of Ari Lehman's Jason from the first film. Savini is no stranger to the director's chair having previously helmed the Tony Todd starring remake of Night of the Living Dead. I say he would be as good a choice as any.

Score: 3 for 5

6. You'd be interested in a Captain Marvel movie.

Tony Farinella: Fact. I must be truthful and say I don't know much about the character (I know, I know, a 411mania.com writer not knowing about a superhero. How the hell did he get hired?) The fact that I don't know much, if anything, about her makes me interested in wanting to check it out, so I can learn more about her and discover her back story and follow the character. I'm interested as I try to have an open mind with these sorts of things and I'm going into it fresh.

Todd Vote: Fact. You can pretty much count me in for any superhero movie. I can't seem to get enough of them. While I am not as familiar with Captain Marvel as I am some other characters, a strong female hero would be a welcomed addition to the heavily male oriented genre.

Final Score: 4 for 6

After a slow start, Tony and Todd wind up agreeing more often than not. Thanks to them both for helping out, and see you again next week!
-BP



TWITTER

http://www.twitter.com/411s_Ben_Piper
http://www.twitter.com/411mania
http://www.twitter.com/411wrestling
http://www.twitter.com/411moviestv
http://www.twitter.com/411music
http://www.twitter.com/411games
http://www.twitter.com/411mma




comments powered by