SPOTLIGHTS
Ask 411 Movies for 04.07.14: The Q&A of the Immortals
Posted by Chad Webb on 04.07.2014

Is Spider-Man 3 the most unfairly hated film of all-time? Which decade was the best for movies? What are some of Jennifer Garner's must-see films? All that and more covered this week in Ask 411 Movies!







































An "Ask 411 Movies" column would be nothing without questions, so please toss them my way. Why should you ask me instead of using Google? Well, perhaps I'll tell you something you can't find there, or maybe you just like my conversation and soothing words. You can post any questions or thoughts below in the comments section, email me at cthomaswebb@gmail.com, or send me a tweet using the links below:













---




What I Watched This Week



What I really need is a few days off to properly catch up on all the shows I have stored on my DVR. This week I tried to balance that with movie watching. I'm caught up on Justified and Shameless, not so much on Suits, though I am getting through The Bridge, which is really interesting so far. Now that the season finale of That Metal Show is in the books, the next best "man" show I have is Game of Arms. Look, I'm not a reality show guy, but this series rocks. Check it out.

In theaters, I saw Noah and had mixed feelings about it. More about on Letterboxd soon. I also checked out Bad Words, which was quite good. Hopefully that one has expanded to your area. I also recently had the opportunity to see The Raid 2, which is amazing. If you're an action fan, and you don't like this movie, there is something wrong. Haven't seen Captain America: The Winter Soldier yet, but I did read the comic arc for the first time and loved it. I'll be seeing that early this week.

I will be watching WrestleMania 30, though I'm not sure how psyched I am for the matches. The storylines and build for many of them have been disappointing, but it is WrestleMania and I watch it every year. The 2014 Hall of Fame was entertaining. Mr. T doing what felt like days talking about his mother was insane. Jake Roberts' speech was very moving, Scott Hall should have gotten a bit longer, and The Ultimate Warrior's speech was long but enjoyable and honest.

If want to know more about my movie tastes, check out my page on Letterboxd by clicking right here. Also, make sure to look at all the great articles and writers at 411, particularly in the Movie-zone because that's where I predominantly am, but all of the zones.







Deaths



In case I forgot to mention a notable death this week, you can always peruse the list yourself by clicking here.



The Questions





Q:


1.) As a blockbuster fan, I have stayed away from Spiderman 3 due to all the hate. However it was on TV yesterday and I was bored so I watched it. Long story short, I enjoyed it a lot. In your personal opinion, can you think of a movie that gets way too much hate?
2.) When it comes to looking up review for a movie online, what's the best source? Should it be a blog with one persons opinion or something like Rotten Tomatoes or Metacritic?
3.) Like I said last week, Watchmojo has done a thing where they counted the best movies of each decade. First, if you've seen them, what did you think? Also, looking at the list what was the best decade for movies? Do you think this current decade is starting to be the best for TV?
--Mahmood



A:



1) Spider-Man 3 is one that might qualify for overhate, though personally I had problems with it. Often times the overhate stems from public perception. For example, the perception of The Matrix sequels are that they are terrible, when in reality, they received fairly positive reviews from critics. But as time has gone by, bloggers and movie buffs have yelled persistently that the sequels are among the worst things ever created by man. Are they truly that bad, or are they just disappointing movies with flaws? There are other situations that can cause overhate. When a film is so loved by people and then gets endless publicity and awards shoved down our throats, it can result in a backlash that affects how that title ages. Examples here would include Titanic and Forrest Gump.



One of my biggest pet peeves with regard to overhate is when people equate the amount a movie grosses at the box office with the quality of that same movie. I see this all the time, including with writers of this very site, and it gets under my skin to no end. The two are not related, but when movie sites cry "Flop!," everyone assumes that movie is shit. I might put John Carter here. Those movies that carry the reputation for being the worst film of all-time could potentially be overhated as well. This is all subjective of course. I could rattle off a list of action movies a mile long that I feel are overhated. Masters of the Universe would certainly be on my list, but that's me.



Here are some general ones I came across, plus a couple of my own. Let my say that just because the movie appears below does not mean I personally believe it to be overhated. I cannot stress that enough. I will say so if it is one of my personal selections. These are titles I came across numerous times in doing research.

*Speed Racer is a 2008 American-German action film based on the Japanese anime and manga series Speed Racer by Tatsunoko Productions. The film was written and directed by The Wachowskis, and stars Emile Hirsch, Christina Ricci, John Goodman, Susan Sarandon, Matthew Fox, Benno Fürmann, Hiroyuki Sanada, Rain and Richard Roundtree. The plot revolves around Speed Racer, an 18-year-old automobile racer who follows his apparently deceased brother's career. His choice to remain loyal to his family and their company Racer Motors causes difficulties after he refuses a contract offered by E.P. Arnold Royalton, the owner of Royalton Industries.
--The Wachowski brothers really tried something different here and I don't think many critics knew what to make of it. The film has problems, but in certain ways it raised the bar in terms of how special effects are used. I'm not saying I love it. This is a bizarre piece of work, but it is a children's film and should be revisited. At the time of its release it received an unfair amount of hate, but since then I hear from more people who enjoy it, so maybe that is changing.



*The Village is a 2004 American psychological thriller film, written, produced, and directed by M. Night Shyamalan about an end-of-the-19th-century village whose inhabitants live in fear of creatures inhabiting the woods beyond it. The movie was shot in a re-creation of a 19th-century village outside Philadelphia, Pennsylvania, following Shyamalan's penchant for staging his films near his hometown. The movie met with mixed reviews. The film gave composer James Newton Howard his fourth Academy Award nomination for Best Original Score.
-I know people who are incredibly outspoken in their hatred for this movie. I have to say, I don't get it. I understand if you had problems with it, sure. For instance some friends of mine say they could see the twist coming. Fine. I thought this was mediocre and don't see the justification where it is argued that The Village is terrible. One reason for this is that this effort marks the decline of Shyamalan. He didn't just jump into churning out horrid films, but with this sub-par offering, he continued his downward spiral. There are good aspects of this. The acting, pacing, suspense factor are all solid. The main flaw is that Shyamalan was at a point where everyone expected a huge twist, thus he attempted to give them that each time and this script didn't have a satisfying one.



*Indiana Jones and the Kingdom of the Crystal Skull is a 2008 American science fiction adventure film. It is the fourth film in the Indiana Jones franchise, created by George Lucas and directed by Steven Spielberg. Released nineteen years after the previous film, the film acknowledges the age of its star Harrison Ford by being set in 1957. It pays tribute to the science fiction B-movies of the era, pitting Indiana Jones against Soviet agents—led by Irina Spalko (Cate Blanchett)— searching for a telepathic crystal skull. Indiana is aided by his former lover Marion Ravenwood (Karen Allen) and son Mutt Williams (Shia LaBeouf). Ray Winstone, John Hurt and Jim Broadbent are also part of the supporting cast.
--Ok, now this movie has gotten worse over the years in my eyes, but I still maintain that it is nowhere near as bad as its detractors have shouted. Is this the worst installment of this franchise? Yes. Does it have flaws? Yes. The "Nuke the Fridge" scene, the monkey vine swinging scene, to name two obvious ones. However, it is entertaining in other ways. Again, I'm not saying this should be on a Top 10 Best list, but what gets on my nerves is that fans wanted this to be a Raiders of the Lost Ark and that is unrealistic. The South Park episode that revolved around this didn't help its reputation either.





*The Star Wars Prequel Trilogy, consisting of Star Wars Episode I: The Phantom Menace, Star Wars Episode II: Attack of the Clones, and Star Wars Episode III: Revenge of the Sith.
--I have trouble defending this, but many lists of overhated films include them. I have a love/hate relationship with this trilogy. There are things I dig, but for the most part, I have no desire to ever revisit these movies. I will say that Episode III is the best of the three and doesn't get enough credit, but this trilogy does have its fans despite the unanimous agreement that Jar-Jar Binks sucks. If you feel this trilogy is overhated, sound off in the comments. Speak or forever hold your peace.



*The Godfather Part III is a 1990 American crime film written by Mario Puzo and Francis Ford Coppola, and directed by Coppola. It completes the story of Michael Corleone, a Mafia kingpin who tries to legitimize his criminal empire. The film also weaves into its plot a fictionalized account of two real-life events: the 1978 death of Pope John Paul I and the Papal banking scandal of 1981–1982; linking both, and with the affairs of Michael Corleone. The film stars Al Pacino, Diane Keaton, Talia Shire, and Andy García, and features Eli Wallach, Joe Mantegna, George Hamilton, Bridget Fonda, and Sofia Coppola.
--Similar to Kingdom of the Crystal Skull, hatred for this stems from fans who were pissed that it did not equal the previous installments in quality. Just because it is not as good as those does not mean it is the worst cinematic creation in the universe. On a scale of 4 stars, I view Part III as a 3 star flick whereas Part I & II are easy 4 star classics. I legitimately think this is a decent film. I agree that Sofia Coppola was a miscalculation, but this one has been unfairly maligned. You could put Rocky V on this list for the same reasons.



*Superman Returns is a 2006 superhero film directed and produced by Bryan Singer. Based on the DC Comics character Superman, the film serves as a homage sequel to the motion pictures Superman (1978) and Superman II (1980), ignoring the events of Superman III (1983) and Superman IV: The Quest for Peace (1987). It stars Brandon Routh as Superman/Clark Kent, as well as Kate Bosworth, Kevin Spacey, James Marsden, Frank Langella, and Parker Posey, and tells the story of the title character returning to Earth after a five-year absence. He finds that his love interest Lois Lane has moved on with her life and that his archenemy Lex Luthor is plotting a scheme that will destroy him and the world.
--Here's an intriguing one, for the simple fact that it received favorable reviews upon its release but has since decreased so quickly in the eyes of the public that many forget to mention it in the conversation of Superman's big screen adventures. I have trouble defending this. I did not like this movie at all and continue to hold that opinion. That being said, I found this title on more than one occasion in looking up overhated movies. At one point Quentin Tarantino was working on a 20-page review of it because he liked it so much. If you enjoy this and think it is suffers from overhate, tell us why.



Other Picks: The Odd Numbered Star Trek Movies, Final Fantasy: The Spirits Within, X-Men III: The Last Stand, Die Another Day (Do people seriously think this is overhated? I couldn't stand it, but to each his own.)

2) Your source should always be 411mania! Of course I have to mention the site that I write for and the zone I am the editor of. We have a great group of writers and reviews and they deserve the utmost credit for their hard work and diligence.

Metacritic is a website that aggregates reviews of music albums, games, movies, TV shows, DVDs, and formerly, books. For each product, a numerical score from each review is obtained and the total is averaged. It was created and founded by Jason Dietz, Marc Doyle, and Julie Doyle Roberts. An excerpt of each review is provided along with a hyperlink to the source. Three color codes of Green, Yellow and Red summarize the critic's recommendation, giving an idea of the general appeal of the product among reviewers and, to a lesser extent, the public.

Rotten Tomatoes is a website launched in 1998 and devoted to reviews, information, and news of films; it is widely known as a film review aggregator. Its name derives from the cliché of audiences throwing rotten tomatoes or vegetables when disapproving a poor stage performance. The company was created by Senh Duong and since January 2010 has been owned by Flixster, acquired in 2011 as a Warner Bros. company.



But in terms of the sites you listed and getting a healthy gauge of whether or not a movie is good or not, I would recommend Metacritic. I don't use Rotten Tomatoes personally. This is just a matter of opinion, but Metacritic sticks with mainstream reviewers, whereas Rotten Tomatoes incorporates a lot of online critics whose opinions I don't trust. That and I like the layout of Metacritic better, not to mention their ratings system. To me, that is the best source to use, above the IMDB rating, the Cinemascore, or whatever else. But I know many people who follow one critic, whether it be local or otherwise and fully trust that person. Go with whoever seems to match your tastes, but don't hesitate to read the opinion of someone you disagree with. You never know what you might learn.

I don't use Metacritic for ratings on Games. I do sporadically check them for music though. Metacritic isn't perfect mind you. They have been criticized for how they weight the ratings of certain sites more than others, but then again how the ranking is determined is a criticism lodged against just about every comparable aggregator. On a side note, it's not as if I dislike ALL online critics. That would be strange coming from one. I usually read James Berardinelli, John Puccio, and occasionally DVD Verdict.

Here is a cool article that compares the two sites: click here.

3) The Watch Mojo videos I've seen were very good. They are clear about how they rated the films and the videos aren't terribly long from what I can see. Having said that, Top 10 lists rule the internet right now and it is overkill and oversaturation. They get super old to me, but these videos are fun and I will probably check more of them out every once in awhile.



As to what is the best decade for movies, The Auteurs Poll compiled votes on this and the answer they came up with was the 1960's, followed by the 70's. I would concur with this actually. In terms of sheer influence, the 60's produced an insane amount of masterpieces and titles that would go on to inspired a generation a filmmakers.



Here are just a handful of 60's classics: 2001: Space Odyssey, Psycho, The Good The Bad and the Ugly, Dr. Strangelove, To Kill a Mockingbird, The Graduate, Once Upon a Time in the West, Lawrence of Arabia, The Great Escape, Planet of the Apes, The Sound of Music, Rosemary's Baby, Mary Poppins, Goldfinger, Night of the Living Dead. The list goes on.



Quick Shot: Jennifer Garner



We have Draft Day hitting theaters this Friday, starring Kevin Costner, Dennis Leary, and Jennifer Garner. And so here are 5 Garner performances that you absolutely must familiarize yourself with before checking out the upcoming film.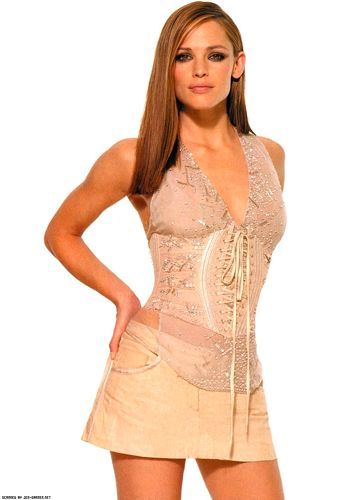 1) Juno
2) Catch Me If You Can
3) Alias
4) Dallas Buyers Club
5) 13 Going on 30



--Thanks to Misty for my banner.

"The plural of Chad is Chad?"
--From the movie Recount

comments powered by