SPOTLIGHTS
Comics 411 4.09.14: Fantastic Four Substitute Members Edition
Posted by Steve Gustafson on 04.09.2014

Who is the best superhero to substitute into the Fantastic Four? Plus news and thoughts on what's in store for Batman, Original Sin: Iron Man vs. Hulk promising to be a game changer, a review for Deadpool vs. Carnage #1 and more!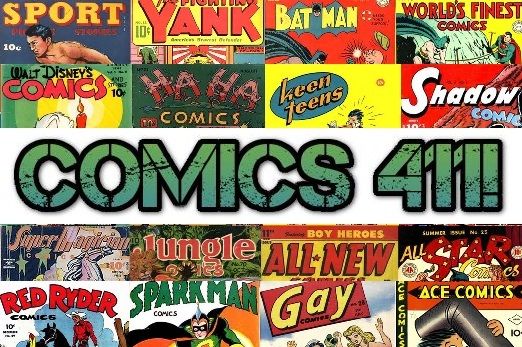 Welcome back to the Comics 411! My name is Steve Gustafson and this is a corner of 411mania reserved for those interested in talking comics! As always, I want to thank everyone who took a few minutes to read and comment last week. Check out my Hollywood gossip (and anything else!) Hollywood 5 & 1 and my weekend movie recap The Big Screen Bulletin!

What did you think of The Walking Dead Season 4? What was your reaction to the finale? What's in store for the gang in Season 5? I got the 411mania crew together to answer these questions and more here!

Have you seen the new Captain America movie? Did it leave you wanting more? Look no more as Captain America XXX: An Axel Braun Parody is available online at vivid.com and will be in stores nationwide on April 15.

Legendary director Axel Braun and adult powerhouse Vivid Entertainment have brought plenty of joy to adult entertainment fans with their best-selling superhero parodies, and now they're tackling the quintessential American hero: Captain America! Braun wrote an original screenplay for Captain America XXX, in which Cap fights for the Cosmic Cube against Baron Zemo, Sin, Crossbones and Batroc, with the help of Sharon Carter, Diamondback, Falcon and Quicksilver. The result is an epic sexy spoof that once again has better costumes, more geek cred, and definitely bigger boobs than the original.

"It's almost too much awesome in one movie," said Braun, who recently won his fourth consecutive AVN award for Director of the Year. "Call me nostalgic, but I like to see my superheroes in their classic costumes, especially if they've never been portrayed in a live-action movie…and in my adult spoof I was able to really go all out, so I'm one happy fanboy!"

Aaron Wilcoxxx plays Captain America, Phoenix Marie reprises her Avengers XXX role as Sharon Carter, Claire Robbins is Sin, Kleio Valentien is Diamondback, Jessica Ryan is Hellcat, Britney Amber is a hot USO Girl, Ryan Driller is Baron Zemo, Tyler Knight is Falcon, Bill Bailey is Quicksilver, Derrick Pierce is Crossbones, and Giovanni Francesco, who previously played Batman in Braun's highly successful The Dark Knight XXX, steals every scene he's in as the mustached French villain Batroc!





Deathstroke does "not fear an Arrow" in the clip for the follow-up to last night's episode. "The Man Under the Hood" won't air until April 16, 2014, as next week the Arrow crew takes a week off. Until then, this promo will have to sate your need for more - just watch it 88 times and it's a full episode! Team Arrow suits up and prepares to try to kill the ultimate weapon - we don't think it'll be quite that easy, especially after all the twists last night.







COVER VS COVER!

It's real simple, each week I'll take two covers and you vote on your favorite. Some weeks the covers will be random, some will be themed, some will be classic, and some will be ones you've never seem. Have fun with it.

Last week we had two covers. One with Luke Cage punching out Spider-Man and the other had the Falcon showing off his duds to a less than impressed Captain America. The results came down to this:

Luke Cage 83.01%
Falcon 16.99%

WOOF! Not even being in the number one, box office HIT over the weekend could save Falcon from this trouncing! This week I pluck two iconic covers from Iron Man and Spider-Man. Each shows our heroes facing a dilemma. Which one grabs you more?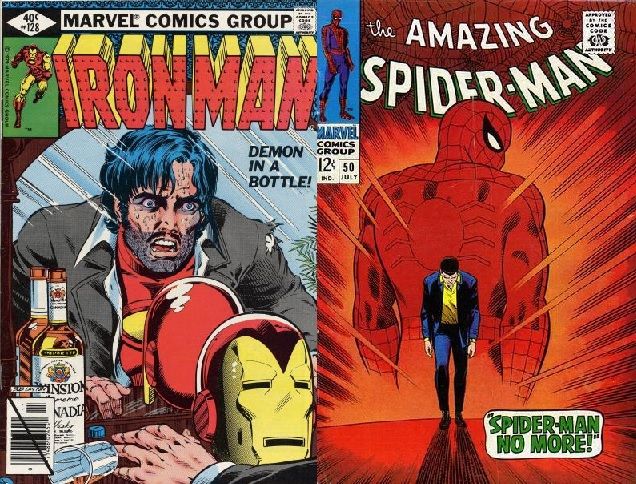 READER ROUNDTABLE

Speaking of the box office, did anyone see Captain America: The Winter Soldier over the weekend? What did you think? Last week I asked about the Greatest Captain America Story EVER! Here's the list and the voting results:

The Death of Captain America (Captain America #25-42, 2007-2008) 37.39%
Winter Soldier (Captain America #1-9 & 11-14, 2005-2006) 31.74%
Captain America No More (Captain America #332-350, 1987-1989) 12.61%
Captain America #1 (1941) 3.91%
Tomorrow You Live, Tonight I Die! (Captain America #111, Vol 1) 3.48%
Operation Rebirth (Captain America #444-448 & 450-454, 1995-1996) 3.48%
War & Remembrance (Captain America #247-255, 1980-1981) 2.61%
Man Out of Time (Captain America: Man Out of Time #1-5, 2010-2011) 2.61%
The Secret Empire (Captain America and The Falcon #169-176 1.74%
The Hero That Was (Captain America #109) 0.43%

Nothing too shocking. The two most recent storylines get the most love. Add in a huge movie blitz and it's no surprise. Here's what you all had to say:

Al_Lobama: "Normally this is where I, the casual reader, lists off all of the classic Captain America stories that were overlooked in the poll, but...damn, I think you got them all. Stan, Kirby, Sterenko, Englehart, Stern, Byrne, Waid (big props for that), and Brubaker are all represented and accounted for! No complaints here! You did good!"

CyberVenom: "Very tight choices! Here's mine. Some of my picks are not only Captain America stories (or Steve Rogers at that!). I felt that they gave us the best of Cap in one way or another. Here goes, in no order:

10. Earth X
9. Ultimates, vol. 1: Super Human
8. Truth: Red, White, and Black
7. The Winter Solider
6. Captain America No More!
5. Operation: Rebirth
4. War and Remembrance
3. Civil War
2. JLA/Avengers
1. The Death of Captain America"

Joe: "Death of and Winter Soldier are going to get the most votes because they are the most recent and overhyped. The best really are Operation Rebirth and War & Remembrance."

Captain Mcgloo: "I like Gruenwald's Fighting Chance, people dismiss it because of the cap armor but it's still a great story from one of the top Marvel writers in history.

Also the original Red Skull Cosmic Cube story is awesome."

El Atomico: "It wasn't a major storyline or anything, but I thought this issue with the death of the Porcupine was really well done. In one issue, they took an unpopular, forgettable character and told a moving, well-written story."

Dos-Face: "It might not win the voting contest, but the Winter Soldier storyline was awesome. If only Jason Todd's resurrection was handled halfway as well as Bucky's. I'll take Bucky being found in an ocean and brainwashed into being an assassin over Superboy Prime hitting the walls of reality. Why couldn't Jason Todd's resurrection been explained as it had been in the Red Hood animated movie: he was thrown in the Lazarus Pit and brought back to life? Makes sense to me!"

Travis Homewood: "When I voted for the secret empire I was the only one at the time. I hope that changes cause really it was especially important when you read avengers forever. In addition that had to have been the start to cap questioning the government which led to his position in the civil war and brought about his "death""

Like I mentioned last week, Captain America has been involved in a number of classics, both in and outside of his own book. I stuck to his own series for the list but could have easily listed another dozen. OK, with all the talk recently about the Fantastic Four reboot and casting, I wanted to do something fun with Marvel's First Family. I thought it over again and again, trying to come up with a nice angle. Then it hit me! I always enjoyed stories where the team took on a substitute member. It stood out because the team is so burned into your brain. I went ahead and pulled together the more notable fill-in members and invite you to vote and let me know who was missed.

One note: I purposely left off the team of Wolverine, Hulk, Ghost Rider, and Spider-Man. Yes, they are very cool but would totally tilt the voting.

Ant-Man
Scott Lang has helped out the Fantastic Four a number of times over the years, first joining when Reed Richards was missing and presumed dead. He's become their go-to guy when they need someone with brains to come to their aid.

Crystal
Crystal was the first substitute member ever to take the place of one of the original members. She was hanging around, dating Johnny Storm and when Sue took a maternity leave, they asked to fill the spot! She did pretty well. She took on (and beat) the Wizard, faced Dr. Doom, the Mole Man, Maximus the Mad, and the Skrulls. Not too shabby.

Spider-Man
I said I wasn't including the team above but Spider-Man has been associated with the Fantastic Four since his second appearance in comics. He gets a pass. If you go back, in the first issue of his own series, Spidey tried out for the Fantastic Four, and was even accepted for membership, though he turned it down when he realized he wouldn't be getting paid! His friendship with the Human Torch is well known and he's been there for the Four through the years.

Ms. Marvel
Of course I'm referring to Sharon Ventura, the second Ms. Marvel, who started out as the Thing's love interest in his solo series, and joined the team alongside Crystal when Reed and Sue Richards took a leave of absence.

The storyline with the team against Diablo, had a twist as she and Thing were caught in a blast of cosmic rays, mutating Thing further and Sharon encased in a rocky exterior. Things got "rockier" after that. She had a tough time handling the transformation but stayed with the team. Then things took a turn for the worse when Dr. Doom mutated her further, she went insane and joined the Frightful Four. Don't worry. She came around and soon retired from it all.

Doctor Doom
Speaking of Doctor Doom, he's their greatest foe, no doubt. He's also come to the teams aid, even joining them. Doom assisted in the birth of the Richards's second child, Valeria, and once cured Ben Grimm of the condition that makes him the Thing. Recently, he joined the Fantastic Four after the "death" of Johnny Storm.

Medusa
Another foe turned friend. She was a member of the Frightful Four and it was soon revealed that she was actually a member of the Inhumans. Over the years, Medusa has joined the team several times during the Invisible Woman's absences.

Luke Cage
Briefly a member (a couple of issues) but Luke Cage's Fantastic Four tenure was important for a number of reasons. First, he was the first person of color ever to join the Fantastic Four and second, he was also the first in a long line of super-strong characters to replace the Thing over the years.

Black Panther & Storm
During Civil War, Reed and Sue Richards found themselves on opposite sides of the conflict. This pushed them to the breaking point and after everything was settled, Reed and Sue took a leave of absence. They entrusted their spot to the recently married Black Panther and Storm. The Panther and Storm lead the team for a year taking on Dr. Doom, the Frightful Four, and even Galactus; in stories written by the late Dwayne McDuffie.

She-Hulk
When the Thing decided to stay on the alien world where the Beyonder had placed heroes and villains against each other during Secret Wars, he was replaced by She-Hulk. She's the first person I think of when I think "replacement" and has been with the team longer than any other substitute member, with her tenure lasting for nearly 40 issues, culminating in the return of the Thing in Fantastic Four #300. She's been with the team during a number of trying times (Sue's miscarriage), faced many of the team's greatest enemies (too many to name), and attended the wedding of Johnny Storm and Lyja, the Skrull!


REVIEWS!

Do YOU want to be a reviewer for COMICS 411? Send me an email at stevethegoose@gmail.com to find out how! If we can get enough people doing a weekly review on a consistent basis, I would love to spin it off into it's own column. One step closer to getting a Comic Book section back at 411mania! Take it away, RobF and Rob Bonnette!


Deadpool vs. Carnage #1

By RobF

The Merc with a Mouth vs symbiotic psychopath. Mercenary vs murderer. Crazy vs crazy. No matter how you slice it (pun intended) this one going to get bloody. Deadpool vs. Carnage is going to be an over-the-top slugfest. Sign me up.

There's really no plot here: the object is to get these 2 together and watch the limbs fly. Deadpool is influenced (or brainwashed) by the myriad of news reports to seek out Carnage and stop, well, the carnage. He uses his unique powers of deduction to track Carnage to a modern day ghost town. One missile launch later and the battle is on. DP gets the early advantage but when he goes to finish the job is he assaulted by Carnage's longtime girlfriend Shriek. Advantage psychopath.

The overall question I have for this series is where do we go from here? Will we get the obligatory Venom appearance? Who will win and how? The one thing I dislike about series like these is that in the end nothing changes, meaning, both characters will survive and move on to the next thing. There is never any finality or permanent impact in these stories. Having said that I still want to see these 2 nuts blow each other to kingdom come.

Artist Salva Espin is back with Bunn for another Deadpool collaboration, and his pencils have lost none of their appeal. Espin brings a bright, energetic feel to the series, like a cartoon. For this type of story you need a cartoonish style and Espin is perfect for this story.

If you are looking for a deep, meaningful narrative this series is not for you. Watchmen this ain't. But if you are looking for a knockdown, drag out, ultraviolent battle to the end this is the book to read.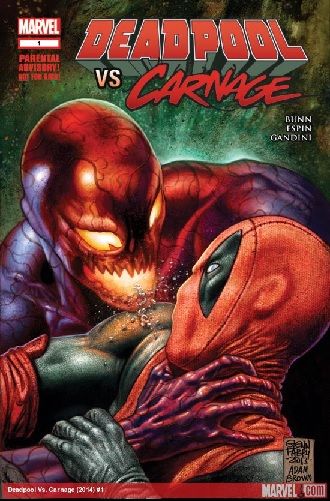 Black Widow # 3

By Rob Bonnette

The third issue is the last stand alone story before they get into what appears to be a longer story arc with issue #4. Issue #1 was about establishing the main character and introducing us to the other major players, her handler/manager Isaiah and her neighbor. Issue #2 was about showing how her past work bleeds into her current jobs, and how a few mistakes or misjudgments can put her life in danger every time she goes out on a mission. It also gave us a glimpse into what Isaiah is capable of beyond making schedules and payments. Issue #3 gives us more reflection on her past work, and serves to give us a better idea of how her morals have evolved since she became she became a full-fledged Avenger and SHIELD agent. We know that was once an amoral operative devoid of compassion and any sentiment for who she was dealing with and that now she's 'different', but here we get a better idea of what that means.

Unlike the last two issues, we start out with her at home on her way to a job as opposed to right in the middle of one. Her usual narration takes us through why she calls no place home and makes no real ties with anyone. While this is happening and she's bidding farewell to her neighbor again we get a close of her neighbor's black eye, which comes into play later. The job this time involves freeing a man imprisoned for crimes he didn't commit and getting him to safety and freedom. Along the way, there are several clues that lead up to a realization that things aren't what they seem with her client, and ultimately Widow is forced to make a judgment call between her amoral past and her newfound convictions. And after things are all wrapped up on that front, she's faced with another choice between maintain her cold, distant persona or involving herself in the lives of those who live around her. Her narration warns of the danger of making ties when you're in her business, but the final scenes show just hard it can be to avoid that.

We also get a cameo from Director Maria Hill of SHEILD in the final few panels. Issue #4 will take us to her first SHEILD mission of the series, and the beginning of what looks to be a longer story arc. Issue #3 was a good way to close out the establishment of the main character and how the supporting characters interact with her and their importance to the greater storyline. The car has been built, and starting with issue #4 we get to take it out for a drive.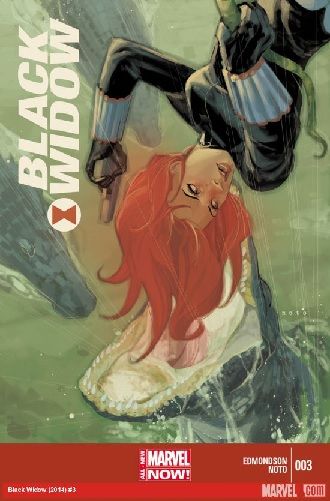 NEWS

Batman and... Detective Comics has a new creative team in Brian Buccellato and Francis Manapul and they are calling it an extension of the work they did on The Flash. "It was very much a natural progression," Manapul told Newsarama, talking about the start of the team's run with this week's Detective Comics #30. "When we did Flash #25, which was a tie-in to Zero Year, we knew full well that we were about to take over Detective Comics. So it was one of those things where, within the Manapul/Buccellato universe, we wanted the experience to feel like we've taken you through Central City, and the story that we started there has not transported over to Gotham. So for us, it's less of a transition and more of a natural progression of us as creators, and a natural progression of where the story is going." As far as how they work, "The first issue, we actually didn't write a traditional script at all," Buccellato said. "We talked it out, he laid it out and started drawing it, and we put dialogue into it after the art. That's how integrated it is. We didn't even have any of the shorthand of coming up with a document first."

Manapul said the editors have allowed them to approach the story in a way that made them comfortable as creators. "We have an even tighter collaboration," Manapul said. "The editors have set the tone for what our collaboration as a team would be like. And I think the looser leash has resulted in a much more creatively rewarding and hopefully a better story than we would have been able to do under a tighter leash." The comic mixed existing events from Bruce Wayne's life, including the death of his son, Damian Wayne, but also introduced some new characters like Anna Aguila. A possible Robin candidate.

While Manapul and Buccellato did confirm that Anna plays a large role in the series coming up, the two haven't said she's the next Robin. "All the characters that we met in our first issue play quite a big role in the storyline," Buccellato said. "You're going to see a lot of those folks. And then there may be one or two surprises in terms of new characters. And as we've mentioned before, Harvey Bullock, starting in the next issue, will play a big part."

The story's first villain, The Squid, is more of a street-level villain. something Buccellato said is in keeping with the comic's concentration on Batman as a "detective." "The story was going to be more street-level and more detective and crime centered, so I think it was just a natural fit," Buccellato said. "Obviously, we re-imagined him as a street villain, and it's not like we had a lot to be beholden to, so he definitely fits into the story that we had planned out." "We felt like a street level story would really show Batman as a detective — and also, coming up, Harvey as a detective," Manapul said. "And a lot of things we're doing in the first arc, while we do tie it up, it is building toward a bigger story for our second arc." "It's one of those things where it's going to be bigger in scope, but no less intimate than the story we're telling now," he said.

Manapul said he was also thrilled that the Squid has a pet. "When I found out that he's got, like, this colossal squid named Gertrude as a pet, that was amazing! … When I was working on this show Beast Legends, I got to go to New Zealand and got to touch, hold and play around with the tentacles from a colossal squid. They swim in such depths, it's not common to find them alive." "So to me, when I realized that the Squid has this pet, Gertrude, it was like, 'Oh my God! This is perfect!' In a way, it harkens back to these old, classic Batman stories, where these villains have these elaborate booby traps," Manapul said. "I'm sure everybody around our age grew up on the Adam West Batman, and mind you, our story is nothing like that. But it's almost an homage to that era." "A colossal squid is just such a visually striking thing to have," the artist said.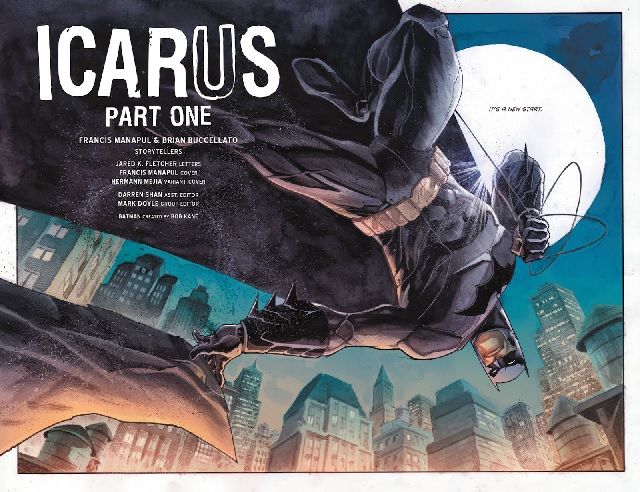 Original Sin! During Marvel's first big 2014 event series Original Sin, superheroes will learn secrets of their past that the publisher promises will...CHANGE THEM FOREVER! In a June debuting off-shoot four-issue limited series Original Sin: Iron Man vs. Hulk, readers will learn if Tony Stark is responsible for creating the Hulk.

Co-written appropriately by the Hulk's Mark Waid and Iron Man's Kieron Gillen (with art by Mark Bagley, Luke Ross and covers by J.G. Jones according to Marvel's June 2014 soliciations ), "Original Sin reveals a deeply buried secret shared by Tony Stark and Bruce Banner that dates back to the fateful gamma-bomb explosion that created the Hulk," Marvel editor-in-chief Axel Alonso revealed to USA Today. "After this, all bets are off between Iron Man and the Hulk. There is no going back. There's only manning up and facing the consequences."

According to the newspaper, "the possible connection between Stark and the day that changed Bruce Banner's life is one that comes to light, and both men team up for an investigation to explore the truth as they dig into what Stark was up to at the time as well as both men's pasts and presents."

Waid says the ultimate answer is "quite surprising," but adds, "it's not what not you would expect but neither is it a cheat." According to Gillen, the series dips into the prehistory, friendship and rivalry of the two guys, and will be a "proverbial emotional roller coaster." "These are not unemotional men."

A potential third investigator adds to the tension, which is always a complication when Bruce Banner is involved. "It's safe to say that a lot of this story is Tony trying to dive deep into this investigation and yet be careful about what he shares with Bruce," Waid said. "You never know with Bruce what's going to set him off."

Finally, Waid told USA Today recent developments in Iron Man (Tony learning he was adopted and has a brother) informs the story, and the duo wanted to be sure they didn't make Tony a victim. "Even given the question on the table, there is sill something very heroic about the decisions he makes in this story," Waid said. "It's easy to write a cynical story where you find out that there's an original sin and somebody's done something wrong. It's easy to reveal something dark about a character, but the hard part — and to me the most rewarding part — is to try to figure out a way in which that helps define them as a hero rather than just tarnishes them."





Comic Book Sales! Despite publishing the four bestselling comic books in the Direct Market in March 2014, DC couldn't stop Marvel from posting some of their strongest comparative market shares in the DC New 52 era, and overall sales were down vs. 2013 for the third consecutive month. According to data released by Diamond Comic Distributors last Friday, Marvel sat on top of both market share categories in March, selling 34.31% (dollar) and 38.17% (unit) of all comic books and graphic novels to comic shops during the month, better than 8 and 9 percentage points ahead of DC's 25.94% (dollar) and 29.02% (unit) share; again, this is despite Batman #29, Superman Unchained #6, Forever Evil #6, and Sandman Overture #2 being the four bestselling comic books, respectively.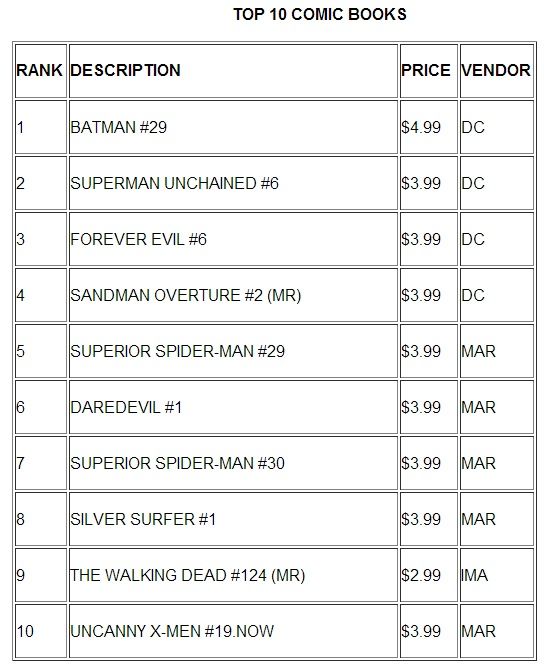 Archie, No More! On July 16, 2014, comic book's favorite teenager, Archie Andrews, will die, sacrificing himself to save a friend in the pages of Life With Archie #36.

CNN.com reported this historic event and that the ongoing comic will end with his death in what Archie Comics CEO Jon Goldwater calls the "natural conclusion."

Previously in the series, which tell stories set in parallel timelines, one in which the titular character married to long-time girlfriend Betty and one in which he married her long-tine friend/rival-to-Archie's affections Veronica. Goldwater says that "Archie's final fate in both timelines… they're the same," so this is how his life ends no matter which path he chooses. "Archie dies as he lived – heroically," Goldwater explains. "He dies saving the life of a friend, and does it in his usual selfless way."

The story, written by Paul Kupperberg, is meant to show Archie as a "representation of the best of us," and as far as Goldwater is concerned this is the death of Archie. The story will leap forward a year for the final issue, Life With Archie #37 after his death itself, and focus on the world of his friends without him. With that, the publisher hopes to show "how heroic a normal guy like Archie can be, and how important it is to realize that."

How soon will Archie come back? "This is how Archie dies. That's how we approached this story and how we're treating it."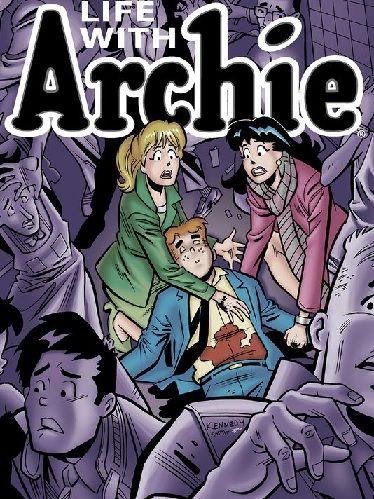 Before I say GOODBYE!
Follow me on Twitter for random bits, news RT's, and updates! Only at http://www.twitter.com/stevethegoose!

Are you a fan of 411mania on Facebook? Keep up-to-date on news and contests!

Are you following 411mania on Twitter?
http://www.twitter.com/411mania
http://www.twitter.com/411wrestling
http://www.twitter.com/411moviestv
http://www.twitter.com/411music
http://www.twitter.com/411games
http://www.twitter.com/411mma

If you have some down time and are looking for a great place for great fun, check out Tiger Flash Games!


That's all the time I have. See you next week!
comments powered by