SPOTLIGHTS
A Bloody Good Time 04.10.14: 10 Underrated Slasher Villains
Posted by Joseph Lee on 04.10.2014

From Chromeskull in the Laid to Rest films and Dr. Giggles to the titular character in The Stepfather, Leslie Vernon and more, 411's Joseph Lee counts down the top 10 underrated slasher villains!

































Opening Logo courtesy of Benjamin J. Colón (Soul Exodus)



Welcome to A Bloody Good Time.

Freddy Krueger. Jason Voorhees. Michael Myers. When it comes to slasher movies, everybody knows who these guys are. They're household names. But there are slasher villains out there that are possibly just as cool, but not nearly as well known. These are my ten choices for the ten most underrated slasher movie villains.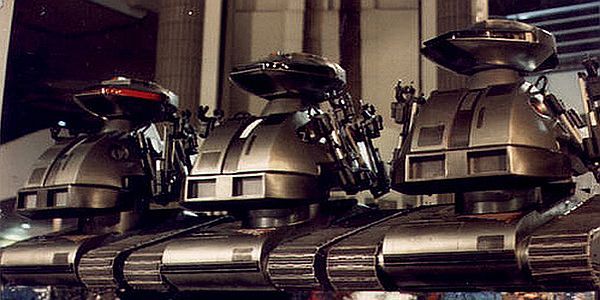 #10: The robots from Chopping Mall (1986)

It's amazing that there haven't been many slasher movies set in a mall. It's a large sprawling place where a potential killer could hide anywhere and destroy you in any number of ways. We still need a proper, old-school slasher set in a mall, preferably before malls go extinct. This film sees the richest mall known to man has set up a security system more powerful than any government. This features three high-tech robots designed to stop robbery, complete with death lasers, electrocution whips and claws. They're devices that no rational person would equip on a security system for a mall.

However, this mall does have robots with those weapons and one night a lightning storm brings them to life like Johnny 5 and makes them want to kill all humans. If you're a fan of 80s cheese, this one is fun. The real reason for seeing it is the fact that a robot kills a girl by making her head explode. Who doesn't love a good head explosion? I hear this is getting a remake, which should be interesting.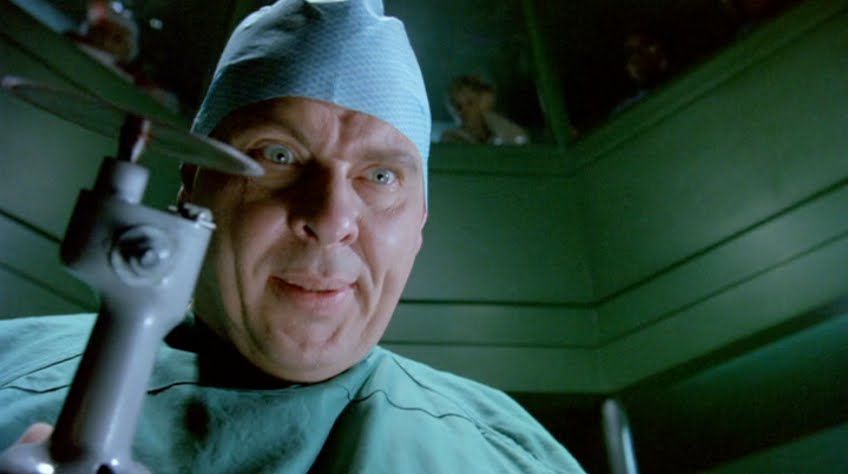 #9: Doctor Evan Rendell from Dr. Giggles (1992)

A lot of people don't like this movie because, I assume, it's too jokey. There are some moments in which people are killed by silly methods in addition to the plethora of puns. Needless to say, I can see why. However there is at least one really creepy moment that makes this movie a guilty pleasure of mine, along with Larry Drake hamming it up constantly as Dr. Giggles. Sure, he was an attempt to cash in on the joking style of slasher villain that Freddy Krueger became but he entertained me.

The moment I'm referring to is actually Rendell's origin story. His psychopath father sewed him inside of his dead mother's corpse to hide him from police. Then later on the kid carves his way out of the dead body, clearly already showing signs of insanity as he's covered in blood and giggling. It's a incredibly effective scene that was probably in the wrong movie, considering later on he actually kills someone with a giant band-aid.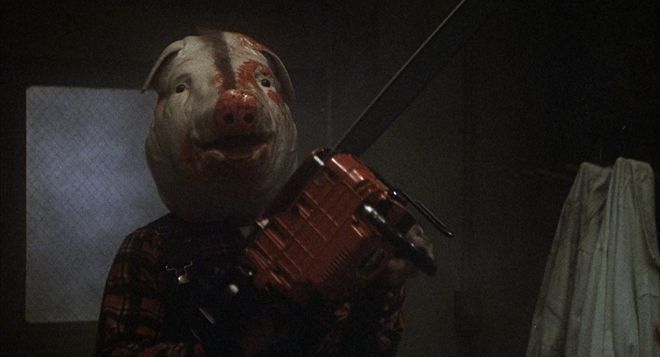 #8: Farmer Vincent Smith from Motel Hell (1980)

It takes all kinds of critters to make Farmer Vincent's fritters. I'm not sure what kind of movie I was expecting when I first saw Motel Hell (on a double DVD with the equally underrated Deranged) but I got a really weird slasher with a guy who killed with a pig mask two decades before Jigsaw made it cool. He captures those who visit Motel Hello and buries them up to their necks. They are fed until they are ready for harvest like any other animal for his "fritters".

Vincent works with his sister Ida and I could have included her too, but she always annoyed me. Plus he's the one who wears the pig mask and chaises people with a chainsaw. Rory Calhoun is surprisingly very charming as the lead killer, which causes a bit of a dissonance between how he acts and what he's doing. If he wasn't killing people for meat, I'd be okay with hanging out with him. If you've never seen this one, I would recommend it.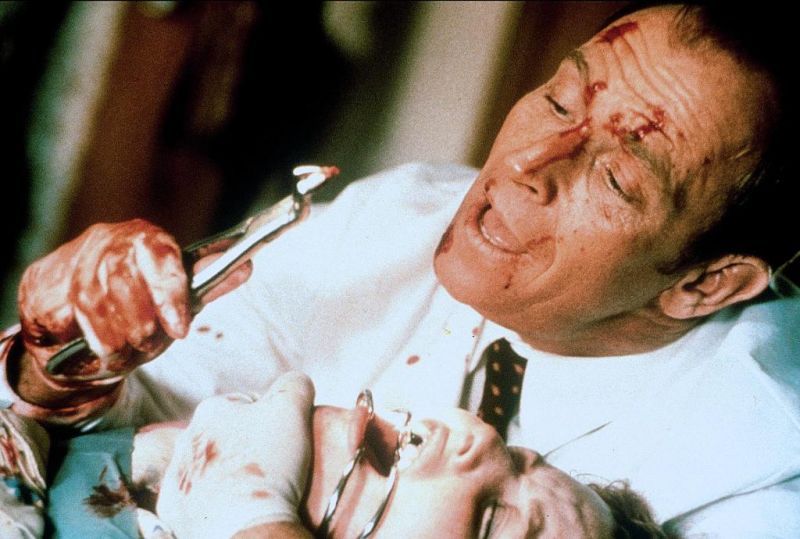 #7: Dr. Alan Feinstone, DDS from The Dentist (1996)

The Dentist is probably the most well-known of all the people on this list, but most only know him in the sense that there exists a horror movie with a killer dentist in it. I've noticed that not many of the people I've talked to have actually seen the 1996 film or its 1998 sequel. This could be because a lot of people are scared of the dentist and don't want to watch this type of thing. You can't go wrong with two Brian Yunza movies that focus exclusively on mouth-related gore. As someone who has had to have a filling, I had Feinstone in the back of my mind as my dentist drilled.

The Dentist could just kill you if he wanted, but it's the fact that he would rather take his time and torture your mouth first that makes him scary. He knows exactly what he's doing and uses his skills to know how to best hurt you as he drills away perfectly good teeth and slices up your tongue. It's like Steve Martin's character in The Little Shop of Horrors played completely, terrifyingly straight. I still say we need another one of these movies, and we need to bring Corben Bernsen back as the title character.






#6: Officer Matt Cordell from the Maniac Cop series

Matt Cordell is a sympathetic killer but only to a certain point. We know why he's lost his mind and why he's doing what he's doing, but he's still killing relatively innocent people that aren't even related to the reason he was put in prison or nearly killed. The movie could have easily made him an anti-hero type similar to Frank Castle, but instead he merely kills anyone that gets in his way or really anyone he feels like.

Robert Z'Dar is a large, odd-looking man in real life. Add some makeup to make him look like he is undead and he's a hulking villain that is automatically intimidating without the need for him to hurt a person. He does hurt people though, and quite often while whistling an eerie tune. He actually got two sequels before his series ended, but I think he's due for a comeback too. You would think they'd go as far as they could when he was brought back with voodoo in the third movie, but I think there's plenty of directions they could go.




#5: Cropsy in The Burning (1981)

Many of the best horror movie villains have sympathetic origins. Jason drowned in a lake. Frankenstein's monster was created the way he was. I'm not saying Cropsy is in the same league as those two but if I was burned alive because of some kids pulling a stupid prank I might hold a grudge towards summer camps too. It takes him five years to recover and in that amount of time, due to the way he is deformed, he's lost his mind and decides to kill the campers at a different camp.

Like other good horror villains, Cropsy has a sympathetic origin but that only carries you so far. He doesn't even target the ones who made him the way he was (and he may not even be aware one of the kids at this camp was involved), he just kills at random because his life is terrible. While you understand where his rage is coming from, it makes him scary by how far he'll go to vent that anger.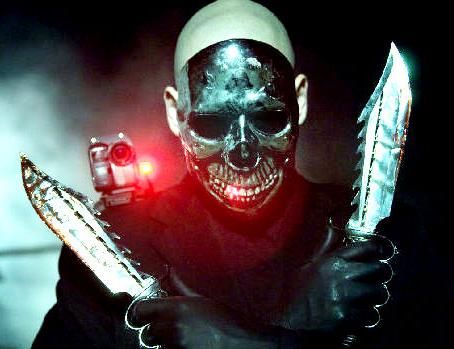 #4: Chromeskull from the Laid to Rest movies

I thought when Laid to Rest got a sequel that it would set up a new slasher franchise that focuses on the inventive and nasty ways Chromeskull can kill his victims..sort of like Friday the 13th without executive meddling from Paramount and the MPAA. The sequel left the story open for another film and even built on Chromeskull's crimes, revealing just how big his operation is. It's been three years without another entry, so I'm thinking it's not coming. Maybe Hatchet just took too much of the same audience.

Chromeskull has a great look, a unique method to his killing and some of the more grotesque kills in slasher film history. He's underrated, I think, because his movies are straight to video and most people probably haven't heard of him. If he could get more of a following he'd probably get more movies. Although I'm not a huge fan of the second movie, I'm always a fan of violent slasher movies.




#3: The Stepfather from the Stepfather series.

Since this is about the actual character and not the movies as a whole, that means we unfortunately have to include the terrible Stepfather III and the bland remake. Basically, this movie series fell apart when they couldn't get Terry O'Quinn back, because he owned the role. Even the second film in the series is way better than it should have been, considering he was more or less killed at the end of the first film (like that's stopped a sequel before).

You'll notice that this and the entry ahead of it aren't just good villains, but good performances. O'Quinn is frightening as the title character, who gradually loses his mind in his pursuit of the perfect family. If you've never seen this series, I'll sum up his operation. He goes from home to home, marrying into a family and trying to make it his version of perfect. Eventually something goes wrong and he proceeds to murder the entire family before changing his identity and going somewhere else. He gets additional points for being just a guy. He could be anyone.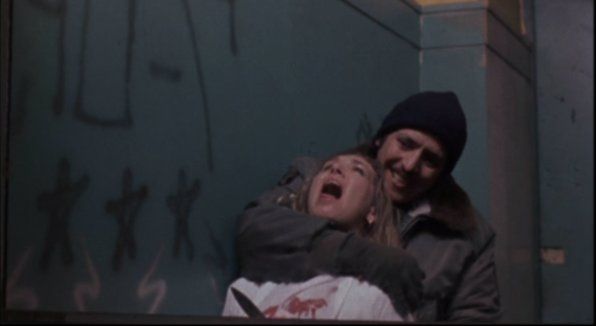 #2: Frank Zito from Maniac (1980)

Another William Lustig creation lands on this list as we get Frank Zito, played by the terrific Joe Spinell in Maniac. While I really enjoyed the remake and Elijah Wood's performance (and still think it comes very close to matching this, if not surpassing it), Spinell is both sympathetic and chilling as the titular psychopath. It's clear he has a lot of issues and is actively working to change himself but his crimes are horrific and it's also clear at a certain point there's just no fixing him.

The problem with that is at various points you want him to succeed in turning his life around. Not because Zito is a good person or anything like that, but because Spinell is just that good. I've never felt as sorry for a horror movie villain as I do Zito, except perhaps the Frankenstein monster. I know it sounds like I'm overpraising this movie, but someone has to. It doesn't get nearly enough love when it should be considered just as much of a classic as movies like Halloween or A Nightmare on Elm Street.




#1 Leslie Vernon from Behind the Mask: The Rise of Leslie Vernon (2006)

I'm always irritated when unoriginal movies I hate get sequels but a clever, outside-the-box slasher like Behind the Mask can't get funding for one, even with its rabid fanbase. Of course we live in a world where both Tucker and Dale 2 and Phantasm V got announced in the same week so I assume anything is possible. I just know that I want another film featuring Leslie Vernon, the slasher villain in training who wants to be like the greats.

Leslie Vernon is a great homage to all past slasher films, playing as a satire and then turning into straight horror at the same time. Robert Englund plays against type as a Dr. Loomis-like character and the killer is a very, very likable guy who just happens to have a more disturbing dream than a normal person would. He wants to be like the Jasons and Michaels of the world (who actually exist in this universe) and is putting a lot of effort into doing it. At this point I don't know if a sequel will ever happen but I would gladly contribute to another Kickstarter if they could somehow get that going again.




Ending Notes:

That's it for me. Leave some comments here, on my Twitter or my Facebook.



Closing Logo courtesy of Kyle Morton (get your own custom artwork and commissions at his Etsy account)



A Bloody Good Time: The Store is now officially open! Like this design? You can now find it on most of my merchandise! Click here to find shirts, posters and more!

For those interested in more of my movie reviews, I've created a new blog! Check out the brand new Not-So-Bloody Good Time!

And of course, if you want to know if I've ever covered anything or want to read a past edition, there's the Bloody Good Time Archives! Yes, you can finally read every edition of ABGT going back to the beginning! Just ignore my early writing style...I was new.

See you next week!
comments powered by