SPOTLIGHTS
Comics 411 4.16.14: Dick Grayson Edition
Posted by Steve Gustafson on 04.16.2014

News and thoughts on Dick Grayson taking on a new identity, what Amazon buying comiXology may mean for the comic book industry, Teen Titans getting ready for their relaunch, a review of Iron Fist: The Living Weapon #1 and more!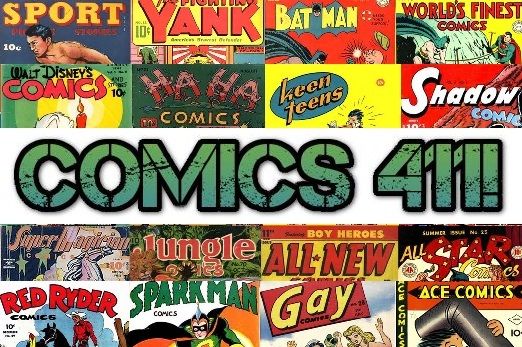 Welcome back to the Comics 411! My name is Steve Gustafson and this is a corner of 411mania reserved for those interested in talking comics! As always, I want to thank everyone who took a few minutes to read and comment last week. Check out my Hollywood gossip (and anything else!) Hollywood 5 & 1 and my weekend movie recap The Big Screen Bulletin!


Anyone who has seen one of the X-Men movies will enjoy this look at the f'd up timeline of X-Men: First Class.







COVER VS COVER!

It's real simple, each week I'll take two covers and you vote on your favorite. Some weeks the covers will be random, some will be themed, some will be classic, and some will be ones you've never seem. Have fun with it.

Last week we had two covers depicting our heroes facing a dilemma. Which one spoke to you more?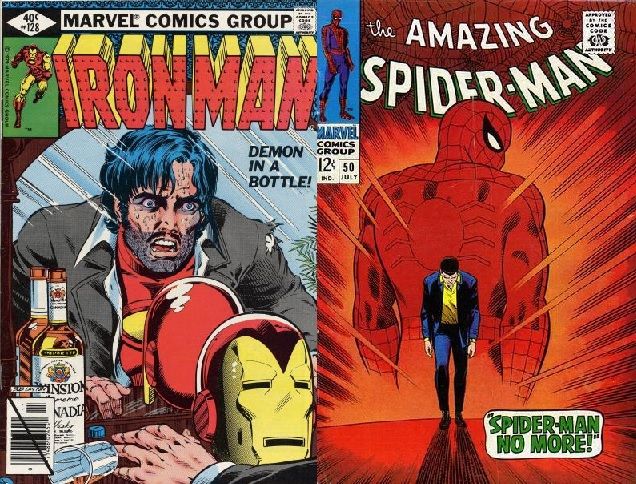 The results came down to this:

Iron Man 59.94%
Spider-Man 40.06%

Looks like Tony Stark's sweaty face pulled you in a little more than Spidey hanging up the threads.

Now we look at covers with heroes fighting. First is Captain America and Wolverine going at it and the other is Thor and Silver Surfer. Which is more dynamic? Which would you pick up if you could only get one?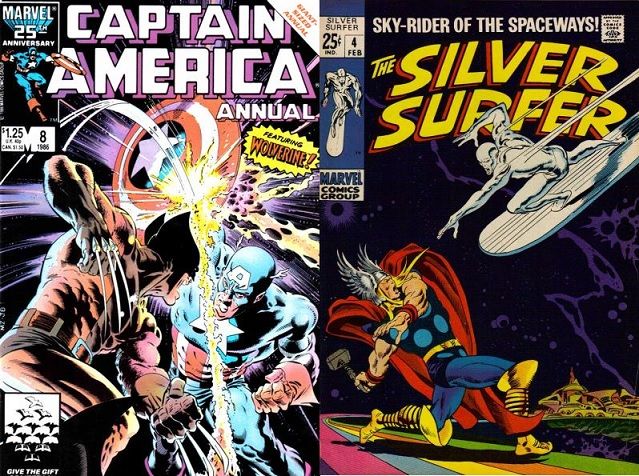 READER ROUNDTABLE

Who is the best Fantastic Four substitute? There's been many over the years, some staying around longer than others. Here's the list and the voting results:

She-Hulk 46.99%
Spider-Man 21.58%
Doctor Doom 10.11%
Black Panther & Storm 7.92%
Ant-Man 3.55%
Crystal 3.55%
Ms. Marvel 2.73%
Luke Cage 2.19%
Medusa 1.37%

No shocker here. Well, maybe a shock that who I felt should win actually DID win! She-Hulk came out on top with a commanding win with Spider-Man (who I thought might take it) coming in second. The biggest surprise? Black Panther & Storm doing as well as they did. Here's what you all had to say:

Kyatollah: "I can't argue against anyone who would pick Shulkie, but I will say this: for the superhero/family dynamic, I kinda have to lean towards Spidey. He and Torch have been friends forever, and when Johnny died, Peter took the time out to speak with Franklin about losing an uncle. That hits right at the core. They work as a team, and they work as a family (somehow.) Of all the characters listed, I feel like Spidey fits that bill best."

redhotrash: "Gotta go with the complete overhaul of the team when it was Spidey, Ghost Rider, Hulk, and Wolverine. Was really the only time the team was Douche-free."

CyberVenom: "Man. I was going straight for the new F4, but the no Spidey, Hulk, Wolvie, or Rider caveat changed it up! I voted for She-Hulk. She's had the most history and impact with the team. I'd follow that with Ant-Man then the power couple of Black Panther and Storm Panther. (She took his name. :) )"

Al_Lobama: "Great poll topic this time around! Very rarely are the non-founding members of the Fantastic Four a topic of discussion, and even I did not realize just how long that list has been. And I just noticed that, other than Dr. Doom, every substitute FF member has also been an Avenger! Always had a soft spot for Scott Lang, but I have to vote for Crystal...especially since I just finished rereading the epic X-Men/FF team up in X-Men: The Hidden Years."

lorddarias: "Voted for She-Hulk. I totally forgot about Sharon Ventura as Ms Marvel and then turning rocky. Those stories must not have been very good or it was during a comic collecting dry spell for me..."

Very nice! Thanks again for the comments! This week we're going to look at some news that's making the rounds.

Dick Grayson.

Dick Grayson's fate post-"Forever Evil" has been revealed. He's Nightwing, no more. Instead, Grayson is set to explore new territory as a secret agent.

USA Today revealed on Monday that July will bring the release of DC Comics' Grayson #1, from the team of writers Tim Seeley & Tom King and artist Mikel Janín. The series will see Grayson -- presumed dead to the world following the events of "Forever Evil" -- take an undercover position at spy agency Spyral, a product of "Batman Incorporated." The career shift comes at the urging of Batman himself, who convinces the original Robin he needs to stay "dead."

Is this a good idea? What do you think?

I'm predicting this won't get a lot of attention because this poll is very niche BUT if this does decent, I wouldn't mind having another VS that talks about current storyline feedback.


REVIEWS!

Do YOU want to be a reviewer for COMICS 411? Send me an email at stevethegoose@gmail.com to find out how! If we can get enough people doing a weekly review on a consistent basis, I would love to spin it off into it's own column. One step closer to getting a Comic Book section back at 411mania! Take it away, RobF and Rob Bonnette!


Iron Fist: The Living Weapon #1

By RobF

Iron Fist is back. Again. Like Daredevil, Ghost Rider and X-Factor before him The House of Ideas is re-launching yet another character as part of the Marvel NOW! Initiative. Can Kaare Andrews make us care about the Living Weapon once again?

The issue begins with Danny Rand portrayed as a broken soul. He is a troubled man, so troubled that he craves violence more than human contact. Apparently when you chose death over life it can cause a man some problems. The issue also provides some more insight to the man known as Iron Fist. Most of us know his origin but Andrews provides additional background concerning Harold Rand and his maniacal obsession with K'un Lun. Before any more soul-searching can continue we are thrown into a massive battle complete with ninjas and Apache helicopters. For the first time we see IF smile. A maniacal one. I guess the apple doesn't fall far from the tree.

In the hands of any other writer/artist Iron Fist may come off as an average familiar narrative but Kaare Andrews somehow makes you want to keep reading. Andrews' art has a naturally cartoony look that still strives toward realism, resulting in some very convincing dramatic effects. His light touch of exaggeration heightens the emotions in a scene—Wendell's crazed rambles, Brenda's flushed reaction to "perfect" Danny, his multiple scenes of impassion—without overdoing it.

Of all the re-boots I have read Iron Fist seems to have the most potential to succeed. This isn't the Zen-lik,e centered Living Weapon. This Iron Fist is a conflicted, weary, suicidal (?) character who only lives for the next fight. What's not to love?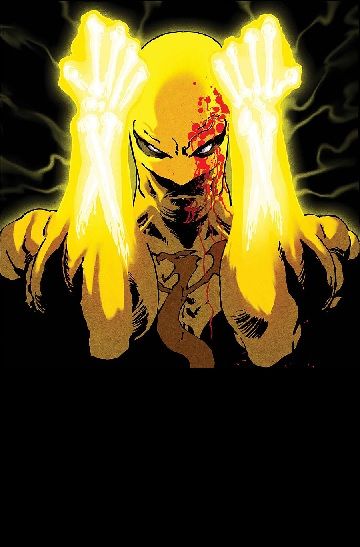 Batman Eternal # 1

By Rob Bonnette

The story starts off with the Dark Knight in dire straits; Bruce Wayne is chained to a broken bat signal, unmasked, with a bat symbol literally carved into his chest. Gotham City, the whole city is literally on fire; the entire city appears to be engulfed in flames. And an unknown villain narrates what appears to be an exclamation of final victory over Batman and who work to protect the city. We are then sent back in time to the events that kick off the story. We are introduced to the newest member of the Gotham City Police force, Lieutenant Jason Bard, as he gets introduced to the big names of the GCPD like Harvey Bullock, Major Forbes and Capt. Sawyer. It's clear from the beginning that Forbes is likely to end up dirty at some point of the series; he reminisces about the good old days of being a beat cop and roughing up innocent people, and runs down Commissioner Gordon in front of the new guy. This is especially telling since Bard was handpicked by Gordon to come over from Detroit to serve in Gordon's old unit, the Major Crimes Division.

While this is going on, Batman and Gordon are involved in a confrontation with Professor Pyg and some of his henchmen in an underground subway station. When they get the upper hand, the villains flee and slit up into two groups. Batman and Gordon split off to pursue the different groups. The Dark Knight quickly catches and apprehends the people he's chasing, but as Gordon corners his man, something happens and Gordon ends up firing a shot that kills and injures several people. When police backup arrives, Forbes demands the new man Bard arrest Gordon and take him into custody. The issue ends with a shot back to the beginning panel with Bruce Wayne's face, blood streaming down, and our unknown evil narrator asking how Bruce couldn't have seen that the events are all part of a big plan. The issue was a good kick off to this series; good action and real mystery for the time being as to who's behind the master plan that will ultimately lead to what we saw in the opening scene.

Is the ultimate big bad someone we already know or some new threat? And where do Major Forbes, and possibly Jason Bard fit into the story? Will one or both of them end up being dirty cops and/or accomplices of the big villain or is that a red herring? And when will we see some of the Dark Knight's associates? In the preview issue we got a glimpse of Stephanie Brown, aka the Spoiler and the soon to be sidekick of the caped crusader known as Bluebird, as well as Selina Kyle as a crime boss. Can't wait to see how all those questions get answered.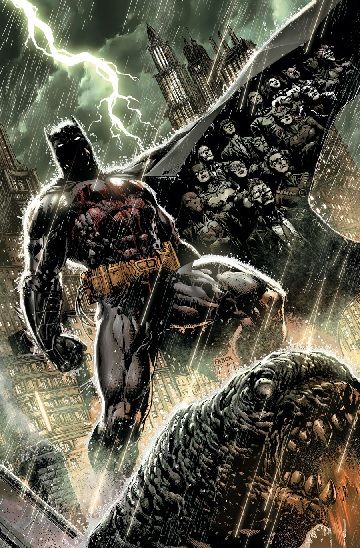 NEWS

Amazon Buying comiXology! Amazon announced it was buying digital application comiXology for an undisclosed amount last week.

What does this mean?

The acquisition has vast implications for the future of the comic book industry, from big publishers like Marvel and DC Comics, to independent creators, to the small but ardent network of 2,500 comic book retail stores across America.

Good or bad?

Today, a single distributor, Diamond, accounts for the vast majority of comic sales, with the average Marvel or DC superhero comic selling between 35,000 and 45,000 copies.

The comiXology app sealed deals with Marvel, DC, and dozens of other publishers to sell downloadable digital versions of both archived and recent comic books and graphic novels. The app went on to become Apple's top-grossing non-game iPad app from 2011 to 2013, with well over 200 million comics downloaded to date. As the perceived value of digital products has increased among young adults, sales have more than tripled since ComiXology's launch year, with the firm grossing $70 million in 2012.

Amazon intends to boost those numbers. Placement of key titles on the website's front page and through Kindle can be seen as the digital equivalent of the world's most popular newsstand.

How will this change things?

Check out this number. Women 17 – 26 have risen to comprise over 20% of ComiXology's users

In recent years, major publishers have abandoned all hope of attracting new, younger audiences, focusing instead on providing confusing plots and adult-themed spins on their characters for their core demographic of 18 – 45 year-old men. With comiXology's aim to make "every person on the planet a comics fan," publishers will need to consider new genres, greater variety, and more varied age groups.

Can original Amazon-published comic books and graphic novels be far behind? Maybe. Amazon will be able to print its original comics on demand, servicing collectors with increasingly rare hard copies. Direct distribution cuts out all middle men, providing Amazon with a larger share of revenues on both their original properties, and those of independents who self-publish through comiXology's Submit Initiative.

Keep an eye on this story!





Teen Titans! The current run for Teen Titans comes to an end later this month. Not for long. In July, writer Will Pfeifer and artist Kenneth Rocafort will relaunch Teen Titans with a new #1 and a team that includes Red Robin, Wonder Girl, Raven, Bunker, and Beast Boy. According to DC, the new team's members will offer "bold, exciting and sometimes dangerous ideas" on how to protect a world full of superpowered teens.

For those keeping track, Teen Titans last relaunched with a new #1 issue in September 2011, as part of the New 52 reboot. Pfeifer did an interview with Newsarama and here are the highlights:

On the relaunch: "Putting the #1 on the cover of our first issue accomplished a couple of things: First of all, it draws attention to the book. There are so many comic books competing for the readers' attention now – not just with other books but with videogames, TV and that little thing called "the internet" – that anything we can do to lure some eyes to our cover is something I'm all far.

But even more importantly, that #1 lets the reader know that this isn't just a continuation of the other series. Yes, the Titans are the same heroes, and no, we're not going to kick things off with a year of origin stories, but we are heading in a new direction and exploring some new themes. If you've been reading the book, by all means, keep reading it. (Please – I have a daughter who's going to need braces soon!) But if you haven't been reading Teen Titans, give this version a shot. I don't think there's another book on the shelves quite like it."

On the team (Red Robin, Wonder Girl, Raven, Bunker, and Beast Boy) and lack of Superman or Flash family member: "That's the whole team for now, though these things are always in a state of flux. I'm starting with characters people know (and, hopefully, love), but we'll mix things up soon enough. Plus, the personalities of those heroes are different enough that just bouncing them off each other will keep things lively for several issues."

"There was no big decision behind it; it's just how things shook out when the lineup was planned. Plus, what we probably should be saying is "There's no teen hero from the Superman family or the Flash family – yet." Something is in the works, but I don't think it's along the lines of what anyone is expecting."

What do you think of this cover?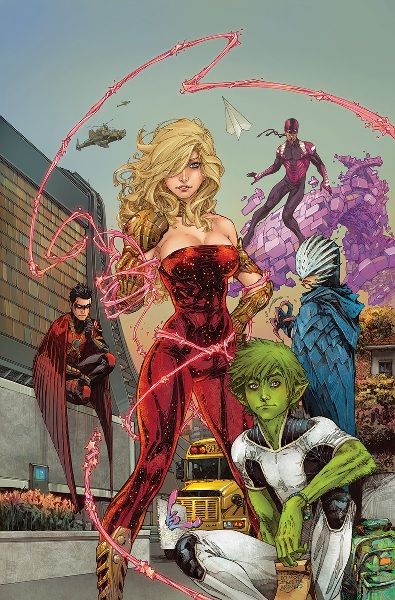 Ultimate Spidey! Take an early look at May's new first issue for the continuing adventures of Miles Morales: The Ultimate Spider-Man!

MILES MORALES: THE ULTIMATE SPIDER-MAN #1
BRIAN MICHAEL BENDIS (W) • DAVE MARQUEZ (A/C)
Variant Cover by FIONA STAPLES
Variant Cover by Brandon Peterson
PART ONE OF THE BIGGEST SPIDER-MAN STORY OF THE YEAR "REVIVAL"!
• MILES is back in action with a new status quo and a new outlook on life!
• A BIG BIG BIG villain from PETER PARKER's past is alive and well and about to turn New York upside down!
• The last page will have ULTIMATE SPIDER-MAN fans SCREAMING!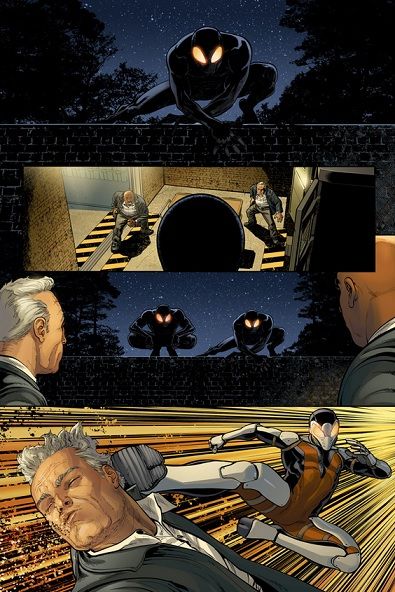 X-Men! In June's Uncanny X-Men Special #1, a man from the X-Men's past has come back and kidnapped its leader, Cyclops. The kids of Uncanny X-Men, Nova, and Iron Man team up to save him to save him! What kind of threat could bring together such unconventional team , and what does the U.S. Government's Public Enemy #1, Cyclops, have to say about it?

Uncanny X-Men Special #1 is an oversized one-shot coming out in June by former Marvel/DC editor Sean Ryan and artist Ron Ackins. Ryan sat down and answered some questions about the story:

On the unique team-up: "It's a big rollicking space adventure. To get the tone for this series I keep thinking of movies like Goonies, and Adventures in Babysitting. I've been having a great time writing the kids from the Uncanny X-Men series, because they're so new to all this stuff. Unlike most comic book characters, they haven't seen it all yet. Nova is bit like that as well. You throw them together with Iron Man and Cyclops, it creates a nice dynamic between heroes at different points in their "hero careers" so to speak. People just starting out, and people who have been at it forever."

On Nova and the newer mutants interacting: "I think there will be a mutual fascination with the other. Both are so new, but at the same time they don't know that about each other. So it's sort of like, the kids from Uncanny X-Men thinking how cool it is that he's Nova, and Nova thinking how crazy it is that he's meeting X-Men. And there's also a bonding there of, "Oh, so you're new to this too? Phew, yeah, me too." There's a lot of things they can relate to with each other, and really learn from each other."

On the mystery kidnapper: "I don't want to give away too much, but it's who kidnaps Cyclops. That guy is the central figure in the story and spurs everything. He's a bit of a tragic figure, I think. He's a character that was bigger in the past and now has fallen on some hard times. He's desperate, and that desperation spells trouble for the heroes in our story."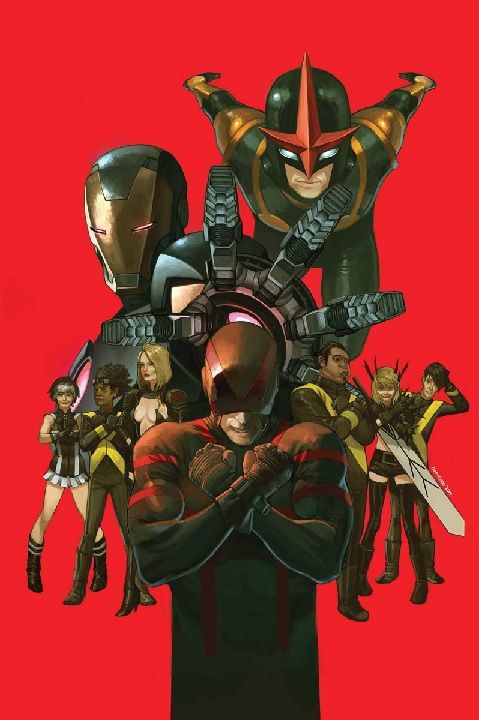 Before I say GOODBYE!
Follow me on Twitter for random bits, news RT's, and updates! Only at http://www.twitter.com/stevethegoose!

Are you a fan of 411mania on Facebook? Keep up-to-date on news and contests!

Are you following 411mania on Twitter?
http://www.twitter.com/411mania
http://www.twitter.com/411wrestling
http://www.twitter.com/411moviestv
http://www.twitter.com/411music
http://www.twitter.com/411games
http://www.twitter.com/411mma

If you have some down time and are looking for a great place for great fun, check out Tiger Flash Games!

That's all the time I have. See you next week!
comments powered by