SPOTLIGHTS
411mania.com Interviews: Eric Roberts
Posted by Tony Farinella on 04.24.2014

411's Tony Farinella has a quick chat with veteran actor Eric Roberts about his new film Camp Dread and his upcoming projects!

If you look at the IMDB page of Eric Roberts, you might be blown away by the sheer volume of projects that he is currently involved in and working on these days. He is one busy man who was also recently on Celebrity Wife Swap. He's so busy that he only had time for a quick email chat with me, but nonetheless, there is some interesting stuff in here. We talked about his new film Camp Dread, which is currently out on DVD, along with some of his past work as well. I present you with the email interview of Eric Roberts.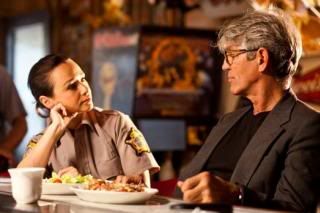 TONY: You are working more than ever these days on a variety of projects. How are you enjoying the heavy work load and how are you handling it?

Eric Roberts: It's a little like being at a new school every few days, but the pace leaves no room for boredom. I appreciate the work!

TONY: With Camp Dread, you play an underhanded and seedy director. Having done various films, I'm sure you have worked with a number of types like this. Did you base it off anyone you have worked with? How do you handle that sort of personality?

Eric Roberts: Hilarious question. I actually haven't worked with any sleaze bucket directors. The role was well written, so it sort of just came to me.

TONY: Camp Dread shows how the world has become reality and celebrity obsessed. It wasn't like that when you were starting up in the business. How would you handle it if you were just starting out and green to the business?

Eric Roberts: I could never do the famous for being famous thing. I would do the same thing if starting now as I did...Look for work. Great question though. Things have changed or redistributed at least.

TONY: You have played a number of tremendous villains lately, especially in this film. You seem to really be enjoying it. What did you look to bring to the table with this one in particular?

Eric Roberts: It's easier to play extremes. You don't have to fill it in to keep it from falling flat.

TONY: Working on films of various sizes and budgets, how do you approach this compared to something like say The Dark Knight?

Eric Roberts: There are striking similarities between all sized productions. I just know with smaller budgeted movies, I'll be bringing my own clothes and working with great new actors. Plus my stepdaughter, Morgan Simons, often caters these movies. www.pibakeshop.com
I love that!

TONY: Working on independent films, time is tight as is money. With that being said, how important is it to bring your A-game on the first and second take?

Eric Roberts: It's always important to try every viable interpretation of a moment. You make the time to do that, but you can be economical about it.

TONY: With Camp Dread, I can sense a real enjoyment out of playing this character, the same sense I picked up on in your film Self Storage. Why are these characters so much fun?

Eric Roberts: I've never really known why. I guess because you can play a person with a wealth of secrets. You can give people chills with your eyes. I liked the group on both movies.

TONY: My favorite film of yours, without question, is Pope of Greenwich Village. When you look back on that film, what do you remember about it and what did it mean to you at that time?

Eric Roberts: I played completely off the other actors in that film, so every moment felt rich to me. I was excited. I felt like we were doing something.



TONY: Your daughter Emma Roberts is a tremendous actress in her own right. What kind of wisdom and advice have you imparted on her over the years about the movie business?

Eric Roberts: Just be kind. Be a listener. Appreciate.

TONY: What has changed in terms of what you get out of the business today and to when you first started?

Eric Roberts: It feels like home. It has for some time, but now it's official. I'm able to turn filmmakers on to other talented people, like the music of Keaton Simons and the acting chops of Katie Silverman. Passing the torch feels great.

TONY: You have been nominated for an Oscar. What does that mean to you?

Eric Roberts: It feels huge. Nostalgic. Very emotional. Kind of unreal.

TONY: Is there a role, a film, or a character you haven't played yet that you would like to play in the future?

Eric Roberts: I'd love to settle into a series. I did a pilot that I loved more than anything. Here's a clip of it:



Eric Roberts: I did a movie called The Novelist. Contact the director to learn more about it (Mary McGuckian).

TONY: You are a part of the film The Human Centipede 3. What, if anything, can you tell us about that film? Have you seen the other two?

Eric Roberts: Those movies are too disturbing, but made by wonderful people who, like me, campaign against child abuse and want all abusers put away. (The Natural Child Project)

TONY: Finally, out of all of the films you are working on right now, which ones are you most excited about and most looking forward to?

Eric Roberts: Rock Story and The Novelist.
comments powered by